Home

A Little Cake /Le Petit Gateau
About this Vendor
Located in prestigious Park Ridge, NJ
Established by Leo Sciancalepore and John Chayka in 1999, we offer a full line of quality Italian, French and American baked goods, all prepared by expert bakers, with the finest ingredients. We can customize any cake, wedding cake, pastry, etc. per customers request! Please visit our online gallery
Details
Cake Accessories, Cake Delivery + Setup, Cake Tastings, Cakes + Desserts
Contact Info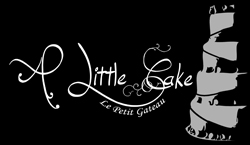 Reviewed on

7/02/2017
Michelle M
Sincerest thanks for creating our dream wedding cake! The cake was visually beautiful and even more delicious! All of our "foodie" friends said it was the best cake they had ever had! Additionally, this team was so accommodating and very easy to work with! This was especially... Read More important as I was wedding planning from out of state.! Would highly recommend!
---
amazing wedding cake
Reviewed on

3/31/2014
Beth
A Little Cake did the cake for my wedding at the Old Tappan Manor. It was included as part of our contract with the venue. Some of the designs they showed us (fondant, jewels, etc) would have been extra, but they offered so many that were included. The cake was DELICIOUS! For... Read More our cake tasting they brought out 7 full pieces of cake for us to try, and we decided on a combination of chocolate and yellow cake, with cannoli and cappuccino filling. The cake not only looked beautiful but so many of our guests told us how amazing they thought our cake was. I can't wait to eat it again in a year! I may have to go back there for a smaller cake for some other occasion.
---
Elegant & Delicious!
Reviewed on

7/26/2012
Danielle T
Our wedding was held at the Hilton Pearl River and A Little Cake is the wedding cake baker for that venue. At first, we were not sure what type of options we would have in choosing a cake design since the cake was included in wedding package, however, when we arrived at A Little... Read More Cake for our tasting we were pleasantly surprised at all of the cake designs and cake flavors available to us. All of the cakes were decorated beautifully and the flavors were amazing. After much thought and consideration we decided on a white cake with cannoli filling- it was delicious! In terms of design we opted to keep with our black and white wedding theme and chose one of the bakery's popular designs (there is a model of it on the bakery wall) which included black lace on two of the tiers and a rhinestone border on all four tiers. The cake is typically covered with fondant, which was not included in our package, but the staff was willing to work with us and do part of the cake in fondant and part of it in butter cream. Additionally, they gave us the option to purchase the lace and rhinestones ourselves instead of through their supplier which in the end saved us a great deal of money. All of our guests remarked at how beautiful and elegant the cake was and how even better it tasted. We've been to numerous weddings where a majority of the cake goes uneaten but this was definitely not the case at our wedding (we even had a few people ask for seconds). Fortunately, we were able to save the top tier of the cake and plan on enjoying it on our first anniversary. Overall, A Little Cake did a fantastic job and we will be sure to order cakes from them in the future.
---
Reviewed on

8/23/2017
Kate B
A Little Cake wedding cakes are delicious and beautiful. My husband and I wedding venue suggested A Little Cake . We went to A Little Cake for a cake tasting. They let us taste all these delicious slices (flavors and icings) of cakes and view examples of previous cakes and... Read More we're flexible in picking the time of the tasting and details. We showed the owner and artist a picture from pinterest, let them know what slice (flavors and icings) we selected, and discussed guest count, size of cake, cost etc… I was a little concerned that we we're asking for a cake that wasn't something they do every day or was in client example books, only because I didn't see an exact example of in their books. I didn't see the final product until the day of the wedding through the reception doors. I was shocked and delighted and literally smiling with glee. It looked like it came right off the page, picture perfect, and was exactly as requested and as in pinterest image. It isn't often that people you work with surpass your expectations, but the cake was beautiful and delicious. Our guest complimented their work the day of and after. We couldn't ask for much more. I would work with them again and recommend them to others.
---
Reviewed on

8/22/2017
Keri M
BEST CAKE OUT THERE!!!!! ABSOLUTELY DELICIOUS!!!!!
---
Reviewed on

8/21/2017
Liz S
We got married in June at the Hilton Pearl River. A Little Cake is the required vendor at the Hilton, and we were not disappointed! We scheduled a tasting a few months beforehand, and although they were EXTREMELY busy with tastings for other couples, the team was attentive and... Read More let us take our time choosing what we wanted. We chose white cake with the cannoli cream and ganache fillings. We found a design we liked, and they let us change the colors to match the cake topper we already purchased. The cake was absolutely delicious and turned out beautifully! We made sure to save the top layer to enjoy on our anniversary!
---
Reviewed on

7/26/2017
Giselle S
My wedding was on 06/10/17 and chose A Little Cake through our venue, The Upper Montclair Country Club. Boy were we happy we chose them!! My husband and I are not very traditional and wanted a black cake. They did such an amazing job! We got compliments all night long and STILL... Read More are getting compliments. Not to mention it was delicious!!
---
Reviewed on

7/24/2017
Michelle S
Cake was amazing. They made s delicious cake and each tier was a different flavor inside. I refer so many of my wedding guests to this place especially for their exceptional customer service.
---
Reviewed on

7/22/2017
Lauren K
We used A Little Cake for our wedding at the Indian Trail Club. It was amazing! After tasting many amazing options, we chose to go with the Oreo cookie filling and we are so happy we did! We are still getting compliments on the cake with guests saying it was the best wedding... Read More cake they ever had! The only thing my husband and I regret is not being able to eat more of it on the wedding day! They did a beautiful job decorating it and it was exactly what I wanted. This was the easiest and one of the most delicious parts of the wedding process!
---
Reviewed on

7/22/2017
Nicole A
We did not chose the Little Cake for our wedding. We visited for a tasting and were very disappointing with the service we received. We sat down and received an iPad loaded with photos of cakes they had done in the past. My husband and I already had an idea the kind of cake we... Read More wanted to design, but the person helping us just did not seem to want to accommodate any special requests. We felt like they just wanted to sell the cakes they had photos of and if you had other ideas, too bad. We did not feel like they wanted to help us make our cake which was ultimately the reason we chose to go to another bakery.
---
Reviewed on

6/03/2017
Cindy G
We had my daughter and new son in laws wedding at the Knoll in Parsippany. Our cake was from A Little Cake. Not only was the cake beautiful, it was delicious. They listened to every detail my daughter wanted, and never minded when she changed her mind on things she wanted. She... Read More choose the red velvet cake, AMAZING!!
---
Reviewed on

5/28/2017
Samantha T
Amazing, delicious, beautiful wedding cake. One of the best tasting wedding cakes I have ever had. Visually the cake looked exactly how we wanted. They gave us a great selection of choices during our wedding cake tasting. Highly recommended.
---
Reviewed on

5/14/2017
Kevin M
We met with John to discuss our wedding cake a few months prior to the wedding and showed him a photo of what we wanted. Our cake was detailed and had fresh flowers . 3 days prior to the wedding they called my wife and asked for another photo of the cake. We provided the photo... Read More again. 1 day before the wedding A Little Cake called to discuss that they would not put the cake on the stump for the cake stand that we provided. At this time they also mentioned to us that they would not be putting any flowers on the cake. John told us his "delivery" guy would be there and he would not be putting the flowers on. This sent us in a panic with a million other things going on. Luckily the staff at the Park Savoy was extremely accommodating and fixed this up for us on our wedding day. The communication was not thorough and could of been better as far as a customer service industry.
---
Reviewed on

5/03/2017
Coreen E
We ordered our wedding cake from here as it was part of our package with our venue. It was the most delicious and amazing cake that we have ever had. It was a black and white cake with cappuccino filling and butter cream frosting. They were amazing with making my design of the... Read More cake come true. All of my guests raved at how beautiful and tasty the cake was. I will definitely recommend and order another cake from here. Thank you so much for making my vision come true!
---
Reviewed on

3/04/2017
Erin S
A Little Cake was a recommended vendor from our venue (Falkirk Estate & Country Club). The tasting was easy to set up and selecting what we wanted was a seamless process. We opted for cupcakes instead of a wedding cake and also had a cake topper for on top of our cupcake stand.... Read More We loved that with the cupcakes, we were able to choose multiple flavors for our guests to choose from. The cupcakes are bigger than your average cupcake but they were delicious. Our guests loved being able to split a few cupcakes and try different flavors. We didn't have to worry at all about them getting delivered to the venue. Everything worked out perfectly. The cupcakes and cake topper looked both beautiful and delicious. We would definitely recommend using A Little Cake! Thank you!
---
Reviewed on

1/05/2017
Kerriann S
Fantastic cake! A little cake was so great to work with. I moved to VT soon after planning to have my wedding in NY and this business worked with me to have a delicious and beautiful cake! Thank you =)
---
Reviewed on

12/08/2016
sarah a
we loved our wedding cake that came from a little cake!! it was absolutely delicious, perfectly moist and decorated beautifully. thank you!!
---
Reviewed on

11/29/2016
Samantha R
I normally do not like bakery items however my wedding cake was beyond delicious and had beautiful designs throughout to create an elegant look.
---
Reviewed on

11/27/2016
Samantha T
The cake was delicious! Really moist and flavorful. However, they messed up the design. As soon as we walked in the room, I knew the cake was wrong. I had special ribbon made to match our invitations and they put plain black ribbon on it. However, they were very apologetic... Read More when I called and offered an anniversary cake. Obviously I would prefer that the cake had been correct at the wedding, but they definitely tried to rectify the situation to the best of their availability.
---
Reviewed on

11/01/2016
Julia N
People were ranting and raving over how delicious our cake was, it was amazing!!
---
Reviewed on

10/23/2016
Patricia K
Multiple guests said that it was one of the best wedding cakes they had ever had! We chose the cannoli cream cake filling--there was no competition. The design matched our decor perfectly and the bakery is extremely easy to work with.
---
Reviewed on

10/01/2016
Alana V
Our wedding cake was SENSATIONAL! So much so, that after our initial tasting (which was a to-die for experience that I wish I could do over and over again!), my husband and I bought a 7 cubic feet freezer, in preparation for taking as much of the cake home as possible. They will... Read More make any combination of things you want. We got a funfetti cake with cannoli and cookies and cream frostings, something I doubt other bakeries would be willing to make such elaborate and crazy requests! The cakes, aesthetically, are also just showstopping.
---
Reviewed on

9/21/2016
Stephanie F
AMAZING!! Cake was absolutely beautiful as well as incredibly delicious!! Guests are STILL raving about it. Very pleasant to work with- no issues at all!
---
Reviewed on

9/03/2016
Stephanie W
Working with A Little Cake was great. We showed them a picture of the cake we wanted and they executed perfectly.
---
Reviewed on

8/29/2016
Patrycja S
The cakes here are to die for! Not only was it customized to what I wanted it looked amazing!!! The best part was that when I had a piece of my wedding cake I felt like it was cake and not a sugar bar like some other bakeries make them. Any even big or small I will be getting... Read More my cakes from here!!! Love, love, loved my beautiful cake!!!
---