Home

Affordable Limousine & Party Bus
About this Vendor
Let us give you the best transportation in town.
Affordable Limousine and Party Bus is proud to serve Michigan with memorable moments while giving you the best deal in town. We offer our services with the best of on-time, dependable, luxury transportation service. We will go above and beyond to assure your experience with us will be memorable.
Details
Valet Parking, Limousine + Sedan, Transportation
Contact Info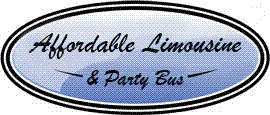 What a fun way to end our wedding reception!
Reviewed on

8/15/2013
Laura U
After a sparkler send-off, my husband and I were able to hop onto a delux party bus with all of our closest friends and family members. We had two hours of driving around time, which allowed everybody a chance to mix and mingle (plenty of room on this awesome bus!), and... Read More celebrate a little more. Our driver was great, didn't judge!, and was flexible with where we wanted to go. Dropped us off safe and sound at our hotels at the end of our ride. They have a flexible payment schedule, and offer great deals if you book for later in the day, or non-Saturdays. It was a great experience, and many guests said, the best part of our wedding!
---
So much fun
Reviewed on

6/25/2013
Kelsey M
We rented the trolley for the day of our wedding and it was well worth the money. The driver was great and was accommodating when we changed the routes on him at the last minute. Very fun way for the whole bridal party to hang out. We left stuff on the trolley and they held on... Read More to it for us to come and pick up.
---
Fun Fun Fun
Reviewed on

6/19/2013
Paige W
We rented the 28 person party bus and had a blast! We had the music up and were able to unwind from the ceremony as we rode around for an hour before the reception. The office called and confirmed all the details with me the week before so I never had to worry if the drivers... Read More were going to be on time or show up. I would recommended using Affordable Limo!
---
Reviewed on

10/05/2017
Jordan L
I got married this past summer and I was so happy to have used this company. They were extremely accommodating to all of our day-of changes and I our driver was wonderful and so professional.
---
Reviewed on

9/13/2017
Amber M
Our driver was amazing. He was over an hour early and was content waiting for guest to arrive. He made sure I was happy with everything as the bride and went above and beyond his duties as a driver to ensure I got on the trolley safety in my dress and he helped block me as I got... Read More out so guest could not see me before the ceremony
---
Reviewed on

7/06/2017
Katie K
We reserved the trolley for our wedding day. The driver, Robert, showed up right at 2:30 and he was very friendly. We didn't use any of the beverage service but there were cups and ice available for us. I would greatly recommend Affordable Limousine!
---
Reviewed on

7/04/2017
Matt R
Referred by a co-worker and Affordable Limo did a great job for our wedding. They provided great service, showed up on time and drop off.
---
Reviewed on

6/12/2017
Emily B
We used them for our recent wedding at Studio D2D, we rented a 22 passenger party bus for the wedding party to take pictures on the blue bridge, and then a 23 passenger shuttle bus for our guests to and from hotels and the venues all night. The drivers were absolutely great,... Read More super friendly and very accommodating, working very well with the D2D staff, as well as came back a few minutes after to get the last crew of the night. Thank you so much!!
---
Reviewed on

3/21/2017
Kayla C
Great experience with affordable limousine
---
Reviewed on

11/29/2016
Justine Z
Fantastic!! Would definitely use them again. Party bus for our wedding party was great and we also used a shuttle for our guests to and from the reception. Heard only good things from everyone!!
---
Reviewed on

10/05/2016
Brittni M
Affordable limousine is awesome! They let us break up our 3 hours we paid for throughout the days and we used a different vehicle each time. They were so helpful and accommodating.
---
Reviewed on

8/21/2016
Lacy L
We used three different services from them in one day and all of the staff was wonderful. The only complaint I have is the driver at the end of the night was rushing us because he had somewhere he had to be. We had him booked for another hour. Other than that, each driver... Read More showed up, drove safely, and was pleasant.
---
Reviewed on

7/18/2016
Jessica B
Myself and my husband used Affordable Limousine and Party Bus for our wedding and we are so happy we did! We used both a shuttle bus before the wedding and the coach party bus for the end of the night. The drivers were both so much fun and really made the experience wonderful... Read More for us and our guests.
---
Reviewed on

6/10/2016
Nikki T
Our service wasn't be with them just very expensive for just a half hour of drive time. The guys were very nice there though. We had a sparkler send off and he was right on time.
---
Reviewed on

5/01/2016
Brecken B
We loved Affordable Limousine! The party bus was clean, prompt and fun. Made our day great!! The grateful groom.
---
Great!
Reviewed on

12/04/2015
Leslie P
We decided to go with affordable limousine after seeing them at the bridal show and getting a great deal on the trolley. It really made for great pictures and easy to get around downtown GR. The limo driver was on time and was wonderful with all of our requests for stops.
---
Wonderful!!
Reviewed on

9/27/2015
Lisa S
Our driver was great. He even helped me in and out of the limo as I had a ballgown style dress. When calling to book the appointment, the staff was professional and courteous, and by far the least expensive in the area. Our limo arrived on time and was clean and smelled clean as... Read More well. I look forward to working with them in the future should the need arise.
---
Good
Reviewed on

9/20/2015
Chelsea R
We got the 22 person bus- did not really have the "party bus" feeling. Driver also had no idea where to go and her GPS kept taking her to the wrong places so we (the bride & groom) had to sit in the front and just give her directions
---
Broken Hummer
Reviewed on

9/09/2015
Michelle M
Despite the breakdown of the hummer limo at the church. Affordable Limo had the owner and a technician out there fixing the hummer while we were finishing up at the church. They, with the help of some of our guests, had the limo up and running in no time figuring it was just a... Read More fuse. The driver was very courteous and nice. She mentioned to call and talk to the owner after the wedding but we forgot. I would recommend them and use them again.
---
Hummer Limo
Reviewed on

4/10/2015
Amanda S
We rented the hummer limo for our wedding. We had a blast in the limo! The limo was very nice and roomy! Our driver was great!
---
Great!
Reviewed on

11/10/2014
Megan G
Great service!
---
Scott was great!!
Reviewed on

10/21/2014
Sarah B
I have used Affordable Limousine & Party Bus for multiple events. Scott R was our driver and he was wonderful. He was very helpful getting my big dress in and out of the limo and he was helpful to the rest of the bridal party by putting a step down for us to get in and out. He... Read More listened to our directions and suggestions and followed along as well as helping us find a place for a bathroom. Scott even let us borrow his umbrella as it was raining. He was great at navigating the streets of Grand Rapids during Art Prize and was able to change plans so we could get around. Overall Affordable Limousine & Party bus was great to work with.
---
Yikes.
Reviewed on

9/22/2014
Charlotte W
Our Limo driver only had to bring us from our wedding venue back to our cottage and didn't even bring us the whole way! He made us walk! He didn't have a GPS, and was rude. No thanks.
---
Limo Service
Reviewed on

8/07/2014
Jessica P
I really liked this limo company. I had a hard time finding one because there weren't a lot of great reviews online. We split up our three hour minimum time with 2 hours used for driving around the bridal party for pictures before the ceremony and then we used our last hour to... Read More have a car pick my husband and me up to take up to our hotel. Both drivers were very professional and clean vehicles.
---
Nice ride
Reviewed on

8/29/2013
Denise C
We ordered the 30 passenger party bus and it was fantastic. They showed up on time, brought us to different places for pictures and were very professional. We slid around a couple times because of sharp corners, but I don't think anyone got spilled on and no one got hurt so that... Read More was good. The bus was everything it shows in the pictures. My ushers hooked up their iphones and played music and there was room in the middle for dancing and walking. We only had about 20 people thank goodness, otherwise it would have seemed a little more crowded, but still comfortable.
---