Home

Agape Moments
About this Vendor
Capturing every smile, laugh, and tear
Agape Moments is an award-winning photography studio of extraordinary extravagance, beauty, simplicity, and glamour. It is a studio built by one of the most talented groups of people we are honored to call family. We desire to capture in a camera the love on your wedding day.
Details
Engagement, Trash The Dress
Digital Files, Printed Proofs
Contact Info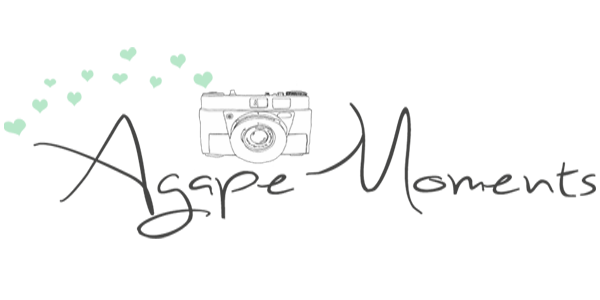 Oak Grove, MN
Serving The Twin Cities
Agape Moments
Reviewed on

1/22/2015
Anna L
I cannot say how much I LOVE Agape Moments! Working with Sarah and team was such a great experience! She made my now husband and I feel so comfortable throughout the entire process and our photos are incredible! I looked at so many photographers prior to choosing Agape and they truly were amazing quality for a reasonable price!
---
Agape Photography- Gorgeous and Beautiful!
Reviewed on

11/15/2012
Kristin C
I had heard of Agape Photography through a co-worker and she had loved the services agape had to offer and had beautiful engagement and wedding photos. Wedding photos is one of the most important things of my wedding day. Its how we will remember our special day for the rest of our lives. We started with meeting the photographers and looking at wedding books they had done and looking at different packages for the price. We loved the idea of getting engagement pictures done and getting a 4X6 of each and the copy rights. We also love how fast you get your edited pictures for both engagement and from our wedding day. Our wedding day was very special and our photographers had great ideas for unique shots and made sure we got a picture with everyone we wanted. We love all of our wedding pictures and they gave us a photo album with our pictures in order plus the copy rights to all of our pictures. We just made our Wedding Thank you and couldn't of been more happier with their services!
---
FABULOUS! Our best-spent money in the entire weddi
Reviewed on

11/05/2012
Jill S
Agape moments was FANTASTIC. We couldn't have had a better vendor. We received SO many compliments on both our engagement pictures, as well as our wedding pictures (one recently-married friend even said "ugh, why didn't we go with their photographer!?). What's more, is our pictures look like we spent a fortune, but yet it was very affordable! The photographers (our awesome one was Kelly, we loved her!) were extremely familiar with the venues to the point where they already had areas pre-selected for us to take pictures that were nearly guaranteed to turn out phenominally. The photographers really have an eye for capturing the true feel of your wedding and are extremely talented in knowing just the right time to snap the shot. We felt like we could just sit back and enjoy the ride of our wedding, instead of stressing about getting the perfect pictures. Agape was extremely flexible with our needs of our wedding, and was able to go-with-the-flow when we needed to add more hours at the end of the night. All in all, they were one of the few vendors I didn't have to think about or worry about throughout the wedding planning process--their experience, expertise, organization, and wedding know-how made me feel so at ease just knowing they had it covered. We would recommend them to anybody! Worth every penny.
---
Reviewed on

7/08/2015
Brittany D
Choosing Agape Moments was one of the best decisions we made for our wedding. The ladies at Agape are friendly, easy to work with, and quick to respond. Sarah was our photographer and I can't say enough great things about her. Sarah came prepared with a backup plan for outdoor pictures since it rained our entire wedding day and honestly you would never know it was raining. Every single picture turned out amazing thanks to Sarah and the rest of the ladies at Agape. Hands down, I would recommend Agape Moments to any bride.
---
Reviewed on

6/15/2015
Kara J
Agape moments was fantastic! I got tons of compliments on our photographer, Kelly. Many people commented on how attentive she was. She had tons of ideas and always made sure we were getting the photos that we wanted. She made sure to stay to capture the first dance. I really appreciate the extra effort that she took.
---
Best Photographer!!!
Reviewed on

10/19/2014
Kendall K
I knew 10 years ago when I saw Kim shoot a wedding that I wanted Agape Moments to be my wedding photographer. She was excellent to work with, took charge when needed and provided 7 sneak peek pictures 2 days after my wedding. I also got my link of images 2 weeks after my wedding. Agape has excellent service, great pricing and lots of forms to streamline your day. If I did it all over again I would choose them every-time. Great work Agape Moments!
---
WOW!
Reviewed on

10/17/2014
Nicole M
Agape moments was the best investment for my wedding day. They were amazing. Professional, organized and true artists. I love every single picture they captured. Kim and Kelly were so easy to work with and made all of us feel comfortable and we had a lot of fun with them! We were fighting some extremely cold weather for an outdoor wedding but they kept the day smooth and efficient . It was perfect and now I can relive the day through their beautiful work. Ten STARS!
---
110% Pleased in our Decision
Reviewed on

10/14/2014
Sophia R
My husband and I are pretty laid back people, but when it came to planning our wedding- it was easy to become overwhelmed with all the details taking place at once. We chose Agape Moments because they came highly recommended to us by our venue coordinator. It was so great to hear from our other vendors, about how excited they were that we chose Agape to capture our special day. We knew during the whole planning process that they were the right pick. We had our engagement pictures taken a few weeks prior to our wedding. After the shoot, Sarah was persistent that we would have our pictures at least a week or more before our wedding day, in case we wanted to incorporate the pictures in any aspects of our day. This was not something that we had asked about, but Sarah was so thoughtful to think about that for us, and she worked extra hard with the Agape team to meet a quick turnaround. The pictures turned out so wonderful that we decided to use them for our wedding day guestbook. When the weather decides to not cooperate on your wedding day, one would think that throws a wrench in the photography plans. However, that was not the case in our situation because Sarah has the best attitude and creative personality. We did have a rain back up plan in place, but once Sarah arrived, she immediately had already scoped out an outside covered area to provide a unique backdrop. The best part was you can't even tell it was raining all day. She was constantly moving, and never wasted a moment. Her assistant was so wonderful working with all members of our bridal party and making sure that all the picture requests on our checklist were covered. Sarah did not settle at any part of the day, as long as we were in the mood to try different locations- Sarah was taking pictures. Being proactive is something that is very valuable because looking at our album we can see a great variety and all the different options. Not only did Sarah provide amazing pictures of our wedding for us to cherish for years to come, she made it a great experience. I was hesitant leading up to our wedding because my husband and I have a high energy 2 year old boy. I had a master goal in my head of at least getting an attempt at one family picture with him in it, and perhaps a couple pictures of him in his tuxedo. This goal was something I expressed with Sarah a couple times before our wedding day and even the day of. I could tell that Sarah was making this a top goal of hers for the day. From the second Ben arrived she did not miss an opportunity to start snapping the pictures of him, and working with him to show us that cheesy smile. When we received our wedding pictures, I was incredibly taken back by the amount of amazing pictures she had taken of Ben and the amount of different family pictures she was able to get with not only my husband and I, but Ben with other relatives.
---
Captured every moment, gave us permanant reminders of our love.
Reviewed on

10/09/2014
Deborah R
Agape Moments not only captured every special moment that we shared on our wedding day, but they helped to create those very moments. Being behind a camera has never been something my husband and I were very good at, but when you choose Agape they become your friends, and essentially your family, there is nothing but open arms and comfort and that camera seems to disappear. You can tell by the quality of the images how much effort they put into their art form. Nothing was ordinary, everything was extraordinary, our photos reflected how we were feeling inside, beaming with love and happiness. Sarah is so kind, unique, and clever with posing. Everything was beautifully set without feeling staged, and she even had Karmin come along and capture an alternate view in comparison to Sarah. The two worked together so organically, that we felt in the loop and 100% comfortable. If you are looking for a Photographer, you can not beat Agape Moments, each person on their staff is an artist, each person will become a friend. They made my wedding perfect, and provided me with permanent reminders.
---
Best Photography that we could have asked for
Reviewed on

10/06/2014
Ashley K
Agape Moments were truly the best photographers that we could have asked for. They did our engagment photos as well as our wedding day pictures. They were very nice, organized, and gave great direction. They helped us feel comfortable and took amazing shots! Our pictures turned out better than we could have imagined. They were able to capture so many beautiful moments. I will definitely be using them in the future for family photos when the time comes. I definitely felt that their price was reasonable and well worth every cent. I would highly recommend them to anyone.
---
AMAZING PHOTOS by Kelly
Reviewed on

7/18/2014
Ashley R
We had Kelly as our photographer for our engagement and wedding photos. We did our engagement session at their site and I received many compliments on them. There was some really unique props such as an old truck. Then we had wedding at our wedding. Let me tell you she was our favorite person to deal with out of all the people and vendors we had. Her personality is bubbly and personable. She's very easy-going, but she was not afraid to tell the boys we were on a schedule. It rained pretty much the whole day but an hour on our wedding day. Kelly was out in the rain and wind smiling. She was very helpful as well on the wedding day, she even helped pin flowers on my dad and mom and she told us when to cut the cake. She kept things moving and made sure not to miss a moment. We are so glad she was there on our wedding day! One recommendation I have is the assistant that helped out, I would've like to have had her make sure my husband's flower was not in my face in the close ups. The photos were amazing when I got them back and I loved how some of the photos were edited! I am sooo pleased with what we ended up paying and we have TONS of photos that we will have for the rest of our lives to tell a story. The difficult part now is narrowing down the selection of which ones to order!
---
LOVE them!
Reviewed on

6/11/2014
Ryan Marie E
They were recommended to us by a friend and everything that we heard about them turned out to be great! They sit down and help you decided what is right for you as far as packages and everything. As far as the cost it was great for all that you receive. The photographs all turned out fantastic! From our engagement photo's to our wedding photo's, all were fantastic!
---
Carmen was amazing!!
Reviewed on

11/13/2013
Robyn M
We looked for quite some time to find the right photographer at the right price with the right package - and found it when we found Agape!! We were able to schedule our engagement photos (included with package) on short notice and Carmen did an amazing job. It was great to get to know her and for her to get to know us before the big day. Carmen was at our venue on the day of the wedding before I even was and as soon as I took the first steps out of the car she was shooting pictures and didn't stop until every last group photo I wanted was taken - well into the dance! A few short weeks after the wedding I received on online photo gallery of the edited photos that I could share with others and download. Everyone was so impressed with the photos...and nothing look to staged! Thanks Carmen and the Agape team - I highly recommend!!
---
Amazing
Reviewed on

11/04/2013
Bridget
The photographers at Agape Moments are so talented!
---
FANTASTIC Photographer!
Reviewed on

10/17/2013
Melissa V
Kelly with Agape Moments couldn't have captured our day more perfectly. From our initial meeting, through our Engagement photo session and on our wedding day, she was friendly, easy to work with, and made us feel comfortable. She captured pictures of all the little details of our wedding, our guests and candid moments, which will be wonderful to look back on. The prices were reasonable and the package options provided exactly what we were looking for from a photographer. We met with at least 3 other photographers prior to choosing Agape and none of them "clicked" as well for us. I'd highly recommend Agape!
---
True Gem!
Reviewed on

10/02/2013
Jennifer V
Agape Moments is a true gem in the world of photography! Kim Sawyer shot our wedding photos and they turned out beautiful. We always knew they would be beautiful though, as we have used Agape Moments for years and they have become our familys go to for all occasions. They really are the best! :)
---
so happy
Reviewed on

9/25/2013
Britt W
Sarah was so much fun to work with. I would recommend getting your engagement photos done with the same person as your wedding. You feel more at ease.
---
Awesome photos!!
Reviewed on

9/24/2013
Chelsea P
I absolutely loved working with Karmin from agape moments. Our engagement pictures were amazing. She also shot our wedding. She was on time and organized. She had some fun ideas for posing as well. She got our wedding photos edited and back to us in about two weeks. They are beautiful! Could not have been more happy with our choice in photographer!
---
Agape Moments
Reviewed on

8/28/2013
Lisa B
Sarah and all of the Agape Moments ladies were so patient, fun to work with, and overall awesome! Our engagement and wedding photos are absolutely beautiful. There are different ways to customize your package if you are working on budget (who isn't?). Sarah has great ideas and listens so that she can capture certain moments that are really special to you. My dad sang songs at both our ceremony and reception, and we got some wonderful shots of that. Agape was easy to communicate with during the whole process and we got our pictures back only a few weeks after the wedding!
---
AMAZING
Reviewed on

8/27/2013
Loria D
I couldn't have thought of a more perfect company to choose for my photography. Referred to me by several people, I knew I would love my photos but I didn't think that they would bring tears to mine and my husband's eyes. If we could have put our feelings that day into pictures, that's exactly what they would have looked like. What an amazing gift to have for a lifetime.
---
WOW!!!
Reviewed on

7/16/2013
Rachelle D
Kim & Karmin, Wow...that pretty much sums it up. Tyler and I (and so many of our bridal party/guests) were incredibly happy with your work for our wedding on Saturday. We can't thank you enough for your professionalism and creativity. You were very flexible and have a very good and relatable "vibe" that made me (us) trust you both right away. I literally can't wait to see all the photos. I don't think the day could have been more perfect. We were/are so happy. A couple of my bridesmaids commented on how they really liked how you were organized and direct, but not rude or forceful when directing all the family/bridal party during the pre-ceremony pictures. Thanks again for everything!!!
---
Money Well Spent on Agape Moments!
Reviewed on

7/09/2013
Margaret G
We first heard of Agape Moments when a couple of our friends used them for their weddings. After seeing their pictures, we immediately knew they were who we wanted to use when we got married. Agape Moments makes everything about engagement and wedding pictures easy. We met with our photographer before doing our engagement session and we felt very comfortable and excited to work with her. She was open to trying our ideas and she was also very good at directing us during our engagement session. The day we did our engagement session I was very nervous and she was great at calming my nerves and assuring me that the pictures would turn out gorgeous. Agape Moments is great at getting their pictures back fast to their customers. We couldn't believe how fast we got them back! We were able to view our engagement and wedding pictures on an online gallery about a week after doing the session/wedding and about two-three weeks after, we received our prints and CD containing all our edited and unedited pictures. In the months/ weeks leading up to the wedding, Agape Moments was very easy to work with in planning. They are easy to contact either through email or phone and they respond almost immediately. Throughout my time working with Agape Moments I was never worried about anything. Their customer service is amazing, they put you at ease. The day of our wedding my hair and makeup ran a little late. My photographer and her assistant were great with going with it and capturing other moments/details well I was still getting ready. I thought that our pictures would all be behind because I was running late, but everything worked out perfectly. Pictures all together probably only took 3 hours. Our photographer and assistant were great at directing all of us and keeping us moving. We could not be happier with how our engagement and wedding pictures turned out. They are exactly what we hoped for. We get so many compliments on them and we look forward to working with this company for years to come. Margie
---
Tried and True
Reviewed on

7/09/2013
Mary F
Agape Moments was one of the best and easiest decisions we made for our wedding! Kelly was the first photographer we met with and driving home, my husband and I very easily decided to cancel our meetings with other photographers. She was so easy to work with, made us feel comfortable right away, and obviously knows what she's doing. She assured us we didn't need a second photographer and she was right, she got plenty of fabulous shots. We weren't going to do engagement pictures but since they were part of our package, we decided why not. It was actually a great opportunity to get to know Kelly and to practice being photographed for the wedding (relieving a lot of stress since neither of us love being the center of attention!). Another amazing part of our package was that Kelly put together an album for us! Who knows how long that would have taken after the wedding, when there is so much else to do. All in all, I would highly recommend Agape Moments to any couple! Kelly was beyond fabulous to work with :-)
---
Mellem/Backes Wedding
Reviewed on

7/03/2013
Jacob Donald M
Agape was amazing. From the fist appointment to the last goodbye at the reception. Sarah was our photographer and Bridgett was her assistant. They were both awesome, talented, patient and congenial! As the mother of the groom, I can honestly say that looking for a photographer was never a job for us because I knew 7 years ago, when Sarah took my sons graduation pictures, that we would be using them to take wedding pictures if and when the day ever came. Kim, Sarah, Karmin and Kelly are very creative and when you get your pictures back, you will love them! They tell a story. They capture moments that you would never think are possible. They all love what they do and you can tell! I think that is one of the most important traits a photographer can have. We WILL WILL WILL be using them again!
---
Affordable and easy to work with!
Reviewed on

6/25/2013
Trina D
I absolutely LOVED my photographer. They worked so well with me, and it really helped having the engagement session before because it helped them get to know how we worked with pictures and such. I got my wedding photos back within a week of the wedding, which I couldn't believe! And they give us all rights to the pictures, so we don't have to limit how we share them or print them. The style they use is so different and fun and really helped to capture the fun filled mood of our wedding.
---
Send Message