Home

Alysia & Jayson Fine Art Wedding Photography
About this Vendor
Fine Art Wedding Photography | Husband & Wife Team
We are a husband and wife team, passionate about photographing weddings. We offer both male and female perspectives to tell your story while creating a fabulous experience. Our approach is unobtrusive. We like candid and natural looking photographs with a clean, romantic, photojournalistic style.
Details
Artistic, Classic, Documentary, Lifestyle
Getting Engaged, After Party, Rehearsals + Parties, Wedding
Destination Wedding Packages, Destination Weddings, Online Proofing, Digital Files, Film Photography, Printed Enlargements, Printed Proofs, Wedding Albums, Photo, Second Shooter Available, Social Media Sharing
Contact Info

Your 1st Step to Forever!
Reviewed on

2/28/2015
Kaitlin L
We absolutely loved having Alysia and Jayson as our photographers to capture our special day! They are so kind, patient and fully of ideas! They made us feel very comfortable as well! We loved that we got actual prints with the flash drive. It helps seeing your photos on hand... Read More than on the computer! & We absolutely loved them and showed them off to our friends and family! We have nothing negative to say or have anything that we would change! If your looking for a photographer/s, definitely go with this awesome couple!! They were able to capture our first step to our forever after and we are forever grateful!
---
Reviewed on

6/21/2017
Laura R
Alysia and Jason truly helped to turn our wedding vision into a reality! We could not have found a better pair to photograph our big day. The pictures are absolutely stunning and they were both such a joy to work with! Highly recommend! You will not be disappointed.
---
Reviewed on

1/20/2017
Alayna B
Alysia and Jayson were everything we wanted and more! Not only did they take the most beautiful photos I have ever seen, but they were responsive, professional, easy-going, and all around just great people! My husband and I are definitely not ones who love to have their picture... Read More taken and we were pretty nervous at first, but A&J made us feel so comfortable and made it fun! They honestly went above and beyond in all aspects. For example, they provided us with a BEAUTIFUL black and white photo AT our wedding (I don't know how they did it, but they did - and it was awesome)! I highly recommend them to anyone and everyone. If you want incredible photos and honest, professional, great people - call Alysia and Jayson -you will not be disappointed!
---
Reviewed on

6/14/2016
Elizabeth C
Alysia and Jayson were hands down my favorite vendor to work with, for several reasons. I spoke with a dozen photographers before speaking to Alysia and Jayson and knew instantaneously that they were our perfect fit. Alysia's calming nature (which was beyond appreciative during... Read More our hectic day) coupled with Jayson's sense of humor made us feel like we were surrounded by new friends. Several of our wedding guests approached me during the reception and commented on how fantastic they were throughout the day. Most important and impressive though, is their skill and and talent behind the camera. They are beyond creative and captured our personalities perfectly. Our photos are gorgeous and we could not have asked for a better experience from beginning to end!
---
Reviewed on

6/11/2016
Allie B
Alysia & Jayson are the most talented, caring, and nicest people you will ever meet. From the very beginning, they welcomed us with open arms and made us feel 100% comfortable in front of the camera. Their passion for their work truly shows in their absolutely breathtaking... Read More pictures. We had a blast at our engagement session, joking around like we had been friends for years. We couldn't wait for the wedding! On the wedding day, they were absolute professionals, which we knew they would be! They were so kind to our family and friends throughout the whole day as well. As we were taking pictures in the the hot sun, they made sure to frequently ask if I needed anything which was incredibly sweet! They were absolutely awesome - go with Alysia & Jayson and you will be so happy you did!
---
Reviewed on

6/05/2016
Heather B
If you are looking for the most talented photographers in the world, look no further! Alysia and Jayson are by far the most incredibly talented duo you could come across. Their photos are like nothing you could ever imagine. They take wedding photography to a whole new level of... Read More amazing. The comrottery between these two makes even the most nervous of couples (my husband and I at our engagment session) feel at ease and so comfortable. Their visions and creativity is exactly what drew us to them. Professional but friendly at the same time. Photos were most important on our list so we needed the best and that's what we got. We were over the moon and overwhelmed with joy to spend our special day with them and have them document it forever. We love you guys and will always have a special place in our hearts! Xo
---
Reviewed on

6/04/2016
Kate L
Alysia and Jayson were a joy to work with from the moment we met them. They felt less like a vendor and more like friends, even from the beginning. They were attentive and listened to our wants and suggestions, while providing some incredible advice and feedback to help guide us... Read More when we were unsure of where/how we wanted to take a photograph. I can say in all honestly that it is thanks to them for having one of the most amazing moments with my new husband. They whisked us away right after the ceremony to a wine cellar at our venue. They let us have a few minutes to ourselves to take everything in before starting the next round of photographs. That was one of my favorite parts of the day, and it was all due to them. As far as their product goes, the photos are INCREDIBLE. Our best man and one of our bridesmaids are wedding photographers and even they were thoroughly impressed. They captured our personalities in all the candid shots, and preserved every special part of our wedding for us to enjoy for the rest of our lives. The colors are right, the lighting is gentle, and everything about them is romantic. Alysia and Jayson are beautiful people, an incredible team, and fabulous professionals. Photographers are so involved in your wedding, so it is SO SO SO important that you like working with them. These two were not only amazing to work with, but they also supported us throughout the whole day and kept us so excited throughout the entire planning process. Thank you, thank you, thank you for being part of the start of our life together.
---
Reviewed on

5/26/2016
Samantha M
I cannot recommend Alysia & Jayson highly enough! Not only are they talented photographers with a beautiful product, but they were a true pleasure to have around all day on our wedding day. They are both incredibly sweet, fun, professional, flexible, and they truly put us at... Read More ease - perfectly balancing the need to assert themselves and get the best shot while remaining "behind the scenes" and non-intrusive. The photos themselves were natural and gorgeous (we loved that their package included actual prints!) and captured the energy and emotion of the day. Engagement pics were also awesome, and surprisingly fun! My sister-in-law told me she wished she could do her wedding over again so she could hire Alysia & Jayson. They are a must-have Baltimore wedding vendor!
---
Reviewed on

12/03/2015
Kathryn O
Hands down the best decision we made for our wedding was to have Alysia and Jayson photograph our wedding. They captured everything we wanted and more. The truly told our love story again through their lens. I love there artistic approach to photography and they were an absolute... Read More pleasure to work with. It was so nice to have the two of the be able to capture moments that not one person could do. Don't give there services a second thought. I promise you'll enjoy choosing Aysia and Jayson as your wedding photographers for the rest of your marriage.
---
Reviewed on

11/08/2015
Jenn F
There aren't enough wonderful things I can see about working with Alysia and Jayson. Though I had already looked at a few other photographers, the moment I saw Alysia and Jayson's work I knew they would be the right choice for our wedding. Once we contacted them and started... Read More working together, they were so sweet, kind, and responsive. When torrential rain fell on the day of our scheduled engagement photos, Jayson and Alysia were constantly checking the weather and convinced that there was a window of time late in the day that would work. They were right, and they took beautiful photos of us and some truly impressive ones of our dog. As for the wedding itself, they were phenomenal. While they were great for taking posed photos and planned family shots, I was even more blown away by how they always managed to be at the right place at the right time, taking impromptu shots of friends and family dancing at the reception and sweet moments with myself and my husband or with our families. If you're looking for photographers who have a beautiful and unique aesthetic, are caring and sweet, and will be able to provide you with the perfect memories of your special day, Alysia and Jayson are the right choice. We'd use them again in a heartbeat.
---
Reviewed on

11/03/2015
Stefani N
I must have looked at more than 50 photographers websites to try to identify the style that I liked. I googled pictures from my wedding venue site and loved Alysia & Jayson's style of photography. Their style looked so romantic and natural (unlike some cheesy posed wedding... Read More photos). They shot our engagement photos on Sanibel Island. We loved our photos and them. Our wedding photos were absolutely gorgeous and we couldn't be happier. It is always great to work with people who are talented but it is even better to work with people who are both talented and genuinely good people who you want to be around. Thank you to Alysia & Jayson for all that they do! We will cherish these photos and our happy memories forever.
---
Reviewed on

10/26/2015
Christine J
Being a New York bride getting married in Maryland I relied heavily on online research. I came across Alysia & Jayson's website and knew right away their style matched our vision. From the first email exchange we felt comfortable to book them and it was hands down the best... Read More decision we made for our wedding. A few months before the wedding, Alysia & Jayson photographed us in NYC and it helped us feel more comfortable in front of the camera and got us better aquainted with them. We liked their perfect mix of professional and sweet nature. It is a pleasure working with a loving couple because they just get it! We were so happy with our NYC photos, so we knew we were in great hands for the wedding. I had a hair and make up blunder two months before the wedding and I reached out to Alysia & Jayson for suggestions on local hair and make up artists and they immediately responded with a detailed list. That was a lifesaver and I hired two of those artists, both of which were excellent! On the wedding day, they arrived early, scoped out the property and took photos of us as we got ready. We had scattered showers, but they rolled with weather and made us feel reassured that they were getting amazing shots. A month after the wedding we received our online gallery along with a surprise slideshow with music. That was such a beautiful touch because we didn't hire a videographer. The photos were gorgeous and we couldn't be happier. Someone told me before the wedding that all you have after the wedding, aside from memories, is a dirty dress and the photos. We are so thankful for those photos that we will treasure forever.
---
Reviewed on

10/15/2015
Carly C
Alysia and Jayson are two very special people; their love and passion for photography are reflected in the beautiful pictures they take. They have the unique ability to capture the emotion of the moment and their creative eye makes their photographs works of art. My husband and... Read More I consider ourselves lucky to have had them document our special day. I researched plenty, trust me. But, when I came across Alysia and Jason's website, I knew I wanted them to be my photographers. As if the pictures on their site didn't already sell me, meeting them in person sealed the deal. You will never meet such caring, warm hearted, detail oriented, professional people. They truly care about your experience, take pride in their work, and go the extra mile for you so that you have the wedding you envision. Absolutely, 100% amazing! Seriously, you will not find anyone better. In fact, when my husband and I have children, we would love for Alyssa and Jayson to document that new beginning as well. We really can't say enough wonderful things about our experience, even this note about them doesn't do them justice - they are just THAT GREAT!
---
Reviewed on

7/27/2015
Christine S
From the moment we first spoke with Alysia and Jayson, they were so personable, helpful and very excited about shooting our wedding! We talked quite a few times before the wedding and they even scoped out our venue ahead of time, so they had plenty of wonderful suggestions. On... Read More the day of the wedding, Alysia and Jayson spent time with both bridal parties beforehand and photographed every last detail throughout the day, but were never pushy. All of the pictures turned out beautifully and they did a great job capturing candid moments as well as the staged events. Everything that came in the package was beautifully put together and you can tell that they put a lot of heart into their work! We loved the blog on their website as well as the presentation box and photo album! Such wonderful keepsakes that we'll have forever! We also got our files very quickly and they were always very fast to respond to every question, even weeks after the wedding! We highly recommend Alysia & Jayson and we're so glad they were part of our day!
---
My Beautiful Wedding
Reviewed on

4/28/2015
I am absolutely happy with my service. Alysia & Jayson have a very unique art mind for photography that caught my eye. I am very picky and not afraid to admit this. I told my husband that I did not want to just pick anyone to take my wedding photos. I had a mind set of what I... Read More wanted. When I sat down with them and looked at their art, I was absolutely stunned. My wedding was breath taking. I have wonderful photos to prove it now. When I show everyone my photos they are shocked. They always ask me who did my photos. I tell them Alysia & Jayson photography did it. I would recommend them to anyone.
---
Yay!!!
Reviewed on

3/01/2015
Alysia & Jayson were absolutely awesome. They responded to any emails or questions I had super fast. It was a pleasure to have them share our day with us. They captured all aspects of our wedding. We got married at night so that had the task of taking all of the pictures of my... Read More new husband and I in the dark. All the pictures turned out beautiful. You wouldn't even have known it was dark out. On top of everything you get two of them!!!!!!
---
Meet The Owner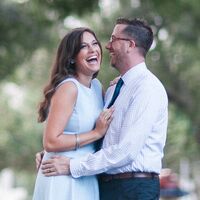 Alysia & Jayson Quinn
We are Alysia and Jayson. We met nearly fifteen years ago with instant connection. Best friends, then lovers. Alysia attracted to Jayson's inquisitive nature, soft blue eyes and comedy routines. Jayson drawn to Alysia's gracefulness, quiet strength and femininity. After becoming engaged spontaneously over a cup of coffee, we packed a dress and tux and flew to Wynn Las Vegas to be married in a whirlwind. That was ten years and two beautiful babies ago. What a journey it has been. We are lovers of coffee, pizza, podcasts and Jesus. Oh, and we fell in love to the music of Ray Lamontagne.