Home

Amara Bridal Boutique
About this Vendor
Amara Bridal Boutique
Amara Bridal Boutique is a small family run bridal business in West Chester, Ohio. We offer a private shopping experience. You will have the entire store to yourself when you try on dresses! We offer modern styles catering to the budget minded bride.
Details
Wedding Dresses, Dresses, Bridal Stylists, Online Ordering, Private Appointments Available, Fashion Services, Fashion
Contact Info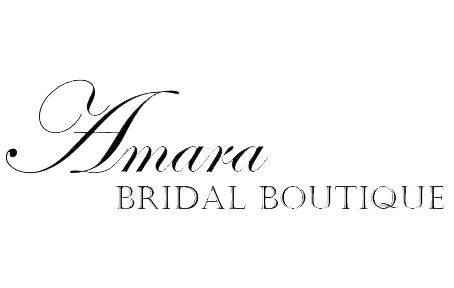 Reviewed on

4/28/2016
Oh my goodness, I can't say enough wonderful things about Amara Bridal. It was an absolute pleasure working with Rebecca! She spent quality time with me making sure I found my dream dress.....and I did. I went with a David Tutera gown and couldn't be more excited. Thanks... Read More Rebecca for being so wonderful to work with!
---
Reviewed on

11/24/2016
Pam G
I loved my experience at Amara. My bridal party visited the store after a couple of appointments down in the bridal district. Amara is different. We had the store to ourselves. I tried on about 10 dresses there & I wound up purchasing a Sophia Tolli that Rebecca pulled for me.... Read More She quickly zoned in on what I seemed to like about each dress that I had chosen to try on & she pulled my dream dress next! She had a free veil offer going, so I was able to choose a Mon Cheri veil that would have been out of my total budget. I love, love, love my dress! Thank you Rebecca!
---
Reviewed on

7/06/2017
Madison B
I had an incredibly wonderful experience with Amara Bridal! Rebecca was so helpful with finding exactly what I was looking for and accommodating in so many ways. I had my eye on a Sophia Tolli gown that she did not have in store, but we were able to get a loaner gown shipped to... Read More the store in order for me to try on. She made me feel comfortable and was able to help with a veil selection as well, having something customized to my liking. I would recommend Amara Bridal to anyone!
---
Reviewed on

7/04/2017
Aaron K
Rebecca was amazing! She was so patient with me and my family who came in with me. She makes you feel so welcomed in her store and the fact that the store is by appointment only makes it a great experience! After my appointment with her I canceled all my other appointments other... Read More places and only wanted to work with her. I tried on a few dresses but had my heart set on a dress that wasn't in the store. Rebecca made sure to find it for me and get it in her store because she knew how much I loved it! I was so pleased to have someone care that much to make me happy on my wedding day. I could tell she wasn't doing it for the sale she was doing it because she wanted to do it for me. I have had the best experience at Amara Bridal and will be recommending it to everyone!
---
Reviewed on

5/19/2017
Gayle V
I purchased a beautiful Sofia Tolli that I found on perownedweddingdress.com. I have finally been able to try it on and the dress if PERFECT! It needs absolutely no alterations. The color was beautiful, it was nicely packaged and arrived in perfect condition. I never stepped... Read More foot in a bridal store so I was pleasantly surprised to be able to find my perfect gown online. The service was prompt and the store was in contact until my gown shipped. I would recommend this boutique to anyone in the market for a gown at a great price, and if like me hate the anxiety associated with dress shopping. I can't wait to walk down the aisle in my gorgeous gown!
---
Reviewed on

5/09/2017
Jennie M
I found a Sophia Tolli dress that I fell in love with online. I called everyone who carried Sophia, but nobody had it in their store for me to try on. When I called Amara Bridal the owner- Rebecca offered to borrow the dress for me from Sophia Tolli. There was a $50 fee & I was... Read More allowed to apply that amount to my dress purchase. No other store that I called made the offer to bring the dress in for me, so I was really pleased. It took a few days for the dress to come in the store & when I went in form my appointment IT WAS MY DRESS! Rebecca offered to pull other dresses to make sure it was "the one", but I had been shopping previously. I knew right away that I had finally found my dress. Here is the best part. Rebecca told me about her ongoing teacher's discount of 10% off AND she threw in a free veil. I did not ask for these discounts. She just offered them to me & that was a wonderful surprise. I came in well under budget. I can't say enough about my experience. I did not feel pressured to purchase at any time. The store is smaller, but very clean & cozy. We all agreed it was the nicest store experience we had. We were offered cookies & beverages. The measurements Rebecca took were very accurate & the dress came in fitting almost perfectly. I had the bust taken in a tiny bit & the hem shortened with the store recommended seamstress. It came out perfectly. I have been telling all of my friends about Amara & I am posting this review to let others know about the great little bridal shop up in West Chester!
---
Reviewed on

3/12/2017
Personalized service. Rebecca made my daughter feel like a princess. I would recommend Amara Bridal to everyone. They schedule individual appointments so they can focus on just one bride at a time and there is no pushy sales person just Rebecca, the owner, making sure you... Read More receive one on one attention. I have one more daughter to marry and we will be back. Thank you again Amara Bridal.
---
Reviewed on

2/14/2017
Molly J
Really had the best experience at Amara Bridal! Rebecca was absolutely fantastic...beyond helpful and personable, yet laid back and not at all pushy. I never felt rushed and she was always quick to respond to me any time I contacted her with questions. Found a beautiful,... Read More wonderfully priced dress that arrived on right on time! I'd like to add that our wedding is a two-bride wedding - that said, we do still occasionally come across vendors that are noticeably "less than thrilled" to assist us, if at all, once they learn of this...however, Rebecca at Amara made me feel right at home and really seemed genuinely interested in our wedding plans...wanted to share for those who may be in the same boat. Seriously, there's no point in wasting time at other stores where you get "lost in the shuffle" - would definitely recommend going to Amara first.
---
Reviewed on

2/14/2017
Michelle S
Disclaimer: I did not end up buying a dress at Amara Bridal Boutique. However, I had a wonderful experience with this store and I wanted to share my positive feedback. I went to Amara Bridal for my very first bridal dress appointment. Rebecca was a complete pleasure to work... Read More with. My party was the only one in the store (she only books one bride at a time), and she even let us bring in a little champagne, which made the experience feel so comfortable and personal. The dresses at this boutique are gorgeous, and I was really impressed with the totally reasonable price range. Rebecca is so kind and lovely and I appreciated the attention I received. My appointment felt like how a bridal fitting "should" feel like, for what TV would have you to believe. The selection is limited here, which meant that I didn't feel overwhelmed or like I was having decision paralysis. Unfortunately, I didn't see exactly what I wanted at my appointment. I ended up stumbling across my perfect dress unexpectedly elsewhere, but if I hadn't, I almost certainly would have gone back and ordered from Amara. The service was lovely, the prices were right, and I had a wonderful experience. Brides on a budget who still want that private, "princess" experience should definitely check this place out. I'll be recommending it to my two younger sisters whenever they get engaged!
---
Reviewed on

1/19/2017
Whitney P
Drove 2 hours to Amara Bridal Botique. Rebecca is amazing! You get the whole boutique to yourself during your appoitnment which I loved. I have been in large chain stores with my friends and they are just not as special. Rebecca has great prices and I found both my dream dress... Read More and veil on my first appointment. I highly reccommend Amara Bridal Boutique.
---
Reviewed on

12/12/2016
Sandra H
First, I'll start by saying I had a very "non-traditional" dress shopping experience. I live in Chicago and never actually visited this salon. I purchased a gown from this boutique via preownedweddingdresses.com. I decided on an overstock sample Sophia Tolli (discounted about... Read More 70%). I knew the minute I saw it, that this was the gown, not to mention the amazing price! Rebecca was extremely responsive via email, and very friendly over the phone! My dress was delivered today and IT IS AMAZING! In perfect condition. I am so in love! Thank you Amara Bridal!
---
Reviewed on

11/30/2016
Heather M
I enjoyed my time at Amara Bridal. I am not a skinny girl, so it was nice to be able to try on sample dresses that actually fit. It's pretty hard to imagine what a dress will look like when it's 10 sizes too small. The appointment is private, so it was nice not to have to come... Read More out of a dressing room into a room full of strangers. I loved a Sophia Tolli dress there, but my wedding isn't until next fall. I plan to go back for another appointment in January. Rebecca stated she is getting a line of dresses in sizes 22-30 that will be easier on the budget (under $900). I thought the owner was super nice. She made me feel very comfortable while I was there. The even have cookies :)
---
Reviewed on

11/26/2016
Donata R
I purchased my dress online after chatting with customer service regarding my measurements. They helped me choose the correct size. The gown arrived & fit almost perfectly. I only need to have my seamstress add in bra cups, a bustle & hem the dress. Rebecca even chatted with me... Read More via email regarding the different bustle options I could do with my dress. The dress was packaged with layers of tissue & it was inside 2 bags (a plastic garment bag & then that was inside a zippered garment bag) It arrived 3 days after being shipped & they provided tracking information. It's pretty scary ordering a dress online, but I saved a lot of money taking the risk. Amara walked me through the entire process & I couldn't be happier with my dress!
---
Reviewed on

11/10/2016
Christine F
It was an absolute nightmare. I contacted the store 2 months prior to my appointment. At that time I provide dress size and budget. In the 2 months leading up to my appointment we communicated confirming everything. I also sent pictures of dresses I liked. The store seemed... Read More accommodating and said they would have everything ready and promised they had dresses in budget/size to try on. I showed up to the appointment and nothing was ready, there were no dresses in my size, and the owner spent 20 mins saying she never spoke to me call or email (how did we make the appointment then hug). She lied, I showed her the emails with her signature, and showed the time stamped calls. After seeing those she then said "I am running a business which means I didn't have time to prepare for each person or to give everyone a great experience, or really pay attention to what I email so you can't hold me to it". It was horrible it took everything in me not to burst into tears.
---
Reviewed on

6/05/2016
Very happy! We took a chance and ordered the dress online without even seeing it in person. I loved it even more than I thought I would. I can't say enough about the quality and detail. Amara Bridal delivered the dress when promised, followed up and were very pleasant.
---