Home

Ana Paz Cakes
About this Vendor
Contact Us for Our Platinum Wedding Cake Promo
Ana Paz Cakes is a family-operated business that makes one- of-a-kind spectacular and delicious edible designs. Since 1978, we have been pleasing customers by satisfying their unique requests. Our famous vanilla recipe has been handed down throughout three generations. Located in historic Coral Gables. Instagram: ana_paz_cakes
Details
Dairy Free, Gluten Free, Kosher, Nut Free, Sugar Free, Vegan, Vegetarian
Cake Stands, Cake Accessories, Cake Delivery + Setup, Cake Tastings, Groom's Cakes, Cakes + Desserts
Contact Info

Delicious and beautiful
Reviewed on

12/19/2015
Debra G
Our cake was exactly what we wanted! We had an elegant 4 tiered cake with 2 flavors - almond/raspberry and lemon! We ate left overs for days because we couldn't get enough. The fondant was sweet and yummy too!
---
5 layers of perfection
Reviewed on

12/12/2015
Erika M
No one could stop talking about how good it was, and all I could do was stare at the beautiful masterpiece!! I really want time to fly so that I can have a piece on our 1 year anniversary. The cake tasting was so quick I wasn't sure what to think, and now i know its... Read More because the pro's know what they are doing. they waste no time. Loved it all
---
Delicious Wedding Cake
Reviewed on

11/17/2015
Jamie S
Ana Paz cakes was a great vendor. They were the vendor included in my wedding package at my venue. We had a 4 tier cake that consisted of 3 flavors, vanilla rum (amazing), almond, and chocolate. The frosting was quite sweet but overall it was very moist and delicious cake. The... Read More decor of the cake was amazing. They added an extra tier for us to save for our anniversary and it was very reasonable. I would definitely order from them again in the future.
---
Reviewed on

10/18/2017
Kristina C
Out Ana Paz cake was delicious and beautiful. I am especially grateful for this awesome vendor though because of their diligence with my husband's gluten allergy. He has celiac disease and could not eat anything that touched normal flour. And yet, Ana Paz went above and beyond... Read More to create a layer that was uncontaminated and made gluten free just for us, so we were not deprived of that signature cake cutting moment at our reception. Awesome team!
---
Reviewed on

8/29/2017
Deanna G
Ana Paz made our dreams come true for our wedding! Even with the right restrictions of our wedding hall, she made a Dominican cake with no dairy! Everyone was in love with our cake & I cannot thank her enough for her masterpiece! Thank you from the bottom of our hearts!
---
Reviewed on

8/17/2017
Diana A
All I have to say is.... WOW!!!! I could not stop looking at my cake at my wedding! It was absolutely gorgeous and had every single detail on it that I wanted. Initially, I met with Carolina (Ana's granddaughter) , who took the time to listen to everything I was looking for.... Read More She sketched out my cake and took careful notes of what I liked. The whole process was super easy! Leading up to my wedding, Ana personally contacted me to confirm the details about the cake and venue. Once again, all my questions were answered and everything went smoothly. When I walked into my wedding reception and saw the finished product, I was in awe!!! The cake was even bigger than I pictured! We got so many compliments from our guests regarding our gorgeous cake. Not only did it look amazing, but it also tasted amazing! This isn't the first time we've worked with Ana, so we knew we were in great hands, but she totally blew us away! Thank you so much for creating a masterpiece for our special day! Diana & Roland
---
Reviewed on

8/09/2017
Melanie K
Ana Paz did my wedding cake and my groom's cake, and both were beautiful! We had picked the design of the cake from a sample, and it came just as beautiful. The best part is that it tasted delicious!! We also designed a groom's cake based on some ideas that I had, and Ana was... Read More able to create my vision perfectly! I was very pleased with everything and will definitely order cakes from her again!
---
Reviewed on

7/07/2017
Daniel J
We had Ana Paz cakes do our wedding cake....it was delicious and beautiful. We had a venue which included the wedding cake as part of the package. They provided three wedding cake vendors. Ana Paz was one of them. We visited Ana Paz and the two others. Had samples from each... Read More and also the costs of some of the upgrades that we wanted which were not necessarily included. Ana Paz included more stuff in the already arranged package as opposed to charging us more and her cakes frankly were more moist and delicious than any of the other providers we visited. Great team to work with, delivered as promised, and can't wait to pull that top layer out of the freezer in a year and have it again.
---
Reviewed on

4/04/2017
Nicole M
Ana Paz Cakes is THE place to get your wedding cake in Miami. We received our cake through the Doubletree Biscayne Bay All-Inclusive package but still had to go to Ana Paz for the tasting and to pick the design. They have so many flavors and it was so hard to choose between... Read More them. Luckily, they let you choose different flavors for each layer so we didn't have to! And they have so many designs to choose from and will customize them, unlike their competitors. Our cake was so gorgeous, it was almost a crime to eat it. We had 3 flavors (hazelnut, chocolate, and lemon) and they were all so good!! Luckily we had lots of leftover cake and could eat it for several days afterwards. Ana Paz is truly better than all the other cake makers out there.
---
Reviewed on

3/31/2017
Anne F
It was lovely working with Ana Paz and her team. I planned my wedding from California, so when I only had a couple of days in town, Ana allowed me to come and order my cake outside of her regular hours. She was so sweet and personable, with great advice for the cake and for... Read More marriage! It really felt like working with a family friend. We easily chose a cake that was not only beautiful, but delicious! We went with the vanilla rum and chocolate, but every flavor was great. After the wedding, our guests enjoyed the cake so much, we didn't have any left over! I had been looking forward to it so much, and was devastated that after months of starving myself to fit into a dress, I wouldn't have any until our anniversary. I called Ana Paz and they understood my disappointment. They were amazing in making me a small cake, and I am so appreciative. I finally got a chance to enjoy my wedding cake, before next year!
---
Reviewed on

2/12/2017
Celia D
Their cakes are not only beautiful but actually taste delicious - I would recommend them a thousand times over!!!! All the guests actually ate their cake ;-) We can't wait to eat the top layer. Highly recommend.
---
Reviewed on

12/29/2016
Chris C
Best of all the cake was perfect as planned and all layers tasted fantastic and we shared with the entire Feana restaurant as we had more than enough. Great customer service, efficient, and on time. Thank you!
---
Reviewed on

12/08/2016
Jessica Z
The cake was amazing!! We had cupcakes. The tower was gorgeous. They were able to accommodate my allergies so that I could enjoy my own wedding cake!!
---
Reviewed on

12/08/2016
Mindy V
This was the most beautiful and delicious wedding cake that I have ever had!! Everyone was so friendly and helpful during the entire process!! I will definitely reccomend and order from them again!! Thank you so much for my beautiful cake and all of your help!!
---
Reviewed on

11/14/2016
Ashley O
Ana Paz was the best choice for our October 2016 wedding at the Sonesta Fort Lauderdale. We knew during our tasting that the wedding cake would be delish and gorgeous! The simple and elegant design was a great finishing touch to our amazing wedding! Thank you!
---
Reviewed on

10/16/2016
Nadia L
We had an Ana Paz cake included in our package at our venue. We met with them at the Riverside Hotel (this worked out perfect as it is close to our home). The cake was beyond what I had dreamed and imagined. We received so many compliments both on the style of the cake and the... Read More taste! To this day people are asking if we have left overs! I highly recommend Ana Paz for any party need.
---
Reviewed on

7/12/2016
Roseann B
Ana Paz did an amazing job with our wedding cake! Not only is the cake itself delicious, but it was a work of art! Thank you Ana Paz for your wonderful and tasty addition to our special day!
---
Reviewed on

6/27/2016
Jennifer P
An Ana Paz cake was included in our catering package through The Cooper Estate, and it did not disappoint! The cake was delicious, we were able to alternate flavors for our 4 tier cake (we went with vanilla rum and hazelnut). Everyone was so nice and easy to work with. The... Read More cake tasting appointment was easy to set up and very helpful. Our wedding cake was simple yet elegant – very much to the style of our wedding, and so tasty! So delicious I went back to Ana to have my groom's cake made. I brought a few pictures of what I wanted it to look like (a rugby ball for my husband) and they made a beautiful cake – exactly what I had envisioned - that all his rugby friends were amazed by. Thanks again!
---
Reviewed on

4/07/2016
Brooke K
Ana Paz was a Preferred vendor from our venue and our wedding cake was beautiful and delicious. We went with traditional vanilla and chocolate layers and everyone loved it. They did such a great job and I highly recommend them.
---
Reviewed on

2/13/2016
Cori N
It's very unusual for people to actually enjoy the taste of a wedding cake, and our guests RAVED about how delicious ours tasted. The almond cake is particularly out of this world. I would highly recommend Ana Paz Cakes for all of your cake needs :)
---
Reviewed on

1/27/2016
Super amazing cake. I can't express how delicious it was and how great the entire experience was with Ana Paz. Moist cake, that is also light and flavorful. The buttercream is delicious as well. Very attentive and helpful during our tasting. Super delicious flavors and plenty... Read More of options. My husband loved the cake so much, he ordered an entire extra layer for us! We loved the cake so much, we ate the "one year anniversary cake" the days following the wedding...and plan on purchasing another cake from them come our 1 year :) Don't go anywhere else - it is delicious!
---
July 4, 2015 - You Can't Forget This Wedding Cake
Reviewed on

1/18/2016
Jeannie S
My Ana Paz wedding cake was a masterpiece of Ana's extraordinaire baking skills. An original creation from a picture I brought to her of a cake style I wanted. Ana not only created it but enhanced it so its beauty was better than the picture. An unforeseen masterpiece. The... Read More cake top, a similar style of a pearl and silver Faberge egg on a pearly and silver stand like pedestal was created by hand. The almond flavor, silver/pearly grey, Swarvoski white diamond studded wedding cake was the most delicious cake my 150 guests could've seen or tasted. It had the "bling" needed, standing very tall and elegant - a centerpiece of our wedding celebration. I knew Ana's cake was going to be one of the best wedding cakes seen. At the end of our reception, I placed slices of cake in silver and white cake bags for our guests to take home and enjoy....at the end of the night I was told that there was no cake left for even the groom and I to take home...the guests couldn't get enough of it-everyone had seconds and third... They LOVED THE WEDDING CAKE. Our guests raved about the cake so much...they said "it was so moist", "looked so beautiful", "never had a wedding cake that everyone enjoyed at a wedding", the comments went on and on. Ana couldn't have made a better cake to suit our theme. It was the best wedding ever. Upon our return from our honeymoon, we ordered a small cake just for my husband and I to enjoy that mimicked our wedding cake flavor and style...yummy! Ana Paz's cake will be our signature celebratory symbol of every wedding anniversary to come! I couldn't have asked for a better person or company to take care of one of the most important days of my life. Thank you Ana. Your personal attention, style, and over all person of who you are makes Ana Paz Cakes the company it is. The New Mrs. St.Louis-Benjamin
---
Reviewed on

11/19/2015
Jessica K
Our cake was simply stunning. Ana's orange sugar calla lilies decorating it had my guests asking me if they were real! We chose vanilla rum for our cake flavor--definitely the best cake I've ever eaten. We will certainly be returning to Ana to help us celebrate all of our... Read More special events! Amazing!
---
Reviewed on

10/29/2015
Ernie L
I love cake! Our cake was incredible. We saved our cake topper but I ate the piece that was leftover. Irresistible.
---
Reviewed on

10/26/2015
Doreen S
Absolutely stunning and delicious, never had a better wedding cake before :)
---
Meet The Owner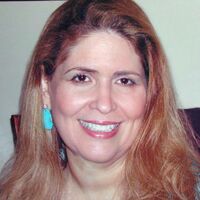 Ana Carmen Paz Matta-De Juan
Ana Carmen Paz, is a native of San Juan, Puerto Rico & her husband, Charles Paz, is from Marianao, Cuba. They met while in Puerto Rico where Ana had three beautiful daughters. Ana started with her Grandmother's recipe, handed down to her from her Mother, which originally called for a cake without syrup. When Ana arrived in Miami in 1978, her client base was primarily of Cuban descent. She decided to diversify her product by moistening it with Ana's secret mix of ingredients! Ana now works with over 70 hotels in Miami-Dade county and Broward county and even shipped to the Bahamas!