Home

Apothecary Lofts and Ridnour Room
Book Your Wedding with Apothecary Lofts and Ridnour Room
---
A BALLROOM IN LINCOLN, NE
About Us
The Apothecary Lofts and Ridnour Room is a special events venue located in Lincoln, Nebraska. It is situated in Haymarket Square and there are numerous restaurants and shopping opportunities nearby. Some special event rooms in this venue are on the fifth floor of the Apothecary Building, which means it has panoramic views of the surrounding neighborhood. There are many indoor event spaces to choose from and it can accommodate wedding parties of varying sizes.
North Apothecary Loft. The North Apothecary Loft is on the fifth floor of the building and can accommodate up to 150 guests with room for a dance floor. This room features oak woodwork and polished brass fixtures that create an elegant ambience. It has an attached studio retreat that has a private bathroom and can be used as a bridal suite prior to the event. It also has an attached kitchen, which makes catering services easier.
South Apothecary Loft. The South Apothecary Loft is also on the fifth floor. It is slightly smaller and can seat up to 150 guests with room for a small dance floor. Couples who want a large dance floor or a large live band may want to consider limiting the number of guests to 100. This room has a fairly neutral color scheme, which makes it easy for couples to customize the space.
Ridnour Room. The Ridnour Room is the largest special event space at this venue and it is located on the first floor of the building. It can comfortably seat up to 285 guests, with plenty of space for dancing. The rectangular shape of this room works well for a ceremony, as well as a reception, because it is possible to make a long, dramatic aisle for the couple to walk down.
What You Should Know
The Apothecary Lofts and Ridnour Room does not bundle food and drink services with room rental fees. This means that couples are free to contract any licensed professionals for these services. Any vendor serving alcohol on the premises must have a valid servers license with them and be able to display it, if asked.
This venue provides a variety of seating options including round or rectangular tables. They also offer basic white table linens and couples can order linens in custom colors for an added fee. This venue does not provide place settings or stemware for weddings.
There are no reserved parking spots at this venue, although there are a number of communal parking lots within walking distance of the building. Couples who do not want their guests to have to worry about parking are permitted to hire a valet parking service.
Extra Perks
The Apothecary lofts and Ridnour Room is a beautiful venue and it offers wedding parties a number of unique extra perks.
High-definition LCD projector
Access to a two-story library and study
Professional-grade sound equipment
Whirlpool hot tubs on-site
Private laundry facilities available
High-speed wireless Internet access
From the Vendor
Where dreams become a reality…
The Apothecary Lofts and Ridnour Room, located in the heart of the Historic Haymarket District, are the top requested venues in Lincoln. We are the ONLY 1st Class facilities which allow you to control both the food AND alcohol catering for your event. Ask us about our Weekend Wedding Package!
Amenities + Details
Amenities
Handicap Accessible

On-Site Accommodations

Indoor

Reception Area
For more details about amenities, please message the Venue.
Ballroom, Historic Venue, Loft
Reviewed on

3/14/2017
Kevin H
Looking for a great venue where you can control your wedding details? The Apothecary Lofts & Ridnour Room is for you. We held our wedding ceremony in the North Loft and reception downstairs in the Ridnour Room. We catered in our own food and beverage and decorated the way we... Read More wanted. Even the color of the accent lighting … you are in control. Crystal and Jon were awesome to work with! They walk you through each detail of the historic venue, and give you tips as to what's been done in past wedding and what you could do with yours. You tell them how you want to set up the chairs/tables, and they do it! It was the perfect, centralized set-up we were looking for to accommodate our guests, especially those from out-of-town. Hotels, restaurants, bars … everything is in walking distance!
---
Apothecary Lofts and Ridnour Room
Reviewed on

9/01/2015
Kaitlyn F
I rented the South Loft for the weekend (Friday through Sunday) and the Ridnour Room for our wedding on Saturday. Having the Loft was AMAZING!!! We were able to have our rehearsal dinner there with food and drinks we brought in. Friday night I spent the night there with my... Read More bridesmaids. Saturday morning we had breakfast and got ready in the loft. Before our wedding ceremony (in the Ridnour Room) the wedding party waited in the loft, then instead of a limo/party bus the wedding party went up to the loft for drinks and pre-party dancing! After the reception, my husband and I stayed the night in the loft! We had originally planned to open gifts in the loft on Sunday but changed our plans so we could sleep in! Being able to have our whole wedding in one spot all weekend was great! We didn't have to worry about getting from one place to another and being on time because we were already there. The only thing I did not like was that we had to pay extra to get into the Ridnour Room on Friday to decorate. I may have misunderstood, but I was under the assumption that if no one rented it Friday we could get in for free. Overall it was an amazing experience and WELL WORTH the cost!! It really sounds like a lot of money but when you factor in what would have had to buy it was a great deal! Just a few examples of where we saved: bringing in our own food and alcohol, no party bus, no hotel Friday for the girls, no honeymoon sweet for Saturday night, no renting a place for the rehearsal, no extra fee for a place to get married. I HIGHLY recommend the Apothecary Lofts and Ridnour Room!!!
---
Amazing Downtown Reception Location
Reviewed on

7/27/2015
Katie M
We had our wedding reception in the North Loft on the 5th floor of the Apothecary Lofts. It was a beautiful venue for our close to 140 guests. We were able to bring in our own food and alcohol, which helped with the cost immensely. We were also able to get in early in the... Read More morning to decorate and come back the next day to clean up- plus we had the venue until 2 am the night of the reception. Which was great for a long reception and if we would have had to clean up that night, we could have. It's also close to everything downtown including bars and hotels. We walked back to our hotel that night. We are so glad we chose this venue!
---
Reviewed on

8/28/2017
LeAndra R
From the start we never once had a problem. Crystal was awesome to work with and answered all your questions in a timely manner. If you need place for 200 or more guests this is the place. We were able to bring in our own food/drinks and the room was set up exactly how we... Read More requested. Great experience.
---
Reviewed on

9/07/2016
Kristin B
Overall beautiful. I was disappointed with the check in times for the amount of money we paid to rent the place for the "whole weekend" especially with the amount of money paid. It was nice to bring in our own food and drink.
---
Reception Venue
Reviewed on

12/24/2015
Kelli S
The Ridnour Room is a lovely place for a wedding reception because of it's location and the building's charm. Jon and Crystal are fantastic to work with and are quick to answer questions and return messages. The downside of this venue is that it is small. It could fit 280,... Read More however our 175 guests were cramped. The dance floor is also small. I would recommend this location 110% to anyone with a 200 guest list! The Apothecary Lofts upstairs in the building are also available to rent for receptions, rehearsal dinners, getting-ready and honeymoon suite and they are gorgeous!
---
could it get any better than this?
Reviewed on

8/04/2014
Caitlin S
Loved the staff! Anything we needed or had questions on they were right there to help us. I would highly recommend them to anyone looking for a beautiful venue!
---
Great Experience
Reviewed on

7/21/2014
Our experience was great from start to finish. We felt welcomed and felt like it was our home for a couple days. We provided our own catering and had both our wedding and reception in the loft. That saved us money and didn't waste guests time by having one venue for the wedding... Read More and another for the reception. Guests commented on how fun and relaxed the evening was. I would recommend any of the lofts.
---
Wonderful location!
Reviewed on

8/05/2013
Hannah B
Having our wedding at the Apothecary Ridnour Room was a perfect choice for my husband and I. Jon Camp was great in working with us on all the details we needed to know, and Crystal was super helpful whenever we had a question. The room was especially great because we could... Read More provide our own alcohol and bartenders -- saved us a lot of money that way! I highly recommend this room even for a wedding of 300 people - we had a blast.
---
Great Place for the All Inclusive Wedding
Reviewed on

7/11/2013
Elizabeth B
We loved the our wedding at the apothecary lofts. You rent the space for Friday at 2 to Sunday at noon. It was very convenient to be able to have the rehersal dinner, the wedding, the reception all at one place. Docs is also a great bar that is an elevator ride way for those... Read More specialty shots that you don't prepare for.
---
Wonderful
Reviewed on

6/25/2013
Holly B
I loved the location! The lighting on the pillars matched our colors and set the mood for the dinner and dancing!
---
Awesome Atmosphere!
Reviewed on

3/27/2012
Matt F
Our experience was pretty positive with the Apothecary (North) Loft! They seemed very flexible and willing to help, and super fast with communication. Deposit return is super fast and they didn't take advantage of it (we received everything back that we expected). They were... Read More accommodating enough to let the dance floor rental company come in a Friday and pickup Monday without issue. Some of the potential extras are projector rental ($50), parking for guests ($250), or to plan to get the room 2 hours early or stay 2 hours late ($100). Hours of rental are a bit tight to only do a 1-day rental for a wedding reception (2pm check in, 11am check out) but since they didn't have anyone before or after us, we had access the morning of (and nobody knocking on the door right at 11am). Crystal/Caleigh are SUPER fast and clear on communication and more than willing to do everything possible to help out. We were drawn here due to the amazing cozy/warm lodge-like atmosphere (wood everything!) and due to the fact they don't lock you in to a specific catering company or bartending company (both are completely open!). Cost was a little high for the (off-season) rental, $1400 for 1-day, but looking back it was well worth it!
---
Just right
Reviewed on

6/13/2011
Karen A
We had around 90 people.. and we got the North Loft, which is considerably bigger than the South Loft.. and it fit just right for the number of people. We were able to put a dance floor.. so if you're not having a dance floor.. you'd easily could fit 20 to 25 more people. It... Read More doesn't need much decoration. If you can reserve it for the 3-day package, that would give you plenty of time to play with the arrangement of tables and all. A little pricey.. but pretty good place overall. :)
---
Ridnour Room
Reviewed on

6/06/2011
Kristina K
It worked out great for my wedding! We were in the Ridnour Room and Crystal was easy to get a hold of and very helpful. For this place you need to find your own caterer and bartender, etc. She gave us a few caterers that she had heard were great and we chose Kerry's Catering... Read More in McCool Junction and they were awesome (great food and really cheap!!). Also we bought all our alchol from a distributor and then just set out a tip jar (suggested by Crystal) and in tips we made $850! Our wedding was on a Friday so the room was $1000 cheaper then on a Saturday. So our price was really good for being in the haymarket.
---
Total freedom to do what you want!
Reviewed on

5/05/2011
Kaitlyn P
I loved the ridenour room--one of the only places in Lincoln where you can bring in your own caterer and alcohal. Its very "do it yourself" so be prepared for some extra leg work, but we found it worth it, to save the money by bringing in our alcohal and food.
---
Beautiful Location
Reviewed on

1/31/2011
Demetra S
We rented the Loft for the weekend. It was the perfect location for our small, winter wedding. The wood and the brick were beautiful and cozy. Loved it and we received a lot of compliments.
---
Loved loved loved the Lofts :)
Reviewed on

11/17/2010
Sarah L
I knew I wanted to have my reception here from the beginning. The character of this place is amazing and the suites that come with the weekend package are beautiful. We did the weekend package for the bigger (North) loft/suite, and rented the smaller (South) loft just for the... Read More reception Saturday night. With the weekend package we got the keys for the building and the suite Friday afternoon and had access to it all the way until Sunday afternoon. The kitchens are really nice and since we were able to be in and out of there all weekend, we had the rehearsal dinner there Friday night, and we were able to keep food and snacks in the kitchen so we didn't have to make a ton of food runs. My now husband and I stayed there Friday and Saturday night, and my bridesmaids and I were able to do our hair and make-up done in there Saturday before the ceremony. The suites also have HUGE jacuzzi tubs and the only thing i was worried about with those was if the hot water would last long enough to actually fill the tub...it did! Some things to keep in mind if you rent the Apothecary: There isn't a dance floor in the lofts so you have to rent one (I used AAA Rentals-they have different sizes and do set-up/tear down for u). They also don't do in-house catering or bartending which I liked because I was free to choose my own caterer and bartender. Crystal was amazing to work with-very fast in responding to my questions and very willing to show me the space many many times :) You're free to set up the tables however you like. You just talk to Crystal about where you want everything, and they do the set-up for you. You also have to rent your own linens and table settings. I got my linens through AAA Rentals as well so they got delivered with the dance floor, and I got my table settings through Hy-Vee. The only little thing I didn't like was the chairs which seemed a little out-dated, but with everything else being as beautiful as it was, I didn't even notice when everyone was in there. All in all, loved it and would definitely recommend it!
---
Meet The Manager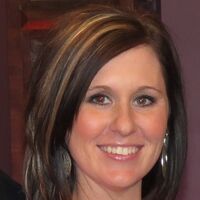 Crystal Meister
Born and raised on a farm in Winside, Nebraska, Crystal graduated from Wayne State College in 2006 and moved to Lincoln shortly after. She has been managing the Apothecary Lofts & Ridnour Room since 2008. In 2010, Crystal and her husband Andy were married (at the Apothecary Lofts & Ridnour Room of course!) and now have two beautiful children. Crystal is dedicated to ensuring that each and every client of the Apothecary Lofts & Ridnour Room is 100% satisfied and she will do whatever it takes to achieve that goal.