Home

Aranda Artistry
About this Vendor
Life is full of beauty
Jessica's philosophy in beauty has always been the same. "I want my client's beauty on the outside to capture people's eyes the way their inner beauty captures people's hearts. Beauty to me has always been about enhancing what you already have and I will always strive to reflect who you truly are through my artistry."
Details
Beauty Group Bookings, Eyelash Extensions, Makeup, Makeup Artists, Beauty

Contact Info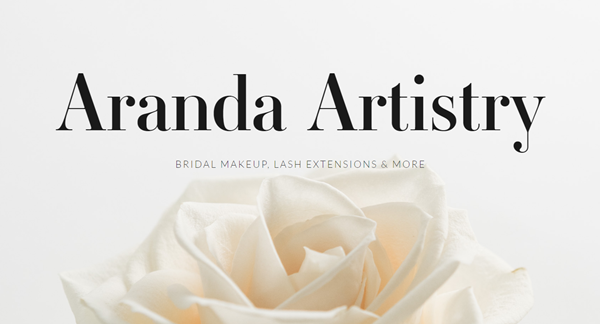 Reviewed on

8/10/2017
Krista L
Jessica and Shannon helped make me absolutely BEAUTIFUL for my wedding!! I couldn't have been happier with how my make up and hair looked that day. They really went above and beyond to make me and my lovely ladies radiate beauty! They both were so sweet and easy to talk to and... Read More fun to have with us the morning of my wedding day! Jessica gave me the natural look that I wanted, knowing the right colours for my skin, and the right amount. I got compliments all night long and people asking me 'who did you hair and make up?!' because they loved it so much. It really was the perfect day and I owe a HUGE thank you to these two beautiful ladies!! The last thing I wanted was to worry about my hair or make up not being what I wanted or being disappointed with it for the big day- but not with Jessica and Shannon!! They exceeded all my expectations I know my bridesmaids felt the same!:)
---
Reviewed on

10/21/2017
Laurena R
Jessica was an absolute joy to work with, not only on my wedding day, but beforehand, when she placed FANTASTIC extensions on my lashes. She is a hard worker and puts a lot of passion into what she is doing. Jessica's work is more of an art. The girls in my bridal party LOVED... Read More how she made them look/feel that day. Thank you, Jessica. We truly appreciate and love you!
---
Reviewed on

10/02/2017
Fanny L
LOVED the look that Jessica did for me! She was great to work with from the start: easygoing, kind and communicative. She even went above and beyond to try to help me with my search for a hair stylist -- so thoughtful. Jessica did a beautiful look for me during the trial and... Read More then adjusted based on my preferences even when I couldn't articulate well what I wanted exactly, she is so patient and a MASTER at her work. The final look was gorgeous and lasted a full day of blasting, whipping wind and cold temperatures on top of a mountain. I look forward to having an opportunity to get my makeup done by her again in the future <3!!! I highly, highly recommend Jessica!!!
---
Reviewed on

10/22/2017
Pam M
Jessica is awesome! I never wear makeup but she made me feel super comfortable at the trial and on my wedding day. I wanted a very natural look and I think she did an amazing job, it was exactly what I wanted. Highly recommend!
---
Reviewed on

10/20/2017
Natalie A
An amazing experience from start to finish! My sister's wedding day makeup was flawless and exactly what she imagined for her big day and it lasted the entire day! Ms. Aranda also provided a fun and professional environment for the Bride and bridal party. I highly recommend Ms.... Read More Aranda for any of your wedding day/ special day beauty needs! Book her now!
---
Reviewed on

10/19/2017
Kristina G
Jessica is amazing! She is the only person I would ever trust to do eyelash extensions on me. She makes the long process fun and they always look AMAZING! She's super professional and a blast to hang out with! Every appointment feels like you're just hanging out with a really... Read More good friend! Everyone should go see Jess! You will not regret it for one second!
---
Reviewed on

10/19/2017
Lauren A
If you want to look and feel beautiful on your special day, Jessica is definitely the person to call! On my Elegant 18th , she did my makeup as well as the makeup for all ladies in my family. My makeup was flawless for the entire night. Through bright lights and crazy dancing,... Read More my makeup didn't budge at all. I was so sad to take it off at the end of the night. Jessica is so meticulous with her work, takes the time to listen to her clients, and always seeks perfection. Anytime I'll need my makeup or lashes done, I'll be calling her!
---
Reviewed on

10/19/2017
Shimira D
Jessica did the makeup for my cousins wedding. She is obviously super talented as you can tell by her photos! Her best quality is that she knows how to LISTEN to her clients. I love how she kept on asking during the process, "what do you like, what don't you like, what would... Read More you like me to change?" Give her a trial run! You won't regret it!!!
---
Reviewed on

10/18/2017
Jojo D
Jessica is amazing! A few days prior to our wedding date Jessica did eyelash extensions for my sisters & mother in which she traveled out of town for...very accommodating & professional. She also did my makeup for our rehearsal dinner & wedding party. I was so thrilled with how... Read More everyone looked—absolutely stunning. I cannot wait to see our wedding photos!
---
Reviewed on

9/12/2017
Erica M
Jessica is wonderful and does not disappoint! I don't wear make up often so it was really important to me that I didn't look like a completely different person once the make up was on. Jessica did an amazing job of not only keeping it very natural, but I could hardly feel it on... Read More my face. She was a very calming and supportive presence on an otherwise very hectic day! I can't thank or recommend her enough!
---
Reviewed on

8/29/2017
Meaghan K
Jessica is AMAZING! Very professional and wonderful attention to detail! She did my lashes and I couldn't have been more satisfied with them! Very easy to work with and very accommodating! 5 GOLD STARS FROM THIS GIRL! HIGHLYYYYYY RECOMMEND!
---
Reviewed on

2/16/2017
Chloë A
Yas! Professional and very talented!
---
Reviewed on

2/16/2017
Lora-Ashley L
Jessica has routinely done my eyelash extensions. I get them filled every 2-3 weeks. She is wonderful to work with and very knowledgeable in all major aspects of eyelash extensions and make-up artistry. She was great answering all my questions and even provided care instructions... Read More after. I would highly recommend her to anyone!
---
Reviewed on

2/16/2017
Sarah K
Absolutely love Jessica's work. Not only is she professional but she's a perfectionist and always goes above and beyond to make me a happy client! I love the products that she uses they are high quality good for you products especially for someone who has sensitive skin. She's... Read More exceptionally great with eyelash extensions. I have gotten my lashes done before at other places and once they all fall off my own lashes are gone. With Jessica's work my lashes grow like they normally do. I highly recommend her she's very good at what she does and very reasonably priced.
---
Reviewed on

2/16/2017
Jessica J
Jessica is very professional. I have now had her do my eyelashes, which I love, (I continue to use her lash services on a regular basis) and my makeup. She really listens to what you want, and does an awesome job making it all look natural. I highly recommend her services!
---
Reviewed on

2/16/2017
Madeline B
Jessica did lash extensions for me a week ago and i absolutely LOVE them! I'm so pleased with them and I am so happy to not have to wear mascara anymore! Jessica did a great job and was super helpful in answering all of my questions throughout the entire process... Highly... Read More recommend!!
---
Meet The Owner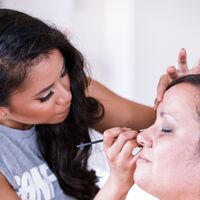 Jessica Aranda
Aranda Artistry was founded by Jessica Aranda and is based out of Albany, New York. Jessica received extensive training from major cosmetic retailers such as Chanel and Bare Minerals. She is also a certified eyelash extension specialist from the Austin's School of Spa Technology. Jessica strongly believes in continuing education and strives to constantly stay involved with every aspect of the cosmetic industry. Over the years, Jessica has worked as an independent makeup artist for brides, bridal parties, special events, photo shoots, and more.