Home

Ashley's Floral
About this Vendor
Wedding and Event Floral Design
We are a full service Wedding and Event Floral Design Company serving all of Ohio. Dedicated to creating beautiful modern designs side by side with our clients. We strive to create a fun, exciting experience.We want to make sure that every last detail for your floral design is exactly what you envisioned.  This is why we will be in contact with you from the time of our first consultation all they way until the event date.  Event details change over the course of the planning process and we want to be there to adapt our designs to fit into your vision. Creating the perfect design for your event takes time and we want to provide you will all the inspiration and designs you need so that we can help bring your vision to life!
Contact Info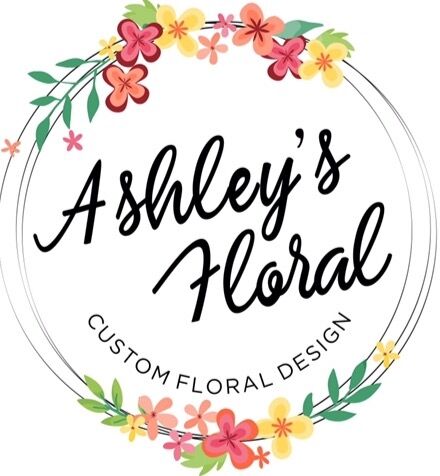 Reviewed on

3/07/2017
Jenny C
I first heard about Ashley's Floral through a conversation I overheard between two other women in a sauna at the gym. I was on a desperate search for a florist for my wedding, so I chimed in and asked who they were talking about. The two gushed over how amazing Ashley was and... Read More how beautiful her work was and I was immediately intrigued! I then did my own research and found her website and, truth be told, it only took about 5 minutes of perusing the site to know that this was the venue for me. From start to finish, working with Ashley's Floral was a dream. She is always very prompt when it comes to every communication and truly wants to bring your dreams to life. I brought to the table my ideas (so many, many ideas!) and she delivered with her own artistic spin and expertise. On the day of the wedding, her fiancé was perfectly on time at our hotel with all the bouquets and the boutonnieres while Ashley was at the venue, hard at work making things look awesome- and believe me, it looked awesome. I actually cried (and I am not a crier!) If you have a wedding or event that you want super-custom, look no further. I had actually made crystal spiders for each table and wanted them to hang from each centerpiece (it was a Halloween themed wedding). She did it flawlessly. I wanted my bouquet to have black feathers and crystals and skulls and she did it, FLAWLESSLY. I wanted the boutonnieres to have little skulls on them and, you guessed it, they were amazing. There is nothing you can think of that she cannot bring to life, and beautifully so. I have always had an eye for detail and have always been a perfectionist, and I have to say that Ashley one-upped me on both counts (something neither I, nor anyone who has ever met me, ever thought was possible. At all!). I could not have asked for a more capable, more enthusiastic, more talented, and more passionate florist to work with. The pictures on her site speak for themselves. Ashley's Floral is top of the line, the cream of the crop, the absolute best. EVER.
---
Reviewed on

3/07/2017
Ashley was hands down the best vendor I worked with while planning our wedding. I have to say I was not expecting the girl that came to meet me that day. Other florists I have dealt with in the past were not as welcoming and definitely did not have her eye for design. I gave her... Read More the number of people I had in the party and told her the colors I would like. We talked maybe 3 more times after that. We planned a wedding in 3 months so I was so busy and she took all the jitters away. She said everything would be ready when I got to the venue and I trusted her. Wow...we were blown away. I still receive compliments on how beautiful our flowers were. She went above and beyond for us. I cannot compliment her enough. Gorgeous is an understatement when it comes to their detail. And on top of all of this I could not believe how affordable they were! I would highly recommend Ashley's Floral! I tell people all the time that I want to do this day over again just to work with Ashley and see those flowers again the way she did them.
---
Reviewed on

3/07/2017
Laura C
I was originally drawn to Ashley's Floral because of her original pieces - every arrangement didn't look the same or like every other piece you see at every wedding. Her pieces are unique and make your wedding or event stand out. Working with Ashley was so easy; it was like... Read More sending a friend your ideas and she just GOT it! She took my rough ideas - sometimes probably contradicting what I had said in my last email - and created amazing pieces that wowed our guests. I would use Ashley's Floral again in a heartbeat and I suggest her to my girlfriends any chance I can! My little sister is planning her wedding and we will 100% be using Ashley's Floral again! A Huge thank you to Ashley and her team - you went beyond our expectations!
---
Reviewed on

3/07/2017
Jasmine V
Ashley's Floral is amazing! I am working with her as a fellow vendor and she blows me away with the amount of care, sincerity, and creativity she brings to the table! They truly care about the vision and succeed every time bringing it to life! I recommend Ashley's Floral to... Read More anyone who wants a top notch experience for their event or Wedding!
---
Reviewed on

3/07/2017
Ashley M
I met Ashley and her crew at a bridal show where my venue was. So many things impress me about Ashley and her business. What first caught my eye was a handwritten note thanking me for stopping at her table. Ashley always goes out of her way to make you feel special whether it... Read More will be a hand written note, a quick response via text, email, or instagram comment. Notice I haven't even got to the flowers yet. The flowers were my focal point of the wedding. Oddly enough I didn't get emotional during any part of the wedding EXCEPT when I walked into the church and saw the flowers. It by far was my favorite part of the day and Ashley's fiancé was there at the end to pick them up but was so patient until we all left the church even though I insisted he could begin the transfer process! Both of them are great people and the work they do is amazing. You don't run into people like Ashley and Ben often in the business world these days and their honesty, integrity, positivity and dedication to their clients is so appreciated far more than they probably know. Giving up their Saturday's every day of the year to make others have special days is understated - they are always working and willing to please those who do business with them. Love Ashley's floral and am so honored to have come across this business for my own special day.
---
Reviewed on

3/07/2017
Taylor K
It was so nice to work with someone who genuinely cared about you and your big day. Being able to see her creativity bring our dream wedding to life was amazing! Not only was all of the florals at our wedding stunning, but the price was affordable too. I would recommend Ashley's... Read More Floral to anyone in the area! This was one area of my wedding that was completely stress free due to exceptional service!
---
Reviewed on

3/07/2017
Stephanie H
Ashley's Floral is amazing!!! Ashley did a great job with my wedding. She listened to exactly what I wanted, everything looked beautiful . A couple years later I used her again for my baby shower. Again, everything looked phenomenal. If you want stress free planning for an... Read More event, look no further!!
---
Reviewed on

3/07/2017
Samantha B
Ashley's Floral is the best!! She exceeded my expectations and at an affordable price. My husband and I got married in June so we wanted bright summery floral arrangements not very traditional at all. I found a few photos I loved in Pinterest and sent them too her. She turned... Read More those visions into something much more beautiful. We had a TON of compliments. Everyone loves the flowers, especially my bouquet. It was truly stunning and one of a kind. Since then I've purchased a wreath and taken a floral crown shop with my girlfriends. That's was a lot of fun, we all enjoyed ourselves. She and her fiancé are very down to earth and make you feel comfortable during the entire process. I wouldn't recommend anyone else as a florist in this area. She really is amazing.
---
Reviewed on

3/07/2017
Darlene C
Ashley created the most beautiful designs for my wedding. She is talented and cares for her clients. She knew exactly what I wanted without giving her much of an idea. Ashley is now my florist for all my flower needs.
---
Reviewed on

3/07/2017
Susan S
Ashley did the flowers for my wedding August 27, 2016. She is so creative, professional and friendly. The arrangements were affordable and she did exactly what I envisioned! Highly recommend!
---
Meet The Owner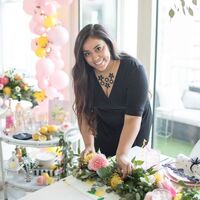 Ashley Aponte
Hello! We are blessed every day to be doing what we love! Over the past 3 years we have been dedicated to creating beautiful modern designs while working side by side with our clients to create the perfect look for their special day! We understand the stress and pressure that wedding planning can have on a couple so we want to make the floral part of your planning as stress free and fun as possible. We would love to meet so contact us today to schedule your consultation.