Home

Atlanta Street Bridal Company
About this Vendor
Atlanta Street Bridal Company
Come enjoy an afternoon with us in our sweetly renovated 1901 home. From the moment you step through our doors, you will be warmly welcomed as a long lost friend. We strive to make every appointment personal, relaxing, and focusing on YOU! Your stylist will help you select gowns from a wide variety of our hand-picked designers. While we know shopping for the gown isn't always easy, we are here to help every step of the way. From romantic glam to whimsical flair, Atlanta Street Bridal Company is here to accommodate all styles & personalities. We can't wait to meet you!
Details
Wedding Dresses, Dresses, Alterations, Bridal Stylists, Dry Cleaning + Preservation, Private Appointments Available, Fashion Services, Fashion
Contact Info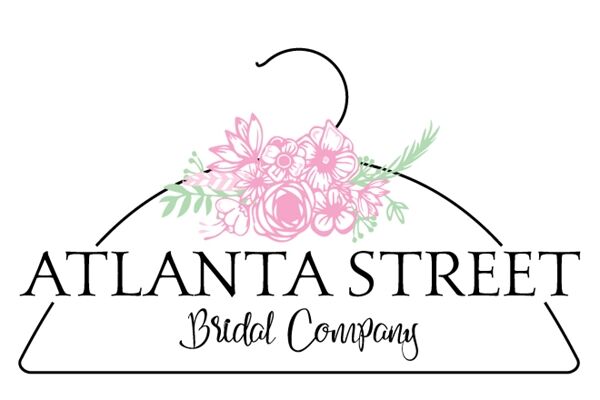 Reviewed on

7/13/2017
Jenni K
Alex and Laurie are so awesome to work with! Atlanta Street Bridal company is the most perfect and local place to find your perfect dress. They have all the latest bridal trends and know exactly what dresses fit each bride best! They are so helpful and patient with you and find... Read More exactly the dress you are looking for. I couldn't be happier with my experience and so excited that I found the dress of my dreams!!
---
Reviewed on

7/17/2017
This lovely historic home and it's owners have such a warm and welcoming presence. On my first visit in March I tried on several gorgeous gowns, but at the time I simply didn't know what I was looking for. Alex was so patient in trying to help me figure it out and urged me to... Read More return as they were getting in several new gowns over the next few months. I left empty handed, but Alex continued to correspond and keep me informed about new arrivals. I revisited in July, on the day of their National Bridal Sale, and knew the style I was looking for this time. Alex listened and I found that style in the very first dress that she had pulled for me! It's great to shop a local small business with very budget friendly prices and also have attentive customer service! Thank you, ladies! I look forward to returning for my alterations and veil!
---
Reviewed on

10/20/2017
Ashley K
After going to many different places to try on dresses, I have to say this place was hands down my favorite! They took their time helping me find my perfect dress that stayed within my budget, which was important to me. They have also held some fabulous events for their brides... Read More too! Favorites
---
Reviewed on

10/18/2017
Claudette L
This place far exceeded my expectations! I had previously only been to one other larger bridal salon and it was so impersonal, but here they greeted me by name when I walked in the door! My consultant was very helpful in helping visualize how the dress would look on my wedding... Read More day with all the necessarily accessories. So glad I found this place!
---
Reviewed on

10/11/2017
Kayla B
Alex was fantastic! She made everything so fun and exciting. I loved Atlanta Bridal Street Company!
---
Reviewed on

10/08/2017
Emily G
Atlanta Street BridalCompany was one of the most welcoming places I have ever had the pleasure of visiting. Laurie met us at the door for my appointment, helped me decide which styles of gown I liked best, and cheered when I found my dream dress and veil. I have never had such... Read More an attentive and personal experience when shopping, and it made it so special that I was able to experience that while shopping for such an important day.
---
Reviewed on

9/30/2017
Macy C
For the sake of an honest review I will start out by saying that I had no initial intentions to buy a dress during my appointment at Atlanta Street Bridal Company. We were so sure of this that my mom left her check book at home. But Lucky for me fate stepped in, in the form of... Read More Laurie Burney. This appointment was scheduled so that I could start my search in a small salon to find out what style dress suited me and my wedding. After trying on dress after dress and realizing that I had no clue what dress I actually wanted I got dressed and my party and I were ready to walk out the door. However Laurie knew that I was hesitant and still contemplating my decision. She simply asked me to show her the pieces of each dress that I liked and each piece that I did not like. Once she saw where my vision lied she put me back into the dress I kept going back to and simply clipped and tucked a few things into place and like magic my dress was staring back in the mirror. Once I said yes to my dress we made a return appointment with the seamstress to confirm that our vision is possible and with a nod and a smile my dress was born. I can honestly say that Laurie and Alex make you feel like family from the moment you walk through the doors. Their dress selections are perfect for any style bride and they can accommodate any bride. I feel so luck to have found my dress in a place that felt so welcoming. I will continue to recommend Atlanta Street Bridal Company to any bride that comes my way!
---
Reviewed on

8/20/2017
Jennifer T
Laurie was amazing! She called to talk with me before the appointment to see what styles I liked. She accommodated my hectic schedule, and met with me on a Sunday. She treated my me, my mom, and my MOH, like family! We were the only people in the shop that day and really felt... Read More like VIPs. She spent all of the time we needed with us, and never made me feel rushed to make this big decision. This shop is awesome! Everything, from the gowns to the shop itself, is absolutely beautiful! I would definitely recommend Atlanta Street Bridal Company to anyone looking for the perfect wedding dress!
---
Reviewed on

7/23/2017
Kate C
UM, I LOVE THIS BOUTIQUE. Seriously it is such a gem in McDonough! I had the pleasure of working with Alex the other week and she helped me find my gown! She let me browse and then picked some she thought I would like. It was my first time trying on dresses and it was the most... Read More perfect afternoon. I immediately fell in love with the store as soon as I walked it. The decor was darling and very charming. Alex was amazing to work with and didn't try and say her opinion or sway a decision, she spoke up at the perfect times and was so helpful. ALSO, I live in SC and they were so accommodating with me coming back for my fittings!! Esther (their seamstress) is also a dream...so sweet and really wants to help you have the most perfect gown. They put so much thought in every dress they put in their store and truly want you to find your perfect dress! Thank you Atlanta Street Bridal Company for helping me find mine! xox Kate
---
Reviewed on

7/21/2017
Haleigh D
I absolutely love this little shop in McDonough! I originally went to a shop in Peachtree City, but was not sure that I wanted to buy that dress. My original appointment for Atlanta Street was on Tuesday, but on a whim we called to see if they had any cancellations for their... Read More sale. Unfortunately, they told us they did not, so we kept shopping. On our way to Griffin, Alex called to let us know that appointment had been cancelled and we could come right then! At this point, I was thinking it was meant to be. My appointment was with Laurie. She was absolutely amazing and was very knowledgeable about which dresses she thought would look good. After trying on about 5-7 dresses, I found the one! Laurie spruced me up with a veil and a belt and it was absolutely stunning. The prices were amazing and I would absolutely recommend for someone to go to this store! They make you feel so comfortable and you're in for a great time! Their in store seamstress is also great and her prices, as well as theirs, are very reasonable!
---
Reviewed on

7/18/2017
Christina R
I highly recommend this place to everyone! The staff was so sweet, attentive, and patient with me. They don't pressure you into a dress the same day but they do encourage due to the changing styles. Had a great experience and I believe I found my dress here as well!
---
Reviewed on

7/15/2017
Laura-Kate H
Laurie and Alex were absolutely AMAZING! This was my first and last stop on my wedding dress hunt. They have the most incredible collection of gowns for every style, size, and budget! They truly made my dress shopping experience so magical. Atlanta Street Bridal Co really knows... Read More how to make a girl feel like a true bride!
---
Reviewed on

7/06/2017
Whitney J
Alex, Laurie and team were AMAZING during my dress search! Atlanta Street Bridal Co was my very first stop in the search for my dress and it ended up being my only! Alex made me feel so comfortable and taken care of during my appointment, and never once did I feel rushed during... Read More the process. All of their dresses are beautiful and appropriately-priced, so I was able to find my absolute dream dress AND stay under budget. I could not recommend Atlanta Street Bridal Co. highly enough!
---
Reviewed on

3/10/2017
Jessica L
A fantastic experience! Laurie and Alex were so helpful and really took the time to make sure everything was prefect. The shop is beautiful and had the best atmosphere.
---
Reviewed on

2/19/2017
Tori M
Adorable renovated historic home in McDonough, Georgia. They carry so many designers and the owners, Alex and Laurie, were very helpful in selecting gowns to try on. I will definitely recommend this to other brides!
---
Reviewed on

2/18/2017
Michele F
Sweet shop in the McDonough square. They have a great selection of bridal gowns and formal wear. The staff is very knowledgeable and friendly. I will definitely be recommending them to everyone!
---
Meet The Owner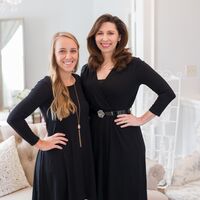 Laurie Burney & Alex Swinney
Alex & Laurie make a dynamic duo. Both bringing something to Atlanta Street Bridal Company, they each are proud of their company. One thing they have in common, is making a bride feel beautiful, is the best feeling ever. They'd love to meet you, so stop by sometime and say "hi"!