Home

Bekker's Catering
Details
American, Eastern European, French, Italian, Latin American, Middle Eastern, Fusion, Seafood
Gluten Free, Vegan, Vegetarian
Catering Delivery + Setup, Servers, Food + Catering
Contact Info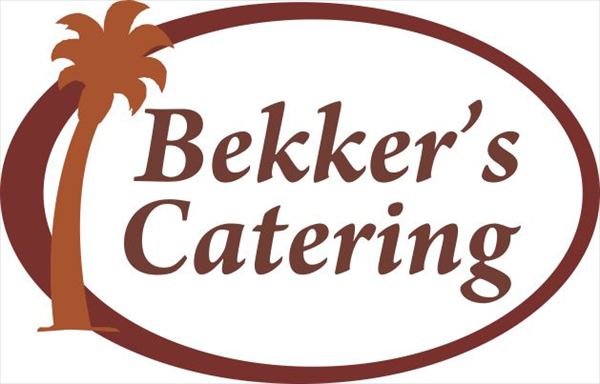 Reviewed on

6/04/2017
Gabriela p
Wow! is the best word I can think of when it comes to the service, personal touch, and patience Barbara displayed while working with us. We used Bekker's for both the rehearsal dinner and the wedding. What a great combo. It was a seamless transition. Barbara was absolutely... Read More amazing, the staff was so helpful and eager to serve, and the food was absolutely wonderful. They worked with us on providing some gluten-free options. I HIGHLY recommend talking to Barbara and her wonderful staff to plan your event. It is completely worry-free. I left everything up to Barbara on both occasions, and everything was perfect! I especially loved the way she communicated with the bride and groomsmen. They listed! :)
---
Reviewed on

4/01/2017
Dan S
Having good food for our guests was one of our biggest concerns for our daughter's August 2016 wedding. Keeping cost under control was also important. Of the caterers we contacted, Bekker's was the easiest to do business with, the most responsive, and offered the broadest... Read More selection of prices and services. We were planning from across the country, so we appreciated Bekker's great service, communication, and flexibility. We met repeatedly with Bekker's to evaluate food options. Through many months of planning, we changed our menu and options frequently. Barbara was always patient and professional in assisting us, making helpful recommendations, guiding us through the process, and making sure that every detail was covered. We opted for Tri Tip, Boneless Chicken Breast in Mushroom Cabernet, Roasted Red Potatoes, Steamed Fresh Green Beans Amandine, and Spring Mix. Gluten-free and vegetarian options were an important requirement. Bekker's handled everything superbly, and the food was excellent. Using Bekker's for table and chair rentals also worked well for us. Bekker's was experienced with our venue, Hazy Meadows, and helped us plan accordingly. We hired Lacey from Bekker's as our wedding day coordinator. We initially hesitated to hire a coordinator, but we were sure glad we did. Lacey was fantastic and enabled us to focus on our friends and family instead of the logistics. Thank you so much, Bekker's. You helped make a perfect wedding day.
---
Reviewed on

3/01/2017
Paige H
LOVE LOVE LOVE! Thank you Barbara and Bekkers for being so AMAZING! I have had the pleasure of working with Barbara at other weddings and I knew they were a great match! We got so many compliments that the food was on point and such great service. Thank you Barbara XOXO
---
Reviewed on

10/17/2016
Kristen D
My husband and I booked Bekker's for our wedding and couldn't have been happier with the decision. They were AWESOME! Menu options listed on website but can totally make customizations to fit any wedding. They were very accommodating with our budget. They worked seamlessly with... Read More our wedding planner. Provided stellar service on our wedding day and went above and beyond what we anticipated. We absolutely would recommend Bekker's Catering for any wedding.
---
Reviewed on

9/28/2016
Tim T
Bekker's catered our wedding this weekend and everything was AMAZING! We worked with Barbara and Olga to plan our meal and from the start they made us feel comfortable and welcome. The provided everything as promised and then some! Their serving staff was top notch - they... Read More worked like a well-oiled machine, setting up, serving, cleaning up and packing up leftovers for us to bring home. And the food - oh my gosh! The food was fantastic. We got SO many compliments on the food. My oldest brother was so impressed with the tri-tip that he asked the staff if they ran a restaurant he could go to so he could add them to his list of favorite places! (Sadly, no restaurant - just excellent catering). And considering all that we got, the meal was very reasonably priced. We couldn't be more thrilled with the way our reception turned out. Thank you so much to Bekker's for the excellent service and high quality dining. It was a pleasure working with you and our reception went off without a hitch!
---
Reviewed on

9/26/2016
Bekker's was amazing in their customer service, professionalism, and the food was amazing! Barbara continuously checked in with me the months leading up to my wedding. Both Barbara and the rest of the staff were very easy to get a hold of and always offered to go the extra mile.... Read More They had a wide variety of food to choose from and made sure to give us options within our budget. Everything went extremely smooth on the day of the wedding and they did a wonderful job providing delicious food and a wonderful set-up. I highly recommend them to anyone looking for a caterer for a special event!
---
Reviewed on

8/20/2016
Victorria M
The food was absolutely delicious as well as the customer service from the first phone call to the crew they had there that day. Our friends and family still tell me how delicious it was.
---
Reviewed on

3/22/2016
Kayla C
Almost every single person at my wedding made a point to tell me how great the food was! I have worked with Bekker's before on previous events, so I knew the food would be amazing for my wedding, and they blew me away once again with their service! I rented my linens through... Read More Bekker's as well, so they were there early enough to set those up, and then back at just the right time to have the appetizers set up and ready to go, and then again with the buffet for dinner. Timing is everything with a wedding, and they nailed it, all while being almost unnoticeable in the process! The foods that were hot were hot the entire time, while the amazing fruit display held up beautifully! I had a server personally cater to the groom and myself to make sure that we got food and drinks whenever we needed them! Bekker's is a smaller, family owned catering company that takes a lot of pride in what they do, and that really showed throughout the entire event, even to the timely cleanup. The entire process was great, as they are easy to get ahold of, every single person is available to help you, and they make changes and accommodating you the easiest thing! I will definitely be using Bekker's again for future events :)
---
Reviewed on

7/26/2015
Sara J
I hired Bekkers for my July 2015 wedding after meeting Barbara at one of the Bridal Bazaar shows about a year prior. Hands down one of the best decisions I made while wedding planning. Barbara is amazing. I wish I had another event to plan just so I could work with her... Read More again. I'm going to miss her! I'd recommend Barbara to anyone for planning and coordination. She's friendly, honest and dedicated to her clients. She provided invaluable guidance in the months/weeks/days leading up to the wedding - handled anything and everything day-of like a champ and even had two-way radios/ear pieces for the DJ, Photographer and herself to make sure they could coordinate/adjust to get the ceremony/reception timing just right. I know our big day wouldn't have gone as well as it did without her and I cannot thank her enough. Bekkers did a tremendous job with the catering/set-up/tear-down as well - their staff was efficient, friendly and hard working. All of my guests loved the food (we went with Greek - gyros bar and lemon chicken, salad, rice, etc...) when my husband wasn't too keen on the initial gyros offering they had Bekkers went out of their way to make sure we got EXACTLY what we wanted. No fuss. No hidden charges. I really appreciated the quality of the food, the reasonable pricing and the integrity with which their entire organization ran.
---
So many options
Reviewed on

2/08/2015
Sabrina S
Delicious! Bekkers provided such an amazing variety of foods with such an amazing flavor, we chose to use them for both our rehersal dinner (50 ppl) and wedding reception (100 ppl). Our rehersal dinner was pretty informal, as we had fajitas dropped off with all of the fixings.... Read More For the wedding reception we had breaded mahi mahi with mango salsa, smoke chicken and steaks grilled fresh on site! The sides were delicious too, fresh salad, grilled veggies, and a mashed potato bar. Our guest are STILL talking about our wedding food 6 months later and how they weren't ashamed to go back for seconds. I've never been to a wedding where everyone cleaned their plates! You can't get more bang for your buck ( I looked). The team at Bekkers was very professional and accomodating. They were very helpul in assisting us with our menu and accomodating items for my gluten free guests. And if you're not a fan of wasteing food, they offer to pack up your leftover to take home; which was great for the after party. I was super happy with the quality and service we received from Bekkers. And it's clear that our guests LOVED the food. Not only would I highly reccomend them, I'm trying to think of a reason that would require me to have a caterer, just so I can enjoy it all over again.
---
Amazing Service
Reviewed on

11/15/2014
Luis C
From the moment we contacted Bekkers we got nothing but the best in service, information, attention and care. They helped us from the moment of the first email six months prior to the wedding until the last plate was picked up on the day of our reception. We also inquired... Read More about a specialty-themed menu and they did a wonderful job providing it. We also utilized their wedding coordinatior services and it was flawless. Everything went so well that everyone was raving about the food, the service, the organization and the attentiveness.
---
Bacon wrapped dates!
Reviewed on

10/21/2014
Tania d
My husband and I have a HUGE thing for Bacon Wrapped Dates and Bekker's hooked us up! We served 3 tray passed apps, bacon wrapped dates, spanakopita and caprese skewers. My biggest fear was cold food on our buffet but everything was hot and yummy and we had nothing but... Read More compliments on the food! The staff that worked our event was on top of everything and made the night a success!
---
Rave reviews from all the guests
Reviewed on

10/05/2014
Ashley A
I was just married yesterday, We were referred to Bekkersbbq by a friend who used them at their wedding, they were very communicative during the entire time which helped put me at ease. It was important for me to have a good dinner and hors devours and after the tasting I knew... Read More this was the place. Everyone raved about how good the food was and there was plenty of it! I also used their day of coordinator (Lacey) and oh my goodness she is fantastic. She kept everything rolling and kept us on track. Plus she was fun! I am soooooo happy I went with bekkers and highly reccomend them
---
Above and beyond!
Reviewed on

10/27/2013
Tracey D
They deliver, set up, carve, and more! There were some candles out at our backyard reception, and the gentlemen re-lit them. They were utmost professionals, and I was able to completely relax and enjoy the time with our guests! I wholeheartedly recommend Bekker's!!!
---