Home

Bela Sono Music
About this Vendor
Redefining what it means to be a modern wedding DJ
Our philosophy is simple – enhance the focal point of any moment in a wedding, but to never be the focal point of your wedding. Whether we are providing your reception DJ and MC, ceremony sound, music for your cocktails, or gorgeous lighting - we are committed to providing the best service at the best value. Very few DJs meet our standards, so we maintain a small, hand-picked team. Bela Sono Music is founded on simple principles: Perform at the highest level for everything we do, don't cut corners, and be fair and transparent with every client and wedding industry partner. Get in touch to see the true difference in a boutique approach to the absolute best weddings through music programming and lighting design!
Details
Bollywood, Classical, Country, Dance, Disco, Folk, Hip-Hop, Indian, Jazz, Latin, Pop, R&B, Rock, World Music
After Party, Ceremony, Reception, Wedding
MC Services, Recorded Music, Sound Equipment, Music, Planning, Equipment

Contact Info

Reviewed on

7/06/2017
Jenna D
I don't know where to start. My now husband and I are so grateful to Ross for making our wedding flow perfectly. He was MORE than accommodating to last minute requests and made sure that we had everything we needed. He really listens to all of your requests and the style of... Read More music you want. The music was phenomenal, everyone had the best time!!! Thank you from the bottom of our hearts, Ross!!!!
---
Reviewed on

10/12/2017
Sarah B
This was one of the easiest decisions I made while planning our wedding. From the very first phone call I had with Ross, I felt right at ease. We had a collaborative conversation about the style of music we like, sent our must haves, and Ross took it from there filling in the... Read More rest perfectly. We really appreciate all of the advice Ross gave us on specific ideas we had and on how to best make everything flow together. All of our guests had such a great time and many made sure to tell us later how excellent the DJ was!
---
Reviewed on

12/02/2017
Maria K
You have found your wedding DJ! Stop looking anywhere else! My husband Tom and I are so grateful to Ross and Bela Sono Music for providing amazing music for our small wedding this past November. Our wedding planning process was immensely stressful as we had decided to get... Read More married in 3 months. It was two weeks before the wedding when we realized we did not have a DJ! As you can imagine, panic ensued until my sister got me in touch with Ross, whom she had messaged on theknot.com on my behalf. During our initial phone call, I immediately knew I had found our wedding DJ. Not only was he extremely flexible and accommodating, he is SO friendly, confident and calm. I immediately felt at ease with him as I described what I wanted for the music for our wedding. I am Pakistani and my husband is American. I wanted a blend of classic American music along with some pulsing Bollywood hits. Ross immediately knew what I wanted and made some great recommendations. Our wedding party was small and fun. We danced all.night.long thanks to Ross playing wonderful music. All of our guests were gushing about the dj and the music days following the wedding. Throughout the evening he was so detail oriented, responsive and took all song requests. We had the best time! Everyone danced all night long! Thank you soo much Ross! We are so grateful from the bottom of our hearts! :)Thnks for being a part of our special night!
---
Reviewed on

11/05/2017
Ariel M
I cannot begin to say how much we loved the service Bela Sono offered. Despite several changes in the space layout of the venue within the week before he was prepared for any situation. It was particularly important to us to make sure the music was never blasting so hard that... Read More people couldn't hear each other- we wanted the sound level to work for both the older and younger crowd attending, and he did an impeccable job. We had many unique music requests thrrughout the evening, down the isle and so forth, and he met every one of them. He took the time to speak to us before the wedding so that everything would time out the way we wanted it to, and that there would be no unwanted surprises. The whole event was personal but professional and fun, I cannot recommend Bela Sono enough!
---
Reviewed on

10/18/2017
julie p
Can I give them more stars? Please? As a wedding planner I work with a ton of area DJs and Bela Sono Music is one of the best! Ross was awesome from start to finish. He was always incredibly friendly, helpful, and professional throughout the planning process and during my... Read More client's wedding day. Ross even created a custom mix for the first dance and the result was seamless and exactly what they were looking for! Ryan was the DJ for the reception and I heard multiple compliments about his music selection and DJ-ing from the guests and other vendors. He was a true professional throughout the evening and always had a smile on his face. I recommended Bela Sono Music 110%.
---
Reviewed on

9/12/2017
Anne H
STOP LOOKING AND HIRE BELA SONO MUSIC! I made a LOT of excellent choices for my wedding (what can I say? I rule.) but hiring Ross as our wedding DJ was among the best of the best. His attention to detail, passion for music, and ample experience make him an expert in the field.... Read More His equipment is top of the line and non-intrusive, he (somehow!) got my husband's strange "must-hear" songs to play throughout the event, and he kept everyone on the dance floor all night. We got so many wonderful compliments about his music selections, and he didn't muck up anyone's names during introductions. Really, run - don't walk - to the nearest phone and book him. You will not regret it.
---
Reviewed on

8/21/2017
Kristina B
Two words: Blown. Away. Since my (now) husband is in the wedding industry, I was nervous that he'd become the groomzilla (if that's even a thing) about the music choices for our wedding day. That being said, we gave Ross just a couple hints of must plays throughout the entire... Read More night. From there, we let him work his magic. Looking back, we would change NOTHING!!! Ross was an incredible MC, and blended the music seamlessly throughout the night! There's nothing quite like the peace of mind knowing your wedding is in the right hands by the perfect vendors, and Bela Sono Music takes the cake! Much love, The newly Mrs. Kristina Brooks
---
Reviewed on

6/16/2017
Kaitlin J
Ross was amazing! He did such a great job with matching the type of music to the current vibe of our reception! We would 110% recommend!!
---
Reviewed on

6/12/2017
Rachel B
Ross Anderson and I both went to Christopher Newport University, although we never crossed paths he treated me like a true captain. He made our day fantastic. He listened to all of our concerns and requests, fulfilling them tenfold. We chose to let Ross play his selection of... Read More music at our reception and that was the best decision we made. Besides our first dances which were predetermined Ross took the reigns and had our guests dancing all night long. He definitely knows what he is doing. I would highly recommend him and his team to make your wedding day a success. Not only as a bride but as a wedding planner.
---
Reviewed on

6/04/2017
Winston C
Choosing a DJ for our wedding was a big decision for my (now) wife and me. We are both big music fans and go to a ton of live shows. You could say we're pretty picky about our tastes in music. We also realized that music is such a big part of the success of a wedding/reception.... Read More We didn't want a DJ who would just press play on a playlist of top 40 songs. We were looking for a DJ who could transition smoothly from song-to-song, improvise where needed, work in our requests, keep people on the dance floor, move from oldies through 80-90s to modern music, and MC without being too over the top. Ross turned out to be everything we wanted and more. He was so easy to talk to in the planning stages. He took special care to make sure he knew correct pronunciations of the names of the wedding party. He really listened - talking to us at length about what types of music we liked and didn't like. He reviewed the wedding timeline with us so he knew exactly what was happening when. He followed up calls with recap notes. He was all around super professional. When it came time for the reception - Ross nailed it. He is a truly talented DJ. He mixed from song to song, overlaying one track seamlessly over another. He worked our favorite songs into the mix. His voice when MCing was super professional and not radio-DJ-cheesy. He rocked. We didn't have a single complaint. I think my favorite thing about Ross was that you could tell he truly loves DJ'ing - his passion as skill were apparent. I would not hesitate to choose Ross for whatever event you're planning. He was awesome!!
---
Reviewed on

5/03/2017
Allison W
Bela Sono made our wedding an unforgettable event! Our guests are still talking about the music and DJ Ross! Ross spent the time to get to know our relationship, our interests, our music preferences, our family and our overall vision. He then worked with us and our wedding... Read More coordinator on planning each of the big moments. He was personable and fun with all of our guests. He created the perfect atmosphere we wanted for each part of wedding, the romantic ceremony, relaxing fun dinner and a true party on the dance floor. Even our toasts and speeches went along seamlessly. Ross knew how to bring all the generations happily together on the dance floor. The music was amazing and not a soul wanted the night to end! If you want a stress free experience, and your family and friends talking for years to come about how your wedding was the best they have ever been to, call Bela Sono immediately.
---
Reviewed on

3/10/2017
Rebecca O
Ross is amazing. We found him at a wedding show and I am so happy I did! He is young, professional, and really knows what he is doing. He worked with my husband and I to make a wedding sound track that was unique to us and made an amazing party. The music was amazing all night.... Read More The dance floor was full all night long, even for the final song everyone was still jumping! He also provided lighting for the wedding and it was beautiful. He started very warm and calm during dinner and then when the music went up the lights did too! He did an awesome light show that really helped set the tone of the party. All my guests told me that my DJ was great and they loved the music and lights! I never had to worry about Ross, I knew he would do what he said he was going to and more. He is so easy to work with and really listens to you to make your day as unique as you are.
---
Reviewed on

11/15/2016
Mika M
We were so thrilled with Bela Sono's services at our wedding! I wasn't sure how I was going to know which DJ service to use but when I talked to Ross, it was so obvious how thoughtful he was and I felt like he really listened. We had a very productive sit-down session the week... Read More before the wedding, and he guided us through the night and made sure that we covered every angle. Then, on the actual wedding night, he killed it! He kept the dance floor going strong the whole night. He played every song on our "must-play" list and managed to keep everyone engaged with a good balance of old and new music. Several guests raved to us about how much they liked the DJ! It was really important to me to feel like we danced the night away - and that was exactly what we did. Thanks so much, Ross!
---
Reviewed on

8/15/2016
Rimas F
A wedding is the most important day in bride's and groom's lives. It needs to be expressed by videography, photography, floral design, custom decorations and all of others extremely important ways. But if your music background is none existent, it will more than likely, ruin it... Read More all! That's why, You have to make a good investment for a wedding Dj. And RimasFilms can't recommend Bela Sono Music highly enough! The DJ, Ross, is an amazing guy to work with. He is talented, friendly and full of ideas. With his perfected mix of songs, he can make any wedding party a unique emotional wedding party. Feeling the vibes and creating the right mood. Your wedding party needs Bela Sono Music!
---
Meet The Owner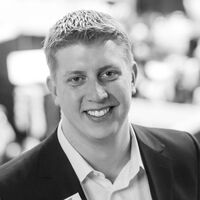 Ross Anderson
Ross Anderson grew up as a musician loving music of all kinds. In middle school he started learning to DJ, and by high school was performing for community events and parties. He developed a passion for DJing weddings in college, and found his calling. Weddings require an attention to detail, as well as the ability to blend multiple families, genres and styles together seamlessly. With more than a decade of specializing in weddings, Ross is proud to act as the Managing Director and DJ for Bela Sono Music. Ross and his team are redefining what it means to be a modern wedding DJ.