Home

Belle Amici Beauty
About this Vendor
Wedding and Event Makeup Specialists
Belle Amici Beauty is committed to providing the highest quality service for your wedding, special event or photo shoot. No two weddings are alike and we strive to give you a beauty experience custom tailored to your needs. We pride ourselves on our exceptional customer service. The client's experience should go beyond the makeup application; we want our clients to feel special, pampered and cared for.
Details
Beauty Group Bookings, Hair + Makeup Trials Available, Airbrushed Makeup, Makeup, Makeup Artists, On-Site Hair + Makeup, Spray Tan, Tanning, Beauty
Contact Info

Reviewed on

4/14/2017
Lili P
I got married last summer, and Jen and Margaux did the makeup for me, my bridesmaids, and a few of my close family members. Long before the wedding weekend, Jen went above and beyond for me and my family. I found her at the last minute, and so her hair team was booked for my... Read More wedding date. Rather than leave me to find my own hair stylist, Jen worked tirelessly for DAYS to find just the right person for me; after reaching out to all of her contacts and persisting even when most were booked, she found us someone wonderful. It could not have worked out better. Jen was incredibly flexible in meeting my needs, both in terms of budget, scheduling the trial, and in commuting several hours to get to my wedding location. Not to mention, the work that her and Margaux did was amazing! I am a bride who wears very little makeup, and Jen was able to honor the natural and subtle look that I was hoping for, while still doing a beautiful, much bolder job for those of my ladies who wanted it. Both Jen and Margaux were kind, enthusiastic, and very responsive to the requests and preferences of each of us. I could not recommend the Belle Amici team more highly!
---
Reviewed on

6/15/2016
Julia J
Amazing experience with a couple of pros! Jennifer and Margaux are AWESOME! Searching for a wedding makeup artist turned out to be a challenge for my critical eye but once I got in touch with Jen, I knew she was the right choice for me! Jen instantly responded to my inquiry and... Read More was sweet and super professional. Her communication was fast, helpful and overall excellent throughout the whole process. Jen completely put me at ease and I felt so comfortable that she would take great care of me and my bridal party. We set up a makeup trial (which I highly recommend) and Jen was wonderful about listening what I wanted, explaining what she was doing throughout the application, and trying out different options. She is so knowledgeable and really aims to please the client. I love that her approach is to make you feel your best and not just give you the cookie-cutter bridal look. On my wedding day, Jen and Margaux arrived extra early and brought everything they needed to set up their work stations – our hotel suite was like a professional salon! They were so sweet and energetic and ready to help us look our best. They both made my bridal party feel special, listened to requests and the result was beautiful! The airbrush foundation was so light and long lasting- I loved it! It was only my second time wearing false lashes and they looked so fabulous and I couldn't even feel them. My makeup was exactly what I wanted; it was glamorous but still looked like me! Jen was so thoughtful and put together a touchup kit full of little gifts for my day. I can't say enough about how excellent Jen and Margaux are at what they do. Working with someone so professional, experienced but still down to Earth was amazing. Thank you Jen and Margaux!!
---
Reviewed on

6/10/2017
Erin H
Jen and Margaux did exquisite makeup for our Bridal party. Not only did everyone look absolutely stunning, they are both friendly, upbeat, and easy to work with. In addition to the actual wedding day, Jen worked with me extensively to find the appropriate products for my... Read More sensitive skin. Highly recommended!
---
Reviewed on

3/07/2017
Brita N
Jennifer was absolutely wonderful! She took her time and brought out the very best in us. My daughters looked absolutely beautiful and she made me look and feel beautiful. Undoubtedly knows her craft.
---
Reviewed on

12/05/2016
Heidi A
Jennifer was my makeup artist for my big day and I have to say she was one of the best parts about the wedding process. Among all the stress that a wedding brings, my experience with her was so incredibly pleasant. The makeup trial I had with Jennifer was so professional and... Read More productive and any nerves and concerns I had about it all, she stopped right away. I was so nervous about the makeup trial but I didn't have to be because her experience and expertise helped me find a look that was true to my vision and to what I was comfortable with. On the day of my wedding she brought such a positive and pleasant energy and the work she did on myself, and my mother and my sister/maid of honor made us feel so beautiful. She was such an asset to have there on the morning of my wedding. She's such a bright and lovely energy to have around and my family and bridal party adored her. Her work continued to shine when I saw my wedding photos and the photos only proved the loveliness of Jennifer's work and the fact that her work lasted through the entire day of dancing and celebrating. She has a talent for finding the perfect balance of what looks good both on camera and in person. I highly recommend Jennifer and her team at Belle Amici Beauty for anyone and everyone for any occasion. She was such a highlight to the craziness of what weddings bring. Definitely deserving of five stars!
---
Reviewed on

10/08/2016
Nancy Y
Jennifer was awesome! She made me look and feel absolutely beautiful on my wedding day!
---
Reviewed on

10/05/2016
Jennifer Carbone Fishel did an excellent job on my makeup in preparation for my son's wedding. She is very professional and I loved that she was interactive with me to help decide what colors to use on my eyes and foundation. I looked natural but glowing and loved my eyelashes... Read More - so natural. Thank you, Jennifer for making the day so special with your professional touches!!! I highly recommend her. Professional, prompt, dedicated, honest....
---
Reviewed on

10/02/2016
Justin A
Jen has been the best choice for my wedding make up! I was really afraid to pick the wrong person cause there is a lot of wrong make up out there which makes you look caked on on photos. And the wedding photos are the most important thing! I booked in a trial with Jen to see... Read More what i like, what actually looks good on me ( its like with the wedding dress.not always your first favorite choice of a dress looks good on you) and also what my skin ( very dry, exzema sometimes) can handle. I got great advice from her while trying a few things. I was not really sure how "dramatic" i wanted my look to be. So Jen had a look at the photo of my dress, asked what kind of hair do ill have and tried something. And i loved it! We took a photo in natural light outside , so i could be totally sure of it and not be disapointed on the day. She is so highly trained and professional, that her sweet spirit with her genuine love for weddings and brides on top of it was what made the morning of the wedding just perfect. I felt very taking care of with all her questions before : where we get ready, how mice space there is, if there is a counter or not/plug etc. Whatever was missing i knew she would bring it and i don't have to worry about missing extension cords for the lights etc. I love you Jen! Thank you so much for making my day rested, beautiful and so special. I felt like myself and still looked like a princess . Thats magic :-0 Marla Anderson
---
Reviewed on

10/02/2016
Cathy M
My daughter got married outdoors in September, on what may very well have been the hottest day of the year. Jen was there to do makeup for the bride, mother of the bride (me) and mother of the groom. Jen did such a lovely job on our makeup. We did not look like the melting... Read More popsicles that we felt like. My daughter was stunning throughout the wedding and reception and looked like her makeup had just been applied. The pictures came out perfect and we looked "makeup fresh" in every frame. Thank you Jen for creating the look our bride wanted and giving a couple of moms a beauty boost for such a special day.
---
Reviewed on

10/01/2016
Kathleen A
Ms. Jennifer Fishel was amazing! From the very first, call she was professional and organized. My daughter-in law was preparing for her wedding this past January, and was concerned because of a skin issue she was facing. Jennifer helped ease her concerns, match her tones and... Read More bring out her beauty. My daughter-in-law was gorgeous! You could not see her skin problems in the pictures and she looked like a model. She absolutely glowed! We were so impressed with her work that she will doing the make-up for our next wedding in 2 months. I highly recommend Belle Amici Beauty!
---
Reviewed on

9/26/2016
Jennifer really went above and beyond to make sure our makeup was perfect and made sure we were all pleased with the final look. She did beautiful, natural looking makeup for the bride, maid of honor and mothers. She arrived on time and kept everyone on schedule. She is a... Read More true professional and I recommend her as the one to trust on your special day!
---
Reviewed on

6/24/2016
Kelly Z
I cannot say enough amazing things about Jen! Since the moment we got engaged (even before) I knew I always wanted Jen to do my make-up for my perfect day. From the planning to the trial to the actual day Jen made me feel so comfortable and was honest every step of the way. Her... Read More make-up style is so natural, gorgeous and long lasting. Jen did my make-up as well as my mom and mother in law and it was perfection. She is professional as well as one of the kindest people you will ever meet. There is no other person to consider for your special day than this team!
---
Reviewed on

6/14/2016
I had the pleasure of meeting Margaux on the set of The Doctors. Being on television for the first time ever, and a nationally televised show at that, I was a bit nervous. Margaux made me feel completely at ease and utterly beautiful. She was engaging and professional. She... Read More accentuated my features without making me look or feel overdone. She shared some suggestions for how I could enhance some of my features when I do my own makeup and gave me sage advice about pitfalls to avoid. We chatted the entire time she was working, and by the end, I felt relaxed and gorgeous. When I look at screen shots from that episode, I still cannot get over how natural and pretty she made me look. I cannot recommend her highly enough. She is a master!
---
Reviewed on

6/09/2016
Jen is amazing!! Working with her for my wedding was a great experience. From my trial to the day of Jen was thoughtful, professional and absolutely amazing at what she does. She was very responsive and organized with the whole process. On the day of my wedding all my... Read More bridesmaids LOVED their makeup and I felt like the princess I had always wanted to be on my wedding day. I would 100% recommend working with Jen and her team!!
---
Meet The Owner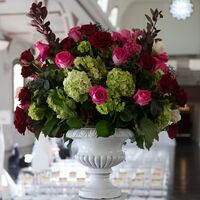 Margaux Lancaster and Jennifer Fishel
Margaux and Jennifer originally met nearly twenty years ago on a television set where Margaux was working as a makeup artist and Jennifer was a stay-at-home mom to her son and her daughter, who was an actress on the show. After losing touch for a few years they were reunited through a mutual makeup artist friend and Margaux was happy to learn Jennifer had graduated from makeup school. They began working on projects together and after realizing they share the same ethics, professionalism and attention to detail, they decided to combine their talents. That is how Belle Amici Beauty was born!