Home

Belli Fiori
About this Vendor
Because Every Bride Deserves Beautiful Flowers
Our designs range from elaborate and traditional to sleek and modern and everything in between. Our passion for design is evident in the attention to detail and the love of creating with flowers. We strive to make your wedding or event the most memorable of your life.
Details
Centerpieces, Pedestals, Vases, Bouquet Wraps, Bouquets, Boutonnieres, Flower Arrangements
Contact Info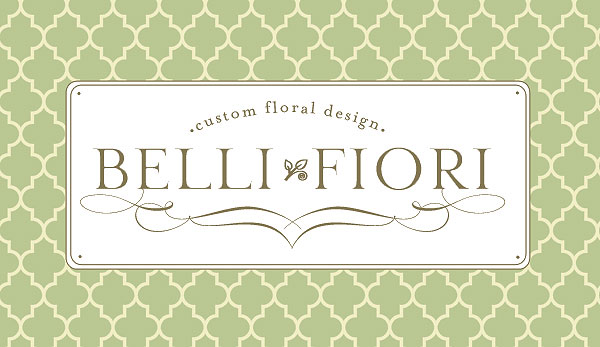 2705 LaSalle St, St. Louis, MO
Belli Fiori was a DREAM florist to work with!
Reviewed on

5/19/2014
Kacey Q
I will start this review my saying that I was very nervous going into my consultation with Lisa. The flowers for our wedding were extremely important to me, and I have known many girls that ended up disappointed with their arrangements because their florist did not get their 'vision'. I, like most girls, don't know every flower nor how to explain my vision in words. I went into the consultation with a complete Powerpoint of arrangements I had seen on Pinterest, in magazines, etc. I figured that Lisa would think I was crazy, but I wasn't sure of any other way to express what I wanted when I couldn't quite find the words, but she was totally open to all of my ideas. She let me explain every detail of what I was picturing from the bouquets, bouts, ceremony arrangements and reception decor. Once I finished my "presentation", she addressed what could be done on my budget. Note to all girls, regardless whether you have a $500 budget or a $15,000 budget for flowers, your 'vision' will always exceed the budget. Flowers are pricey! But the great thing about Lisa is that she doesn't tell you "no, you can't do that". She gives you several options regarding different flowers that could be used in place of your pricey dream peonies. Shes upfront and honest if she thinks a specific flower won't work for a particular reason and offers options. But if you are dead set on that white anemone bout like I was, she will still let you have it. She creatively offers ideas on how arrangements could be reused from ceremony to reception. She gave me more than I ever thought I could have on my budget. I could not have asked for a better vendor to work with to make my special day all the more special! I hope I can continue to use Lisa at Belli Fiori on other events I have in the future.
---
Belli Fiori for Weddings
Reviewed on

5/06/2014
Jen
I had a wonderful experience with Belli Fiori. Lisa Molitor was very knowledgeable and helpful during the planning process. She worked with my budget and the flowers turned out beautiful! Not only were the flowers perfect, but Lisa helped get the ceremony started on my wedding day. She went completely above and beyond. I highly recommend Belli Fiori for any floral needs.
---
Lisa at Belli Fiori is AMAZING!!!!!
Reviewed on

1/22/2014
Stephanie E
Belli Fiori did an incredible job for my wedding. I cannot say enough good things about Lisa. From the moment I met her I knew she was exactly what I was searching for to make my wedding visions a reality. Not only is she incredibly professional and talented, she also makes the planning process fun, and her warm, friendly nature made me feel at ease and calm (even on the day of my wedding). Lisa is very organized, but also very creative - and that is a combination not all florists possess. She completely understood the look I was going for on my wedding day, and not only did she nail it - she far exceeded my expectations!!! Beyond just flowers, Lisa has a great eye for design, and through her arrangements, candle placement, etc. she transformed my wedding venue into everything I had dreamed of. The room felt magical, romantic, enchanting, intimate and still grand all at the same time - thanks to her many talents. The bouquets were absolutely gorgeous and I loved the mens' boutineers too! What I also loved about Lisa was that she was open to new ideas and being creative. For example, we incorporated kale into some of my arrangements with other purple flowers, and even though it was a bit out of the box, it looked stunning. My guests are still talking about how beautiful the flowers were. They were all fighting to take them home after the reception ended! I wish I could give Lisa a hundred stars for all she did to make my wedding day so beautiful. She is the BEST! Hiring her as my florist was one of the best decisions I made.
---
Reviewed on

7/25/2015
Brighton R
It's a theme throughout these reviews, but Lisa IS AMAZING! She was the third florist we consulted, and like Goldilocks, we knew this one was "just right." Our meeting with her was great and she grasped and enhanced our vision and was able to show us lots of options in her showroom. On the wedding day, Belli Fiori provided the wedding party bouquets, a draped Chuppah with flowers, fresh flowers on the cake, eight large table arrangements and eleven medium ones, as well as flowers for the place card table. Every aspect of her design was GORGEOUS and exceeded our expectations in every way. She and her team also had the task of removing the Chuppah after photos, repurposing flowers from the ceremony for the reception, all during the cocktail hour, and they performed this flawlessly. Flowers are a large budget item for a wedding, but Belli Fiori provided every every bit of value. We really couldn't have been happier.
---
NOT SO MUCH
Reviewed on

6/30/2015
sandy a
no value for your money.... or opinion
---
Reviewed on

5/22/2015
Wendy C
I photographed a wedding for which Belli Fiori did the wedding, and the flowers were beautiful. They also stayed to make sure all of the boutonnieres were pinned and oversaw the details of the flowers after the ceremony began, which was such a great service. Wendy Cooper, Something Blue Photography www.somethingbluephoto.com
---
Reviewed on

5/02/2015
Daniel K
We worked with her remotely but she was still able to nail our vision. The service level was also really high (though you do pay for it). Still, highly recommended!
---
Most fabulous florist ever!
Reviewed on

3/25/2015
Nancy M
There aren't enough words to express how thrilled we were that we chose Lisa at Belli Fiori as our florist. While searching for florists by reading reviews on The Knot, I knew Lisa was the one for our daughter's wedding. When we met in person, we were even more convinced of her expertise. She took our daughter's vision for floral design and made it come to an unbelievable reality. The church looked stunning and when we walked into the Grand Hall at the Peabody Opera House, we dropped our jaws and so did our guests! The phones came out and everyone was taking pics! Over and over we heard it was the prettiest wedding and reception ever! Lisa and Todd and their staff worked tirelessly to make everything perfect! It surpassed our wildest dreams! If you are looking for a florist who is able to deliver and provide the best of services, do not hesitate to call Belli Fiori. Best decision we ever made! Nancy Moreton Mother of the Bride
---
Can't say enough good things
Reviewed on

11/24/2014
Jennifer M
Lisa was so great. I was nervous to meet with a florist; I assumed they would try to upsell and go crazy but Lisa was so down to earth. She truly worked within our budget and had GREAT ideas in order to stay economical. I got so many compliments on our centerpieces. They were breathtaking. People said they were taking pictures of them at the reception just because they couldn't believe how beautiful they were. My sister is using her too and same great service and creativity. Thanks, Lisa!
---
Absolutely Beautiful - A Must Book
Reviewed on

10/29/2014
Kate H
I am not a girl who cries over flowers -- until I saw my bridal bouquet. Maybe it was the excitement of getting married that day, but I think it was because Lisa did such a great job interpreting what I described and giving me something better than I ever imagined. When I met with Lisa for our consultation, I had trouble articulating exactly what I wanted for our wedding day (I know very little about flowers). I only knew that I wanted the bouquets to be full of dark flowers (nothing white or pink) and the table arrangements to be simple and minimal to complement lanterns I had already purchased for the tables. Lisa took my sparse direction and blew me away, all the while staying below my budget. All of our guests commented on our flowers throughout our wedding day (and continue to comment today). The flowers Lisa put together added to our décor and made everything look elegant. Thank you, Lisa, for exceeding my expectations (and for inducing the first tears on my wedding day).
---
Florist
Reviewed on

9/02/2014
Casey B
Belli Fiori did an amazing job with the flowers at my weddign. My bridal bouquet was more beautiful than I could have imagined. The florals at the reception were very simple and romantic, exactly what I had envisioned. I had A LOT of compliments on the flowers at the wedding.
---
Belli Fiori
Reviewed on

8/16/2014
Ellen H
Lisa at Belli Fiori was wonderful to work with! She captured my vision for my flowers perfectly. I loved my arrangement! My fiancé and I were waiting for our fiancé visa so our date kept shifting, and she was willing to work with us every step of the way. She was great!
---
Lisa is amazing
Reviewed on

7/21/2014
Kelli F
Working with Lisa was a dream come true. All of the flowers and centerpieces she created for me where breathtaking; from my bouquet to the head table. My reception was a dream come true and looked like a fairy tail. I would highly recommend Lisa to any bride.
---
Bride
Reviewed on

7/15/2014
Talisha C
Lisa was wonderful to work with and got my vision perfectly! She has a great intuition and knows exactly what she is doing, and is also a very pleasant individual to work with, which makes all of the difference. While I wasn't able to spend a ton of money on flowers, she immediately reassured me by coming up with other options, and they turned out gorgeous. It was great on the day of my wedding to just know that centerpieces and flowers would be lovely, without a doubt. I would use Belli Fiori a million times over again!
---
Absolutely Amazing!
Reviewed on

6/03/2014
Rachel
Lisa at Belli Fiori was such a joy to work with. I wasn't exactly sure what I wanted in the beginning and she took the time to brainstorm with me in her studio to help me get to a place I was so happy with! My husband and I were so stunned when we walked into our reception and saw how beautiful the flowers had turned out. Couldn't have imagined working with anyone else!
---
I highly recommend Belli Fiori!
Reviewed on

2/07/2014
Lisa R
I was fortunate enough to work with Lisa at Belli Fiori for my wedding in Sept of 2013. Lisa went above and beyond to help make my day special. She took the time to even transfer flowers from the church and re-create their use by putting them on the back of the chairs at the venue. She also decorated the bride and groom chairs with fabric. Aside from her willingness to go the extra mile, the product was amazing. We had giant hanging flower balls that were beautiful and were admired by our guests. Our bouquets, table decor and everything else were beyond perfect. Aside from the quality being top notch, Lisa was a pleasure to work with. This is really what made the experience. I could trust her and count on her - which was important to me on my big day. I can't say enough about her and Belli Fiori and would highly recommend her to anyone looking to have a beautiful, pain-free experience!
---
Gorgeous bouquet and Arrangements!!!
Reviewed on

1/08/2014
laura c
My wedding was on Sept. 14th 2013 I was so very pleased with how my flowers turned out for the wedding! Even the photographers were asking who did the flowers, they were so unique, beautiful and fit my wedding theme and budget perfect! I was worried planning my wedding from CA and the wedding was going to be in St. Louis to be closer to family. To my surprise the whole process was fun and easy!! After speaking with Lisa over the phone I really felt at ease and not like I was talking to yet another vendor. I have recommend Belli Fiori to all of my friends and family in St. Louis!
---
October 12, 2013
Reviewed on

11/01/2013
Ashley M
Lisa and her team did an AMAZING job on our wedding flowers. Not only did she create beautiful bouquets and boutonnieres but she also made a tree for my ornament place cards to hang from and it was gorgeous! We received so many compliments all day about her work, we can not speak more highly of her and her team.
---
Floral Perfection
Reviewed on

10/01/2013
Haley
Lisa is WONDERFUL! She worked with my budget, but you would never know. The flowers were perfect! I was speechless when I first saw them. She made sure the venue looked flawless!!
---
Florist
Reviewed on

8/27/2013
Michaela
Belli Fiori did a great job of helping me create what I wanted. I didn't know a lot about flowers and they helped.
---
Gorgeous flowers, Amazing Service, Friendly
Reviewed on

8/27/2013
Sarah B
Lisa at Belli Fiori is a dream to work with! She makes everything so easy and clear from the get go and is very flexible with what you want to do, but also helped in designing the over all look and feel for our summer garden wedding. I found her on the Knot and am so glad! I can't imagine working with a nicer person who also has so much talent! Her new shop is in the flower district among other florists and you can tell they work together as a community of florist which is kind of cool too. Hands down...best florist in St. Louis! I am trying to think of another even I can plan to use Belli Fiori again. :)
---
Absolutely Perfect
Reviewed on

7/24/2013
Maggy H
I couldn't have asked for a better experience. Lisa was great to work with and her work and service far exceeded my expectations. I wasn't sure what I wanted going into it, but she made some great suggestions and really nailed it. The day of the wedding was probably the best part. She was there when we got there and took care of everything. She made the process so incredibly easy and stress free. Not only that, I got countless complements on how beautiful the flowers were. I would recommend her to anyone and everyone.
---
Exactly what I was looking for!
Reviewed on

7/17/2013
Dena B
Lisa was a pleasure to work with. Showed her pictures of what I wanted. She was honest if something didn't make sense for the style of the wedding or if a flower was out of season and would cost much more. She respected our budget. Our wedding was simple and small but the flowers made it beautiful. She was very professional to work with and her work is amazing. She was always very quick to respond which was huge for someone who admittedly was turning into somewhat of a bridezilla as the day approached. It was perfect! Thank you Lisa.
---
Beautiful!
Reviewed on

7/16/2013
Karlita M
I was so happy with the flower arrangements for my wedding. The bouquets turned out beautifully and the centerpieces were more beautiful than I expected. I received so many compliments on the flowers and they were definitely a highlight of my wedding. Lisa was great to work and and always available to answer any questions. She is truly talented and she and her team were extremely professional!
---
Great experience from start to finish!
Reviewed on

6/25/2013
Amy B
I was an out of town bride and was having a hard time finding a florist that would work with me from out of state. When I called Lisa at Belli Fiori she set up a Skype meeting for our first consultation so we could really talk about what I wanted so I didn't have to fly up during the week. She was the only one I called that took the time to do this for me and I immediately felt confident that she was going to do a great job for us. Throughout the entire process she was so professional but also fun! We had such a great time when I actually did make it in the studio to see different ideas put together. She thought of everything and made sure every little detail was covered. Then the wedding day! I couldn't believe it when I rolled up and saw Lisa standing by the curb at the church to pin on my dad's boutonniere. She and her staff were already at the church to make sure all of the guys were pinned and looked perfect. The bouquets were so perfect and were exactly what I wanted. Then the reception.... I can't even describe how amazed I was when I walked in. I didn't think it was possible to exceed my expectations but I was completely blown away by what I saw. So many of our guests told us it was the most beautiful reception they had ever been to! I once read a review that said "It's like she can see inside your head and know exactly what you want". I totally agree with that. That being said, I don't think she's an actual psychic so make sure you really tell her what you want and give her some pictures for ideas. If you don't think she is seeing your vision, talk to her about it. That's what is so great about her, she wants to make it right and she wants to work with you to make sure it's everything you imagined. We couldn't be happier with our experience with Belli Fiori and will really miss working with Lisa.
---
Send Message