Home

Blue Tiger Films
About this Vendor
Capturing Moments That Last A Lifetime
Blue Tiger Films is an award-winning wedding videography company that specializes in producing premium documentary and cinematic wedding films. We get inspired by the buzz of the wedding day, chairs being set up, candles being lit, and the excitement of families coming together. It is our passion to capture the wedding day as it unfolds naturally in a non-invasive documentary format. We love to use motion, light and music to tell our couple's unique love story through film. Blue Tiger Films has received numerous awards including Wedding Wire Couples Choice Awards 2014, 2015, 2016 & 2017, Best of Borrowed & Blue top 3 2017, 10 News ABC AList Top 2 in 2016 and top 5 in 2014 & 2015, and The Best of Knot 2013.
Details
Artistic, Documentary, Lifestyle
Second Shooter Available, Full-Length Video, Highlight Video, Video
Reviewed on

12/13/2016
Cindy T
Jeremy and his team were wonderful to work with!!!!! They showed up right on time and got to work right away!!! They showed me some of the footage while I was getting ready and it already looked amazing!!! I am super glad and fortunate to have the opportunity to work with... Read More them!!! Everything was well organized before hand so everything went super smooth during the wedding! When we received our DVD and our highlight, everything looked AMAZING!!!!!! Everything fitted perfectly and they were able to recreate the moment right on point! I can't thank them enough for everything they did and the amazing work they do!!!
---
Reviewed on

9/16/2016
Becca K
Jeremy and his brother Brian from Blue Tiger Films are the best videographers ever! I wish I could give them 100 stars! One of the best decisions we made was hiring them to film our wedding in June, 2016. They are real professionals - they covered every detail of our wedding... Read More and created the best highlight video we ever saw. I can't stop watching it - I love every second of it! It literally brings tears of joy to my eyes every time I watch it. Jeremy is a real pleasure to work with. He went above and beyond whenever I asked for something. For example, my photographer missed a key shot, so I emailed Jeremy and asked him if he caught it on film. He emailed me back that he had, and he sent me a screen shot of it so I could have it as a hard copy as well as seeing it in the video. (That's a real perk to hiring Jeremy - you don't have to worry if your photographer caught every picture you hoped for, because even if a picture was missed, Jeremy will have it on film for you!) Jeremy and Brian are so friendly, patient, and easy to work with. No matter what I asked for, they were happy to do it. For example, I wanted to use a different song for the background music on my highlight video, and even though it was me who gave them the original song (that I now wanted to change,) that was no problem for Jeremy. He gladly did that for us. I wish all my vendors were as nice and caring as Jeremy and Brian are! Another plus: I had my wedding on the Point Loma Naval Base in San Diego, and Blue Tiger Films is already vetted, so it was no problem to get Jeremy and Brian on base. They also came early and stayed late for our wedding to provide full coverage. If you want to hire the nicest and best videographer in San Diego who truly wants to do everything possible to make you happy, hire Blue Tiger Films! Thank you, Jeremy and Brian, for everything! From start to finish, you and your videos are awesome!
---
Reviewed on

3/20/2017
Nicki G
Blue Tiger Films was wonderful to work with, cannot say enough great things about them. They were professional, organized, affordable and on time. Jeremy and his brother were so great on our big day. They caught so many amazing moments and we couldn't be happier with the way our... Read More video and highlight reel turned out. I highly suggest using Blue Tiger Films for you wedding!
---
Reviewed on

7/28/2016
Mike M
Blue tiger videography was unbelievable! They were behind the scenes the whole time and did a spectacular job with our video we loved it! They were timely, professional and easy to work with, highly recommend!!! Also very affordable for phenomenal product!
---
Reviewed on

9/07/2015
Valerie S
We just received our wedding video last week and we've already watched it three times! Could not be happier with the finished product. They were recommended by Amy and Lindsay at First Comes Love - Wedding Coordinators, and we're really glad that we went with that... Read More recommendation. The footage they captured was really good. And we had some pretty challenging conditions (heavy rain for the pre-ceremony footage) and then severely backlit ceremony inside a tent with clear plastic walls). Looking at the film, you'd never know it. Oh, and they did a terrific job of editing out a few snafus that all got laughs during the ceremony and the reception. We'd actually have liked a bloopers reel, but I totally understand why the didn't include one without us asking. It's worth mentioning that the guys at Blue Tiger are great to work with and they ask a ton of questions about the feel we wanted for the video. We ultimately gave them a short list of songs we though would work well in the video, and they did a great job of putting it all together. In the end it was exactly what we wanted -- and a lot better than most wedding videos I've ever seen. It's hard to capture the energy and excitement on film, but they did a great job. Highly recommended.
---
Reviewed on

8/06/2015
Cindy B
When we were doing our wedding planning, my then-fiance and I were really debating if we wanted to hire a videographer…..we were worried that we wouldn't watch it or that they wouldn't be able to capture the magic and emotion of the day. We ultimately decided to do it after... Read More seeing some previous highlight videos by Blue Tiger Films, and I can't say enough about how happy we are that we decided to work with them! Jeremy and Brian are truly masters of their craft; we can't recommend them highly enough! Jeremy and Brian clearly love what they do and it shows in the videos they produce. They are incredibly easy to work with and have a good idea of the shots they want to make sure to capture. They split up before the ceremony to make sure they got video of both the bridal party and the groomsmen getting ready, as well as the venue, flowers, décor, etc. They have a perfect blend of beautiful shots of the venue and the sweeping shots with incredible, intimate moments and close-ups of people. My husband and I are so excited to watch the video and see the moments that we either experienced individually or that just flew by with how quickly the day went. I know that we will watch it over and over again! In addition to the highlight reel and full-length video, they offer a same-day edit – a shorter video that they put together during your wedding and begin playing it while guests are still there! All of our guests who saw it were absolutely blown away by the quality. We heard repeatedly that nobody had ever seen that done at another wedding. One of our friends is a professional photographer and he was completely impressed with the quality of the video and the editing. I have cried every time I've watched it! We are so blessed to have the beautiful video created by Jeremy and Brian! Five stars isn't enough for the wonderful work they do!
---
Blue Tiger Films is the best! Professional and talented!
Reviewed on

1/24/2015
Jennifer V
My husband and I hired Blue Tiger Films for our wedding last July and they were amazing! On the day of our wedding they came early and stayed late to make sure they captured everything. They were super friendly and professional and worked very well with our photographers.... Read More They were very unobtrusive as many of the other reviews say. Even in our small ceremony site I never noticed where their cameras were set up. When we received the final product we were blown away. They really captured everything and the editing of the highlight reel was amazing. We looked at a lot of videographers and there is definitely not a better deal in San Diego, their prices are much more reasonable than most I spoke to. For the quality of work and professionalism they are by far the best value I've seen. We would definitely recommend Blue Tiger Films!!
---
Wish I Could Give More than 5 Stars!!!
Reviewed on

10/09/2014
Janelle D
Blue Tiger Films is the best! It can be challenging to find good people who are really good at what they do. But they are exactly that. They are incredible videographers! They capture so many amazing moments, their reels are beautifully edited, and the whole time they work... Read More with incredible attitudes and smiles on their faces. But more than just extremely professional guys who are fantastic at what they do, they are just genuinely good people! A nice example of this, is that when we couldn't afford the more expensive package because my fiancee and I were on a pretty strict budget, Jeremy not only helped us out a little bit with the price, but on top of that he still treated us like an A-list client. He showed up early at our event and stayed late, even though we couldn't afford the extra hours. That is only one of several examples that show the kindness that Blue Tiger Films possesses. I could go on and on. But the bottom line is these guys are amazing at what they do, AH-MAZING! Literally their quality of work is unbelievable. If that isn't enough for you to hire them immediately then their character should be. Integrity, humility, kindness and people who genuinely care about others are hard to come by these days. Add a wonderful work ethic and a positive attitude and I can't imagine anything more you could ask for and these guys have it all. I highly recommend them and hope that you get the opportunity to work with them because it will add so much to your wedding and to the rest of your lives reliving a day full of so much love, life and happiness. Totally worth it!
---
Blue Tiger was Amazing!
Reviewed on

5/14/2014
Terri G
We could not have been happier with our choice to use Blue Tiger to film our wedding last July. They were so friendly and easy to work with, and on the day of the wedding they were professional and discreet. As for the end product...we were completely blown away! Their prices... Read More were very reasonable but you wouldn't know it from watching the absolutely beautiful film they put together. Not only was it extremely high quality, but it also captured the emotion in every moment flawlessly. We plan to re-watch the video every year on our anniversary and are so grateful that it's Blue Tiger's footage we will always see. We would gladly recommend Blue Tiger to anyone looking for a videographer.
---
Amazing!
Reviewed on

11/03/2013
Holly B
Blue Tiger Films did an amazing job on our wedding video. They were very easy to work with, we never noticed the cameras during our wedding and we love video. The highlights video looks like a movie and is a beautiful summary of our wedding day. As an added bonus they are... Read More extremely laid back.
---
Excellent to work with!!
Reviewed on

11/08/2012
Jeanette G
Finding a videographer in my budget but that also seemed reputable and produced good work was challenging...but I found it with Blue Tiger Films. Their work is amazing and for the price you can't beat it. They were always very professional throughout the planning process and on... Read More my wedding day. Couldn't have been happier :)
---
Great guys!
Reviewed on

11/01/2012
Tara G
We haven't received our short video yet much less the full video, but I am rating these guys on professionalism. They were prompt, always answered our calls/emails, easy to deal with, super unassuming at the wedding AND went above and beyond to help us make our slideshow work... Read More out when a cable went missing just when we needed it. I can't say enough good things about them. And, their price was great!
---
Blue Tiger Films
Reviewed on

5/22/2012
Nena A
Blue Tiger Films filmed our wedding in Dana Point. They were excellent!! They were very professional and the video was amazing!!! Everyone who has seen it loved it; it looked like a movie more than a wedding, which was very refreshing since most wedding videos are very... Read More similar. The reel was fantastic! These guys were great and very reasonably priced; I will definitely recommend them to friends and family. If you hire Blue Tiger Films you won't be disappointed.
---
Beyond Amazing!
Reviewed on

4/30/2012
Sarah G
Let me first start by saying how unbelievable the quality of my entire interaction with the people from Blue Tiger Films was! They were hands down the best vendor I have ever worked with! They captured our day in a way that still brings tears to my eyes. My experience was... Read More perfect - from the very beginning to the end with the delivery of the masterpiece that was our wedding film. Words cannot describe my appreciation for their hard work and dedication to our wedding. They really captured the essence of what we were looking for in a video and above all they captured how special we were as a couple. The detail and precision is impeccable and unmatched. They truly created ART not just a video. It was beautiful. Thank you so much for immortalizing our special day!
---
Amazing Job
Reviewed on

4/11/2012
Sylvia H
Blue Tiger did a wonderful job in capturing every special moment of our wedding, personalities and our love for each other! They were fun, professional and easy to work with. Great Job guys!
---
Great job
Reviewed on

10/05/2011
Nicole H
They are a great team and captured the best parts of our day. Great end result
---
Meet The Owner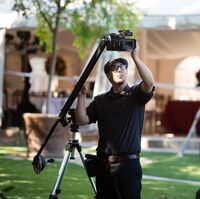 Jeremy York
Jeremy York is a graduate of California State University, San Marcos with a Bachelors degree in Video Production. In addition to being an Indie film cameraman, Jeremy also devoted his time teaching an after school program in video production at Crawford High School. At Cal State San Marcos, Jeremy received the following awards including the San Marcos Film Festival Best Editor 2011 and Cal State Best Community Service Award Video 2011.