Home

Boone's Professional Events
About this Vendor
Creating Lasting Memories for our Brides!
Boone's Professional Events is the best Photo Booth in Tampa Bay and Orlando, FL! We also provide premier Wedding DJ and LED Uplighting services, so give us a call and we will help make your day amazing! At Boone's Professional Events our clients are Priority #1 We take pride in creating amazing memories for our clients! What that means is we take the worries away so that you won't have to! We specialize in Photo Booth, DJ, Emcee and Lighting. With over 10 years of experience in the Wedding industry you can rest easy that we will provide the perfect solution for your special day! We have an office in Clearwater and would be happy to schedule a time to meet to chat about your special day! The office includes a Photo Booth set-up so that you can have some fun while visiting!
Details
Online Proofing, Digital Files, Photo, On-Site Printing, Photo Props, Video Booths, Photo Booths, Social Media Sharing
Contact Info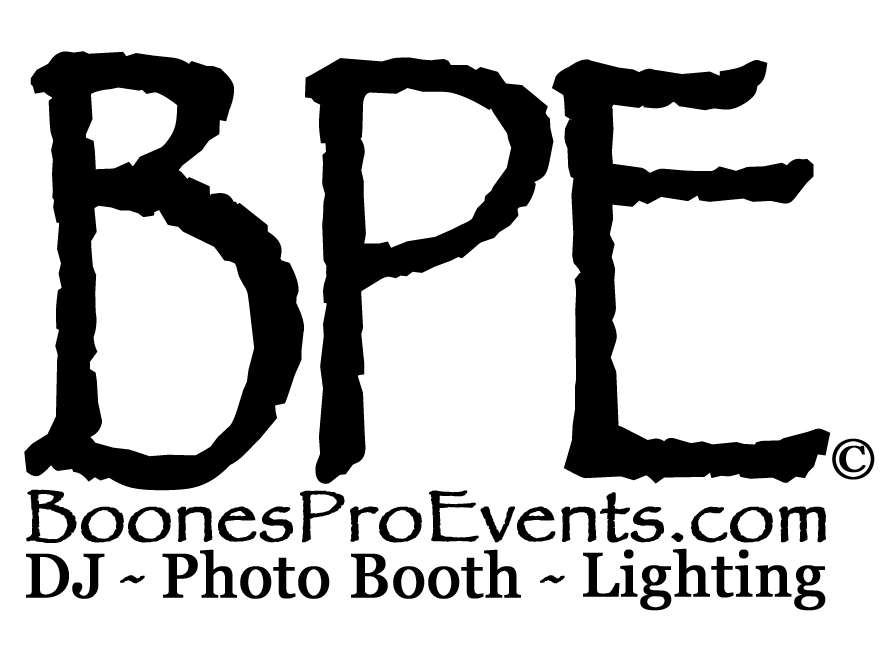 Reviewed on

10/24/2017
Kimberly W
We were amazed how many of our requested songs were played. We asked for a lot of different music that was not from the original artist or radio edit. He found them all! He even called to make sure he had the right version for our first dance! He moved along the timeline of our... Read More wedding flawlessly and even shared the mic with a dear friend of ours so he could announce us :-)
---
Reviewed on

10/17/2017
Diana H
Boone's Professional Events did an excellent job DJ'ing my son's wedding. Jeff was so easy to work with, he kept the dance floor full and the evening moving. The music selections were enjoyed by all. Thank you Jeff!
---
Reviewed on

10/04/2017
Kristin V
I would highly recommend their services. They were easy to work with, quick in response and were on overall joyful, fun presence at the wedding, I wouldn't change a thing! It is beyond important to find vendors you can depend on, and you can count on Boone's Professional Events!
---
Reviewed on

10/03/2017
Jovaniah A
I wanted to tell you that your photo booth attendant was amazing! She was on time and provided a great service. Our guest are still talking about their pictures. I can't wait to purchase some of the pictures to send out for Christmas for them. Thanks again for a great... Read More service and great pictures.
---
Reviewed on

6/29/2017
Angela N
Jeff was fantastic! I had multiple songs I requested and he made sure that each of them fit in! He had great judgement on what to play and how to keep the dance floor going or when to slow it down! I only met Jeff the day of my wedding since I was a destination bride but our... Read More over the phone meeting went great and I trusted him to DJ our special day! I definitely did not regret it! We were more than pleased! Thank you Jeff for rockin' our reception!
---
Reviewed on

4/11/2017
Kori E
DJ Justice (Justin) was referred to me by a friend. We are so glad that we decided to have him DJ our wedding reception! We knew that he would bring professional equipment, but his entire setup was so much more substantial and impressive than I expected. We liked that we could... Read More do all of our pre-planning on their website. It took away a lot of stress that comes with having to call someone during business hours to make any changes and playing phone tag. We only had a few requests but Justin was able to discern from our choices what our taste in music was and all of his selections were perfect! He helped our reception flow perfectly. He was very accommodating of our needs and flexible with the timeline. His experienced shined through with the little details and nuances of his DJ-ing.
---
Reviewed on

5/24/2016
Jodie P
Jeff did an amazing job at my wedding. I can not thank him enough for everything he did. He was great with music suggestions and was great at keeping everyone on the dancefloor. All of my guests had an amazing time. He also handled some of my slightly unruly guests very nicely... Read More lol. I highly recommend him for any event!
---
Reviewed on

3/27/2016
Brittney J
Megan and Jeff Boone really pulled our wedding together. They traveled 3 hours to be apart of it and provided us with DJ and Photo Booth services. Without a doubt, the photo booth was a hit! All of our guests are still talking about how much fun they had. The worked very hard... Read More and well with my planner to make sure all last minute changes (even some the day of) flowed flawlessly. Thank you Boone's Professional Events for all your hard work! -George & Brittney Williamson
---
Boone is a BLAST!
Reviewed on

12/09/2015
Kathryn S
Jeff Boone made our reception fun and memorable. I met Jeff at a Tampa Bridal Show & scheduled a meeting with my fiancé. Jeff was both entertaining & professional. In addition to our dinner/reception music, he also provided a photo booth, which our guests are still talking... Read More about. He was very responsive & provides a user friendly portal, which allows customers to choose their music, as well as make payments. I highly recommend Boone's Professional Events!
---
Reviewed on

8/05/2015
Boones Pro Events are the best!!! We hired Boones Pro Events for the Photo Booth at my daughter's wedding in June 2015. My daughter had done some research on Photo Booth vendors but we had not made a decision on which vendor to hire. We were invited to a Bridal Expo at... Read More Avila Golf and Country Club where we met Megan Boone. Megan spoke a little about the company, which she and her husband Jeff own, and about some of the options available for the wedding (ie open vs closed booth, guestbook, etc). Megan was so professional, courteous, polite, and just so sweet – my daughter and I loved her! We emailed the company the following Monday and, after speaking with her husband Jeff who answered some additional questions we had, we immediately hired them. We corresponded with both Megan and Jeff several times prior to the wedding regarding some keepsakes we were looking into to hold/display the actual photo strip. They were always very responsive and professional. Both of them attended the wedding and did a fantastic job of working the booth, engaging the guests, making sure both the bride and groom made it to the Photo Booth for pictures and just being supportive. All of our guests had such a fabulous time taking silly photos! Thank you Jeff and Megan for such wonderful memories! If you are looking for a Photo Booth for your next event, please consider Boones Pro Events. You will not be disappointed!!!
---
Amazing vendor!!!!! Highly recommend!
Reviewed on

5/01/2015
Sarah C
Jeff Boone and his team were fantastic from start to finish! My groom and I live overseas and never had any doubts with the quality that would be provided. We hired Jeff and team for DJ services for our cocktail hour, daytime lunch and nighttime party, as well as for uplighting... Read More and a photobooth. Jeff was always very responsive to emails, and made us feel like he had the day taken care of. We didn't even give great direction for our daytime lunch DJ services, but we couldn't have chosen better music. All of our guests gushed over the photobooth and the keepsakes they got to take away, while we LOVE our photobooth guest book. The DJ on the evening had a bit more direction that we provided through the online planning program, but all the other music he chose for the evening was great! He even allowed my cousin to showcase a song for his band. Such a great company and well worth the money spent! I couldn't say a single bad thing about the entire process. Thanks again Jeff and team!
---
Would recommend them to anyone!
Reviewed on

5/14/2014
Melissa O
Jeff was AMAZING. He saved us when our original DJ closed shop right before the wedding, and it was a blessing in disguise. We loved his energy and professionalism and the photobooth was a great addition to our event. Would use him again and recommend him to anyone!
---
awesome!
Reviewed on

10/30/2013
Ashley b
Jeff was amazing! I have to say, he did amazingly well when dealing with my husband, myself, and our lack of direction with the music choices. Everything he played worked so well with the event and the games he offered were fun and made quite a few people laugh.
---
A great wedding
Reviewed on

6/04/2013
Alison S
Boone did an amazing job at our wedding. There was a lot of planning for the details of the event except for the music and different events with the music. David had to do a lot of ad lib (fly from the seat of his pants) and did an amazing job. Everyone had a great time and... Read More he was a large part of that. I would definitely recommend Boone's Professional events.
---
So much wedding fun!!
Reviewed on

4/25/2013
Erin G
Our wedding was a destination event and we were unable to go and visit to meet vendors in advance. So we went a lot off of recommendations on sites like this. That's how we found Boone's Professional Events for our photobooth at the wedding. After speaking with Megan, I quickly... Read More felt confident about booking with them. They offered an affordable price and Megan was very personable and interested in making sure they would add some fun to our event. On the day of our wedding, Megan and her sister were the attendants for our photobooth and exceeded my expectations. I remember worrying that I may have to keep reminding my guests to use the photobooth, but I clearly worried for nothing. Megan and her sister were amazing at engaging our guests and getting them to use the photobooth throughout our reception. And on top of that, they genuinely looked like they were having fun and enjoying their job. I would definitely recommend them to anyone looking for a photobooth for their event. (P.S. – Make sure to add the guest book to the service because it was such a great memento to be able to take home and look at right away!)
---
Best money I ever spent
Reviewed on

1/01/2013
Brittany B
The photobooth was worth every penny and made the night! I can't imagine a wedding without one now!
---
Awesome!
Reviewed on

12/18/2012
Vanessa P
Thank you so much for your contribution to our big day! The photo booth was such a great addition and our guests had a blast! I was really impressed by the quality of both the photo booth pictures and videos. I couldn't be more happy with Boone's Professional Events! Thank you... Read More again!! :)
---
Great service and kept things on time
Reviewed on

4/30/2012
Jennifer H
I was a little skeptical about this company as I hadn't seen many reviews on sites, but I met with Jeff Boone personally months before my big day and he was very kind and professional. Their website was very easy to use. I could place all my music I wanted them to play for... Read More the major events of the night as well as list any additional songs I wanted to play. On the day of the wedding everything went wonderful. And, my DJ even had a parking spot reserved for us as we pulled up to the reception site so we had the first spot near the entrance! He was very relaxed and very patient. He kept everything on time. I felt a little rushed, but it wasn't his fault - just a common feat of being a bride on her wedding day. Jeff and his crew did an amazing job. I would definitely recommend them to any couple or party planner. And they have very competitive prices. Try them out!
---
Excellent DJ!
Reviewed on

2/22/2012
Kristin B
DJ Boone saved our reception! There was a power outage on the street where our venue was located mid-reception. When the venue offered no assistance or solutions, DJ Boone stepped up to the plate and found us a generator to keep the celebration going in style. He was very... Read More flexible and really worked with us to put on the wedding we envisioned at a fantastic price. I highly recommend DJ Boone!
---
Great DJ
Reviewed on

7/02/2011
Ashley S
Music was great:) Personality was awesome and everyone in the wedding had positive comments about the service Jeff provided.
---
Amazing
Reviewed on

4/13/2011
Corina S
Jeff Boone was absolutely amazing. I would highly recommend him. My caterer completely messed up my entire time line by not having enough appetizers for the entire cocktail hour. Jeff did a fantastic job of transitioning the party into the next stages quickly and helped us... Read More fix the time line and insure the events went smoothly. The guests adored him and didn't have enough wonderful things to say about him. His music was an excellent mix that included hits and classics everyone could dance to. He was well dressed and clean cut. No one ever knew that there were issues with the timing of events because Jeff kept the party going. I highly, highly recommend him to any bride.
---
Great DJ!
Reviewed on

11/19/2010
Sharlene F
Jeff did such a great job on the ceremony and reception for our wedding. He stepped in when needed to keep my guest happy and entertained. Including myself and my guests he played great music. It was a pleasure working with Jeff!
---
Review for Boone's Professional DJ Service
Reviewed on

11/14/2008
Katie S
Dj Boone made our wedding! He had everyone up dancing. All the songs were perfect. He was very interactive. He is very organized. I would recommend him to everyone. HE IS AWESOME!
---