Home

Bozzo's Limousine Service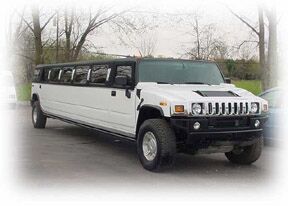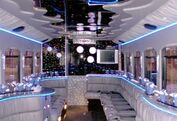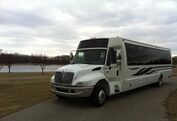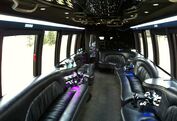 About this Vendor
Wedding Specialist
Your first moments alone together are spent in the journey from your Wedding to the reception. Trust them to Bozzo's Limousine Service, Michigan's Premier Limousine Service. Call us - we can't wait to be a part of your big day!
Details
Limousine + Sedan, Transportation
Contact Info

25968 Waltz Rd, New Boston, MI
Great service!
Reviewed on

6/10/2015
Angie G
She was professional and arrived a few minutes early. When we arrived at the church, she waited outside the limo to make sure no guests tried to come in while I was waiting for the ceremony to start. She drove us around afterwards for pictures and arrived at the reception venue... Read More exactly on time. Highly recommend.
---
Blessed
Reviewed on

8/06/2014
shri w
We are blessed to say that Bozo's Did a great job with our daughter's wedding. We liked how clean the vehicle was on the day of the wedding
---
Reviewed on

10/06/2015
Joseph C
Elizabeth and I used Bozzo's Limousine Service for our Engagement Party and we will definitely be using them for our wedding . Bozzos is the best the driver Claudia was awesome, and Rich was a perfect chauffer. Very classy company Thank you Bozzo's
---
Reviewed on

7/11/2015
Mary P
Bozzos limo service absolutely is the best vendor we chose for our wedding. The bus arrived a few minutes early and was even nicer inside and out than what I expected. The driver was so professional and helpful that I felt like they double as wedding coordinators as well. I... Read More highly recommend this company for transportation for all your events. We have used other companies in the past and definitely will never do that again. We have recommended this company to all of our friends who are having events in the future...THE BEST
---
Reviewed on

7/08/2015
LeeAnn W
Our limo driver was Mary and she was so helpful and accommodating day of. She was super easy to work with, friendly and just a pleasure to work with on our special day. Great Service!
---
MARY IS THE BEST!!!
Reviewed on

7/03/2015
Morgan Z
We had the pleasure of Mary as our driver the day of our wedding. Upon arrival, Mary came up to the front door to introduce herself, assisted everyone getting into the limo and even had to turn around the limo on a 2 lane road when we realized the floral was left behind! At... Read More every stop we made for pictures, Mary got out with us, fluffed my dress, held my veil and made sure everything was perfect- she truly went above and beyond, making her one of our favorite vendors of the day!!
---
Expected a little more out of a wedding service
Reviewed on

10/31/2014
Barbara H
I used Bozzo's for my wedding on October 4 and I was a little unhappy with the vehicle that we had. Their bus was older than I expected and had hoped for better. The driver however was good and we had a good day. I would recommend viewing the vehicle before reserving with this... Read More company. Overall not a terrible experience tho.
---
Has so much fun
Reviewed on

9/27/2014
I was very impressed with the limo that we had for my friends wedding. It was very clean and well designed to handle our needs. The driver was very courteous and very knowledgeable of our needs and the area. Had a wonderful time. I would recommend Bozzo's Limo to all my... Read More friends looking for a wedding or just a night out
---
The Greatest Day
Reviewed on

9/24/2014
The wedding day is important. We were blessed to have chosen the best venue the best limo company the best photographer. Bozzo's did a fantastic job working with our wedding planner and our daughter. Shout out to Bozzo's
---
Happy Parent
Reviewed on

9/24/2014
It's great to know you hired a wonderful Limo Service for your daughters wedding. Our driver Claudia was so awesome she was so helpful andshe was energetic and very pleasant. She also helped with all our special needs. The limo service arrived early and that helped calm our... Read More nerves. Our limousine service was the BEST Thank you Bozzo's Limousine Service.
---
Culture
Reviewed on

8/12/2014
Neesha H
Bozo's has good with help of culture traditions for family. Thanks you, -Neesha
---
Wedding Package
Reviewed on

8/12/2014
Michelle N
Icluded a wedding Package With colored flowers on the outside of the to match the color of my wedding. Very Nice Touch just enough to make me feel special
---
Sisters
Reviewed on

8/08/2014
Jenn M
Used for my sister's wedding three years ago and My wedding this year. Both events the Transportation service Might Have Been the Only Thing that went right. We Are pleased! (P.S. We are sory about the confetti!!!)
---
Clean Clean
Reviewed on

8/08/2014
Ken M
The Vehicle was detailed from top to bottom, very clean inside and out, I liked the fact that the vehicles are non smoking that part was very hard to find before we went to Bozzo's.
---
Great Job
Reviewed on

8/06/2014
Kendra m
The Vehicle and Service was Very Nice as Expected! But The Driver Was Amazing. You Can tell She was Very Helpful and Very Well Trained!! Great Job!!
---
Father of the Bride
Reviewed on

8/06/2014
Chris W
Great Clean Buse. The Non smoking vehicles are a gret touch of Class - Thank You Bozzos
---
Bozzos Limo is the BEST
Reviewed on

8/05/2014
. We LOVE BOZZO'S LIMOUSINE use for all your events...
---
Wedding Limo
Reviewed on

6/17/2014
Katelyn K
Bozzo's Limousine was awesome on my wedding day. Limo was clean and on time. The Limo driver was so nice and helpful. After he dropped us off at the reception hall I realized I forgot my clutch with my license and credit card. Once we called him he came right back and... Read More dropped it off. I really appreciated it. I recommend them to anyone!
---
Awesome party bus
Reviewed on

11/05/2012
Angela A
The bus and service were more than I expected!
---
Bozzos on time
Reviewed on

12/01/2011
Mary B
Bozzo's was great. We changed limo companies at the last minute because of poor reviews from the company we had originally placed a deposit with. The driver helped everyone in and out of the limo and was on time for each pickup.
---
Bus
Reviewed on

11/01/2011
Aron A
Awesome party bus with a great driver
---
HAPPY BRIDE & GROOM!! :)
Reviewed on

10/31/2011
Jen T
A little pricey, but the driver and bus was absolutely perfect!!
---
Very courteous staff
Reviewed on

10/05/2011
Melissa M
The party bus was huge and fit our entire wedding party of 16 with room to spare.
---
Polite, prompt,professional and reasonable
Reviewed on

9/18/2011
Sarah C
I used Bozzos for my wedding party bus. They are a family owned business but very professional, and great at what they do. They are reasonably priced and I like the fact that they were familiar wit the downriver area. Our driver was dressed appropriately, and very courteous. He... Read More even had suggestions on where we could go to get some great photos taken. We had a great time on the bus!
---
Bozzo's Limo Service
Reviewed on

8/30/2011
Marisa D
We loved our party bus from Bozzo's Limousine. There was plenty of room for my large bridal party. It was very nice inside and the air conditioning worked really well. We got married in the middle of the summer so that was very important to us! Also, the driver, Mary, was so... Read More sweet and great to work with!
---
Send Message