Home

Cake Fiction
About this Vendor
Unique and stylish cakes designed by Cake Fiction
Paula Tosonotti, a professionally trained international chef and cake decorator, specializes in creating unique wedding cakes and groom's cakes for your big occasion. At Cake Fiction we want to design a cake to match your personality and style, paying close attention to every detail that you specify
Details
Cake Delivery + Setup, Cake Tastings, Groom's Cakes, Cakes + Desserts
Contact Info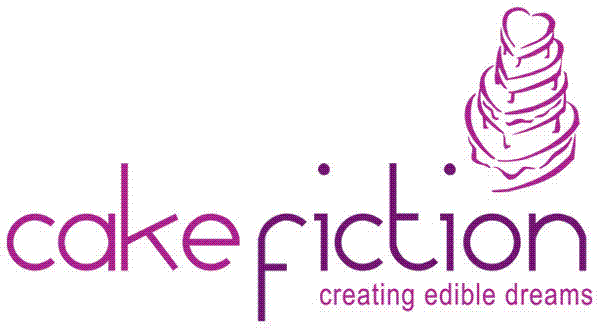 The Barn at 11 East Mill Road, Long Valley NJ, NJ
Impeccable Service!!!!!
Reviewed on

8/30/2013
Nicole J
Paula and her husband were awesome from the very beginning with the taste testing. Their service and professionalism was very good not too mention the cakes were delectable. I originally did not want a fondant cake because of the taste but Paula hand made me her fondant and it was really good. My cake arrived on time the morning of my wedding. The one thing that stood out for me was after we returned from our honeymoon Paula followed up and asked how did we like the cake? The truth was I didn't remember having a piece of the cake and with that Paula offered me a complimentary duplicate of my top tier for our 1 year anniversary. It doesn't get much better than that! I have and will continue to use Cake Fiction for any event that I have!
---
Yummy
Reviewed on

10/29/2013
Ellina S
Paula was great to work with. She created a crockenbush plus a regular layered cake, as well as a little surprise figurine for my groom coming out from under the cake. Paula sent me sketches of the cake as we went on and changed everything I asked her to change. She was also the only one that would make me a crockenbush and I am super happy went with her. A small piece of the cake did come off when it was time for us to cut it, however that has nothing to do with Paula as it was extremely hot and humid and our venue was semi outside. The crockenbush was delicious, however we for some reason didn't get a change to taste the cake even though we cut it...hoping to try again at our anniversary.
---
Awesome cake and awesome people!
Reviewed on

10/06/2013
Julie M
At first we were referred to a "factory"- the most "well known" "popular" place that does cakes for everyone, we were told, even celebrities. Well, we were given samples of two types of cakes with a few different types of fillings and given a notebook to pick a style from. You want to deviate from that list? Well, that'll be extra... I then found Paula on the Wedding Chanel website. My husband and I made an appointment. When I called, I spoke to Paula herself. I chose a few types of cakes and fillings from her very long list of assortments so that she could make the tastings fresh for my appointment. We walked in the door on a weekend- her kids were playing in the back. It's like a scene from a storybook! She was personable, passionate, artistic, warm and patient. She sketches a picture of your cake until it's exactly what you had in mind. Everything worked out perfectly and the cake itself was DELICIOUS! Every time I look back at pictures of it, I want to go back and see it and taste it again (and I'm not even a cake person!). Oh well, guess I'll have to wait until our 1 year anniversary...! If I have another function/need in the future, I will definitely use Paula again!
---
A cake to remember...plus cupcakes!!
Reviewed on

10/28/2014
Monique A
Paula is just amazing!! Our wedding cake was just amazing! We ate it for days...and we did not freeze it. We also had cupcakes for our wedding and they were just amazing. We had a great time at our initial tasting and felt that Paula really listened to us and created the perfect cake topper. A year later we were ready to celebrate and we ordered another small cake....and some cupcakes :D. Once again, they were both amazing and I really can't wait to order from them every year! I plan on using them for special occasions for my family as well.
---
Worth every penny and probably more!
Reviewed on

10/25/2014
Theo L
My wife and I worked with Paula for our wedding cake this past June, and were extremely pleased with everything from the cake-tasting and design process, working with Paula, to the final cake on our big day! Driving up to Cake Fiction was actually something we will never forget, because it is located in a remodeled 200-year-old family barn in a beautiful historic small NJ town. When we arrived at the barn, Paula had already set up three plates with the cake and filling flavors we had worked out over the phone, and explained to us her rationale for the pairs based on what we had discussed. My choice was the olive oil cake (cardamom!) with amaretto filling (quite possibly the BEST cake combination I have ever had, and I honestly did not have high hopes for the actual taste of a wedding cake), and my wife loved the coconut cake with passion fruit filling. Since in the end we couldn't come to a decision, we decided to go with both-- she got two layers, and I got one. Our cake was decorated with two birds, which Paula made herself, and it was exactly what we expected! On the big day, everything went very smoothly, and the cake was delivered on time, looked fantastic and TASTED awesome. All our guests loved the cake! I'm actually looking forward to our one year anniversary so I can eat that top layer! Although the custom made cake you will get at Cake Fiction will cost more than something more "out of the box", it really was a special part of both the wedding planning process and reflected us as a couple more so than something less expensive would have. Paula was a joy to work with, and we were very, very pleased with every part of our experience with Cake Fiction.
---
Beautiful wedding cake
Reviewed on

10/25/2014
I remember how difficult it was to plan a wedding, specially for a young person like myself who was working and studying at the time. When it came down to the cake I didn't know who to go to, so I searched around locally. I had a vision of what I wanted and paula made the perfect cake that suited my personality, and the type of wedding I wanted. The consultation was really great and paula went through every detail of her product, from ingredients used to the look I wanted and her ideas of how we could make it my dream cake. Everyone loved how the cake looked and specially how it tasted. We chose the coconut lime cake with passion fruit filling and it was to die for. Some people say cake its just cake but a wedding cake plays a really important role in the wedding and my rustic/ romantic cake really impressed me and my guests. I highly recommend cake fiction for anyone looking for a wow factor in a cake!
---
Wonderful in style quality and freshness
Reviewed on

10/23/2014
When we decided to have our wedding up in NJ since same sex marriage is not yet legal in Florida, we search out various cake specialists. From the first conversation with Paula, I knew I had someone professional and accommodating. We had a theme of "wedgewood" which she was delighted to try. The cake came out stunning. We had a red velvet cake with white chocolate filling. The outside of the cake looked like an elegant piece of blue Wedgewood jasper ware. I have never tasted a fresher flavorful wedding cake in my life. Thanks to Cake Fiction for helping to make our wedding a great success. Kindest Regards Phillip
---
Some of the most awesome tasting wedding cake ever!!
Reviewed on

10/13/2014
laura d
Some of the most awesome tasting wedding cake ever!!
---
Motorcycle Grooms Cake
Reviewed on

10/13/2014
I was looking for a surprise grooms cake for my wedding so I searched the internet and found Cake Fiction. From the first conversation until even after the cake was delivered I received awesome service. The establishment was clean and Paula was very professional at all times. I wanted her to design a motorcycle cake for my husband and it looked exactly like his actual motorcycle. I emailed pictures and she got every single detail. The cake was delivered on time and it tasted great. I had such a great experience with Cake Fiction that two years later I ordered cupcake for my daughters christening. Oh! and my maid of honor had a martini cupcake tower made for my bridal shower. You cannot go wrong with Cake Fiction; Paula is very personable and will communicate with you about every detail to make sure you are satisfied.
---
Great Experience Start to Finish
Reviewed on

9/29/2014
Siddharth P
Paula and Simon are amazing people, and I can't imagine having a better cake designer. At our tasting, we were blown away by how nice Paula and Simon are, and it was a pleasure to go through the process with them. Paula is incredibly talented - we gave her an idea of what we wanted at our first appointment. The cake idea was fairly unique - we wanted the cake in red with gold accents and paisley. She was able to sketch a prototype in about 20 minutes. It was remarkable to watch. We posted this experience in our blog: http://www.worldtasters.net/2014/03/19/cake-tasting-at-cake-fiction-union-nj/. As already described, Paula is a great artist. Her cakes are very tasty too! Cake Fiction offers more exotic flavors than any other bakery that does specialty cakes in the area (based on our search). And the cakes taste as good as they sound. We picked fillings with Orange Blossom flavor and Passion Fruit (we had 2 different cakes through our 4 tiers), and they tasted very different and delicious from typical cakes. We can't say enough about how good Cake Fiction is. Go to one of Paula's tastings and see her shop - I would be stunned if after this you picked someone else!
---
The Best!
Reviewed on

9/09/2014
Jessica T
I would highly recommend Cake Fiction. Paula and her husband, Simon, are extremely talented and accommodating, and their cakes are beautiful, impressive, and—most importantly—delicious! (The chocolate fudge cake with dulce de leche cream was a crowd favorite) I had been working with another cake decorator when it became apparent that it was not going to work out. I found Paula on Wedding Wire, and emailed her a mere month before our wedding, knowing that it was probably hopeless. Paula got right back to me and started working with me right away—while on her VACATION! [Amazing is too weak a word to describe her :) ] We ended up doing a trio of cakes including a two tiered buttercream cake with flowers, a small, hand-painted, fondant covered cake, and a naked cake. They all turned out spectacular. I can attest that Cake Fiction is talented in all areas of cake decorating—we had a little of everything with our three cakes! I don't know what I would have done if I had not stumbled upon this amazing business… A huge thank you to Paula and Simon! Added bonus: their studio is the most fabulous work space you will ever see! It has so much charm and personality.
---
A Beautiful Cake
Reviewed on

6/02/2014
Courtney
I used Cake Fiction for my wedding on 5/31/2014 and it was both beautiful and delicious! Cake Fiction was a reasonably priced bakery with the lovely and accommodating Paula. She provided us with our requested flavors at the cake tasting and provided some of her favorites. We ended up getting 3 of our favorite flavors and 1 of her recommended flavors, almond! She loved our design and created exactly what we wanted. Everyone raved about the cake and wanted more! I recommend this reasonable bakery to anyone for any occasion!
---
Beautiful and Absolutely Delicious
Reviewed on

10/01/2013
Sarah G
Cake Fiction created both a wedding cake and a groom's cake for my wedding. We wanted something unique. As we were going with a book theme for the reception, we decided on a pile of books as our wedding cake. Not only did the books look fantastic, Paula actually printed out the real covers for each book and made them into an edible topping for each layer. The bride and groom on top were adorable, sitting on the edge of the cake reading books together. The groom's cake was our three pets (two cats and a tortoise) all reading a book together. It was unbelievably cute and looked just like the pictures we sent. Everyone at the wedding commented on how creative and beautiful the cakes were. I actually hated cutting into them! But in the end, they were not only beautiful but delicious. The cats were chocolate cake with chocolate filling, while the books were vanilla cake with banana cream filling. We could not have been happier with our experience with Cake Fiction. I would recommend them to anyone looking for a completely personal cake.
---
Beautiful (and delicious) cake
Reviewed on

10/01/2013
Alexandra C
Cake Fiction made our wedding cake last year and it turned out beautifully. We met with a lot of bakers and tasted a lot of cakes before we made our decision, and Paula's cake was definitely the most delicious option. Our cake was simple and elegant, with beautiful sugar Gerbera daisies as decoration. The cake tasted as good on our wedding day as it did in our tasting months before. Paula was very easy to work with and the cake was delivered exactly as we had ordered it. We were really happy to be able to get such a beautiful and delicious cake for such an affordable price per slice.
---
Fabulous Groom's Cake!
Reviewed on

10/01/2013
Tina S
Paula did a fantastic job making a surprise groom's cake for my husband. I brought a picture of exactly what I wanted, and after talking to her on the phone, we came up with an idea to put my husband's car on a race track with some of his favorite things lining the track the way advertisements typically would. The cake came out PERFECT! My husband was so surprised. Paula even made a little replica of my dog and put him in the passenger seat. The wedding guests and my husband were blown away. Paula was so great to work with and really reasonably priced. I'd recommend her to anyone looking for a fun, inexpensive groom's cake.
---
Delicious and Exactly what we wanted
Reviewed on

9/30/2013
My husband and I got married about a year and a half ago and from the time we got engaged, we knew that we wanted to order a cake from Cake Fiction. Being a cake decorator myself, I had a very specific cake in mind as well as a high expectation for the taste. Also because of being in the cake business, I am familiar with the prices of wedding cakes and I wouldn't think of giving my money to any cake shop other than Cake Fiction. Upon previous occasions, I had personally experienced the hospitable nature of Paula and Simon in addition to the incredible flavors and designs they offer. My husband and I went in for a tasting and she was very well prepared with multiple options to choose from as well as a beautiful shop to sit and chat in. She also made sure to ask many questions in regards to the design my husband and I were looking for so as to make sure the cake was nothing less than exactly what we wanted. Because of my personal preference in excess shine, she willfully ordered the brooch I wanted on the cake at no additional cost to me. On the day of my wedding, if there was one thing I knew I didn't need to worry about, it was my cake. The cake arrived at the venue promptly and the minor decor I asked for, to decorate the cake table with, was placed so precisely and beautifully. The cake was delicious and many of our guests inquired as to where my cake was made. My husband and I also saved the top tier of our cake to be eaten on our one year anniversary and I must say it was just as delicious as our wedding day! I plan on ordering many more cakes from them!
---
HIGHLY RECOMENDED!!!!
Reviewed on

9/28/2013
After researching lots of cake shops in the area we were getting close to our wedding day without ordering the cake. I knew what I wanted my wedding cake to look like but it was quite difficult to put it down on paper or imagine that someone could make it that way. Just two weeks before the wedding day, a flower shop that was in charge of decorating our venue told us about the Cake Fiction. Even though it was a very short notice, Paula was still there to help us and offered a cake tasting. My friend and myself were in for the tasting. All of the cake samples that Paula prepared for us were absolutely delicious. After we chose the cake flavors Paula took pencil and a paper and asked me to describe what I wanted my wedding cake to look like! I told her all about my dream wedding cake and she drew it just as I described (in colors).My wedding cake was delivered two hours prior the reception and it looked amazing, just the way I wanted it! The most amazing three tier, hexagon, wedding cake, decorated with hand made orchids which I saved and will always treasure! Everyone loved our cake, it looked great and tasted even better. we are looking forward to our first anniversary to eat the frozen piece of cake that we saved! I can not recommend Cake Fiction highly enough, great people to deal with, provided excellent service from start to finish!
---
happy customer
Reviewed on

9/27/2013
service was excellent.cake was amazing.everything was perfect
---
Eiffel Tower Wedding Cake
Reviewed on

9/25/2013
Fernande J
So hubby and I wanted a special cake for our wedding, came up with an idea for an Eiffel tower cake and came across the cake fiction website. Emailed Paula and she responded immediately we set up a meeting and right there she drew out our cake. And the day of she delivered it and it was amazing, my guest are still raving about it, and she was so easy to work with. Best red velvet I've ever tasted
---
Awesome cake - Beautiful and Delicious
Reviewed on

9/25/2013
Lisa N
I used Paula for my wedding cake - she made a two tier top cake, along with cupcakes for all my guests. She absolutely outdid herself and more than met my expectations. The cake was delicious and the cupcakes were talk of the event. I would definitely recommend, and I will be sure to contact Paula for all my party cake/cupcake needs.
---
So Happy!!!
Reviewed on

9/25/2013
Bethany B
I am so grateful to have found Paula! Firstly, she is such a kind-hearted person, and I was honored to do business with her. My husband and I still reflect on how much fun we had with the cake tasting experience. We even took pictures at Paula's bakery so that we could remember the lovely time we had in creating our cake. Now, the cake! It was magnificent, as Paula incorporated the blending of our two cultures in her creative decoration. Not only that, she made a cake that was both vegan (for my husband and I) and non-vegan (for a good majority of our guests). Family and friends could not tell one from the other. Both vegan and non-vegan cakes were delicious!!! We have a separate vegan cake for our one year anniversary stowed in the freezer, but my husband and I are tempted to dig into it months early. Yes, it was THAT good!!
---
Unbelievably Executed
Reviewed on

7/26/2013
Michael P
Paula at Cake Fiction created the most appealing and delicious cake for our wedding in New York City. Guests were out of their chairs all through dinner taking pictures, not of the happy couple, but our cake. No one could get over the color match between the cake and the dresses/tuxes all from a simple sample swatch we gave Cake Fiction. It was truly unbelievable. Besides looking amazing, the taste was out of this world. It was the only item of the evening that I left the dance floor to enjoy, and finish. I have been to over 20 weddings in the past 2 years and this was the only cake I have enjoyed. The planning process was not only delicious but entertaining as well. We had the opportunity to try all of the flavor combinations as well as discuss different design elements and see sketches, pictures and samples. We made a change to our design a few weeks before the big day and within 48 hours we had an emailed sketch of our change for approval. The end result, a cake we thought was only a dream. Thank you Paula for such a great addition to our special day. We look forward to the next big event to come back in for a design appointment. -1 Year Update: My husband and I unwrapped our cake for our 1st Anniversary. What we heard from so many friends was that this was a moment of great disappointment on their Anniversary. However, Cake Fiction did not fail us. The cake was left in the fridge for a few hours and WOW. It was as good 1 year later as our wedding night. Thank you for continuing to add to our wedding celebration! We can't wait to come back for a celebration cake!
---
Fabulous groom's cake!
Reviewed on

11/14/2012
Shannon I
After calling and emailing quite a few places, I stumpled across Cake Fiction. My initial conversation with Paula told me this was the perfect place for me to order the surprise groom's cake I wanted. I went for a cake tasting and found Paula's cakes and fillings to be absolutely delicious. She drew up a sketch of the cake and after a couple of changes, she had nailed it. The day of the rehearsal dinner, I couldnt wait to lay my eyes on the cake. It was displayed ready to be seen as soon as we walked in and Paula did an absolutely fantastic job. SHe re-created the field at Giants stadium and added the Superbowl patches all around the cake with a 3-D Giants helmet placed on top. Her cake not only looked amazing, but tasted amazing as well. My husband loved the vanilla cake with oreo filling as well as our guest. Paula is so creative and I know if I ever need a special cake, she is the person I would turn to make it.
---
HIGHLY RECOMMEND Cake Fiction
Reviewed on

10/10/2012
Arielle P
Paula and Simon were WONDERFUL from the very beginning the cake tasting was a pleasure everything went smoothly. We ordered a lemon cake with raspberry frosting with them for our wedding last month. Our cake was BEAUTIFUL one of the best parts of the wedding. I cant recommend Cake Fiction enough they made us an adorable and also delicious cake. We put leftovers in our freezer to save for our one year anniversary but we ended up taking it out and eating it at our one month anniversary!
---
delicious and beautiful
Reviewed on

10/10/2012
yina l
Paula's wedding cake was one of the highlights of our wedding. Our family and friends are still talking about it months after the wedding, because it was both delicious and beautiful. Paula is a creative designer - she helped us to bring an abstract idea into reality. We went to her cake shop for a tasting / brainstorming session. She gave us crayons and paper to draw out our vision, and offered her artistic suggestions. She was a great listener and a good executor. The cake turned out to be exactly what we wanted - colorful, playful, full of life, yet elegant. I would recommend Paula to anyone.
---
Send Message