Home

Cakes by Gina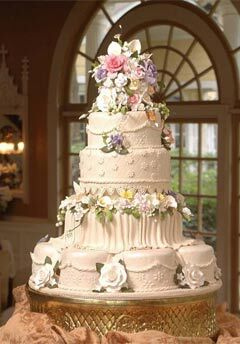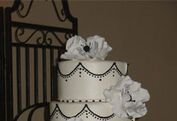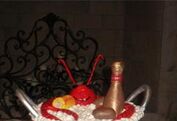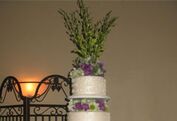 About this Vendor
We Make Your Cake Dreams Come True.
Welcome to Cakes by Gina! From the moment you visit our facility until the delivery of your wedding cake, you will experience exceptional service. We will work with you to create an exquisitely designed cake to bring elegance to your reception. CELEBRATING 10TH YEAR ANNIVERSARY IN 2013!!!
Details
Cake Tastings, Cakes + Desserts
Contact Info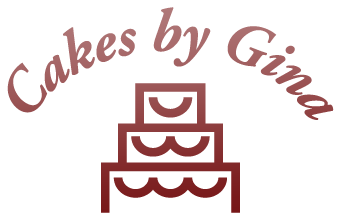 14165 Bissonnet Street, Houston, TX
Delicious Wedding Cakes and Wonderful Team
Reviewed on

3/26/2014
Casey W
Cakes by Gina did a phenomonal job bringing our vision to life! We used this great team to make our wedding and groom's cake. It only took one meeting of going over likes, dislikes and vision and they nailed our vision entirely on the head! Even better, the cake is wonderful;... Read More very moist and the icing and fillings were the perfect amount of sweet. Many of our wedding guests asked for second servings. One of our favorite steps of the wedding planning process was the cake tasting. There are so many options and flavoring combinations- Gina really has perfected the art of a great tasting and great looking cake. And I highly recommend the lemon with lemon ganache!! So good! Our groom's cake was quite the show stopper. They can make almost anything! You will not be disappointed with Gina and her crew!
---
Reviewed on

1/18/2016
Caroline f
Tasted Gina's cakes at an open house recently, Yum!
---
Reviewed on

10/30/2015
John H
Yum! Yum! Yum!
---
Delicious and Pretty
Reviewed on

10/28/2015
Brittany H
Gina took our order despite being full for the day and delivered an amazingly beautiful and delicious cake! She was such a pleasure to work with.
---
Reviewed on

10/23/2015
Lauren G
Cakes By Gina did an amazing job at my wedding. I had a white cake with raspberry and amaretto filling and my husband a burnt orange longhorn cake that was a yellow butter cake with chocolate icing. I loved how she drew out our cakes on graph paper in the tasting. She is an... Read More architect as well. She also incorporated part of my wedding dress design in my cake. Our cakes looked beautiful and tasted great- super happy!
---
Reviewed on

7/15/2015
Kathy C
You can get beautiful cakes many places in Houston, but you won't find one that is both beautiful and tastes as fabulous as Gina's cakes. At our tasting, we were literally scraping the plate – the cake is that good. At the reception, my guests could not get enough of our... Read More beautiful cake. we first met with Gina, she quickly realized what we were looking for and sketched out a cake that was exactly what we envisioned – it was quite amazing to see that exact sketch on the table at the wedding. She is an architect by training, and it shows in her phenomenal creations. Her groom's cakes are often astounding – everything from stadiums to buildings to beers on ice. What really sets her apart though, is that her cakes TASTE so good!
---
Best Cakes Ever!
Reviewed on

7/08/2015
Courtney
I truly believe my wedding cakes were the best I'd ever had! Not only were they beautiful, but they tasted SO good! My cake was a 3 tiered tres leches cake and my groom's cake was a chocolate and peanut butter TARDIS (from Doctor Who). Gina did an amazing job! If I ever need... Read More another cake for a different event, I'm going to her first!
---
Reviewed on

6/22/2015
Elise J
I had an awesome experience working with Gina. We had a really enjoyable consultation and she offered up really creative ideas to meet our needs like adding fake tiers in the cake to make it bigger. They let me come in on a day they were closed to drop off my cake topper because... Read More I live in a different city. I was totally blown away when I saw my cake at my wedding. It was absolutely everything I wanted but even better. I got the classic wedding cake flavor and got SO many compliments on the cake. It was the only thing we ate after the wedding at the hotel even though our venue sent us with a ton of food. It is obvious Gina has a lot of pride when it comes to her cakes and it really shows. I would recommend her to anyone.
---
Reviewed on

6/16/2015
Kelly W
Cakes by Gina made the best cake I've ever eaten. She made a beautiful R2D2 with a light up eye for the groom's cake that guests just can't stop talking about and her lemon cake is amazing! Everyone loved it so much and I will be recommending her to everyone.
---
Reviewed on

6/05/2015
Tram H
No, no, all of the noes! I originally wrote a glowing review, but after the experience I just had, I'm going to have to change it...drastically. The cakes are pretty good, and the prices are decent, but the customer service is TERRIBLE! It took them three weeks to get back... Read More to me on an estimate for a cake top. Ours was ruined during the recent flooding, and we figured we just needed to order a new one. Let me break this down by explaining each interaction I had with them. The first week I called, the lady said she could possibly get us a discount (really? yay!) and they'd get back to me the follow business day. Nothing all week. Called the next week, person said they needed to talk to someone else, and that they would call me back. No returned call. By Monday on week three, I thought I'd email them. Emails are easier to answer than phone calls, right? No reply. On Friday, I called them for the third time, and the girl didn't seem to want to help me. I explained what the original person I spoke with said, and she said she couldn't honor that. It's this with no other options. No sympathy, empathy, remorse, anything. At this point, I was done with them. I wrote one final email to let them know how disappointed I was. Wasn't rude (not my style) but basically pointing out how I felt. Kept it clean. Wouldn't you know it, the owner emailed me back within the hour to say this: " I am sorry that you don't have the patient for us to figure out to call you back." Me not have patience? I waited three weeks for you guys to get back to me! I was even kind and said I understood they were busy. Wasn't expecting a giant cake on my doorstep but merely a reply or a simple phone call. But hey, she wasn't busy enough to read my email and send me a reply within the hour and to also insult me! It wouldn't surprise me if she read my review and commented with her own outrage. Not going to lie, this whole experience broke my heart a bit and left a sour taste in my mouth. So no, no, all of the noes.
---
STUNNING AND DELICIOUS
Reviewed on

6/02/2015
Mary T
The wedding cake and groom's cake were stunning. We are still receiving compliments on how beautiful they were to this day. Not only were they gorgeous to look at, but they were absolutely delicious. People were asking for seconds! Gina is great to work with. She made the... Read More entire process a piece of cake :-). From beginning to end, it was a fantastic. I will continue to use Gina for all my special occasions.
---
Delicious and beautiful!
Reviewed on

5/29/2015
Morgan G
Delicious! Working with Gina during the tasting to sketch out our ideas for our wedding cake and groom's cake was a lot of fun. She is super creative. The cakes are all delicious! When we arrived at the reception and saw the cakes we couldn't have been happier. She made little... Read More sugar statues of our dog and my husband's favorite beer that we get to keep forever as souvenirs. Everyone enjoyed the cakes. Can't wait to get into our top tier on our one-year anniversary!
---
Reviewed on

5/05/2015
Allie N
Our wedding cakes were so beautiful and very delicious! We tasted cake at several bakeries before Gina's and we knew immediately that she is who we wanted to make our wedding cake and groom's cake. We loved that we could select a variety of flavors for the two cakes. They turned... Read More out beautifully! We had just a vague description of what we wanted the groom's cake to look like and it far exceeded our expectations!
---
Reviewed on

5/01/2015
katie m
Not only were our wedding and groom's cake beyond delicious, but they were also beautiful to look at!!! They were moist and absolutely perfect! We met directly with Gina to discuss our plans for the cakes, which was great - she helped us brainstorm and come up with our final... Read More decisions. My now-husband and I were not 100% sure as to what we wanted, but she helped guide us by asking questions and having an open conversation during our whole appointment. I shared just a few small ideas that I liked, then next thing I knew, Gina drew my dream cake right before my eyes! She even used our monogram from our wedding stationary on the cake to bring everything together. She was very patient with the groom's cake as well since he had no idea what we wanted, but again, she had lots of great ideas and insight to help! All the samples were delicious, so it was hard to decide, but we went with chocolate-chocolate for the groom and vanilla and amaretto with raspberry filling with buttercream for our wedding cake. They were both SO good - seriously so delicious! We even saw Gina inspect every cake that went out the door the day of our tasting which made me feel comfortable and confident in her work.
---
Wedding and Groom's Cakes 4/11/15
Reviewed on

4/27/2015
Danielle D
We used Cakes by Gina as part of a package with our wedding venue, and are so glad we found this company! We met with Gina to discuss the wedding cake (which was included in our package) and the groom's cake (which we added). She was super nice and very helpful in helping us... Read More realized what we wanted in our cakes. We were able to sample several different kinds of cakes and decided on 5 different flavors between the two cakes: italian cream cake with raspberry filling, chocolate cake, lemon cake with lemon curd filling, strawberry cake with strawberry preserve filling, and red velvet cake with cream cheese icing. They were all SO delicious!! We are still eating cake 2+ weeks later and it is as good today and it was on the wedding day. I highly recommend Cakes by Gina to make your cakes dreams come true!
---
Outstanding
Reviewed on

3/30/2015
She is one of the few vendors for our wedding who provided FLAWLESS execution and service. The cake turned out to be more beautiful and delicious than we could have ever imagined. We can't wait for our 1 yr anniversary to eat the rest!
---
Loved Cakes by Gina
Reviewed on

3/17/2015
Neisha S
Excellent cakes, beautiful, moist, and fresh. My husband and I were thrilled with Gina. She was a pleasure to work with and the cakes were exactly what we requested and more.
---
Bridal Cake
Reviewed on

3/15/2015
Neelou S
I absolutely loved my bridal cake! They made my cake exactly how I wanted it and it tasted delicious!
---
Awesome!!!!
Reviewed on

2/24/2015
Chantolia W
I absolutley loved every aspect of both the bride and grooms cake! The flavor was amazing and from the day of my wedding I vowed to myself to never go to another cake vendor. My husband's birthday was a few weeks after the wedding and we used that opportunity to get another... Read More cake from her and again it was amazing!! Gina is amazing, our ceremony was held at the same place as the reception so we had to flip the space and Gina's staff brought the cakes in with and set them up without us noticing! I truly love this place. I can't wait until I need a cake!
---
So happy with my cake!
Reviewed on

2/08/2015
Holly R
Wow! Gina was wonderful. She is a true artist. I loved the design of my cake and it was delicious! She based the design off of my belt and it turned out beautiful. I would recommend Cakes by Gina to anyone and everyone who is getting married. She makes it so easy!
---
Beautiful cake
Reviewed on

1/06/2015
Catherine D
Gina and her team did a wonderful job with our cake. All of the guests were raving about all of the delicious favors. Thank you so much!
---
Delicious Cakes
Reviewed on

12/15/2014
Briana P
Picking Cakes by Gina was an easy choice for me as my family had already had experience with her and we loved her work so she was the only cake meeting I had. The meeting went well and we got all the details knocked out quickly. When we went back for a cake for something else... Read More before my wedding, I saw a groom's cake I liked more than the original one I had selected so I asked them to change it to that one but modified it a bit. They ended up delivering it exactly how it was in the store without my changes but they were minor so I didn't let it ruin my overall opinion of it. I was however very upset by one thing. We delivered my cake topper to Gina's the week before the wedding and made a point to mention several times that there were 2 pieces to the topper in the box. It was even written on the box but when we arrived after the ceremony, it was already set up and there was only one piece of our topper on the cake! I was really upset and tried to not let it ruin my mood but the second half of the topper was very important to me. Plus, I had it custom made and paid a good amount for it. My mom tried calling to find out where the other half was and could not get in touch with anyone. They also never called us back, it wasn't until my mom took the base back that she mentioned it to them and they said to tell me they were sorry. They never bothered calling me to personally apologize or anything which made me really mad. The cakes were gorgeous and delicious which is why I gave them 4 stars but I just still have a bitter taste in my mouth about them leaving off half of my cake topper. I know it was just an oversight on their part but it was a big deal to me.
---
BEST WEDDING CAKE EVER!!!
Reviewed on

12/13/2014
Cakes by Gina did a fantastic job on our wedding cakes, and I say this as someone who is not a cake person. My mother-in-law was horrified when I decided to do a small two tiered cake and hide sheet cake in the back. She begged me to do something that would be a show stopper and... Read More let me tell you - our cakes were the most talked about part of our reception. My six tiered flower petal cake was beautiful. Gina worked with my flourist and had the flowers placed on upon delivery. She also outdid herself on the groom's cake! So many people couldn't even tell it was a cake it looked so authentic! My husband did a keg of his favorite brewery, complete with chips and salsa. Gina put real beer bottles at the top of the keg, but everything looked so authentic our guests were trying to guess if the bottles were real or not. We didn't even know until we cut into the cake. The cake tasting was perhaps my most favorite part of the whole process! She really catered to us and was extremely professional. The level of detail she puts into her wedding cakes is amazing. You need to book way in advance though. She books up months prior! I hope you are lucky enough to get a spot!
---
Absolutey Wonderful
Reviewed on

11/04/2014
Giselle H
Cakes by Gina is absolutely wonderful. The cake was not only beautiful but great tasting. Thank you,
---
DELICIOUS!
Reviewed on

10/07/2014
Sheba K
We had a 6 tier cake done for our wedding by Gina! It was unique because it had a brooch cascade. Gina made the cake look exactly how I had imagined it. It was beautiful! She also made the groom's cake even better than the picture I showed her! We served about 200 pieces of... Read More different flavors, and it was all gone! She will absolutely make sure that the cake is everything you want.
---