Home

Captured Memories Photo Booth, LLC
About this Vendor
Quality Equipment at Affordable Prices
ASK ABOUT OUR CANDY BUFFET! No party or event is complete without photos to capture the moment forever, and nobody captures those moments like Captured Memories Photo Booth! Any event that requires Kansas City photo booth rental services requires Captured Memories Photo Booth!
Details
Online Proofing, Digital Files, Photo, On-Site Printing, Photo Props, Photo Booths, Social Media Sharing
Contact Info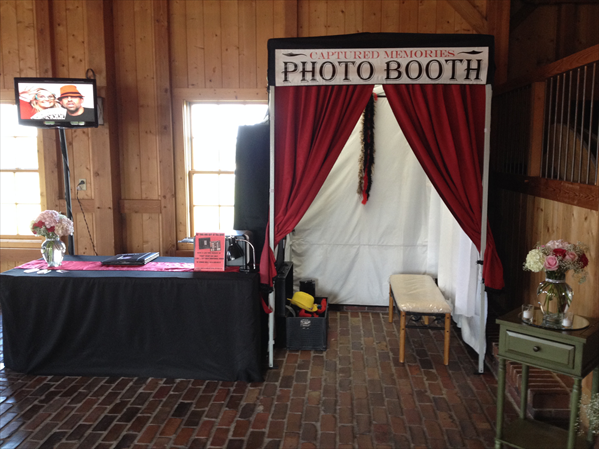 Great addition to the reception
Reviewed on

10/22/2013
Jenny K
The photo booth was a fantastic addition to our reception! The guests loved everything about it, including the props and the number of people that could fit inside for the pictures. Our book of pictures is priceless. We did this in place of a guest book and it was perfect!!
---
very professional
Reviewed on

8/06/2013
Larissa W
Great addition to our wedding. They give you a book with everyones pictures and it is such a fun thing to look back at over and over. The photos that get printed off are high quality and personalized for your wedding/date. Wedding guests loved the photobooth!
---
Wonderful photo booth!
Reviewed on

6/10/2013
Dorothy D
The staff at Captured Memories Photo booth were super friendly, accommodating and fun. We had a great experience!
---
Reviewed on

11/06/2016
Erin M
The photo booth was a big hit at our wedding! Everyone thought it was so much fun, and it provided hours of entertainment. This is a great company to work with. Kristi always responded to my emails quickly and answered all my questions, and the staff manning the photo booth was... Read More great! I highly recommend this company!
---
Reviewed on

8/13/2016
Kayley H
Everyone loved our Captured Memories Photo Booth! Our guests had a blast in the booth and it was a great addition to our reception! The photo strips looked just the way we wanted them to, and we were able to see all our guests' photos the next day. They were so easy to work with... Read More and made the night even more special!
---
Reviewed on

12/29/2015
I am so glad we selected Captured Memories! Our guests loved it -- young and old. Great props, very roomy to fit groups, very well planned in advanced and organized, and very professional, yet fun! The book they give you at the end is a priceless treasure! And all the pics... Read More were on Facebook for all to share within a day! I highly recommend this vendor.
---
The BEST Photo Booth in KC!
Reviewed on

7/26/2015
We knew we definitely wanted to have a photo booth at our wedding reception. After speaking to a few vendors we knew that Captured Memories Photo Booth was the one for us! They provided our photo booth, managed a candy table for our guests, and created our unique guest scrapbook... Read More from all the photo strips taken by our guests who then signed their strips afterwards. Kristin and her husband did a fabulous job at our wedding reception! Our guests had such a great time in the photo booth that many returned for several trips during the evening. The booth props provided were perfect for inventive and creative fun by everyone young and old! The booth had a screen outside so everyone could watch what was going on in the booth and enjoy the fun too. Every trip to the booth resulted in four photos taken and four strips printed. One strip went into our guest book and the other three were given to the guests in that photo session to keep. Everyone had an absolute blast!! The photo booth was a real highlight during our reception – everyone said what a great time they had and how helpful Kristin and her husband were keeping things fun but moving along. We provided the candy for the candy table and Kristin supplied all the dishes, most of the décor, and bags for the candy, and kept the candy dishes full. Our guests loved browsing the dishes to pick out and bag up their favorite candies to take! Our unique photo strip guest book is truly fabulous! We love looking at all the photos of our families and friends having such a good time and reading their fun sayings and wedding advice they wrote under their photos afterwards. Kristin added fun balloon sticker sayings and page decorations throughout that make our book something really special!. Thanks to Captured Memories, we now have a lifetime of beautiful memories that we will relive with joy every time we look at our fabulous photo book that captures all our guests smiling and laughing for many years to come!
---
Great Photobooth
Reviewed on

6/10/2014
Rachel M
This is the best photobooth for the very best price!
---
such a hit at the wedding
Reviewed on

10/07/2012
Amanda P
everyone had a blast in the photobooth- the guys were amazing. they had great props and were so fun!!!
---
So Fun!
Reviewed on

8/26/2012
Ashley S
Our wedding ceremony and reception were at a very conservative church, so we thought it would be fun to have a photo booth to occupy guests. We were hesitant about what some of the older guests would think, but it was obvious that within minutes EVERYONE was in love with this... Read More photo booth! I would definitely recommend getting the guestbook because they will put together a scrapbook for you with a copy of every photo from the night and let guests sign the book! Worth every penny for the lasting memories! Fun props and extra bonuses not offered by other photo booth companies, we researched a TON at bridal shows and online!
---
Crystal Elegance Wedding - Photo Booth
Reviewed on

8/02/2012
Candace B
I saw Captured Memories at a wedding show and when I brought the items home my then fiancé feel in love with the idea of having a photo booth at our July Wedding. We chose to go with Captured Memories because they had a great deal on renting the photo booth for 4 hours. They... Read More were so helpful and open to our ideas. We had a reception at an old movie theatre and we wanted the photo reel around the photo and they created one for us. We also wanted to use our wedding monogram and they made that work for our custom look. The photo booth was a hit at our wedding and I would recommend Captured Memories Photo Booth to any bride that wants a lot of people in their booths.
---
Awesome Photo Booth!
Reviewed on

7/25/2012
Kristin B
We LOVED Captured Memories! I went to a wedding two years before mine (even before I was engaged) and knew that I wanted to have them at my wedding and we did! They were great, on time to set up and just did their thing. We love the scrap book album they made and know it will be... Read More something we cherish for a long time and can't wait for our kids to be able to look through it and laugh with us. Everyone loves photo booths, but Captured Memories does a great job of doing just that. I would recommend them to all of my friends for weddings or any events!
---
Stole the show!
Reviewed on

6/04/2012
Michelle H
The photobooth stole the spotlight for the reception! Had a blast using Captured Memories and the scrapbook is an awesome touch! Recommended and approved!
---
HUGE HIT!!!
Reviewed on

5/01/2012
Kelli D
This was the biggest hit of the night! People were lined up 20 deep to get their pictures taken! The props were great, the slideshow for everyone to see and our album with all the pictures to remember the special day! Captured Memories is great to work with and provide the... Read More best addition to a reception!!! Seriously it was BETTER than I expected!!!! Money well spent for sure!!
---
Lots of fun but a little pricey
Reviewed on

12/27/2011
Janel S
My guests loved the photo booth. They had a ton of fun and got to take pics home as a favor which was also very cool. It was a little expensive to rent, but well worth it.
---
Love Love Love it!!
Reviewed on

10/26/2011
Stefanie G
Had an amazing time!! Everyone loved the photo booth! That's all they talked about!!!
---
So much fun!
Reviewed on

7/16/2011
Emmie C
I'm so glad we decided to do a photobooth for our wedding and Caputred Memories was the perfect company to book! We looked at a few other companies but they were much more expensive. Captured Memories did a fantastic job. They had lots of fun props, they put together a super... Read More cute scrapbook of all the photos that night, and they were really quick to post all the pictures on facebook for everyone to see! I got a lot of compliments on our photobooth. I was especially surpised at it was popular with everyone, not just our friends and other kids but with the older adults (like my parents) who usually hate to have their pictures taken. If you have the extra money to spend on a photobooth I would highly recommend booking Captured Memories.
---
Photobooth
Reviewed on

7/08/2011
Kendall M
Everyone at my wedding loved the photobooth. It gave the guests something to do and they also got to keep a picture. Employees were extrememely helpful and polite! Had so much fun with this and would definitely recommend using them at you wedding or any other event!
---
Guest are still talking about the photo booth!
Reviewed on

11/18/2010
Kara B
The photo booth was a "maybe" for my daughter and finally we decided to give it a try. It was the most fun thing ever for our guests. There was always a line at the booth and people were addicted. It did not interfere with dancing etc. as the dance floor was always packed. We... Read More rented thephoto booth for 3 hours and wished now we would have done 4 hours. Captured Memories has by far the BEST props, booth and photo book from any we saw at other weddings this fall. The owners are great!
---