Home

Castle Manor Inn
Book Your Wedding with Castle Manor Inn
---
A WEDDING VENUE IN GLOUCESTER, MA
About Us
Castle Manor Inn, situated in Gloucester, Massachusetts, offers all the quaint Victorian elegance you could ask for in a wedding venue. When you want to be surrounded by romance and charm at every turn, the Castle Manor Inn is the perfect choice. Built in 1900 and recently restored, the mansion is a hotel and restaurant. A three-season deck attached to the mansion affords you with stunning views of the water while you exchange your vows and celebrate your marriage.
The Deck. The covered deck is a delightful combination of indoors and outdoors, offering comfort and elegance with breathtaking views of the landscape. Heaters installed throughout the space will keep you and your guests warm, even on chilly evenings. This space will accommodate between 130 and 150 guests.
What You Should Know
A destination wedding is the specialty of the staff at the Castle Manor Inn. The events coordinator on staff assists with all event planning as well as day-of coordination to ensure a flawless event.
The manor features 10 tastefully furnished guest rooms and suites. A separate motor lodge on the premises has 16 more rooms, providing ample overnight accommodations for you, your wedding party and your families.
Seth McKinnon, the on-site executive chef of the Castle Manor Inn, manages his kitchen with a focus on fresh, made-from-scratch meals. Chef McKinnon consults carefully with each bride and groom to help with planning and menu selection. You have your choice of a variety of hors d'oeuvres, including both display and butler-passed creations. The reception dinner can be a plated or buffet affair. Entrée options include choices such as top sirloin, stuffed chicken breast and baked haddock.
The venue also offers in-house beverage service with various bar packages available to fit any wedding style and budget.
The staff has compiled a list of recommended vendors to help you choose service providers for common wedding services, such as photography, flowers, wedding cakes, entertainment, officiants and rental items.
Extra Perks
With exhaustive attention to detail and warm, friendly service, the staff at the Castle Manor Inn will make you and your guests feel at home during your wedding event. The team welcomes your special requests as you plan your wedding day.
Plan your rehearsal dinner in one of the three indoor dining rooms, each of which can be enclosed for privacy with room for up to 20 guests
Add a carving station to your reception menu
Consult the concierge staff to learn about local activities available during your event
From the Vendor
Pampered Elegance with A Water View
The Victorian Era Castle Manor Inn offers a 3-season deck overlooking the water & accommodating up to 130. Ten beautifully appointed rooms and suites in the main house are available for the wedding party, with an additional 16 motor lodge style rooms. Our chef is focused on a fresh and local menu!
Amenities + Details
Amenities
Handicap Accessible

On-Site Accommodations

Outdoor - Covered

Reception Area
For more details about amenities, please message the Venue.
Bar + Drinks, Food + Catering, Service Staff
Contact Info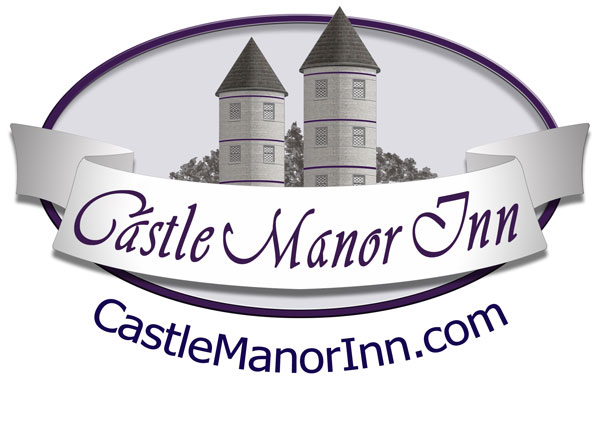 Reviewed on

6/19/2016
Bobby C
We couldn't have asked for a better venue! Every step from touring Castle Manor and meeting Laura for the first time through departing the morning after was above our expectations. What made us feel extremely confident was Laura's (owner/wedding planner) amazing organization and... Read More note taking to our needs and recommendations. We even bought a 3 tiered fondue fountain and Laura worked with her chef to bring our late-night cheese fountain idea to life! Having 26 rooms on-site were also a huge plus so we could spend more time with our guests and they could enjoy themselves without driving and then having a great breakfast afterwards. The day of our wedding went extremely smooth and she made sure the events were kept on schedule without us needing to worry about anything. The staff were all friendly and bartenders fun. We received many compliments on how quaint and unique Castle Manor is, the great food, and how Laura was clearly on top of things too!
---
Amazing Venue and Wedding Staff
Reviewed on

12/07/2014
Eve A
Laura and her staff helped us throughout the entire process leading up to the wedding weekend. On the weekend, everything went extremely smoothly. Our guests had a great time. We would highly recommend CMI for a wedding. CMI is beautifully set off of the Annisquam River, a short... Read More walk from the Gloucester esplanade and harbor. We visited CMI after our initial venue went bankrupt and unexpectedly closed. We had lost our deposit and were hesitant to sign another contract. Laura was so patient with us. She put us in touch with several couples who recently had weddings with CMI. She encouraged us to buy wedding insurance, and referred us to some insurance brokers. She continued to answer our questions and reassure us that our wedding would be perfect - and it was. Laura was very engaged from the beginning. She would regularly speak with me for 30 minutes or longer to discuss decorations, recommend other vendors, etc. I loved planning a wedding with someone who had a lot of experience and clearly enjoyed what she was doing. On the day before the wedding, I dropped a bag of decorations off, and it was all perfectly assembled on Saturday morning. Escort cards were alphabetized, family photos arranged, lanterns hung with lights and batteries assembled. Everything was done. CMI supplied a lot of the decorations, including an aisle runner, which I would have never thought of getting otherwise. CMI also coordinated with all of our other vendors, so that I did not have to handle the last minute details (e.g., when the DJ was going to eat). The wedding weekend went very smoothly. Laura and her staff were fantastic wedding coordinators and accommodated our every request, including providing enough freezer space to serve ice cream cake to our guests. Most of our guests stayed onsite, which made the wedding feel very personal. Laura, Maureen, and the staff even let us assign which guests went in which rooms. We had a big event on Friday night after our rehearsal dinner. CMI catered it with late night snacks and open bar. They were happy to stay up late with our guests until the early hours of the morning. On Saturday, after the wedding ceremony, there was a deluge. Luckily, the reception was under the covered deck, and we were able to put the sides of the tent down, but tables were blowing over, linens were soaked, and our DJ had to re-set up so her equipment wouldn't get wet. As a result, we had a 2-hour long cocktail hour. Neither my husband, nor I, nor any of our guests even noticed the delay. The staff maintained the presence of calm, while they quickly worked to get the reception space ready to serve dinner. Guests commented on how much they liked the dinner. Similar to the night before, CMI catered a late-night event after the reception ended. Again, the staff was very accommodating, even serving leftover food from our rehearsal dinner the night before and staying up with our guests until the early hours of the morning. Overall, we had the perfect wedding experience with CMI. Laura was fantastic. We could not have ended up at a better venue. We only wish we had found Laura and the CMI sooner!
---
Best reception site on the North Shore!
Reviewed on

10/22/2013
Heather K
Where do I begin?Honestly I felt like a "David Trutera" bride thanks to Laura Baker! From the interview process to the planning to the completion of our wedding, Laura and her staff made me feel like family and put me at ease about everything from finances to little details... Read More like favors and seating charts. Whenever I called, the staff, Kim, Maureen and Ember were kind and helpful no matter how many times I called. When the week of the wedding came even the staff were excited for us. The food, oh the food, I have no words! Amazing is one I can use. Even Mark the bartender was wonderful! He took time out and came over to our sweetheart table to congratulate us and to let us know our family and friends were great. Laura made sure everything flowed smoothly from announcements to keeping me going through the cake cutting when it wasn't the right song. She was right there. You can bring your decorations and favors the week of and they will set it up the way you request. For me I just let them put things how they saw would look best and boy did they ever do a wonderful job. I had happy tears and enjoyed every minute of my day! Our family and friends can't say enough about Castle Manor. Totally book your wedding here you won't regret it!
---
Reviewed on

10/18/2017
Mike S
I had my wedding at the Castle Manor Inn on October 1, 2017 and I was just completely blown away. From the minute I arrived onsite to check the place out, I was taken with the quaint beauty of the venue and it's location on the delta of the Assabet river. Beautiful place to... Read More get married - check! But what really stood out for me, and for anyone I've spoken to about this, the real differentiater here is Laura Baker, the owner of the property and event planner. I sat down to a nice dinner with Laura during my first visit and we talked through all the details of the wedding. My husband is from Spain and I had mentioned we wanted to bring some Spanish cuisine in to the menu - working with Laura, her ability to think outside of the box, and her complete willingness to customize our menus - order special things, including particular wines, etc. As a guy with little experience in wedding planning, in many ways, Laura acted more as my wedding planner than I would have ever expected - and I really appreciated this. She wasn't shy about sharing her ideas but was completely open to mine. Now, fast forward to the wedding day - the place looked beautiful, and Laura and her team treated me and my husband like kings. She reserved separate rooms for us to change in to our suits. We had a dedicated person to make sure we always had what we needed whether it was a drink or food. She handled all the table decor and the logistics - we had the ceremony there. She got people to where they needed to be at the right moment that was needed. Everyone...EVERYONE...I spoke to that day and after talked about how wonderful the place was, how good the food was (thanks Chef Seth!), and how well organized the different parts of the event were. I truly can't recommend this place enough. You will absolutely not be disappointed. Laura and her team were an essential part of what I consider to be the best day of my life.
---
Reviewed on

7/19/2017
Kimberly K
I fell in love with this venue when I saw it. And then meeting with the owner, Laura seeled the deal. This place is gorgeous and Laura is amazing. She helped me through every aspect of my planning and was there the entire day to make sure everything was executed flawlessly. I... Read More highly recommend Castle Manor Inn.
---
Reviewed on

9/14/2016
Jong P
My wife and I got married at the Castle Manor this past June. Long story short, it was the wedding of our dreams! This place is the perfect mix of rustic and elegant, without any hint of pretentiousness. It is also worth mentioning that Laura was absolutely fantastic! She was... Read More on top of everything before, during, and after the wedding. We had a major issue come up between cocktail hour and dinner, and Laura took care of it like a pro. Seriously, we could not have done this without her, and looking back on it, we would not have wanted to do this with anyone else. Laura is just that amazing. If you want to get married somewhere along the north shore, this place is definitely worth a look. And if you like what you see, go for it!
---
Reviewed on

2/28/2016
Jaclyn B
Everything about this venue was perfect. My husband and I were looking for a quaintly romantic spot for our 1940s themed wedding. We absolutely loved the look of the inn, with beautiful staircase as you enter, the fireplace in the dining area, and the romanticized homey feeling.... Read More The minute we toured the place, we knew it was the one. Beyond the venue itself, Laura Baker was an inspiration. She was kind, honest, and extremely thoughtful. She truly cared about the outcome of the wedding, giving advice, but also letting us take the reigns and decorate the entire place. We couldn't have had the successful wedding we did without the help of Laura. The food at the Castle Manor Inn was also amazing! The chef was great, and very accommodating, and the menu was vast with many items for the bride and groom to choose from. Laura's words were, "Think up a dream menu, and my chef can make it". Her staff on site the night of our wedding was also great; friendly, fun and hard working. We could not have asked for a better place to get married!
---
October 2015 Wedding
Reviewed on

10/24/2015
I recently got married at the Castle Manor Inn in Gloucester, MA. Among all the wedding venue choices in MA, this one fit all of our needs. It has guest rooms on site, it's in a great location (especially for out of town guests), and the staff is so accomodating. Laura, the... Read More owner/wedding planner, helped us every step of the way. She responded to my many emails usually the same day, and took care of all the details I had forgotten about on the day of. She even helped us find a replacement DJ after we had a last minute cancellation! We are so happy we chose the Castle Manor Inn. Our guests had rave reviews for the food as well as how well everything as planned and organized. I truly recommend this venue for future brides to be!
---
Wedding venue!
Reviewed on

9/22/2015
erika g
I am so glad that I picked the Castle Manor Inn as the venue for my wedding! Everything ran smoothly and was perfect thanks to Laura and co. They did an excellent job managing our every changing reservation needs and the place is gorgeous!
---
Amazing venue and staff!
Reviewed on

6/11/2015
My husband and I were married here in May and it was absolutely the perfect day. Laura and her staff took such wonderful care of us and executed everything we could ever wish for perfectly. Several of our guests mentioned it was the best food they ever had at a wedding -... Read More especially the heart shaped grilled cheese and tomato soup shooters! We highly recommend this as a venue as well as just for a bite to eat or place to stay!
---
Wonderful August 2014 Wedding
Reviewed on

2/22/2015
Elizabeth T
I can't say enough great things about our wedding weekend at the Castle Manor. The grounds are beautiful, especially the main inn. We were able to reserve all of the rooms and had multiple extended family members stay for the weekend - it felt like a huge family reunion. The... Read More rooms are kept very well and are clean and well decorated. The wedding ceremony itself was everything we could have hoped for. Laura is absolutely fantastic - she had so many details worked out that I wouldn't even have thought of. She is obviously very experienced in handling the "flow" of large events. The food was delicious at the cocktail hour, the main dinner, and the after party (sliders, nachos, etc). My husband and I strongly recommend the Castle Manor Inn for a classy, memorable and relaxed atmosphere for your wedding. We couldn't have been more pleased with everything.
---
have your wedding at The Castle Manor Inn
Reviewed on

7/01/2014
Justine S
We were thrilled with our June wedding at the Castle Manor Inn. The setting was beautiful and romantic, while also being wonderfully relaxed and welcoming. The food was terrific, and the service was outstanding. Laura, Don and the staff went out of their way to make our day... Read More special and to make our guests happy and comfortable. We truly felt at home there!
---