Home

Chateau Golf & Country Club
Book Your Wedding with Chateau Golf & Country Club
---
A BALLROOM IN KENNER, LA
About Us
Chateau Golf and Country Club is a premier location for weddings in Kenner, Louisiana, which is located in the greater New Orleans area. The clubhouse is 50,000 square feet and offers a variety of rooms and amenities for your indoor or outdoor wedding, rehearsal dinner or brunch the morning after. The beautiful golf course is replete with opportunities for photographs and has many fun activities you can participate in with your partner and invitees.
Outdoor Reception Area.
Have your guests sit out on the beautiful patio to witness you exchange vows within the beautiful gazebo. This ceremony area is perfect for daytime or nighttime weddings.
Grand Salon.
This special event space can seat 120 guests for a reception. Up to 230 can be accommodated for a cocktail party. The club recommends a minimum of 100 people.
Grand Ballroom.
This ballroom is a lovely venue for a larger, formal wedding. This ballroom seats 450 or can host up to 500 people for a cocktail-style reception. 275 guests minimum are recommended for this venue.
Chateau Boulevard Room.
This intimate room is ideal for a small rehearsal dinner, wedding shower or lunch for your wedding party. It seats 40 individuals.
European Room.
Another small, private room, the European Room is an excellent option to have available for all of your needs leading up to your wedding day. This space seats 50.
Rose Room.
The smallest room at the Chateau Golf and Country Club, it may be just perfect for your shower, rehearsal dinner or brunch. The Rose Room seats 30.
Les Nouvelles.
If you have a need for more sample space for your rehearsal dinner or a smaller venue for a more intimate wedding reception, Les Nouvelles can seat 80 of your friends and family.
What You Should Know
The Chateau Golf and Country Club offers many opportunities for you to visit with your guests. Before your rehearsal dinner or wedding celebration, catch up with your in- and out-of-town friends and family at the country club. Play a round of golf, go swimming in the two pools with lifeguards or play tennis. The club has additional amenities, such as a fitness center, a restaurant and a bar.
Wedding packages include three hours of hors d'oeuvres and open bar service. Each wedding package also includes a coffee station and complementary cake-cutting. Place settings including linens, glassware, china and silverware are included, as well as fresh greenery to complement the glass hurricane globes and candle centerpieces.
The professional staff of event planners provides a private dressing area for the couple during the reception. The site also includes a private area for photographs during the reception, including an excellent portrait area. Your guests will benefit from free parking, too.
Extra Perks
Chateau Golf and Country Club offers other amenities for weddings. These include:
Cake credit
Attendants for the couple and family
Cake knife set
Engraved napkins
Engraved champagne toasting glasses
Guest book and pen
Police detail during event
From the Vendor
Make the place as special as the day
Chateau Golf and Country offers classic elegance, celebrated cuisine and impeccable service, all in an extraordinary setting. In addition to your reception, Chateau is also the perfect place to host bridal luncheons, showers and rehearsal dinners.
Amenities + Details
Amenities
Handicap Accessible

Liability Insurance

Indoor

Reception Area
For more details about amenities, please message the Venue.
Bar + Drinks, Cakes + Desserts, Food + Catering, Planning, Service Staff
Contact Info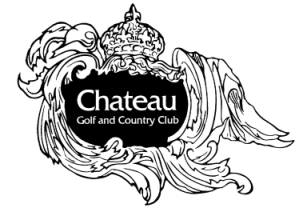 Reviewed on

8/02/2016
Heather H
Chateau was absolutely PHENOMENAL! I seriously cannot recommend them enough! The food was delicious, and Amanda and her entire staff were fantastic and so helpful-- simply amazing! The ballroom was beautiful, and we got SO many complements! Also, the amount of things you get for... Read More your money is unbeatable!
---
Reviewed on

4/10/2016
Emily M
I can't say enough good things about Chateau. The space is beautiful and the food is soo good! We got so many compliments on the food. You also get a lot for what you pay for. Amanda and our attendant were great to work with. They were so professional, friendly and took care of... Read More anything we needed. Despite bad weather leading up to the ceremony, I wasn't stressed because I knew we were in such good hands. I'd recommend Chateau to anyone :)
---
Reviewed on

8/14/2017
Hanna R
My wife and I were married in the outdoor space of Chateau Golf and Country Club on October 1, 2016, and quite frankly it was one of the most magical experiences of our lives. First, because I am married to the most magnificent woman on the planet, but secondly (and more related... Read More to this review) because of the way Chateau treated us. There honestly aren't enough stars to give to them. It's a gorgeous venue (delicate lights, beautiful greens, and a wonderful walk down the aisle, the option to be outside in the quiet of the night or inside with the raucous dancing and energy). They were able to accommodate our entire wedding attendance. Every butt had a seat both during the ceremony and at the reception (though we did have a count of 150 so bear that in mind for the outdoor seating). The space for the ceremony didn't feel too cramped, and the gazebo was private enough that I personally didn't feel the crowd watching. It felt private with just the right amount of gravitas to say: this is it. Because we had a smaller attendance, we went with the smaller room, which wasn't small at all: a spacious dance floor, endless food (seriously) and endless drinks (yeah, too good to be true right? Nope. I'm serious). Instead of having to go through all sorts of venues, Chateau helped us have options while keeping everything on one singular charge, which was easier to track. But the icing on top of the cake, and the very reason you need to go through with this and choose this venue, is the people who work there. When my wife and I first signed our contract, we had Elle helping us coordinate everything, and she was incredible. Sadly about a month in, she decided to move on to other adventures and Amanda helped us with every single question and concern up until the time our reception was over and the cops were kicking us out. But it's not just Amanda, who is a calming force of nature who gets things done like magic. It's the staff there, the servers, and especially the aids. They took care of my wife and myself, getting us where we needed to be and when. The attendant who was with me right up to the ceremony tried to make me laugh off my nerves from the people and then got me tissues for when she could tell I was about to cry tears of joy and being just so full of emotion over the day finally getting here. After the ceremony they continued to take care of us. During the reception, they kept tabs on us and made sure our parents weren't want of a thing. They were exceptional. Polite, considerate, and they could tell when they were needed without a thing needing to be said. And I can't say enough about the ladies who went the extra mile to ensure that we had everything organized by the end of the night, making packing a breeze. From beginning to end, it Amanda and the people of Chateau had us well taken care of. My wife and I are forever grateful to them and all of their hard work. Because, if you couldn't already tell, I am a fairly largely worded human being. I ask a lot of questions at the same time, and seriously no question was brushed aside and every question was answered. If you're on the fence: do it. You won't regret it.
---
Reviewed on

7/15/2017
Bonnie B
Chateau Country Club is an awesome venue for wedding receptions! It has two beautiful rooms to choose from and they are incredibly easy to work with to plan your perfect day! They have wonderful food and a great bar selection. I am so happy I had my wedding reception here.... Read More Everything was taken care of by the staff and I did not have to worry about anything! I would highly recommend Chateau to anyone looking for a reasonably priced, beautiful reception venue that provides any and everything you could want or need for your reception.
---
Reviewed on

7/15/2017
Brittany M
Awesome place had my wedding there. Next I'll have my anniversary the place is beautiful the service is awesome and the food is delicious!!! Everything was perfect!!!
---
Reviewed on

7/15/2017
Rebecca A
We had a wonderful experience. Everything was taken care of. Amanda was awesome and solved our crisis when the flowers for the cake weren't delivered. The problem was fixed before I even knew there was a problem. Chateau offers a great wedding package and has an amazing staff.
---
Reviewed on

7/14/2017
Jaime S
Loved Chateau! They were so great with everything and Amanda is your life saver with bustling your dress! You will not be disappointed.
---
Reviewed on

7/14/2017
Natalie J
I highly recommend Chateau Golf and Country Club. I heard about Chateau from a friend when I mentioned that I was looking for an elegant yet affordable venue for my reception. From day 1 Amanda was very helpful and assured that everything would go well, and it did. My wedding... Read More party was pleasantly surprised that we were able to eat before heading to the Grand Salon where the guest ate. Our attendant made sure that my hubby and I were satisfied. She kept the drinks coming. The staff was very friendly and professional! My guest talked about their wonderful experiences (food as well) for weeks after the wedding. Chateau is the way to go! Thanks you guys for making our wedding day everything we wanted...and more!-HappilyEverArthur
---
Reviewed on

7/14/2017
Ashley G
I was 100% pleased with my experience at Chateau. They met every expectation I had and then some! Their professionalism and care for detail is amazing. I would recommend them for any wedding or event.
---
Reviewed on

7/14/2017
Cadeal L
From the initial visit at Chateau GCC we knew we found the perfect location for our wedding. Planning an out of state wedding presented some challenges but Amanda was very thorough, detailed, and quick with her replies to my many emails. The venue is stunning! The gazebo... Read More provided the perfect backdrop for our vows. It was the wedding we both envisioned within our budget. The food was great and the staff was amazing!
---
Reviewed on

7/14/2017
Ashley D
Our Wedding Day was AMAZING! Huge shout out and thanks to Amanda and her team! She held my hand and helped out in SO many ways- I could not be more appreciative of her experience and knowledge of the industry!
---
Reviewed on

7/14/2017
Kali D
Amanda and all of the staff at Chateau made everything run perfectly!! The food and drinks were phenomenal. Our wedding reception was far better than we could have ever dreamed of!
---
Reviewed on

7/07/2017
Ashley S
Have nothing but great things to say about Chateau! Amanda was so easy to work with and made the planning process so smooth. The food, atmosphere, and venue were amazing!! Wedding guests are still complimenting how amazing the wedding was. Thank you Chateau for helping make my... Read More reception absolutely perfect!
---
Reviewed on

5/16/2017
Jordan R
It's a gorgeous venue! As soon as I did the first walk through, I knew this was the place to have our reception at. They venue itself made for gorgeous scenery for our photos and video. They include almost any wedding extra you can think of that most people forget about until... Read More last minute (guest book, cake knives, champagne glasses, etc). Not to mention, their price includes a fully stocked bar and a delicious menu that you can pick and choose from! The coordinator made sure to make time for me whenever I had a question or wanted to drop in for something. And the staff was on hand for any drink spills that needed to cleaned up or if someone wanted some more food. I highly recommend this place to anyone who is looking for a New Orleans style wedding but at a great price!
---
Reviewed on

5/09/2017
Alisha C
Amanda at Chateau allowed us to have our dream wedding. I'll be honest we chose Chateau because it was the best bang for our buck, but after the wedding I wouldn't choose any other place. We had our ceremony outside at the gazebo. Omg it was picture perfect. Bella blooms... Read More decorated our gazebo to add a little touch to it. Our reception was phenomal. Beautiful! But honestly the best part about booking at Chateau is Amanda. She has a heart of gold, and she always has a smile on her face. Everyone needs an Amanda for their wedding. She's made sure I had all my I's dotted and my y'all crossed. I was able to bring a few decorations like pictures, sign in book, flip flops for guests, koozies, and signs in a few days before the wedding. She made sure they were put out and they picked them up after the wedding. She made sure there was assigned friends or family to take care of things like - who will bring my dress home -who will bring our cake topper home She even was able to store our Jell-O shots in the cooler and they put them in the party bus for us!!! And the attendants, no way I could have done without them. They were so helpful in making sure all the small things like the girls bags to touch up to flowers and what not were held or picked up. They busselled my dress and made sure me, the groom and both our parents were taken care of all night with drinks and food. The wedding party was able to go into a private room where there's food and drinks for us before going into the reception <<< so helpful so you don't have to worry about eating and talking when you get upstairs! I can't say enough great things about this place! Everyone was fabulous! Attendants
---
Reviewed on

4/12/2017
Sabrina T
WOW! I am still amazed at how beautiful and seamless my wedding at Chateau was on April 1! I cannot say enough good things about how exquisite the Grand Ballroom is, the service, the food, and working with Amanda who is a true pro and handles all requests with ease! The dance... Read More floor is bigger than most other venues' dance floors, and that was a good thing for me, because it was PACKED! Ample room for a large stage-- I had a 10-piece band. My attendant was fabulous and always right there with a new glass of champagne for me. Truly a beautiful, simple, experience working with Chateau. I would recommend this venue to anyone!
---
Reviewed on

2/06/2017
Melanie M
I am so happy that we chose to have our wedding at Chateau! The venue is beautiful and the staff was a pleasure to work with. Amanda (the wedding coordinator) made everything so easy and stress free. Chateau takes care of everything and makes sure that the bride and groom feel... Read More special. They even have attendants for the bride and groom and their parents. Our attendant Evelyn was amazing! She took care of us all night and we never had an empty drink. Chateau is very inclusive in that you don't have to do much else for your reception. The cost per head included the venue, the food, the drinks, as well as a cake credit for the wedding cake and grooms cake! It took a lot of the stress off of us and allowed us to enjoy the wedding planning much more. I couldn't have imagined our wedding anywhere else! Chateau is the best there is!
---
Reviewed on

1/23/2017
Courtney D
Chateau was so amazing!! Amanda, the wedding coordinator is excellent and makes your day perfect!! Fully recommend! And the food is awesome!
---
Reviewed on

11/30/2016
Brittany L
Phenomenal!! Chateau was the absolute best decision that we made during our wedding planning process. Every step flowed seamlessly from the moment we booked a walked-through to the moment they loaded the last gift into our car after the reception. They take care of every little... Read More detail, we didn't have to worry about a thing. The place is beautiful, the staff is attentive and professional and the food and drinks were to die for! Everyone who attended our event was blown away with the elegance, food and service. Amanda was phenomenal and our personal wait staff was phenomenal. If I got to redo my entire wedding, I would still choose Chateau! We had a blast!
---
Reviewed on

11/29/2016
Lindsey W
I can't imagine having a better reception than the one I had at Chateau. The set up and ballroom was beautiful, the staff & attendees were wonderful, and we had so many compliments from our guests! The guest favorite was by far the food - you had such great, authentic New... Read More Orleans food and had so many selections to choose from. Your money goes a long way with Chateau and everything was top-quality. I can't think of a single thing that I would change. Thank you Chateau for making my wedding night unforgettable!
---
Reviewed on

11/03/2016
Faith B
Excellent venue to have your wedding! Wonderful food, wonderful coordinator and staff, very spacious, and very beautiful! We were extremely pleased and had an amazing time! 💕👌🏼
---
Reviewed on

10/25/2016
I highly recommend Chateau Golf & Country Club for a wedding reception. Amanda Frichter was an amazing hostess. She was on top of everything and that made everything go smooth. The food was amazing and the fact that they keep coming until the end makes it even better.... Read More Perfect.
---
Reviewed on

10/24/2016
Kristina B
Everything was amazing. The staff was great and catered to our every move. I couldn't have imagined getting married anywhere else. They made our day spectacular.
---
Reviewed on

8/31/2016
Sara C
Chateau Country Club was such a wonderful experience! Food was great, music was great. I do not have one compliant! Amanda is also awesome! I would recommend this place to everyone! Not terribly expensive either!
---
Reviewed on

4/05/2016
Amanda H
I had my wedding and reception at Chateau on March 19, 2016. They did an excellent job, I couldn't have asked for better service or atmosphere and especially food. Everyone had an excellent time and I will be recommending Chateau to many others.
---