Home

Chef Jack's Catering
About this Vendor
Chef Jack's Catering
Specializing in "The Art of Hospitality." At Chef Jack's, we understand the dynamics that go into planning an incredible event. From sample menus to the day of your event, our experienced, friendly, and professional event team will assist you every step of the way.
Details
American, French, Italian, Fusion, Seafood
Buffet, Chef Stations, Family Style, Seated Meal, Food + Catering
Contact Info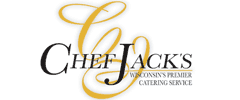 215 South Street, Waukesha, WI
Chef Jacks - Simply the best
Reviewed on

11/19/2013
rebecca t
I was married at the Riviera in Lake Geneva, and we chose Chef Jack's as our caterer because their food was simply the best. My husband and I did tastings with four other caterers, and we found there really was no competition. Taste and quality-wise, Chef Jack's won every time. Chef Jack's was more expensive than the other caterers, but we chose them because we felt the difference in quality was worth the extra expense. I'm glad we did! The staff was professional and polite and the food was great (in fact, a number of our wedding guests went out of their way to tell us how much they liked their meals). Chef Jack's didn't just provide exceptional food, they provided exceptional service. Chef Jack's goes that extra mile. I appreciated how organized and responsive Chef Jack's was throughout the planning process. When I'd send an email, I'd get a response back the same day - sometimes within minutes of sending. That same organization and attention to detail carried over into the wedding, and it really put me at ease to have Chef Jack's as my caterer because I knew that they could function as our event coordinator, too. They also worked to coordinate with other vendors on our behalf (DJ, cake, etc.). I personalized our wedding with a lot of "extras," and was so relieved to hear that Chef Jacks would set up everything for us the day of the wedding. We dropped off our reception decor items the week before, and I felt so relieved to know that I could count on Chef Jack's to take it from there. Brides, I can't tell you enough how important it is to pick a vendor that is going to be responsive & organized. You are going to have a lot of moving parts. Spend the extra money and save your sanity!
---
AMAZING!!!!!
Reviewed on

7/07/2015
Hannah Z
I cannot say ENOUGH great things about Chef Jack's! The staff was so helpful and friendly throughout the whole process! They helped us plan our meal (cocktail hour, open bar, passed apps, plated dinner, dessert buffet) and were very honest with us about what was worth spending money on and what we could do without. They were so great on the day-of - they assigned an event coordinator whose job it was to make sure everything went smoothly and check in with me periodically, which was perfect. And the food...was...AMAZING! Our guests have told us it was the best wedding/event food they've ever had. Chef Jack's is such a good value and such a good service - I would recommend it to ANYBODY!!!
---
Absolutely Exceptional!
Reviewed on

10/02/2014
Jackie S
Chef Jack's was a TRUE joy to work with. I am a very detail-oriented, and particular person, as is my mom, and Chef Jack's delivered above and beyond what we could've asked. They were incredibly responsive and helpful with all our questions to make us feel good about our investment with them. And, on the day of the wedding, they were nothing but incredibly professional, classy and truly nice. The food was so great. What was most helpful was that they took charge. They asked us for all information on our other vendors so they could coordinate with them directly on the wedding day so as to not bother us with questions or concerns. And they added little touches to the event that made it stand out from other weddings people have been to. We can't thank them enough for all they did to pull off one amazing wedding day for us. They made it truly unforgettable! And, they are ALL such nice people!
---
Reviewed on

7/27/2015
Ashley M
These guys are The.Absolute.Best!! The day of, we were never worried about the food - they took care of everything. Not only was the food amazing (we had lots of guests comment how delicious it all was) but the service was wonderful. The workers addressed my husband and i by our first names and there was someone designated to take care of us. I wish I remembered her name, but one of the women pushed my chair in for me, got us champagne, and communicated with our venue when I asked to move tables. They are extremely professional and timely with their communication. Chef Jack's will go above and beyond to make your wedding day delicious and enjoyable!!
---
Chef Jack's is simply the best
Reviewed on

10/17/2014
Chef Jack's was simply amazing. We have had so many people that were at our wedding tell us how spectacular the food was and that it was the best they've ever had at a wedding. The service and professionalism were great. They added to the overall positive atmosphere of the event. We have attended a number of weddings since and there is no comparison. Chef Jack's food and service can't be beat. They are simply the best.
---
Fabulous in every way!
Reviewed on

10/09/2014
Chef Jack's food was delicious !!! We tasted others and they did not compare! the staff was very very helpful and efficient. Our contact at our wedding venue said they were very considerate of their staff and I witnessed how kind and helpful they were to guests and our family. The food was so yummy, no idea how they did that with 120 plus guests!
---
FABULOUS!!!
Reviewed on

10/07/2014
Susannah F
I cannot say enough good things about Chef Jack. Their food is amazing and they were wonderful to work with. So professional and nice! Very quick to communicate and very accommodating. Everyone loved the food at our wedding and the level of service was great. They were just outstanding! We taste tested several catering options and Chef Jack blew the rest out of the water.
---
Candy and Chef Jack's Team Are the Best
Reviewed on

9/28/2014
Vicki L
Candy and the team at Chef Jack's made everything so easy! They help you so much with planning and set up. Coming from someone who felt in over her head they put me at ease. The appetizers and food were so amazing we received so many compliments on the food and the service provided was top notch. I would and did recommend Chef Jack to anyone planning a wedding. They are the best and I can't thank them enough! Thank you! Vicki and Brad
---
The Best of The Best
Reviewed on

7/11/2014
Chef Jack's Catering provided outstanding service at our daughter's wedding. From the tasting date to the end of service on the wedding day everything was absolutely perfect. Many of our guests commented on the quality of food, the presentation, the service and the fact that everything was hot including the vegetables. We used Chef Jack for the bar service as well and again perfect in every way. Because of the friendly staff, the quality of food and the ability of co-ordinate our entire event we hosted a most enjoyable wedding reception. Thanks especially to Tony and Candy for providing the experience and professionalism we expected. Why would you choose any other company when Chef Jack's is truly the best of the best!!
---
AMAZING!
Reviewed on

5/15/2014
Laura Z
I cannot say enough good things about Chef Jacks. They were absolutely amazing and made my day go without one bump. The entire staff was awesome to work with and they did everything that we had asked. People were RAVING about the food and many said it was the best they have ever had at a wedding. Chef Jacks went above and beyond my expectations. I cannot thank them enough.
---
Simply the Best
Reviewed on

4/07/2014
Tiara G
If you want your guests to remember your wedding as the best food they've ever had, Chef Jacks is the place for you. We worked with Tony and Candy who were so accommodating. They really made us feel part of the family and went above and beyond our expectations. We started off with their amazing apps (Candy hand delivered a private platter for the two of us right after the ceremony). I still have dreams of the bacon wrapped pineapple - yum! We've been to wedding where they have limited supplies of apps. They had so much food one of my buddies said he had to slow down to make room for the main meal that was upcoming. We did stations for dinner (Fajita, Stir Fry, Carving, Macaroni and Salad). We got so many complements about the quality of the food and the selection. One of the groomsmen and his date are Vegans and were worried about not being able to find much to eat. With out hesitation, one of the stir fry chefs made a special batch just for them on the spot. They've been to a lot of wedding and never felt to accommodated to their dietary needs. While sitting at the head table Candy again came over and hand delivered us a custom plate of food. They really made us feel special the whole night. Their entire staff was extremely professional and helped make our wedding day a huge success. We sat down with them before the wedding and they just made us feel so at ease and we knew we had nothing to worry about. To the Entire Chef Jacks Family - Thank You Thank You Thank You!!!!!
---
Best wedding food ever
Reviewed on

11/17/2013
Samantha B
Chef Jacks was the first and only caterer we met with for our wedding food. We knew immediately as soon as we tasted the food and learned of their "all on one plate" concept that no other caterer would compare! The "all on one plate" concept is that you get both food options on one plate! Where most weddings you have to choose whether you want chicken or beef, Chef Jacks puts both on one plate so guests get to have a little bit of both. The appetizer options are endless and are also fabulous! Our guests (and of course we do too) continue to rave about the apps and dinner. My bridesmaid was amazed at the flavor and how perfectly the filet mignon was cooked. She said there's no way this is catered, it's like sit down at an amazing restaurant food! The service was impeccable. The wedding party got to the cocktail hour late and the head service person brought us our own individual platters of appetizers to share amongst each other in the bridal suite. They also plan to make a meal for us for our 1 year anniversary! And lastly, working with Candy on all of the details of setting the tables, changing our head count, etc was great, she knows her stuff and was so willing to help us wherever we needed help. They made it very easy for us to feel at ease that day and not have a single worry! Chef Jacks js highly recommended by me, my husband, parents, in laws and every guest at our wedding!!!
---
FANTASTIC!!!
Reviewed on

11/07/2013
Katie K
My husband and I recently got married and we used Chef Jack's. We worked with Tony, Candy and Tammy. They were absolutly AWESOME!! From the first food tasting to the planning meetings, they were so helpful and really made us feel like they had it all covered...and they did!! Candy was so amazing with all the planning and Tony made sure we had enough bacon! Yes, bacon!! They never once made us feel like we were just another bride and groom. I will always use them for any of our future catering needs. The food was AMAZING and we had so many compliments from our guests. Thank you again to all of you!!
---
raves
Reviewed on

11/05/2013
Margi W
We used Chef Jack's for our recent wedding. From the start, Tony was so accommodating in setting up the tasting, allowing changes, and then a second tasting for appetizers and a fish course as my son-in-law had been unable to attend the first round. The food was fantastic!! Steaks were perfect as was the fish, and the appetizers were beyond what I could have hoped for considering we had 170 guests. We even had to change our numbers 4 days before the wedding --- and it was no problem! The staff was delightful and so helpful that evening too. This is a truly professional, class caterer!
---
Excellent Milwaukee Caterer
Reviewed on

10/16/2013
Samantha S
Chef Jack's is not just a caterer; they went above and beyond to make sure our reception went off without a hitch. I could not recommend them more highly. As a self admitted control freak, I was able to enjoy the day knowing that they had everything managed. Food/Bev options were affordable and flexible enough to fit most price ranges. Our guests raved about the food. Nothing makes a bride feel better when the words "Best Wedding Food" are heard across the reception, besides marrying the man of her dreams! ;)
---
Great food and service!!
Reviewed on

10/11/2013
Lorena B
OMG amazing!! Chef Jack's was great with customer service, the entire process and food. We wanted to make sure that the food was amazing at our wedding, so we went with Chef Jack's because the tasting was awesome. We ended up doing appetizers and sit down dinner because we wanted everyone served pretty quickly. Chef Jack's was constantly checking in with us to make sure everything was going ok,they also had no issues cooking the steak longer if needed. They were great working with the other vendors too. They also found my shoes at the end of the night and tried to deliver them to me, but then left them back at the reception area but sent me a courtesy email letting me know! They are awesome!!!
---
Wedding- September 2013
Reviewed on

9/20/2013
Sarah P
Chef Jack's Catering did an amazing job catering our wedding that included 350 sit down meals! The appetizers and food was delicious, we received so many compliments from our guests! The service was spectacular, from our first email on scheduling our food tasting to the last goodbye on our wedding night, everyone was such a pleasure to work with! Our Bridal Party arrived late to cocktail hour and they made sure to save us appetizers, it was very nice! They also did a great job with servicing our guests with special diet needs. We had quite a few and they made every guest feel important/special. A huge thank you to all the staff at Chef Jack's, you guys are awesome!
---
Highly Recommended!
Reviewed on

9/13/2013
Brooke S
I highly recommended Chef Jack's, we hired them for my wedding this past August 25, and the food, service, EVERYTHING-was fantastic. My brother said "it was the best filet he's had in years". We just got back from our honeymoon and people are still talking about how great the food was! So thrilled with Chef Jack's. They respond to questions so quick as well. They are highly recommended in my book!
---
Outstanding Wedding Food
Reviewed on

9/04/2013
Sara W
Chef Jack's Catering provided outstanding food and service for our daughter's wedding. From two separate tastings to special requests, Chef Jack's did everything possible to make sure the meal was memorable. I received so many compliments on the food and service. Friends even made special phone calls and sent e-mails telling me it was the best food they ever had at a wedding. My daughter and her husband do not really care for cake so Chef Jack's suggested an ice cream bar served on creme puffs. It was a hit! At the final detail meeting we selected table linens and went over all the details one more time. Very experienced, professional and delicious food served by helpful friendly people. I would use Chef Jack's Catering anytime with confidence that the meal and service would be perfect! Thank you for helping to make my daughter's special so wonderful.
---
August Bride
Reviewed on

9/04/2013
Amanda B
We used The Rotunda for our Ceremony and Reception. The staff were so great in the planning process and the execution of the day. This sounds funny but the staff made sure that we and our bridal team were eating; that we got the cocktail food and dinner. We were never left with, what do we do now? we need help? where is...?
---
Chef Jack's was Well Worth the Money Spent
Reviewed on

9/01/2013
Jamelee B
Chef Jack's was awesome! They went above and beyond to make our day special. We received so many compliments on the appetizers (one guest said they were the best he's ever had at a wedding) and too many compliments to count on the entrees...and everyone was full, the portions were more than sufficient (which we all know can sometimes be a problem). Chef Jack's made sure we didn't have to worry about a thing, they had all the details covered. Also, they were always very responsive. Any time I had a question they would respond in a timely manner. I would use them again in a heart beat and would recommend them to any of my family and friends. They may be a bit more pricey then other caterers, but remember you get what you paid for. Chef Jack's was one of a few vendors we didn't regret working with.
---
Well worth it!
Reviewed on

8/31/2013
Melinda F
Food was delicious. The logistics were made easy by a team of professionals. It was such a pleasure to work with Chef Jack's!
---
Chef Jack's - HIGHLY Recommended!
Reviewed on

8/30/2013
Nin J
After having our original caterer tell us they could not deliver the "breakfast for dinner" theme we were hoping for, we asked our reception venue for recommendations. They pointed us towards Chef Jack's. I cannot speak highly enough of the customer service, attention to detail, delicious food quality and kindness of the staff. We went into our wedding night without ever having tasted the food and were blown away by how fantastic everything tasted. Our guests are still talking about it! Thank you Chef Jack's for making our day memorable and carefree!
---
Chef Jack's Catering
Reviewed on

8/15/2013
Kathleen O
From the moment we started to search for a caterer for our wedding reception, Chef Jack's stood out among the rest. Not only did they come highly recommended by our venue, they responded to every e-mail or voicemail within minutes...when other companies took days or weeks. This alone made me one happy, relaxed bride. Everyone at Chef Jack's was friendly and eager to help us create the wedding reception of our dreams and went above and beyond to add little touches that made our wedding feel special. I was blown away by our table settings and treated like royalty by their professional staff. Our guests continue to rave about the food at our wedding and all said it was a meal they would have gladly paid for in a restaurant . In addition to the quality of their food and service, Chef Jack's was an exceptional value for our money and worked with us to stay within our budget. I would highly recommend Chef Jack's to anyone looking to plan a special event and could not have planned such a beautiful day without them!
---
AMAZING!!!!
Reviewed on

8/11/2013
Brandy S
I used Chef Jack's for my wedding in October 2012, it is almost a year later and my guests are still raving about how fantastic the food was and how professional the service was. Candy is an absolute doll to work with, she really went the extra mile to ensure everything went smoothly. Chef Jack's impressed me from day one when i went to their food tasting but they blew me away with not only their food but how well their staff was trained. It warmed my heart to see the acceptance from all the staff catering a lesbian wedding. My wife and I chose Chef Jack's because we were told they hold a professionalism that goes beyond other vendors, and they absolutely upheld the highest respect for us and our guests. The servers were even busting a move on the dance floor. It was great to have such a fun atmosphere around us. Chef Jack's exceeded my expectations and i highly recommend them to anyone who is looking for an amazing and professional catering service.
---
Send Message