Home

Chic Cosmetique
About this Vendor
Published, Certified, Boutique Makeup Artist
Hello, and welcome! Get ready to be primped and perfected with me by your side! I'm a certified, seasoned, professional boutique makeup artist working out of my center city Philadelphia studio, but I travel everywhere. Friendly & flexible, I'm also a trained fine artist, and I give every customer a non-cookie cutter makeover with only professional products. Be it fresh and natural, sexy and glam, or soft and romantic, you don't leave my stool until you're satisfied. Prices are reasonable. You get what you pay for & more. I travel to you, but can also offer trials at my center city studio. Airbrush equipped. Featured in New York Magazine. Collaborate with top Philly and New York photographers. Give me a shout to learn more. Talk to you soon! Stay chic!
Details
Beauty Group Bookings, Hair + Makeup Trials Available, Hair Stylists, Airbrushed Makeup, Eyelash Extensions, Makeup, Makeup Artists, Nails, On-Site Hair + Makeup, Facials, Tanning, Beauty

Contact Info

Reviewed on

10/27/2017
Bruce K
Nicolette is the absolute best!!! She is wonderful to work with and is a true master of her craft. She did wedding makeup on 10/21/2017 for myself, my six bridesmaids, MOB and MOG. Everyone looked amazing and was raving about their makeup all night. I looked and felt beautiful... Read More all night! I didn't want to take my makeup off at the end of the night. Don't even hesitate, book Nicolette, she's the best! If I could give her more than 5 stars I would!! Aileen
---
Reviewed on

1/24/2018
Ryan B
Nicolette is amazing. So professional, so nice, and so totally talented, she's the best of the best. I could see from the first moments of my bridal trail that Nicolette was going to do a great job because she took her time to choose every product and every color that would work... Read More well with me and what I wanted (full-out New Years Eve glam!). On the day of my wedding, she arrived early and was totally set up when my family and friends arrived to start their make-up. Make-up was precise: she created a unique look for each person, according to what they wanted. People remarked that my mom looked like a queen. If I could give ten stars, I would. Thank you so much, Nicolette!! Ryan
---
Reviewed on

11/06/2017
Rebecca L
Nicolette is very professional and knowledgeable about what she does, I highly recommend her to future brides! She put My bridal party and I at ease and took time to listen to what we all wanted!
---
Reviewed on

9/29/2017
Taylor K
Nicolette was wonderful to work with from start to finish! I am not one that usually wears a lot of makeup so I was hesitant at first to book a makeup artist. Nicolette made me feel so comfortable, we talked on the phone for almost an hour! I just knew she would be the right fit... Read More for my wedding because she was so invested in her career and you could tell that she really did care about her clients, just in the first hour of us chatting. Nicolette was the first person I booked for my wedding! I loved my trial makeup, she really listened to exactly what I wanted. I LOVED my bridal makeup and all of my girls loved their makeup as well! She is a true artist. I HIGHLY recommend! Thanks again Nicolette, hope to see you again soon!
---
Reviewed on

8/22/2017
Meghan K
Nicolette was absolutely amazing. Her work was exactly what I wanted and my bridal makeup was flawless. I cannot wait to work with her again!
---
Reviewed on

7/10/2017
Clara S
I cannot stress enough how much of an amazing makeup artist Nikki is. She was the perfect combination of friendly and professional, and her talent is off the charts. I'm very picky with my makeup and don't usually wear a lot, so I was dreading having my makeup done for my... Read More wedding. Nikki NAILED IT!! She knew how to compliment my best and complicated features and hide the ones I hated. She also matched my skin tone perfectly and didn't just cake foundation on me. the cherry on top is that she's super friendly and very sweet, which helps a lot when you're stressing over all the wedding stuff. Me and all my bridesmaids looked amazing. Nikki is the coolest in the beauty industry!
---
Reviewed on

5/26/2017
Elise D
Nicolette was incredible! I wish I had had her do my makeup for my own wedding last year. She was so attentive and knew exactly how to make everyone look awake & lively despite the fact that it was a rainy, cold, gloomy day! I felt my best.
---
Reviewed on

5/03/2017
Karen A
Nicolette knows how to work a makeup brush! I am usually totally squeamish about getting my makeup done, I haven't deviated from my cat eye in YEARS, I know what I like!! But I'm getting married and my no-frills approach to skincare and makeup wasn't going to hold up. I chose... Read More Nicolette because she practices what she preaches. She is her own canvas, and she looks phenomenal, so you know she knows what she is doing. She is beyond skillful and really knows her products. I admittedly, don't take the best care of my skin, Nicolette suggested a few products during our trial sess that she has used in the past that she found really worked. She wasn't pushy, it was totally informative. Then came the makeup application. We chatted about the look I was going for and she went to work, explaining what she was doing and using. She is a master at her craft, and if something wasn't quite the way she wanted, she explained to me how she was building the effect (I wanted super bold eyes). She knocked it out of the park. I felt AMAZING. My skin looked so bright, so dramatic, and absolutely bridal!! I went out with my family and my fiance afterwards and he was floored. He actually started to tear up at one point because he was so excited for the big day, and couldn't wait to see me in my full look! The makeup held up all day/night and I was heartbroken to wash it off. I cannot wait for my wedding next month, this is one aspect of the big day I am not worried about in the least!!
---
Reviewed on

2/07/2017
Avery W
Nicolette is a make up GODDESS!! Even with some unexpected time crunches and stress, and me changing my look last minute...🙈 she still managed to create the most gorgeous bridal look for my October wedding. She is the sweetest and is loads of fun to work with! My makeup really... Read More stood out in all of my pictures but was still not too over the top. I felt like the most beautiful bride in the world thanks to her! I had decided last minute to do a first look with my dad so we had to speed up the process a little so I could be done sooner than planned, but that didn't affect Nicolette's ability to transform all of us into beauties :) I highly recommend her for any and all occasions! From the moment we first spoke I knew I could trust her to create my bridal look. I have had bad experiences with airbrush in the past so I was hesitant at first, but when I had my trial she really showed off her skills! My make up was flawless and stayed all day and night. She is amazing at what she does without a doubt. Thanks nic for helping to make my dream day come true oxoxox
---
Reviewed on

10/24/2016
Elizabeth M
I had a great experience with Nicolette for my make up trial! I had the trial done the day of my engagement photos and I'm so glad I did! Nicolette was very flexible with timing, extremely friendly, and did an awesome job! Make up held up all day, pictures looked wonderful and I... Read More felt so confident! What a great experience, I HIGHLY recommend her to any bride and can't wait for my wedding day! Stay tuned :)
---
Reviewed on

10/17/2016
Robyn S
Just had my trial for my upcoming wedding and Nicolette was amazing! From the start she was extremely personable and friendly. It was like talking to a friend. Which, in my opinion, is awesome when dealing with wedding vendors. I never wear make up and was worried about not... Read More looking like myself. She was able to get the look just perfect. I absolutely cannot wait for her to do the makeup the day of my wedding, easily some of the best money I've spent so far. :)
---
Reviewed on

10/12/2016
Linda N
I LOVED how my makeup turned out on my wedding day! I knew I was in good hands during and after my makeup trial. Nicolette is the sweetest and most talented artist around. You'll never find anyone better than her... she takes her time and makes sure that you're going to look... Read More great! She uses great products and after the makeup is applied... it does not feel heavy and caked on. I received so many complements about my makeup and felt like a million bucks! No need to look any further because this is the artist you're looking for! She's going to be my go-to person for makeup every time I have an event to attend. I'm one happy client!
---
Reviewed on

9/06/2016
Maria H
Nicolette is an incredibly talented artist! She first did my make-up at my friend Emily's wedding 2 years ago. I loved it so much that I was completely thrilled when I was able to snag her up to do my make-up again, this time as the bride! I was so incredibly happy with the... Read More results. The makeup lasted and I looked pretty freakin' awesome if I do say so myself. Nicolette is professional and prompt but also really fun! I enjoyed hanging out with her on my big day and felt so fortunate to have ZERO anxiety about my makeup. Having a makeup artist you can trust on your big day is so important and as always, she did a beautiful job. My sisters in law, mother in law, and mother looked absolutely fabulous also. My mom was thrilled and had no idea her eyes could "pop" like that. I recommend Nicolette and her work without reservation. Thank you again Nicolette!!
---
Reviewed on

8/24/2016
cynthia s
Nicolette is fantastic at her craft but what is even better-- she is incredibly warm and friendly. I immediately felt comfortable. Any concern I had I felt comfortable to voice and she completely but me at ease. My mom came up for a trial and she was able to balance my vision... Read More and my mothers while making us all laugh! She is simply fantastic. Nicolette has done my make up four times and each time everyone was raving. She is amazing at contouring and eyes! Simply put--- BOOK her!
---
Reviewed on

8/24/2016
Beautiful makeup. Nicolette gave me a gorgeous polished and natural look. She's a joy to work with and very professional.
---
Reviewed on

3/06/2016
Monique B
Nicolette is an incredible makeup artist! As a natural artist, she has the skillset to completely transform her clients while highlighting their best features. She takes skin pigment, eye color, skin type, and facial structure into account when working on her clients so that no... Read More two customers are getting exactly the same "look". Nicolette is also a perfectionist. She will work on a client until she has achieved her "vision" and never rushes through any job. I would highly recommend Nicolette for any event, whether it be weddings, photoshoots, a night on the town, or a bachelorette party . She's a lot of fun to work with and takes pride in her craft!
---
Reviewed on

2/03/2016
Keely M
I grew up dreaming of a beautiful wedding and looking fabulous on my wedding day. Since I had issues with acne and rosacea for most of my life, I was very worried about how my face would look in all of these photographs. I am so glad I hired Nicolette! Not only did she... Read More understand my concerns about my skin and make me feel very comfortable during the initial conversations and consultation, she did a fantastic job making my skin glow and look incredible! And with the way she did my eye makeup… my eyes popped so much they were practically leaping out of my face! It was beyond what I could have imagined. I showed her some photographs of looks I liked and she worked with me to create a similar affect that really fit the features of my unique face. The eye makeup was nothing short of amazing! I received so many compliments throughout the day and in the following weeks when people saw my photographs. I felt like a goddess! Thanks Nicolette!!
---
Reviewed on

1/29/2016
Best make-up ever! She's my go-to person. My husband describes her work as "me only better". Nicolette is truly a talented artist.
---
Reviewed on

1/28/2016
Amanda L
Nicolette has done my makeup for several occasions including my wedding. She did basically my entire bridal party and everyone looked flawless! She knows just how to balance making you look incredible and "made-up" without that thick cakey overdone look. Very receptive to... Read More clients wishes. Amazing at highlighting a girls best features! Love love love- cannot more highly recommend!
---
Meet The Owner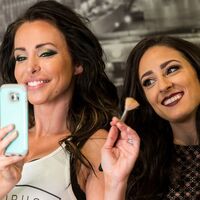 Nicolette Brycki
Hi, I'm Nicolette, and I can't wait to gorgify you on your WEDDING DAY! A former bride myself, I am sensitive to your needs and requests. I'll provide you with a stress-free, enjoyable, intimate, and professional experience, where you'll look into that mirror and exclaim with utter joy. I have worked on countless weddings and truly enjoy sharing in special moments with my brides. My vast experience in bridal has fine-tuned my skills and helped me develop an unrivaled knowledge of makeup and skincare, in turn, giving YOU an unbeatable look. Read my reviews to see what an experience is like.