Home

Chicago Makeup and Hair Professionals
About this Vendor
Professional Hair and Makeup on Location
Your personal makeup Artist and/or Hairstylist will meet with you in advance for a practice day. We travel to you, and help you choose the colors and style that will make you glow with radiance on your special day.
Details
Beauty Group Bookings, Hair + Makeup Trials Available, Hair Stylists, Makeup Artists, Nails, On-Site Hair + Makeup, Massage, Spas, Beauty





Contact Info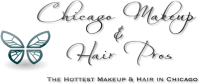 Reviewed on

11/12/2017
Gloria M. B
We recently used Chicago Makeup and Hair Proffesionals for my son's wedding. Their service was amazing all the way: my mom, my daughter, my nieces and I, we all looked beautiful and very natural. Audrey and Natasha did a wonderful job with our hair and makeup!!! The... Read More best👍🏻👍🏻Super highly reccomended!!!
---
Reviewed on

10/23/2017
Amanda P
My daughter looked amazing. I looked amazing. My daughters bridal party knows makeup and they were very impressed with their looks! Highly recommend this company.
---
Reviewed on

10/04/2017
Tracy T
They were extremely professional and did a fantastic job! They listened to my ideas an the style I wanted to have and they created a look that was even better than I thought!
---
Reviewed on

10/04/2017
Jennie V
This was a great company to work with! Their work was very prompt, professional, and personalized. The hair and makeup session Was awesome. It made me feel beautiful for a very important day.
---
Reviewed on

10/02/2017
Maura C
Audrey did hair and make up at my sister's wedding and did an amazing job!! All the girls looked beautiful and she was able to accommodate what each girl wanted. After an afternoon of pictures in the hot sun and a night of dancing, I went back to my hotel room and my hair and... Read More make up still looked great! I would definitely recommend her service!
---
Reviewed on

10/01/2017
Katie W
I loved my hair and makeup! Audrey is so talented!!!
---
Reviewed on

10/01/2017
Hina M
Audrey is just absolutely the best makeup artist you will find! She is very professional and knows how to bring out the best features on your face using her artistic tools. She is very professional and she made my day wonderful by making me loook the most beautiful bride on my... Read More wedding day! She made my dreams come true as I felt like a total princess! I have people asking me about my hair and makeup through out the wedding and till now! I was literally glowing! She is also so much fun to work with! She uses the best makeup and gives u options of how u want to do the makeup by doing the trial run on u! I just love Audrey! You can't go wrong by choosing her for your big day!
---
Reviewed on

9/28/2017
Gail M
Audrey did such a fantastic job. I got so many compliments on my makeup and hair. Audrey is just so creative. She made me look more beautiful than I thought I ever could look
---
Reviewed on

9/20/2017
Megan C
Audrey is so amazing! Audrey is not only a talented makeup and hair professional, she is also kind and patient, which is exactly what every bride needs on their wedding day! I felt like me on my wedding day, as opposed to feeling like I had a face full of makeup. All of my... Read More bridesmaids loved their hair and makeup. Audrey was very accommodating for my group and brought another artist Natasha (who is equally amazing) in to help so we didn't have to start our makeup at the crack of dawn. Overall I had a great experience and would highly recommend Audrey!
---
Reviewed on

7/11/2017
Sabreena G
Audrey did an amazing job with my hair and makeup!! I had so many compliments on how I looked like a beautiful bride but also like myself. She definitely accentuated my best features and made sure I had dramatic eyes. She also was able to accommodate a second makeup trial when I... Read More decided to change my makeup look for the wedding. Her sister, Natasha, worked on most of my bridesmaids and they looked absolutely gorgeous! So thankful to both of them!!
---
Reviewed on

11/08/2016
Sara T
Audrey and her team were absolutely amazing. She was able to make me feel like the most beautiful bride. She listened to everything I had to say then used her creativity to allow my vision to come to life. All of my bridesmaids loved their hair and makeup that was done the day... Read More of the wedding by Audrey's team. Everyone raved about how wonderful we looked. She was so accommodating and relaxed during all the craziness the morning of which made me so much more calm. I highly recommend and trust Audrey and her team!
---
Chicago Makeup and Hair Professionals -- Top Notch Services!
Reviewed on

11/05/2015
Sharon C
In establishing a list of priorities for the wedding, I felt finding a team of hair & makeup professionals to help make me & my gals feel gorgeous was in my top 5 must-haves for the wedding! Chicago Makeup and Hair Professionals did not disappoint. After researching various... Read More artists, I found that the price point for Chicago Makeup and Hair Professionals got me the most bang for my buck. To boot, Audrey was so easy to communicate with. She was very responsive with my emails, calls, and texts. As the bride, I scheduled a trial run for my makeup. Audrey was very flexible with fitting me in so I could be beautified before my bridal shower & bachelorette party (2 in 1 day!). I provided her pictures of the look I thought I was going for and she nailed it. Fast forward to the wedding day, and she and another artist traveled to our wedding site and arrived on time! With as stressful as the wedding day can be her punctuality put me right at ease! They jumped right in and started working their magic. I decided to change my makeup look for the day and to say Audrey did an amazing job would not be doing her work justice. I truly have never felt more beautiful...that was something I knew I wanted to experience the day of the wedding, but never truly believed I could feel as ravishing as I did. We opted to go with the airbrush technique and I would not hesitate in recommending this service to anyone. Talk about flawless skin! My sister had her makeup done and a few of my maids had Audrey do some touch-ups...it really transformed all of us. They also did 5 up-dos (2 partial) and they were beautiful! I am SO glad I invested in Chicago Makeup and Hair Professionals on our wedding day! I wanted to feel stunning on this special day and I wanted my girls to feel the same way--safe to say we did!! Thank you so much for everything, Audrey!!!!
---
Audrey is AMAZING!!!
Reviewed on

10/23/2015
Tonnia H
Our wedding was on October 10, 2015. I originally had a different hair/makeup artist lined up. However, that person cancelled on me 3 1/2 weeks prior to the wedding! I panicked, because I knew that it would be very difficult to find a quality artist who would be available with... Read More such short notice. Then... Audrey saved the day! Another person in the industry highly recommended her and we were in contact within days of the above-mentioned cancellation. She was extremely responsive! Not only did she make herself available for that day, but also worked in one of her assistants. I knew then that I was very fortunate to have found her. However, I didn't realize just how amazing she was until she came to my home for the trial. She looked at a number of photos that I had pinned, combined some different elements that had caught my eye, and designed the most beautifully elegant and romantic style - so much more stunning than any of the photos I had pinned. Today, when I look at my wedding photos, my heart still melts at how beautiful my hair was! Oh, and the makeup!!!! Audrey is seriously talented! It was not merely a beautiful application, it was true art! The magic she works with the most detail-oriented touches, left me feeling the most beautiful that I have ever felt! When I showed my MOH the photo from the trial, her first comment was that of amazement at the precision of the contouring. And the way she made my eyes pop! Pure art! Also, when she advertises that her makeup lasts all day and all evening, I can attest to that absolute truth! I had several people in my party (bridesmaids and mothers) getting both hair and makeup done.. and due to my short notice, her assistant wasn't able to come until around noon. Therefore, we had to start much earlier than if I had been able to give her more notice. For a 4pm ceremony, she started with the first person's makeup at 9am. Her makeup was still beautiful at 11pm!! I, as the bride, was scheduled about midway (I think she started my makeup around 1pm)... toward the end of the reception, somewhere around 10pm, my photographer asked me to take a few more photos that were last minute ideas. Folks, let me just say that my family and friends are dancers!! So, believe me when I say that I spent some serious hours on that dance floor! I was certain that I had already sweat off much of my makeup, so I was not thrilled with the idea of last minute portrait-style photos at 10pm!! BUT, I now have the final photos to prove that my makeup was still FLAWLESS by that time! AND even my hair was all still in place! It was amazing! If you were to see these late photos, you would never know that they weren't taken at the beginning of the reception! So, I can honestly say that I HIGHLY recommend Audrey and her crew! Her customer service is top notch! She has the most kind and giving spirit, making the several hours we spent with her on that day amazing! She also has a very calming way about her too! Like during the meltdown that I had AFTER the makeup was already applied, triggered by a song previously dedicated to my deceased father, and how amazing Audrey was in response! She is also wonderful about incorporating your thoughts into her art, rather than merely doing what she wants regardless of your wishes. And she was so generous to make all of this magic happen with such short notice! I am now thoroughly convinced that the first person was MEANT to cancel on me and that I landed in the more talented set of hands!
---
Great hair and makeup
Reviewed on

10/22/2015
Audrey and her team were on time, professional, and very accommodating. Audrey took extra time and effort to make sure I felt completely satisfied with the way I looked. My other artist cancelled on me 2 months before my wedding! I'm glad though because my practice with Audrey... Read More turned out even better than I was expecting. I have already referred three of my girlfriends who are getting married next year. If you want someone who pays close attention to detail, I highly recommend Audrey and her team!
---
Great work!
Reviewed on

10/11/2015
Katie W
Thanks to Audrey and her staff i attended three weddings this month that i looked flawless in! You are the best.
---
She made us feel beautiful!!!
Reviewed on

10/01/2015
My mother and I usually do not do makeup but since we had on long, formal gowns for my son's wedding we thought it best to have our makeup and hair done professionally. Audrey exceeded our expectations. I posted our picture on facebook and received tons of compliments on how my... Read More mom and I looked. I heartily recommend her for any woman wanting to feel beautiful on her special day.
---
The hair and makeup team for your Wedding!
Reviewed on

9/23/2015
Chicago makeup and hair professions are exactly what they claim-hair and makeup professionals. I have used them several times for events and highly recommend them. Daniela has done my hair and makeup on a few occasions and I must say she did an amazing job. Would definitely use... Read More them again!!
---
wanna look awesome
Reviewed on

9/23/2015
Jenny
Audrey did my makeup for my special day. I have to say she does an awesome job I looked great. . I did have some scheduling conflicts in the beginning but were ironed out at the end. If you want an extravagant look this is the place to go. However if you are a bride on a... Read More budget it can get a little pricey and might want to reconsider.
---
Great Service!
Reviewed on

9/23/2015
Amy C
Audrey and her team did my hair and make-up as well as hair and make-up for six of my bridesmaids, my mother and mother-in-law for my wedding in September, 2013. They were easy to work with and very accommodating. Audrey came for a trial-run several weeks before the wedding.... Read More She was helpful and patient while I decided what I wanted. On the day of the wedding, everyone looked wonderful and we were very pleased with the outcome! We also got lots of compliments! After having a good experience at my wedding, one of my bridesmaids also just hired Chicago Makeup and Hair Professionals for her own wedding this past weekend. She, along with all of her bridesmaids (including myself) were also very happy with their hair and make up and the services overall. I would highly recommend them to any bride.
---
Perfect
Reviewed on

9/22/2015
I wish I could get my hair and makeup done everyday by Audrey's team!!
---
Great hair and make up!
Reviewed on

9/22/2015
Rebecca M
I was a bridesmaid and had my hair and makeup done. 14 hours later, it still looked as good as when it was first done. Would highly recommend!
---
Reviewed on

9/21/2015
Mairin G
My makeup looked amazing for my friend's wedding! Thank you!
---
A fantastic day
Reviewed on

10/21/2014
This company provided the most excellent I could have hoped for. Audrey made me feel relaxed and involved in the process. Not usually one to wear make-up, she thoroughly explained everything that was happening and developed a comfort level. The transformation was stunning and... Read More actually inspired me to consider these touches for other special occasions. Kudos to this service
---
So Easy!!
Reviewed on

10/21/2014
The artists/stylists were friendly, creative, on time and amazing!!! My wedding day went so smoothly and stress free, it was like a dream! I recommended this company to at least 3 other friends because of the quality, price and professionalism!
---
Great Experience - Phenomenal look
Reviewed on

10/17/2014
Audrey did my hair and make-up. Loved how my hair and make-up turned out. Got a lot of compliments. Would definitely use her again for a special occasion.
---
Meet The Owner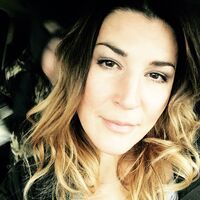 Audrey Tunis
Lead makeup artist and owner, Audrey Tunis has worked with hundreds of beautiful brides and models throughout her career as an artist. Her team is unparalleled in the industry. Focusing on trend as well as the individual needs of each client uniquely. From the salon to print and special events, Audrey and her team work hard to always achieve the best look possible!