Home

Chocolate Rose Bakeshop
About this Vendor
Chocolate Rose Bakeshop
At Chocolate Rose we take pride in creating cakes that not only look too good to eat, but taste too good NOT to! We specialize in Wedding and Special Occasion Cakes, taking your ideas, and bringing them to life, as the centerpiece of your special event. We also create personalized wedding and party favors, such as cakeballs, chocolate dipped oreos, truffles, and novelty chocolates.
Details
Cake Tastings, Cakes + Desserts

Contact Info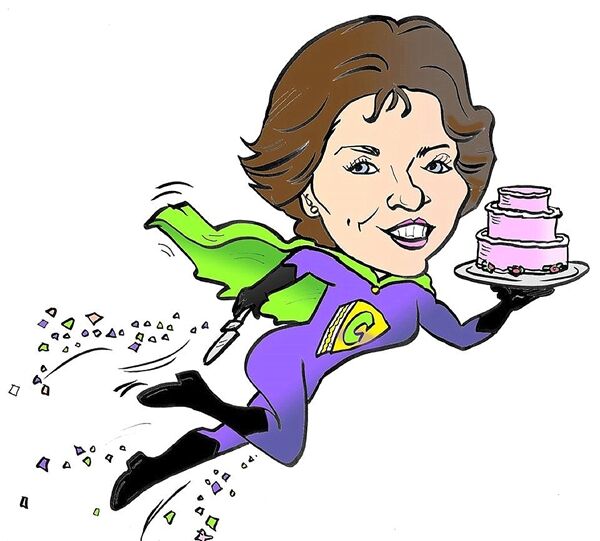 Reviewed on

9/05/2017
Lindsay R
Chocolate Rose Bakeshop was suggested to me through my venue and we could not be happier with the turn out. From the start Erin was very responsive and helpful with all of the questions and ideas I had. We decided to do a cupcake tower which turned out beautifully and the... Read More cupcakes were to die for they were so flavorful and moist. All of the guests were raving about the cupcakes. We also did the Venetian Platter with eclairs, Italian cookies and fruit tartlets. Of of which was delicious. Erin did such a nice job preparing the cupcake tower and the desserts we had. My husband also got an apple pie instead of cake which he was very pleased about. Thank you so much Erin!!!!
---
Reviewed on

5/17/2017
Jessica L
Erin at Chocolate Rose Bakeshop was very easy to work with and her cakes were delicious. For our wedding we opted to have a small cutting cake and two varieties of cupcakes and our guests raved about everything. There are many flavor combinations available and Erin offers... Read More sampler packs of the cupcakes so that you can try a variety of them and decide. On the day of the wedding everything was delivered and set up the way I had requested in plenty of time. Erin does wonderful work and is very reasonably priced.
---
Reviewed on

8/21/2016
Gabrielle P
The cake was absolutely beautiful and tasted amazing !!! She was also very easy to work with and reasonably priced ! So happy with everything!
---
Best cake ever
Reviewed on

9/14/2015
Katlyn A
I cannot say enough about Chocolate Rose. I handed them quite the idea for my cake and on my wedding day when I saw it, I was totally in shock. She had taken a picture and made it a reality. The cake not only looked perfect but it also tasted amazing. Everyone was ranting about... Read More it all night.
---
great wedding cake!
Reviewed on

8/06/2014
Elizabeth C
Amazing cake made by Chocolate Rose Bakeshop! All of our guests couldn't stop talking about how great it tasted! Great to work with as well!
---
Best cake!
Reviewed on

11/13/2013
Jessica D
Erin makes the best cakes at really great prices. Our cake was not only beautiful but was delicious. I wish I had actually gotten to finish my piece!
---
Delicious and Beautiful
Reviewed on

12/29/2012
Natalie J
I was so pleased with the cake from Chocolate Rose Bake Shop. It was beautiful! The cake was moist, the chocolate filling and frosting were delicious. Erin was very helpful and made ordering so easy. I would recommend Chocolate Rose Bake Shop to anyone that wants a delicious... Read More cake at a price that cannot be beat!
---
Wedding cake and cupcakes were amazing!
Reviewed on

11/12/2012
Lynn R
When I called Erin and told her what I was looking for, she was very enthusiastic and we set up an appointment to meet. She had sample cupcakes of the flavors I told her we wanted and they were delicious. Everyone, especially my husband, loved the different flavors of... Read More cupcakes. Since it was a fall wedding, we chose pumpkin, spice & carrot. They all were so moist and delicious. Since our decorations included potted mums she decorated each cupcake with a colored mum, depending on the flavor of the cupcake and made up a little sign that told what each color was. I also wanted to have a ceremony cake to cut, I'm old-fashioned that way, and sent her a picture of the sash w/lace that was a part of my gown. She decorated the cake to be similar and it looked beautiful. Anyone that choses to have Erin do their cakes, cupcakes, even candies, will not be disappointed. The cost was even better then we expected.
---
At home baker
Reviewed on

9/24/2012
Ashley M
The theme to my wedding cake was a little different them most. When we meet with the baker he terms of baking were kind of slim. For the money we were paying like most cakes i was expecting more. I had to go with this baker cause of my venue. The frosting was not light and... Read More fluffy. Seemed like they used regular sugar instead. no real flavor. when we went to a show at our venue were we could meet the vendors they use. I was brushed away and told she could not help me i had to talk to my planner at the venue. felt like me being a bride did not matter i was young. Not a lot of flavor choices.
---
So sweet
Reviewed on

9/13/2012
ANA R
I went to a bridal shower in Mystic CT and I visit every vendor and I tried everything they have. So when I visit the Bake shop the first thing I try was the cupcakes. She have different flavors,shapes and colors so I was tasting almos everything. Little after I left sorprisely... Read More I received a phone call after I left telling me that I won the grand prize. I was so excited when I pick up my basket I found a gift certificate from the Chocolate Rose Bake shop for $100 of my cake so I was so happy. She was very nice and professional, we talk about options and everything else. The good thing was she delivery and I did not worry about anything on my wedding day. The cake was absolutely beautiful. I was very happy with her job.
---
Exactly what I wanted!
Reviewed on

7/19/2012
Kathryn S
I ended up needing to order a cake very last minute and Chocolate Rose Bake Shop came through. I emailed them a picture of what I wanted and they called me to confirm the details. It arrived at the wedding on time and looked exactly like what I wanted. Tasted delicious too!... Read More Can't wait for our 1 year anniversary to dig into it again.
---
Groom's Cake and Wedding Cake
Reviewed on

7/03/2012
Ashley D
We had the best cake (people went up for 2nds and 3rds)!! She was really good to very helpful!
---
Great
Reviewed on

5/29/2012
April N
Our wedding cake was beautiful. The vanilla flavor was delicious, although the icing was very sweet. The cake delivery and service were prompt.
---
Cake
Reviewed on

10/25/2011
Jennifer Paradis W
The cake was not only delicious it was beautiful!!! We had a groom cake as well she designed as superman came out amazing. Would use for any occasion .
---
The best!
Reviewed on

10/03/2011
Christine G
Erin from The Chocolate Rose Bakeshop is a wonder when it comes to cakes and favors. Her treats are fabulously good tasting and wonderfully affordable! Iplan on getting our anniversary cake there and whatever I need for future entertaining!
---
Delicious cake
Reviewed on

8/27/2011
MarJean C
We chose Chocolate Rose on recommendation by Family and the taste of her cakes. We wanted a classic looking cake that our guests would enjoy eating and that's what we got. Erin made us a beautiful, delicious wedding cake. She was accommodating, delivering to MA, and working... Read More with her was worry free. We make it a point to stop by the new shop every time we are in Norwich.
---
Perfection
Reviewed on

7/05/2011
Jennifer B
I came to the Bake Shop with a strange request. My wedding cake was based on a video game, so it wasn't a usual shape or design. I gave the baker a picture and she created the perfect cake! I also asked for red velvet, which is a different flavor not usually used in wedding... Read More cakes. Her red velvet cake was the best I had ever tasted - even better than homemade cakes I've had from my mom. She delivered the cake herself and provided any requested assistance. I don't lightly give five stars, but Chocolate Rose earned it!
---
Wedding Cake Wowed the Crowd
Reviewed on

11/02/2010
Alexis C
I worked with Erin at Chocolate Rose after she was recommended by my venue. I am located across the state and never met her, but the planning process was easy and the end result was a cake that guests raved about! From the start, Erin was very clear about options and so easy... Read More to work with. She confirmed all payments and answered all of my questions both via email and over the phone. I never did a cake testing, but had heard good things and did not worry. And the end result was a wedding cake that was absolutely delicious! We combined marble cake with vanilla frosting and chocolate ganache filling and guests kept coming up - often mid-bite - and exclaiming "This is really good!" The three-tier cake we got was beautiful as well. What exceptional value!!
---
Review for The Chocolate Rose
Reviewed on

5/10/2010
Stacy M
The cake was absolutely gorgeous and everything I asked for.
---
Review for Chocolate Rose Bake Shop
Reviewed on

10/05/2008
Kimberly W
Everything about our cake was amazing! The price was very reasonable and it was beautiful! The cake tasted great! Erin (the owner) was very friendly. She and I designed the cake together and she made it look perfect!
---