Home

Chris Brugler Catering
About this Vendor
Be Our Guest at Your Party!
Chris Brugler Catering is a leading catering business in Los Angeles that creates customized menus for exclusive parties and events. With a keen attention to detail, our team goes above and beyond our client's expectations. We put passion into providing the event of your dreams.
Details
Dairy Free, Gluten Free, Organic, Vegan, Vegetarian
Buffet, Catering Clean Up, Catering Delivery + Setup, Chef Stations, Family Style, Menu Tastings, Passed Appetizers, Seated Meal, Servers, Food + Catering, Service Staff
Reviewed on

9/17/2016
Stephanie R
Working with Chris and his team was wonderful. He really cared about making our event perfect. He was always happy to answer our many questions, and he put so much effort into nailing down the menu, especially given how many times we changed our minds! The food was... Read More fabulous!!  I received so many compliments on the deliciousness and presentation of the food - it made my family so happy!  While all the food was delicious, we got rave reviews on the perfectly cooked tri-tip, salmon, mashed potatoes, and bread pudding. In addition to the food, the staff did a wonderful, seamless job, in spite of the heat. We were really impressed by how professional Chris and his team were during the planning process and the day of. They really took care of every detail, including many aspects of timing and the arrangement of things that we wouldn't have considered otherwise.
---
Reviewed on

7/20/2016
Adrie Y
Chris was absolutely amazing! He will respond to your every email within a day. Most importantly his food was absolutely amazing. I'm talking gourmet, top notch food, at a reasonable price. My guests were constantly complimenting me on the food. In addition to the food, he... Read More provided excellent servers and bar tenders. Overall, I cannot recommend Chris enough. He was such a joy to work with.
---
Stop Looking for a Caterer-- YOU FOUND HIM!
Reviewed on

6/04/2015
Hanna S
Chris and his team could not have been better. Chris was the only caterer we met with who was willing to work within our budget, and I'll admit, I was a little worried that because we were spending less money, we would pay for it in service and quality. That could NOT have been... Read More further from the truth. Chris was an absolute pro throughout; always responsive to our emails/calls, and he even helped coordinate with our rental company. Our menu was exactly as we wanted, on time, and crazy delicious. Yet another way Chris went above and beyond was by taking the time to speak with my MIL ahead of time about her severe food allergies, and he made her a special plate on the day. She felt so safe and appreciated. Chris's servers followed me and my husband around on the day, knew our names, and constantly checked in to make sure we had food and drinks. Chris, we could not be more pleased with you. I will be referring all my friends to you, but I hope this review brings you all the business you deserve!!
---
Reviewed on

9/20/2017
Sherry E
I recently hired Chris Brugler Catering to cater my wedding of 100 people and it was one of the best choices that I could have made. Chris and Cindy were absolutely wonderful to work with--super responsive and extremely helpful throughout the entire process. CBC is very... Read More reasonably priced and they worked with my budget---and considering the quality of the food they provide it's a REALLY good deal-much better than other vendors I had received quotes from. In addition, they are such professionals and are really hard working--it was literally one of the hottest days of the year and they spent the afternoon outside cooking and prepping in the heat and the food was just amazing. We served our meal family style and had the following: -Lavender roasted chicken breast - super juicy and tender -Pepper crusted filet of beef - this was such a big hit and people couldnt stop raving about how delicious it was--it was melt in your mouth tender -Green beans with roasted mushrooms - Fresh and the perfect amount of crispness (I hate soggy green beans) -Roasted fingerling potatoes with creme fraiche - Crispy skin and perfectly cooked -Arugula salad with lemon vinaigrette - it even had edible flowers and watermelon radishes. It was beautiful and tasty! Really, if you want exceptional food and to work with great people who go above and beyond-HIRE THEM NOW! Thanks Chris, Cindy, and the rest of the team for helping to make our wedding so perfect!
---
Amazing Caterer
Reviewed on

3/24/2015
Kayla D
My now wife and I were given a referral from a wedding venue for a potential caterer. We decided to solicit pricing for our wedding. After reaching out to Chris Brugler, he has been amazingly responsive and flexible to what my wife and I wanted for our big day. I was able to... Read More get a quick turn around bid for 200-220 people to include hors d'oeuvres, buffet dinner with steak/chicken/vegetarian options, mac and cheese sides, salad, potatoes, etc. We also were able to include late night snacks of chicken tenders and flat bread pizza to be brought out around 10PM while everyone was getting saucy from drinking/dancing. If that wasn't enough, Chris also provided several desserts as well. We didn't have a cake at our wedding and opted for a dessert and candy bar. The next day, we had left over candy, but no desserts. My only regret is that I only got a few before they were scarfed by all of our guests. Not only was our experience amazing with Chris, the food tasting left us wanting more. At our wedding, and post all the fun, we are still getting many responses on how phenomenal the food was and that it was in many guests minds, the best wedding food they had ever had. We have also heard from our wedding coordinator at the Verandas House in Manhattan Beach that their staff raved at how Chris even provided food for them, and worked well in their kitchen. If this doesn't sell you on how worth it Chris Brugler's catering is, the to go containers he made of the remaining food just showed us the extra effort his team went to to make sure our day was perfect. I wouldn't recommend any other cater after going through the soliciting process with 10-15 vendors for our 205 person wedding. My wife and I will hopefully have future events that we can use Chris for.
---
Flawless!
Reviewed on

3/20/2015
Kathryn S
Chris and his team were flawless! I interviewed many catering companies before deciding to go with Chris. He was willing to work with what I wanted to do and my budget! My husband and I wanted to do Tapas style instead of your regular sit down dinner or buffet. He was very... Read More communicative throughout the entire process which made me feel at ease. His team was professional and amazing to work with on the day of! All of my guests complimented on the food! Especially the truffle mashed potatoes. :-D We had our wedding at a residence and the kitchen was spotless when they left! I would HIGHLY recommend Chris Brugler Catering for your catering needs big or small!
---
Chris Brugler Catering - Top-Notch Food & Service!
Reviewed on

10/10/2014
Jennifer L
I cannot say enough wonderful things about Chris Brugler. I was referred to him by my wedding coordinator and from my initial phone conversation with him, I was blown away by Chris' customer service. His enthusiasm and passion for food is infectious. He is also extremely... Read More detail-oriented and strives to create a memorable dining experience. Leading up to my wedding, he would periodically check in with me to discuss logistics or ask if I needed anything. Wedding planning can be very stressful at times so I really appreciated his attentiveness and positivity! He also took note of my family's special requests--who wanted ice on the side? What kind of beverages did the wedding party prefer? And since our wedding venue (loftSEVEN) was a blank canvas, he also helped triple check our rental order so we had everything we needed to make our wedding run smoothly. After months of planning, it was finally time for the big day. When I arrived at the venue, I was greeted by Shelby, a server who would be taking care of me and my husband throughout the evening. Shelby was a life saver and she was so much fun to be around! Whether it was making sure we had something to drink or eat, or helping us find a family member, Shelby went above and beyond to make us feel well taken care of. In fact, Chris let all of his staff know who was in the wedding party so that they were all tended to. Talk about stellar service! After our guests enjoyed tray passed appetizers of black mission fig challah brie melts and other delicious small bites during the cocktail hour, it was time for dinner. We had a sit-down dinner for 170 guests so it was no easy feat. Chris had suggested we add a couple servers (since our guest count increased) and boy am I glad we did. Every guest was attended to and the dinner service was smooth and exceptional. Chris' food was delicious heavenly! Chris is a master chef so it was such a treat to have him cater our wedding. The loftSEVEN Penthouse has an exposed kitchen so guests enjoyed watching Chris' mastery at work. As my husband and I looked around the room during dinner, people were eating, laughing, and there was so much happiness in the air. It felt like we were hosting a large dinner party for all of our family & friends! Good food really does bring people together. My husband and I will be forever grateful to Chris Brugler and his team for helping make our wedding so special. He orchestrated everything to perfection so that my husband and I didn't have to worry about thing. All we had to do was enjoy the day! Since the wedding, we have had countless family and friends telling us how memorable and exceptional the food & service was at the wedding. In fact, some of our friends want to hire him for their weddings! He's been a well-kept secret amongst event planners and Hollywood's elite but now that the word is out...he won't be for long! If you're a bride or groom and want to make your wedding an affair to remember, hire Chris Brugler Catering. He will exceed your expectations and give you and your wedding guests a first class culinary experience! - Jennifer L, Los Angeles, CA
---
The Chris Brugler Experience!
Reviewed on

6/24/2014
Ty s
My wedding day was the most wonderful day of my life! And the 'cherry on top' of that wonderful day was the Chris Brugler catering experience! The dining experience was an important priority to us for our guests. And when I say dining expereince, I don't just mean food, I mean... Read More service as well. We met with many,(I was raised by a Tiger Mom, so I left no stone unturned seeking out perfection) but none had all the things we wanted like Chris Brugler. He was not only knowledgeable and flexible with our menu (I am a vegetarian), but fun and enthusiastic to work with as well! And trust me, this is a tremendous plus when you are planning an elaborate event such as a wedding. In addition, the staff was professional and accurate yet warm. How'd they do that? :) Even more then two months later, when speaking to friends and loved ones that attended our wedding, one of the very first things they mention is how amazing the food was! It's so thrilling to hear that kind of feedback. Especially when you've been spending months of your life anticipating one day of perfection. I would recommend Chris Brugler and his team to any bride (and groom, ha!) that is looking for a deliciously executed dining experience that will be memorable for the rest of your life!
---
My Caterer for Life!
Reviewed on

5/30/2014
jennifer k
I can not say enough great things about Chris Brugler and his team. I contacted no less than 10 other caterers before I decided to go with Chris. He was the only one who worked with me to offer a menu that stayed within my budget and that provided the atmosphere I had... Read More envisioned for my special night. Having never hired a caterer before I had MANY questions and concerns about the process. Chris showed such patience and professionalism. He made me feel special from the very beginning to the minute he packed up and left the party. I did not have a formal wedding in a reception hall. I had a party in a friends home. It was the way to go for sure. Chris and his team set up the most beautiful buffet table and bar AND offered a pass around service. The food was elegant, trendy, AND absolutely delicious. I was happily bombarded by guests complimenting the food and service. I felt proud that I had chosen such an exceptional caterer and was beyond delighted that my guests were impressed. His staff was incredibly attentive and professional. As the bride they would check on me throughout the evening to make sure everything was to my satisfaction, which it was, 100%. His bartender would come across the room to bring me a drink if he saw my glass empty. I was able to enjoy my party and not worry about one detail because Chris had taken care of everything. Book Chris soon, before he is too busy and too big! Trust me, you won't be sorry. Jennifer K. Redondo Beach, CA
---
Chris Brugler Catering
Reviewed on

5/14/2014
eddie g
If I can describe CBC (Chris Brugler Catering) in one word it would be FLAWLESS!!! I had last minute catering issues with another vender and it work out to where they couldn't cater our wedding with just over a month left to our wedding. I got a hold of Chris an ask him for... Read More info and with such short notice if he could help me out. Chris and his team was amazing thru out the whole process. They came to our rescue. The service my guest had at our wedding was amazing!! The staff was attentive to our guest and super friendly. The manager and chefs had everything dialed in. Then there was Shelby she was the waitress assigned to my wife and I. She was so amazing. She made sure we had food drinks so help during our photo session. My wife left her veil on the table next to the caprese salad being it was a garden wedding this wasn't a good idea because when we weren't looking some birds got into salad and got dressing stains on her veil. My wife was so upset because the veil was something barrowed. Shelby said you guys continue wit the pictures and I will take care of the veil. 5 minutes later she is not only back with some more drinks but she cleaned the veil. My wife was go grateful she was in tears. I looked at my wife and said if the rest of Chris's team was half as good as Shelby our guest were in great hands. When we finally joined our guest not only were they half as good but I have never seen a team work so well. Thank You Chris!!! Love Eddie & Ivette Guedikian
---
Chris Brugler Catering- the best!
Reviewed on

5/03/2014
lilli l
I just used Chris Brugler and he did an amazing job. From our first meeting, he was nice, fun, polite and professional. He followed up with great communication and made sure I had everything I needed, every question answered and was comfortable leading up to the event. Chris and... Read More his crew handled every detail flawlessly. The menu Chris offered was so vast, it was a struggle to decide which food to select but we settled on a choice of beef or fish and the guests were astounded by how it was possible for Chris to perfectly prepare these large cuts of meat for so many people. Chris' team took care of rentals and helped me design my dream day so everything looked beautiful. The tables were exquisite and his staff saw to every last detail so I felt relaxed and like a queen. Worth noting, too, is how effortless the party flowed, thanks to Chris and his team's attention to timing. Nothing felt rushed and everything was performed so seamlessly that our guests had no choice but to have a stupendous time from beginning to end. I would use Chris Brugler Catering for every party from now on!
---
Best caterer HANDS DOWN!
Reviewed on

3/29/2014
Cindy B
I hired Chris Brugler Catering for my wedding reception and I can honestly say, it doesn't get any better than Chris! He conceptualized an entire evening of PASSED food. That's right. No sit down dinner, no buffet, all passed food -- and my guests were FULL. My husband and I... Read More wanted our party to be different. We wanted our guests to be able to mingle and dance all night without the formality of a sit down dinner, and it was beyond our expectations all because of Chris. From the planning, to the tasting of his incredible creations to pick a menu, to the rentals and finally to our reception, he knew exactly what we wanted and it was a smashing success. His food is so amazing - I couldn't even pick because each dish is better than the last - so he prepared FIFTEEN different menu items. Are you kidding me? Let's just say his service is over the top. The wait staff is beyond compare. I will never have another party again without him. And can we just talk about his white chocolate challah for a minute? Can't. Stop. Eating. Thank you to Chris Brugler Catering for the wedding of my dreams. Call him. Right now. You won't be disappointed. - Cindy B, Los Angeles, CA
---
Best food of our lives!
Reviewed on

3/27/2014
Julia P
Chris catered our wedding in May in Palm Springs. The whole event was run and executed with a huge level of professionalism and class. The food was without a doubt far beyond the expectations of wedding food and some of our guests said it was the best meal they had ever eaten.... Read More Chris himself is great to work with and makes sure to plan things to a level of detail that leaves nothing to chance. Saying that on the night Chris had to deal with 3 broken fridges and a faulty fryer all issues caused by our venue not him. He was able to handle the crises in such a way that neither us nor the guest found out anything was wrong until the next day. Finally his staff we're great; friendly professional and the bartenders were great fun! Chris is easily the best choice for a caterer if the quality of food and service is a key part of your event.
---
Meet The Owner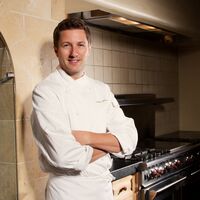 Chris Brugler
Known for being one of Los Angeles' premier catering companies, Chris Brugler Catering recognizes and appreciates the importance of the entire event experience. We combine the highly respected reputation of The Ritz Carlton's standards and procedures with a private chef's attention to detail and customized culinary needs. Regardless of the size of the event, our passion for food and dedication to please transcends all expectations. Whether it's an intimate dinner for two or a wedding celebration for hundreds, the amount of personal commitment and service remains the same.