Home

COMPLETE weddings + events
About this Vendor
Photography, DJ, Video, Photo Booth & Lighting
Complete is a fun company that provides Photography, DJ, Video, Photo Booth, and Lighting services for weddings and events. Complete helps coordinate a plan, shoot great photos, capture compelling video, and provide the perfect soundtrack for the day. We make your big day happen!
Details
MC Services, Recorded Music, Music
Contact Info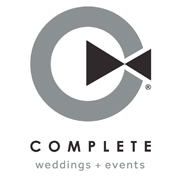 6363 West 110th Street, Overland Park, KS
Great DJ & Great Company!
Reviewed on

2/09/2014
Christi H
Complete Music is an awesome company! They have you fill out a questionnaire that is very detailed and they truly want to know about you and your significant other. It is due two weeks prior to the wedding and they will call you to go over it and discuss your needs/desires. It is a great time to get to know your DJ and give him any last minute details. Our DJ was really good about all the little details that I hadn't even thought of! You can choose how entertaining your DJ is to what they wear! Our DJ was SO helpful at the reception too. He wanted to make sure I had a drink when I walked in and even offered to make my dinner plate! How nice, right??? He even kept the mothers of the bride & groom in the loop on what was happening so they made sure to have their cameras ready and be a part of it if they wanted. He also gave us the option to continue later if we wanted to and he wasn't pushy about it! I would definitely recommend Complete Music!!! I would definitely use them again if I could and you should too!
---
Kevin was AMAZING
Reviewed on

10/20/2013
Megan
We used Complete Music for our wedding, and Kevin was our DJ. We were extremely impressed with Kevin. He absolutely surpassed our expectations, and many of our guests have commented on what a good job he did. During our initial meeting, he asked very good questions about our guests and music tastes. He gauged our crowd well and knew what music to play when. We are very happy to recommend Kevin and Complete Music for other KC-area engaged couples.
---
Wedding DJ
Reviewed on

10/03/2013
Melissa R
Complete music was fantastic! Our DJ was very professional but was SO much fun and made our guests feel like they were a part of our wedding and reception. He was extremely flexible and was able to deal with our very last minute changes smoothly without any question. I would HIGHLY recommend using complete music, they made my wedding day the day that I've always been dreaming of and I would use Complete music again without any hesitation!
---
Complete DJ
Reviewed on

7/20/2015
Courtney D
Company was very easy to work with, great DJ's! What you get for the price is fantastic, very good pricing! DJ Danielle made sure to check with us during the reception and made sure we were happy with timeline that the night was following, she also asked us if she could get us any drinks when we sat down for dinner, she was more than a DJ... She was very kind and made our night truly wonderful!
---
Pleasantly surprised
Reviewed on

7/11/2015
Taylor R
We did not want to go crazy with our music budget, so when we saw that Complete was one of the lesser expensive choices and recommended by our venue- we went for it! The DJ got there in ample time to set up, helped me get my plate at dinner, dismissed all the tables, and helped the whole reception go flawlessly. The music was great, too! It was a perfect mix and flow from older to newer as the night progressed. I was afraid we might "get what we paid for", but we definitely got much more than that!
---
Did not stop!
Reviewed on

7/07/2015
Kelli F
Our DJ through Complete Weddings Kansas City was amazing! He kept our dance floor going all night long. I have never been or seen a wedding dance floor like that before. There was a great mix of the songs that we requested to here and he was great to work with. I love the flexibility he gave us as well. My family can't stop talking about it!
---
Best Decision I ever made!!!!
Reviewed on

6/11/2015
Jennifer T
Having Complete Music KC be a part of our wedding was the best decision we could have made. From the start, they were in touch with every detail, up until the final moments of our wedding night; they were on top of their game. Brandon was our DJ. He was phenomenal, we had met with Brandon a week or so before the wedding just to get to know each other and he wanted to know every detail of the wedding. He threw some suggestions to help the evening flow smoothly, so glad we took his advice. Brandon went out of his way to make sure everything was perfect the entire night, making sure a drink was in our hand, asking if we needed anything. Brandon had spotted that our wedding cake was melting from it being so hot in the venue, he came and found us, and made sure we were able to cut the cake before it became a disaster! A week before the wedding we decided to change our first dance song he accommodated , but Brandon was so thoughtful and made sure our 'last dance' of the night was to our original first dance song, he even went out of his way to make sure that it was the artist singing it that I had requested! He got everyone, and when I say everyone, I mean it, my grandma and grandpa were out on the dance floor to take a group picture, and Brandon started into 'SHOUT', he had everyone dancing! There wasn't a moment all night that there wasn't a person on the dance floor, we have Brandon to thank for that! We had SO many comments on how this was the best wedding reception that they had ever been too, saying our DJ was AMAZING, and kept the party going all night. Thank you SO much Brandon! Ashley was our photographer, we had talked with Ashley about three weeks before the wedding, my fiancé originally didn't want to do a first look, and I'm so thankful that Ashley talked us into it. She was looking out for our best interest, no one wants that 'ugly' cry coming down the aisle! I had sent Ashley an email with a TON of desired pictures that I had wanted, she made sure to capture each and every picture that I had requested! Ashley knew exactly what type of pictures I wanted with the rustic/country feel, and I truly believe that she captured that! I cannot wait to see all the pictures when they come back! I had forgotten to do a 'thank you' sign for our thank you cards, and Ashley didn't even bat an eyelash, before we knew it she had one pulled out of her car! I had so many compliments on how wonderful our photographer was! She was so personable and friendly, I'm so glad that Complete KC paired us up! Ashley, we can't thank you enough for capturing our day! You truly were a blessing to have there! Tara was our PhotoBooth attendant! She was so wonderful, looking through our photo strips, we can't help but laugh seeing that some of our friends had pulled her into the booth to take some candid shots together! She made sure that when my Groom and I were waiting in line to let us 'cut' to get back to the party! Thank you Tara, for making sure our night was captured in such a fun atmosphere! Thank you Complete KC Jake and Jennifer Davis!
---
Complete Music DJ
Reviewed on

12/01/2014
Matthew W
Our DJ was Kevin. He was absolutely amazing! He was very thorough and made sure our reception was everything we wanted. He also was very involved with the reception and made all of the guests happy. Definitely recommend him!
---
Phenomenal DJ Service!
Reviewed on

11/12/2014
Elizabeth A
First let me say, I was so picky when it came to DJ's. I know that music can make or break an event. I searched The Knot for vendors in my price range, and selected COMPLETE. They also provided my up-lighting! The week of the ceremony our DJ, Kevin, emailed me asking if he could meet my fiance and I. We met for a little over an hour. Kevin was so thorough. He asked questions about our relationship, and our families. He asked about the demographic of our guests. I was so impressed. He even had looked at our wedding website, and knew how to say my sorority name! Kevin was amazing at the reception! He was engaging and not over powering. He kept everyone moving and dancing. After our first dances, the dance floor was packed for the rest of the reception! People danced the entire night (from 8:00-12:00!)I was so impressed. I would book Kevin again in a heart beat. I cannot say enough about what an amazing job he did for us. My guests have complimented me many times on what a great DJ we had!
---
Our DJ was the best!
Reviewed on

10/29/2014
Olivia A
We used the same DJ that two of our recently married friends used (Kevin) and he did not disappoint! Not only did he completely understand our music preferences and keep but the party going (he played the music for our ceremony and reception)but he was acted as our "day of" coordinator. He made sure everything happened in a timely manner and even gave a toast to us. I would highly recommend this company for their value and especially Kevin for his great musical knowledge and ability to read a crowd.
---
COMPLETE weddings + events
Reviewed on

10/29/2014
Julia B
This company is truly amazing. I felt at ease the moment I walked in to their open house last spring to meet with them regarding my wedding. I used their DJ, photographer, videographer, and photobooth. What an amazing wedding it was and almost completely stress free! I definitely recommend this company for any bride.
---
Complete Music- DJ
Reviewed on

10/29/2014
Katie W
Chris Orpezo was fabulous to work with! He helped the flow of the reception run very smoothly and he kept our guests loving the dance floor! He has the perfect DJ voice too! Complete in general was great to work with, always answered my questions in a timely fashion and were all very personable! I will defintiley recommend their services and specifically Chris in the future!
---
Amazing DJ!
Reviewed on

10/23/2014
Jenae B
We had a destination wedding in Kansas City, that being said, we went off referrals for DJ, photographer, etc. I am so happy we did! Corey from Complete Music was our DJ and he was fantastic! Our reception was a blast and all of our guests had a wonderful time!
---
D.J.
Reviewed on

9/18/2014
Chris O. did a fantastic job! He met with my daughter and her fiancé prior to the wedding, to make sure he understood everything that they would like him to do during the reception. He's definitely an aim to please D.J.
---
fantastic DJ
Reviewed on

8/27/2014
Cherie K
Our wedding was the best all because of the DJ that we had. He made sure everyone was dancing and listening to the music they wanted and making sure everything stayed in a flow. It was absolutely stress free thanks to Complete Music.
---
awesome!
Reviewed on

8/15/2014
Cassie A
Our DJ was PHENOMENAL. super professional, knew exactly what he was doing, friendly, really fun, and made sure we got exactly what we wanted. Hire Brandon if you're in the KC area. He rocks!
---
Complete is completely awesome
Reviewed on

8/15/2014
Miriam F
Ron from complete music was my wedding DJ, and he was absolutely wonderful. He made sure that everything he did was what we wanted. He was very professional and did a great job of making my reception exactly what I wanted it to be. I would highly (and already have) recommend this company to any brides looking for a DJ service.
---
The dance floor was packed the whole evening!
Reviewed on

8/15/2014
Aly R
I was really nervous about hiring a DJ. I had been to so many weddings where the DJ played awful music, took over the show and played games the bride and groom weren't comfortable with. Complete DJ really made it OUR night! They take multiple steps to ensure getting what you paid for and their DJ's are very attentive! I highly recommend Complete DJ if you desire a dance floor full of guest for the entire evening! Thanks Lauren!!
---
Great DJ
Reviewed on

8/15/2014
Nikki
Chris O was amazing! He knows how to keep a party going. He was a great DJ, but more importantly he was an amazing host. I highly recommend him for weddings. I do suggest taking time to pull all songs that you really want to hear at your wedding though.
---
Kevin is the man!
Reviewed on

7/07/2014
Sarah M
We contacted Complete Music after attending a cousin's wedding who had used them and loved their work. Kevin met with us for our consultation and to get to know us as a couple a bit better. He's so intelligent and technical and looks at music in a new and beautiful way. He knew of songs even we didn't remember we loved but for some magical reason, Kevin pulled all the great songs out. He even played a couple songs over for me after I had missed them while taking a few photos during the reception. Kevin was the most attentive and understanding DJ (and one of the most attentive individuals) with whom we have had the pleasure of meeting. He knew when and where to tell us to be when we hadn't the slightest clue. He diffused a couple situations for us that, had we selected someone else, would have probably ended atrociously. Thank you so much Kevin!! You are the best!
---
DJ with great communication
Reviewed on

6/19/2014
Samantha P
I would definitely recommend Complete DJ. Our DJ, Dustin, was wonderful. I felt he communicated with us throughout the entire night. Which was great. He would let me know how we were doing on time and which should be next, first dance, speeches, ect. All of that stuff ran a little over which was our fault so we didn't have as much time to dance as we would have liked. It was probably just shy of 2 hours. Which of course was fine. Before our wedding we met with him and we provided a HUGE list of music to play and music not to play. He told us he was writing it all down. He also would let us know if he did or didn't have a song. Which was cool. My only complaint is that that my Husband and I noticed he played 4 songs that we did not have on our to play list. Now I understand that a DJ can take some freedom on his playlist- he is the DJ afterall. But with only 2 hours and ALL of the songs we gave him. I'm not exaggerating we gave him tons of fast and slow songs to play. That we felt like he should have been playing those instead of songs we never mentioned. I can understand that if there was 4 hours of dancing but we didn't have that much time. We were a little sad to not hear more songs that we requested. Other than that he did a good job.
---
Good service, wish quality was a little more clear
Reviewed on

6/12/2014
Alyssa S
good service and props. received book and cd with purchase
---
KEVIN IS THE BEST!
Reviewed on

6/07/2014
Ally S
Our DJ Kevin was amazing! We met the week of the wedding, and he wrote down every possible thing about us he could, and delivered with excellence on our wedding day! We had a blast and loved all of the music, service, and spunk he brought! Amazing job! Our videographer and photo booth were also awesome!
---
Not what I envisioned but it worked out!
Reviewed on

5/23/2014
Molly S
Complete music is a great company, I have enjoyed their DJ's at other weddings but I would not say our DJ was the best fit for us. We enjoy country music and is at the top of our list along with other types. Minimal country music was played but we all had a great time and he did some things that I didnt know about but were great, they got everyone interatcting and laughing and having a great time.
---
Nice Price DJ
Reviewed on

3/27/2014
Torey
Our DJ got the job done. He wasn't exactly as matched to our personalities as I expected, but he was very affordable and professional.
---
Send Message