Home

Congress Hall Weddings
About this Vendor
Relaxed elegance, fun, historic charm, and luxury
Congress Hall, a seaside hotel overlooking the Atlantic, offers over 100 guestrooms, retail shops, a day spa, a restaurant, lounge and nightclub, and a grand ballroom that can accommodate up to 250 guests.
Amenities + Details
Amenities
Handicap Accessible

On-Site Accommodations

Indoor

Outdoor - Not Covered

Reception Area
For more details about amenities, please message the Venue.
Ballroom, Waterfront, Beach, Historic Venue, Hotel, Restaurant, Tented
Food + Catering, Planning
Contact Info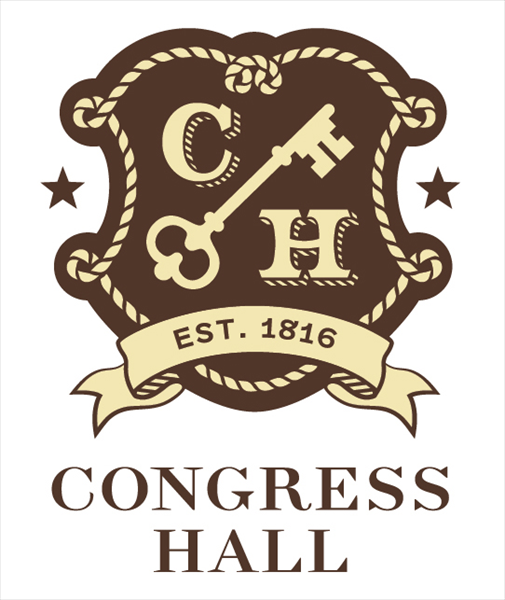 200 Congress Place, Cape May, NJ
Wedding venue - A++++
Reviewed on

9/30/2011
Kate M
If I were to recommend a place to get married it would be Congress Hall. The people knew exactly what to do and when to do it. The entire process from the very beginning phone calls to the end of our wedding night was a dream. There were no surprises hidden costs or anything you normally hear about. The service the night of made you feel as though you were out to dinner with your closest friends and family. Everything was fabulous!
---
Memorial Day Weekend 2011 Wedding - AMAZING!
Reviewed on

6/17/2011
Marisa B
My husband and I had gotten engaged down in Cape May and decided to also have our wedding there as well. We looked at several different venues and found that many were too small for our 175 person wedding. Congress Hall was the last place we looked at--WOW. I fell in love almost immediately. If you are looking for something unique yet classy with a 1920s old world seaside charm, this is it! Our guests were blown away by the property and the entire weekend was just perfect. We had our ceremony on the lawn and the day was beautiful. Guests by the pool were respectful--both watching and cheering us on! The picture opportunties on the propertu were awesome--we even took a few on our balcony overlooking our guests at cocktail hour--very Will and Kate! The staff at Congress Hall were immpeccable and very accomodating. I was pretty tense the few days before when I checked in and they took care of EVERYTHING. Daniella was amazing as was the General Manager, John Daily, and front desk manager, Stephen. The food was fabulous--the mashed potato bar was a hit! We also served bite-sized warm brownies and milk chasers towards the end of the night. Very nice!
---
Reviewed on

6/08/2015
Alison C
Long before my husband and I got engaged, we knew we wanted to get married at Congress Hall. For something that we built up in our minds for so long, the experience did not disappoint. From our first meeting, Congress Hall gave us the special attention we were hoping for on our most special day yet. Our coordinator, Colleen O'Sullivan, couldn't have been more helpful, responsive, professional, patient and organized. She. Is. Amazing. Compliments are still rolling in about the food (short rib and salmon entrees for the win!), the service and how seamless the event was – Colleen and our DJ (LovesickInc) completely guided the reception timeline. They made sure everything flowed and that we and the guests had the best time possible. My only complaint would be that it couldn't go on longer :) When we got back to our room that evening there were some wonderful care packages of cake, sliders from our delicious late night slider bar, and a sampling of our wedding flowers. Colleen is a bride whisperer. She has a way of making things that would wake me up at night suddenly seem like no big deal once I brought them to her attention. She seamlessly coordinated with my 10+ vendors. Colleen didn't flinch when we showed up with a truck full of décor items the day before the wedding – and it was all displayed to PERFECTION. Everything looked like a dream – the Lawn is an idyllic backdrop for a wedding. Founder's Hall, the veranda and the charmingly beautiful ballroom are all picture perfect. It's the perfect combination of grandiosity, nature and whimsy – Tiffany blue walls, yellow backdrops, saltwater air and the greenest grass you've ever seen! The best part? I never worried about ANY of the details on my wedding day because I knew that Colleen, Krystina and Jen had it all under control. I had the best time getting ready in Founder's Hall with my bridesmaids and family while they pulled everything together. It truly was a stress-free wedding day and that's a testament to Colleen and the Congress Hall staff. All in all, it was the best day ever and we are forever grateful to Colleen and the Congress Hall team for making our dream a reality.
---
Charming!!
Reviewed on

3/20/2015
Laura O
Congress Hall was the PERFECT wedding venue for us. My husband and I were looking for something both classic and unique for our big day. In a word, Congress Hall is charming. The hotel was built in the 1800s and you still get that antique-luxe feel, while enjoying the more laid-back coastal feel of a beach hotel. The reception room still has the original black chandeliers and gorgeous black and white hardwood floors. Rather than feeling old, however, pops of color and modern amenities allow the hotel and its event spaces to feel current. The reception room has GORGEOUS Tiffany-blue walls and all of the guest rooms are painted in beach-y blues and greens. You have a few different options for your ceremony and cocktail hour spaces, depending on weather, etc., and very conveniently (particularly considering how quickly the weather can change!), you can decide up to 12 noon the day of your wedding whether to have your ceremony indoors or outdoors. Because we were married on windy day in March, we decided to hold the ceremony in the Grand Ballroom. Our cocktail hour was in the very cool Boiler Room, a bar/club space in the basement of the hotel with a full, beautiful bar, stone walls, wooden beam ceilings and just a really neat vibe. In addition to the uniqueness of the hotel, another notable mention is the friendly and very helpful staff at Congress Hall. We toured and then booked the hotel as our wedding venue with Meredith Borrell, the sales manager. Meredith was so sweet and very efficient when it came to booking not only the venue, but also cottages for our families to stay in over the weekend. Once we were booked we were assigned a wedding coordinator, Colleen O'Sullivan, to assist us with any questions and queries prior to the wedding and to coordinate the wedding day itself. There can never be enough good things said about Colleen. She was absolutely phenomenal. Every e-mail, freak-out, billing issue, request, etc. was taken care of by Colleen. She always answered my emails promptly and, more importantly, approached the whole event with a smile on her face and cheerful demeanor. The day of the wedding she took care of all the set up, coordinated with the photographer and DJ and made sure everything ran smoothly. It was such relief to us knowing that everything was taken care of and we could actually relax and enjoy our wedding! If you're able to request a wedding coordinator to work with, I highly recommend Colleen! Overall, we couldn't be happier with our choice to have our wedding at Congress Hall. For those of you with tighter wedding budgets, look into getting married during the "off season", as the prices are a bit more reasonable and the minimum guest count is much lower. Another plus is it's also a lot easier to get the vendors you want! Congress Hall is also provides WAY more bang for your buck compared to venues in Northern Jersey. Though the price tag may seem big, there's SO much more included in your wedding package that it makes it more than worth it!
---
Best day ever
Reviewed on

3/10/2015
Kristin P
I cannot say enough about how amazing our wedding was! The staff was amazing and the ballroom was simply stunning. Congress Hall provided us with our dream wedding and a once in a lifetime experience our guests are still raving about!
---
Amazing Wedding at Congress Hall
Reviewed on

2/15/2015
Kristen A
My husband Greg and I got married in September at Congress Hall. It was absolutely a dream come true, except that the weather didn't cooperate literally just for our outdoor cocktail hour. Thanks weather! We worked with Meredith Borrell & Colleen O'Sullivan who were both so easy and great to work with. They were quick to respond to emails, great when we met in person several times and Colleen was fantastic on the day of the wedding. Our only concern was the number of guests we had - we pushed the room to the max but everyone still had a great time. In the future for an event as large as ours and if it rains, I would suggest giving us more space on the veranda since we couldn't go out on the grass with the rain. Everyone seemed a bit crammed into the "cocktail hour" spacing. One other bummer thing is that that the party has to shut down at 10 pm. We wished we could have danced the night away for another 2 hours! But everyone headed to the brown room or downstairs to the boiler room so it was still fun. Our Congress Hall wedding was a dream come true and we highly recommend the venue and staff!
---
BEST DAY EVER!! 12/13/14
Reviewed on

12/22/2014
marie b
I cannot say enough about the wonderful experience I had at Congress Hall. Colleen Sullivan our coordinator was amazing. My husband and I can not think of one thing we would have changed. The venue was absolutely beautiful, Our guests raved about the food, the attention to detail and the kind staff. I loved every single moment of my wedding day Thank you from the bottom of my heart for the best day ever!!!
---
PERFECT
Reviewed on

12/03/2014
Kristin N
Congress Hall was the PERFECT setting for our wedding. It's unique, retro feel with the tiffany blue walls, black and white checkered floor and black chandeliers was something that we, as well as all of our guests had never experienced before, and we are still being complimented almost a month later! The ballroom holds 225 guests, a band and two bars. We had 215 guests and I was extremely worried about the room being too crowded and guests not being comfortable. The night of our wedding I realized that I shouldn't have worried at all. The room was perfect! The dance floor was filled the entire night and it did not seem over crowded at all!! Cocktail hour was outside and despite the 30 degree weather, the heaters that Congress Hall provided kept everyone warm! It was beautiful, and perfect! Lastly, and most importantly Krystina Kennedy, our wedding coordinator who was provided by the venue, was simply out of this world. I cannot speak highly enough about how easy she made it and how smoothly it ran. However, it was more than that! She truly puts your mind at ease and when I was worried about something, I would call her or email her and she'd respond, "I'll take care of it"... and she would go above and beyond "taking care of it". She was truly a part of my day I will cherish forever, she was THE BEST! I simply cannot imagine planning a wedding without her! SO... FIVE STARS!!
---
A Day to Remember
Reviewed on

8/21/2014
Monica G
The views at Congress Hall are the perfect backdrop for any couple in love, but what I loved about my Congress Hall wedding was that I had the view AND great customer service. A wedding is not just what you see - it's how you feel, how your guests feel, and how well your venue can problem solve so that your day is full of joy and not unnecessary stress. Congress Hall increased our joy and lowered our stress again and again. My husband and I will return for years to come to celebrate the day we said, "I do!" We love Congress Hall!
---
Congress Hall Wedding
Reviewed on

8/09/2014
Quinn F
We had our wedding at Congress Hall in July and it was perfect! As soon as we saw Congress Hall we knew it was where we wanted to get married and we couldn't be happier with the choice we made. Not only is Congress Hall beautiful, but the people were amazing to work with. Right from the start both Meredith and Krystina helped us make our vision come to life. They were always willing to answer questions and give suggestions and they were both a pleasure to work with leading up to the event. On our wedding day they both helped the day go off without a hitch, even when little things went wrong, they took care of them without me ever knowing. They kept me calm and made sure our day was perfect. I would recommend Congress Hall to everyone and cannot thank them enough for helping to make our wedding day everything we ever dreamed of!
---
Virginia Hotel Wedding
Reviewed on

7/31/2014
Taylor B
I've been working with Colleen, who is helping me plan my wedding in Cape May. As I currently live in Los Angeles I thought it would be hard for me to plan my wedding but with Colleen's help she is making it a breeze. Both Congress Hall and The Virginia Hotel are run by the same company and though I would have preferred to have my wedding at Congress Hall for brides who are on a bit of a budget I whole heartily suggest The Virginia Hotel. You get the same excellent service, food and comps for a better price. THANK YOU COLLEEN!
---
Amazing!
Reviewed on

6/14/2014
Cassie D
Now that the wedding is officially done and the dust has finally settled, I really want to thank Congress Hall for all of their hard work for our big event. More specifically, please allow me to gush about Krystina Kennedy, who worked tirelessly to make sure our wedding would go off without any problems. I'm fairly certain I owe my sanity and first born to her. From the get go, we wanted a place that could hold a ceremony, host a full reception, and house guests. That's not an easy task to accomplish in South Jersey but alas, this was where we had our hearts set on getting married. And so we knew we had to make it happen somehow. The vibe at Congress Hall was very different from any other venue we visited - comfy, trendy, classy, elegant, but somehow relaxing and cool. We put down a deposit and began the adventure that is wedding planning (which is a massive pain in the ass, but that's another story). Krystina kept us organized, answered our 15 kajillion questions, sent back countless emails, hounded the chef over my dietary restrictions, and negotiated pricing with us on a few add-in items. She also scheduled deliveries for us, set up our decor, gave me a checklist, and arranged for a special meal for a family member who had been in the hospital the week of the wedding. She even booked us entertainment in The Boiler Room so our group would have an after party. Our guests ultimately raved about the food, their rooms, the drinks, and the location. We could have never gotten to the end point, though, without our faithful coordinator. Thank you, Krystina, for one of the best damn parties we've ever been to. You are sincerely awesome.
---
Stunning venue and an amazing wedding day!
Reviewed on

6/02/2014
Chelsea K
I grew up going to Cape May every summer and watched Congress Hall go from decrepit to absolutely beautiful after the renovation about 10 years ago. Once I started seriously dating my now-husband, I was set on getting married there and booked the venue a few weeks after we got engaged in late 2012. A year and a half later, we had an absolutely amazingly beautiful wedding day -- everything went perfectly, from the rehearsal to the morning-after brunch, and I really couldn't be any happier with my decision or with my coordinator, Colleen. Everyone commented on how beautiful the day was, and we've had many people come forward and say it was the best and/or most beautiful wedding they'd ever been to. The whole thing felt like it was 5 minutes, but it was the best 5 minutes of my life. :) That being said, we did have some issues during the planning process, particularly during the latter stages (hence the lower-star review for service). Some things I cannot stress enough: Read, read and re-read your contract and ask as many questions as possible about every detail of your day as far out as possible. This venue is extremely inflexible about certain things, so be prepared for some frustrating conversations and have all your bases covered. Other than those issues, a dream wedding venue that will give you exactly the wedding day you pictured. I really can't give them any less than 5 stars overall, because that's what really matters in the end.
---
Amazing!
Reviewed on

5/15/2014
Amanda G
I grew up near Cape May and had always had Congress Hall in mind for my wedding. I was not at all disappointed. Colleen, our wedding planner, was absolutely wonderful. She fielded our (very) numerous emails and was always super friendly, even when we were negotiating prices or asking her questions about minute (and largely unimportant) details. She was very accommodating and met with us in person several times prior to the big day. Looking back, there wasn't a single thing I would have changed about our wedding. All of our guests could not believe how great the food was - everyone kept telling me "this isn't wedding food!" - the venue was beautiful, and everything ran like clockwork. Congress Hall truly gave me my dream wedding.
---
Unique and beautiful space with lots to offer
Reviewed on

5/11/2014
Kate D
I am so happy that I had my ceremony and reception at Congress Hall. My husband and I got married at Congress Hall in their off season (late March) and found their prices to be a good value. My husband and I are originally from the Philadelphia area and currently live on the West Coast, and we picked Congress Hall because they offer inclusive packages and the cool ballroom. When booking a wedding at Congress Hall, you get a wedding consultant/day-of-planner. We worked with Colleen for our wedding, and she exceeded our expectations. She and I planned everything via email, and she was always very prompt with responses and always made sure that she accommodated our requested. For the rehearsal and wedding, she was energetic, kind, organized and just awesome. The food was delicious. Multiple people told me that the food at Congress Hall was the best food that they had had at a wedding. Several of our guests were vegan, and the kitchen was able to accommodate them with vegan meals. I didn't know what to expect with the cake, but it was delicious. Several guests also made it a point to tell me how delicious the cake was. My guests appreciated the wide variety of beers and liquor at our open bar, and they also appreciate the wide selection of alcohol in the Brown Room (hotel bar). I ate at the Blue Pig Tavern (the restaurant at the hotel) a couple of times leading up to the weekend and always found the food to be fresh and tasty. The hotel itself and the grounds are beautiful, even in late March. The hotel rooms are all unique. I found the bed to be soft and comfortable and bathroom and rooms to be clean and comfortable. I went to the Sea Spa to get a manicure and pedicure with some of my bridal party. The quality of the service was topnotch and they did a beautiful job. I would recommend doing your manicure and pedicure at the Sea Spa. I gave five stars for service because I found every staff member I encountered to helpful, attentive and professional. However, around 7-8 people who stayed at Congress Hall hotel for the wedding stated that the front desk staff were inattentive and seemed to focus more on socializing. Even though our wedding took place during the off season, our guests still stated that a lot restaurants/shops were open, and they also enjoyed just walking along the beach (it was warm during our wedding weekend). This is a beautiful place that has so much to offer! I highly recommend having a wedding here!
---
Wedding of my dreams...
Reviewed on

4/27/2014
Kristin L
We were recently married at Congress Hall. The first time I went to Congress Hall and saw a wedding there, I absolutely fell in love. The venue is just absolutely perfect. The colors, the history, the decor, it's all just stunning. So, when after looking at a zillion venues, I finally settled on Congress Hall, it was no surprise. It just felt right. Our wedding was absolutely magnificent. We had a beautiful day thank goodness. Everything was set up exactly the way I envisioned it to look and everything went so smoothly. We were married outside on the lawn and had our cocktail hour on the veranda. Everything was beautiful, meticulous and every detail was worked out. The reception was also fantastic. The tables were all set to perfection and no detail was overlooked. My guests raved about the venue and the food. Everything was just perfect. After the wedding ended, we all headed down to the Boiler Room where the party continued. A lot, I have to say had to do with the two wonderful women that I worked with at Congress Hall. First, our wedding coordinator Colleen O'Sullivan was AMAZING. She is warm, caring and very professional. She made me feel at ease and as though everything was SO well taken care of. She was so easy to talk and plan with and I am so happy she was my wedding coordinator. The other person is Meredith Borrell who was also fantastic. Anytime Colleen was somewhere else, Meredith was right there with me as well. There was never a minute I felt abandoned or neglected. Literally, every detail was clearly explained to myself, my husband, and our wedding party. I have NEVER been to a wedding where this was the case and am happy to say it was my wedding where the venue finally got it right. I cannot say enough about these two wonderful women. They made my wedding day my absolute dream day. Congress Hall is just the perfect venue for a romantic weekend. Your guests will LOVE it and absolutely rave about every part of your wedding weekend.
---
Wonderful Winter Wedding!
Reviewed on

3/13/2014
Kate
The venue - without any extras brought in for the wedding - is beautiful. The robin's egg blue walls, black and white checkered floors, and black chandeliers give the Grand Ballroom such a retro yet elegant feel. It has the charm of somewhere very old but with modern touches. The food was delicious at both cocktail hour and dinner (and our after party and our brunch the next day). Their event staff and wedding coordinator knows how to run a flawless event.
---
Most Amazing Fall Day!!
Reviewed on

1/09/2014
Caitlin
I love Congress Hall! I loved it even before I got married there! My husband's family has a house in Cape May, so ever since I met him 7 years ago, I've been heading down to the shore and Congress Hall is my favorite spot to grab a drink. Fittingly we got engaged in Cape May on the beach and when it came time to choose our venue, Congress Hall just felt right. The team at CH makes the wedding planning process so easy! They lay everything out for you and make you feel comfortable. I loved the tasting experience and how they set up the ballroom and tables to make it resemble a wedding. The day of the wedding went so smooth and everyone had such an amazing time! It is truly a day we will not forget and I'm so happy we made the choice to get married at Congress Hall!
---
Amazing Wedding at Congress Hall!
Reviewed on

1/06/2014
Maria K
We are so very thankful to the Congress Hall especially to Meredith and Colleen for making our dreams come true for our wedding day! Everything was absolutely perfect going above and beyond to our dreams. Meredith and Colleen were such a pleasure to work with from our first meeting to the big day these two girls put their hearts and souls into their job! No detail was left behind, every detail we requested from them was executed perfectly to the T. Founders Hall was a perfect getting ready room and was an outstanding backdrop for pictures! The building, grounds, and ballroom are just superb! The food was so delicious and our cocktail hour was amazing! I would highly recommend Congress Hall to anyone wanting the perfect wedding; I would do it all over again there ;). We can't wait to go back a visit and celebrate our first anniversary there in October 2014!
---
April 3rd, 2011: A Weekend To Remember
Reviewed on

12/24/2013
Kristen C
A Congress Hall wedding isn't just a venue for your wedding, but rather a part of your life forever. Since our wedding my husband and I have returned twice, and still get the butterflies: maybe its the beautiful building, the wonderful staff, or the amazing location, but there is something about being able to return back to Congress Hall, and recall the amazing weekend we had. To be able to sit back with a Pimms Cup (Our signature cocktail at our wedding) in hand, and say, "this is were it all happened", will forever bring my husband and I back to that amazing weekend. Michael and I decided to make our wedding a weekend of family and friends: Girls pampering at the amazing spa, rehearsal and rehearsal dinner at the Blue Pig at Congress Hall followed-by cocktails and dancing at the Boiler Room, and a Thank you Brunch the next day in the Blue Big. The best thing about Congress Hall is that everything is right there. Planning our wedding was such an enjoyable experience. Krista and Daniella answered emails and phone calls quickly, and always made time to meet with our family if we were in Cape May. The morning of our wedding, we woke up to 60 degrees and sun, Daniella helped us make the game time decision, and made our dream of an outdoor wedding a reality, in APRIL!! Daniella was around all day during our wedding day and made sure everything ran perfectly. After our ceremony, guests enjoyed cocktail hour in the boiler room, while the bridal party and family took pictures outdoors. The reception was in the beautiful ballroom, overlooking the ocean. Congress Hall doesn't just throw a great party, they have an amazing food menu too! We had Tuna and Filet mignon as entrees, all cooked to perfection for our 86 guests. Congress Hall will always hold a special place in my heart, and we are forever grateful for what they did for our wedding, and what they continue to do every day. Krisen and Michael
---
Our lovely Congress Hall Wedding
Reviewed on

12/23/2013
Jennifer A
My husband and I got married at Congress Hall in Cape May on October 5, 2012. We had such a great experience there. Daniella and her staff were so on top of things and made everything seem easy. She never bothered us with questions, she just made the evening run so smoothly! The food was excellent and the venue is so unique and beautiful. It is so convenient having the ceremony on the front lawn, the reception in the hotel, the after party in the Boiler Room and guests can just walk upstairs to their rooms after. We loved everything about our Congress Hall wedding and can't wait to go back!
---
Everything I imagined and more!
Reviewed on

12/18/2013
Jennifer L
What initially attracted us to Congress Hall was its potential for a unique and memorable wedding. I love that we were able to make a wedding weekend as opposed to just a wedding day. Cape may is a beautiful town with a lot of things to do and places to see. Once we saw what gets included in the standard package, we were sold. The wedding sales manager was very thoughtful and considerate of our budget. She helped us figure out ways to make our dream day come true, minding our budget and without slapping us with hidden costs. We hated when we met with other venues and had to choose between different 'packages'. Most places were not as flexible and we had to fit into a cookie cutter wedding package. Everything about the day was fabulous! We could not have asked for a better venue and better group of people than those at Congress Hall. I didn't have to worry about anything because our wedding coordinator, Colleen, was incredible. Any glitch that happened the day of the wedding was taken care of, with ease. I loved the ready room! It was nice getting ready at CH, and having hair and makeup artists come to us! We had brunch the morning of the wedding and it was so relaxing and just lovely! I loved how we were able to decide up until 12 noon the day of the wedding whether we wanted an indoor or outdoor ceremony/cocktail hour. Our ceremony was beautiful, and Colleen was great about coordinating with our harpist, ministers, florist & photographers. Our cocktail hour was INCREDIBLE! Our guests keep talking about how good the food was. The menu of hors d'ours was vast, with so many unique choices and not your typical banquet hall type selection. The ballroom is so unique with its Tiffany blue walls & black/white checkerboard floor. My navy accents went so well with the Tiffany blue. The food was phenomenal! I love how filet mignon is part of their standard package.. Not an up charge like most other places. My husband & I had the grilled swordfish, which was great! The presentation of the dinners was beautiful too! Also, the bar had a large selection and mostly top shelf liquor (once again, part of the standard package) CH was also very accommodating for substituting liquors too. I also like how there were 2 bars, because I hate waiting in line at a bar at weddings! CH was also accommodating for our wishes for an after party. They made everything so easy and were once again very accommodating! CH also helped us plan a breakfast for out of town guests and it was literally the best breakfast I ever ate! Our guests kept saying how amazing the food was all weekend! Our guests also loved staying at CH.. It is nice to have everything all in one place so that the guests don't have to travel anywhere. There is also a church a block away from CH so you could always have the ceremony at the church & reception at CH. For the bridal party, we rented the Virginia Hotel Cottages. It was a great idea and kept everyone all in one place. It is also only a block away and served as the 'hangout' for the younger bunch. All in all, Congress Hall is the BEST place I could have imagined having my wedding. Every detail was attended to and it was so much more than I could have imagined! Everything was beautiful, tasteful and classy. It made for a memorable weekend and I highly recommend it to anyone. If you are looking for something other than the typical banquet hall wedding, you MUST look at Congress Hall!
---
Wedding Weekend Beyond Our Wildest Dreams - Oct. 13, 2012
Reviewed on

12/12/2013
Mary H
From the day we visited Congress Hall to look at the venue for our wedding until the days after our wedding, Congress Hall surpassed every expectation we had for our wedding. The service, the food, the venue itself, every aspect of our wedding was truly amazing thanks to Congress Hall and its staff. Throughout our planning process and the day itself, Congress Hall's wedding team made the process easy and as painless as possible and offered help every step of the way. Thanks to Daniella and the staff at Congress Hall, we had little to worry about on our wedding day aside from truly having the best day of our lives. All of our guests were in awe of not only the breathtaking setting for our wedding reception, but also the fact that the Congress Hall team was willing to go the extra mile for our guests too, even returning one of our guests his sunglasses that he left out at the cocktail hour by mail weeks later. Throughout your wedding process, Congress Hall's team provides 5 star service and even when you visit on your anniversary, they remember you and make sure to welcome you back to Congress Hall. The thoughtfulness and exceptional service provided by Congress Hall team truly cannot be matched. We would recommend a wedding to Congress Hall to any couple looking to have their wedding in a breathtaking setting with exemplary service and fantastic food. And for an added bonus, each time they return, they will be filled with good memories and it truly feels like visiting an old friend.
---
Simply the Best
Reviewed on

12/09/2013
Kathryn R
My hubby and I were married on the beach at the historic Congress Hall on Sep 16, 2010. The entire experience was no less than magical. Everything from the staff to the food was top notch. CH is the most beautiful hotel in all of Southern NJ. The decorators have superb taste...modern design with a historic backbone and not cheesy, unlike alot of Cape May hotels. Our wedding was a little different than most weddings at CH. We only had 30 people and the reception was held in an absolutely beautiful small room called Founders Hall. We had 3 round tables of 10 each. Even though our wedding was small, we were never treated any less important than any other wedding. (Disclaimer- I'm not sure if CH is booking small weddings like this anymore, but no hurt in asking! If they do, you will likely have to have your wedding Mon-Thurs. We had ours on a Thursday.) Our wedding cake was absolutely beautiful. I sent the chef a picture of exactly what I wanted and they were able to easily make it happen. The staff made everything so easy & I didn't have to think about anything other than enjoying myself. I highly recommend this venue and can't imagine having a wedding anywhere else.
---
May 2010 wedding!
Reviewed on

12/01/2013
Erin T
We had our reception for about 130 people here on May 14, 2010 following a church ceremony. Cape May is a bit limited when it comes to finding places that can accommodate over 100 people, and Congress Hall is one of the nicer places. The ballroom is really unique, the grounds are nicely maintained, and it has a relaxed yet put-together ambiance. The service at our reception was excellent. The wait staff really made sure I was well fed and hydrated! The food was also excellent, the best food I have had at a wedding and far exceeded our expectations (main entrees were duck and ny strip steak, the veggie option was a tasty risotto). Congress Hall is not inexpensive, but there were no issues with the bill as far as I know after the event. The cost also included a room for the wedding night. They call it a bridal suite but it didn't seem any different than the room we had stayed in the night before, except for the bonus robes!! The staff was easy to work with leading up to the wedding.
---
Send Message