Home

Creme De La Cake
Details
Gluten Free, Kosher, Organic
Cake Accessories, Cake Delivery + Setup, Cake Tastings, Groom's Cakes, Cakes + Desserts


Contact Info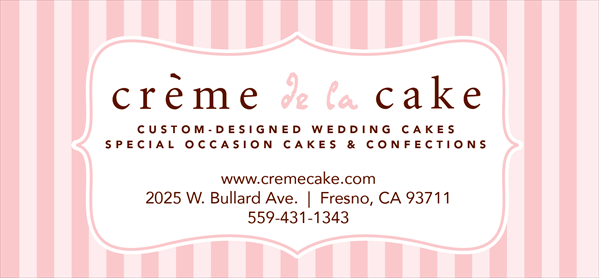 Reviewed on

10/24/2016
Jewel A
My husband and I live in Colorado but were planning our wedding in California since our families are there. Unfortunately, we had to change our wedding date and venue at the very last minute! With only six weeks before the new wedding date, I called and talked to Liz about... Read More possibly making our cake for our July 2nd wedding. She said she was available to make our cake and we started talking options and pricing. Liz initially quoted me for a three-tiered cake. When I explained that we were trying to keep the price as low as possible and asked if she had any suggestions, she didn't hesitate to tell me that we could opt for a small two-tiered cake that we could cut into and the then also serve cupcakes. (Two other bakeries refused to give me quotes on more cost effective options unless I knew exactly what I wanted.) My husband and I chose to go with the two-tierd cake and cupcakes. Not only did this save us a significant amount, but we also were able to choose more flavors of cake this way! We chose vanilla cake with buttercream, chocolate cake with chocolate chips, red velvet cake with a cream cheese icing filing, and vanilla cake with lemon curd filling. They were all absolutely amazing!!! Liz had everything dropped off and set up beautifully before our ceremony got started. The cupcakes were gorgeous and the decoration on our small cake was fabulous!!! Exactly what we wanted!!! I'd hire her again and recommend her to all of our friends and family.
---
Best Option for Your Cake!
Reviewed on

10/26/2015
Wesley S
We thought when we our tasting that if the cake was half as good as what we had tasted then that we would have the best wedding cake we had ever tasted at our wedding. As it turns out, the cake was just as good as our tasting, and we did in fact have the best wedding cake we... Read More have ever had! The tasting process was pleasant and they charge what I consider to be a very reasonable price for the quality of the cake that you receive! My only gripe is that the cake arrived late but it turned out the delivery guy's phone died and got turned around up in the mountains where our wedding was. Despite that I still wouldn't hesitate to recommend Liz to do your wedding cake!
---
Bride
Reviewed on

12/09/2014
Amanda S
Liz is amazing!! Our tasting was so much fun.
---
Delicious Cakes!
Reviewed on

5/20/2014
Jacki M
Creme de la Cake helped me have a DELICIOUS and BEAUTIFUL wedding cake as well as cupcakes for my guests for a VERY reasonable price. I received multiple compliments from the guests on both the cake and cupcakes. I also received WONDERFUL customer service! I highly recommend... Read More this place! Thank you Creme de la Cake!
---
Try to Gluten Free Cake!
Reviewed on

4/30/2014
Catharine L
Creme De La Cake is the best bakery in Fresno in my opinion. Liz (owner) went above and beyond what the the other bakery in Fresno would do. She made a naked cake for me, and it was stunning looking. My wedding was on a Monday, and that day her shop is closed. It was not problem... Read More for her to come up and deliver. The flavors of her cakes are great. Not too sweet, and very moist. We had a hard time deciding on what type of cake because they all were so good. The most surprising thing about Creme De La Cake is the gluten free cake. One of my bridesmaids has a gluten allergy, and we wanted her to be able to have some cake. We had part of the cake done in chocolate gluten free, and it was a hit. No one believed that it was gluten free, and all of the guests wanted to try it. By my own fault there was not enough to go around. We loved her cakes so much that from this point on when we go to Fresno we will be getting cupcakes there. Thank you Liz for the perfect cake.
---
Amazing!
Reviewed on

10/21/2013
Samantha
Liz was great to work with. Her pies were amazing! 300 mini pies is not an easy task and she pulled it off beautifully.
---
Mrs. Shively
Reviewed on

10/10/2013
Sabrina G
I am usually not one for wedding cakes, I think they are all too sweet, too dry, or too gaudi. But we sure could eat cake from Creme De La Cake for any occassion; it was to die for!!!!
---
Yummy and Beautiful
Reviewed on

6/05/2013
nicole d
When it came to our wedding cake it was a different experience then most brides and grooms. Since we were eloping and lived 3 hours from Yosemite we didn't get to try flavors of cakes, meet the baker in person or any of that. I emailed with Liz and mailed her samples of colors... Read More I liked for icing. We picked our cake flavors out by chance and let me tell you I'm pretty sure we couldn't have picked a bad flavor. We had a small 2 tiered cake, the top we have frozen for our one year and its a chocolate cake with fresh raspberry filling. The bottom tier which we enjoyed the night of our wedding was a Vanilla Bean cake with fresh raspberry filling. It was to die for. I was scared to be ordering a cake I wouldn't be able to try first but there was nothing to be scared of it was absolutely delicious.
---
Love it!
Reviewed on

12/04/2012
Lisa F
Because we opted to serve guests a different dessert, we got a petite cake done that was used as the center of our sweetheart table. I really wanted something covered with edible pearls - and our cake turned out beautiful! So pretty I didn't want to cut it haha The bakery... Read More offers plenty of flavors and different options - we opted for the banana flavor.
---
Excellent service
Reviewed on

6/27/2012
Stephanie S
I came to Creme de la cake 19 days before my May wedding needing to order my wedding cake. She was able to do my cake and it turned out wonderful and it was absolutely delicious.
---
Beautiful and tasty cupcakes!
Reviewed on

6/06/2012
Lauren N
Liz at Creme de la Cake did a fantastic job making my vision of cupcakes come to life. I had so many compliments on how tasty the cupcakes were and I would recommend her to anyone!
---
Amazing cake!
Reviewed on

4/22/2012
Brittany W
This cake was delicious and I was able to choose more than one flavor for the cake. She went with a design that matched my dress, including a beautiful ribbon and embellished with crystals. She delivered the cake and set it up, which all turned out beautifully.
---
Delicious!
Reviewed on

7/11/2011
Michele M
Absolutely beautiful cake!! And really tasty too! Only had the opportunity to try one flavor at the wedding (the piece that was fed to me!) and it truly was yummy! Had so many compliments on the cake overall, both flavors!
---
One of the highlights of my wedding!
Reviewed on

10/09/2010
Joanna D
First off let me just say that Liz at Creme de la Cake is amazingly talented and makes the most delicious, beautiful cakes in the Central Valley. I went in knowing my wedding theme (farmers market), but not really knowing what I wanted the cake to look like, except that I didn't... Read More want it to look like a regular wedding cake. Within a couple of minutes of talking to her, Liz sketched out the perfect cake for my wedding, a giant pumpkin on a fruit crate. And on the wedding day, it arrived, even better than the sketch, with more details than I could have ever imagined. I kept asking people "Did you see the cake?!" and they hadn't even realized that it was a cake! There were still people that thought it was a decorative element up until the minute my husband and I cut into it. After the wedding, almost every person told me how delicious it was. It was one of my favorite parts of our wedding.
---
Review for Creme De La Cake
Reviewed on

5/10/2010
Cassandra S
the cake was good an everything I wanted.
---