Home

Cuisine Chez Vous
About this Vendor
The Art of Entertaining
Cuisine Chez Vous is the go-to boutique wedding caterer for Boston, Cape Cod, Providence, Worcester and beyond. Our personal touch make planning your wedding fun and we make sure to include your unique style. When the big day comes you will know you've put your wedding in the right hands.
Details
American, Eastern European, French, Indian, Italian, Latin American, Middle Eastern, Fusion
Dairy Free, Gluten Free, Nut Free, Organic, Vegetarian
Buffet, Catering Clean Up, Family Style, Passed Appetizers, Seated Meal, Servers, Food + Catering, Service Staff
Contact Info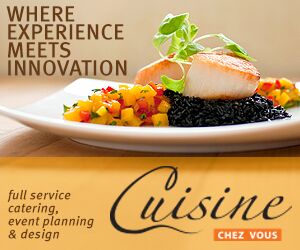 Very impressive in every aspect
Reviewed on

10/10/2013
Emily E
We could not wish for a better planning and execution experience from this very important vendor. Initial dealings with the sales personnel, planning right before the wedding and execution were all beyond reproach. The food was incredible, the way they executed the whole event... Read More was simply as beautiful as ballet. I am a project manager myself and manage very large projects. The execution of our even by Cuisine Chez Vous was super impressive. True professionals, worth every penny they charge. Cuisine Chez Vous offered us several different packages at different prices, all very competitive. After tasting with 4 different caterers at a comparable price level there was no question in any of our minds as to which one we wanted to go with. And they lived up to all of our expectations. Not a single complaint.
---
Cuisine Chez Vous is the BEST
Reviewed on

10/10/2012
megan j
Amazing food, even better people - these were the best vendors I worked with. Made the planning process stress-free, were perfectly professional and helpful day-of. A thousands compliments to CCV.
---
Delicious and Professional!
Reviewed on

8/28/2012
Alex P
Working with Cuisine Chez Vous was a great experience! Right from the start they seemed so on top of everything, I knew I would be in good hands. They worked with me to fit my budget, made helpful suggestions for cutting costs (and where not to cut when I was being silly!) and... Read More most importantly, served delicious food! So many people told me how good the food was, and the one thing I hadn't totally loved in our tasting (the cake) was really delicious on our wedding night! I loved that they had such unique dinner options and didn't have to be your standard red wine demi glaze or roast chicken breast. Everything we chose was really creative and yummy! Nora was my main contact person and she was super responsive and always helpful and pleasant to work with. They took care of everything, from the tables and chairs, to the china, the barware, bartenders, waiters etc! Nora and Shiva really were my day-of wedding coordinators, putting out my personal photos and all the little votives and decorative items I made. They did it all and they did a great job! Thanks guys!
---
Reviewed on

3/30/2018
Carol R
Chez Vous was amazing! We booked with them after doing a tasting because the food was delicious and they had worked at our venue before and seemed to know what they were doing. It was the best decision we made. They took care of everything, including making sure we were on track... Read More leading up to the wedding. On the day of, I walked into the venue and saw my vision come to life. The day could not have gone any smoother and people raved about the food. People told us it was the best food they had ever had at a wedding. They were also super responsive and professional in the months leading up to the wedding. Emails always got answered promptly.
---
Reviewed on

11/07/2017
Vicki R
Can't say enough good things about Cuisine Chez Vous, who catered our daughter's mid-October wedding. From planning the menu, a delicious brunch buffet that everyone raved about, with particularly yummy passed appetizers during the cocktail hour; to setting up the venue (and... Read More working out "plan b" if the weather didn't cooperate for the outdoor ceremony); to stage-managing the wedding itself and more, all the staff were easy to work with, responsive to numerous emails and phone calls, and very professional yet friendly and supportive. They made it possible to actually enjoy the day from start to finish. Thank you, CCV!
---
Reviewed on

10/03/2017
KT M
Nora of Cuisine Chez Vous was a life-saver throughout our wedding planning process. She handled all requests with humor and grace and was truly amazing to work with. We were excited to hire Chez Vous as an all-in-one shop, and utilized them for catering, the cake,... Read More bartending/alcohol, linens/cutlery, chairs, flowers, our chuppah, etc. The food in particular was delicious and complemented by a large portion of our guests! Nora was so attentive to our needs, making sure we were fed and hydrated on the big day (even personally delivering appetizers and mimosas to us during the family photos!). We cannot thank Nora and her team enough, and would recommend Chez Vous to any newly engaged couple. Note that Cuisine Chez Vous is so popular that they book up quick - be sure to call them very early in your planning process!!
---
Reviewed on

7/06/2017
Laura N
Walter, Nora and Shiva went above and beyond my already high expectations at my recent wedding. They were absolutely INCREDIBLE to work with throughout the entire process!!! They responded to my many emails promptly, carefully and thoroughly. The food was not only delicious... Read More (best wedding food I have ever eaten), but also the presentation of the food was GORGEOUS - like a work of art. I received countless compliments from guests on the food and service. The staff at Chez Vous is on top of it -- everything went so smoothly and flawlessly because of them. They got every single detail done well (and I had a lot of details!) I cannot thank them enough for all they did...from setting up the items for my wedding, coordinating the bridal party, making sure important items got to the right people, working well with the other vendors, to packing up various items at the end of the night, boxing gifts and cleaning an heirloom cake topper. I cannot put into words how pleased I am with Chez Vous -- if you are looking for someone to cater an event, this is the group to use!! They are absolutely AMAZING!!! CHEZ VOUS, WE LOVE YOU!!
---
Reviewed on

9/08/2016
Jennifer W
I have never had such great wedding food before. Our guests are still raving about how great the food was! Absolutely well-deserved A++ all around. Nora was such a delight to work with, from our tasting to menu planning to organizing everything the day of. She went above and... Read More beyond to make sure we were well fed and that all our guests were having a good time. We are a very budget-conscious couple and we still can't believe we got such a good deal for the experience through CCV. We are going to recommend them to every couple out there getting married!
---
Reviewed on

6/29/2016
Madeleine S
We worked with Emiko at Chez Vous for our wedding and she was fantastic! She was so helpful, friendly, organized, and quick to respond to any questions or concerns that came up. The food was great! The cake was delicious! I would highly recommend Chez Vous for any event!
---
Reviewed on

3/08/2016
Erin S
I am not at all surprised this caterer has a 5 star review! They catered my mother in law's 70th birthday, my bridal shower and the brunch after my wedding (all at my mother and father in law's house) as well as my rehearsal dinner/welcome reception (at 9OFS in downtown Boston).... Read More These folks will absolutely, positively continue to be our family caterers without a doubt. Wonderful staff, easy to communicate with, delicious food, no issues with accommodating any dietary needs, the list goes on and on. Don't think twice about working with this caterer - you will not regret it. My only wish was that they were the exclusive caterer to my wedding venue then we could have used them for yet another event!
---
Reviewed on

10/14/2015
My daughter's recent wedding was made even more special by the service and food provided by Cuisine Chez Vous. From the moment my daughter booked them for the wedding, they were attentive, personable, and helpful. From our experiences with Nora, the owner, to our work with... Read More Laurie, the highly competent project manager for the day, there were no hitches, no problems, just great service at a very reasonable price. I highly recommend this company for its quality, attention to details, and amazing service.
---
Reviewed on

7/25/2015
Susan G
Walter and his team at Cuisine Chez Vous were the absolute catering DREAM team!! We got married in a pretty DIY venue and shopped around for a caterer that would be full service and ensure that all the details from the rentals, to the set-up, to the timeline were taken care of.... Read More Not only was the wedding day executed flawlessly with spectacular food for 200 people, but Walter made the wedding planning process easy. He was always available, and would double as a therapist during my more anxious moments. Down to the last detail, Walter and his staff are true professionals. My fiance and I and our entire families cannot thank the team at Cuisine Chez Vous for allowing us to relax and enjoy the wedding knowing that we were in good hands!
---
Reviewed on

7/23/2015
Alice K
Nobody did more to make our reception the amazing event it was than these guys. We knew from the tasting that the food would be amazing—and it was just as good serving 150 at the reception as serving 4 at the tasting, by the way. What I didn't realize was how attentive Anna and... Read More the team would be on the day of. The simple fact that, as the bride and groom, we got to sit down and eat a plate of hors d'oeuvres and have a drink between photos and the first dance, and that they found us later and brought us a plate of dinner, made the night for me. Seriously: you spend so long picking out the menu, and then most couples never even get the chance to eat at the reception! With Cuisine Chez Vous, never fear. You'll be in good hands. All this is apart from the incredible work they did in setting up the tables in chairs in an empty and pretty plain space at our venue to make it beautiful. We knew we didn't have to worry about any of the set up because it was in more than capable hands after they did a walk through with us at the venue. It was such a joy working with CCV, and I would (and will!) recommend them to everyone I know who is getting married. WOW!
---
Amazing cake from our caterer
Reviewed on

6/09/2015
Lydia P
I worked with Cuisine Chez Vous as my caterer for my wedding at the Lyman Estate on Friday. My side of the family (including me) has a major sweet tooth, and everyone LOVED the wedding cake (butter pecan!). I am enjoying eating the leftovers this week, and we also froze some for... Read More next year. They nailed the frosting decoration that I had selected as well.
---
Everything you want in a caterer
Reviewed on

11/09/2011
Julia P
These guys are a great service and a great value. Their food is delicious (and their wedding cake is one you will actually want to eat!), their staff creative and the service they provide truly makes the occasion. They worked with us through every detail of the day, recommended... Read More other good vendors for alcohol, and took charge of things in a way that let us really enjoy the day without worrying about the flow of events, or anything else. They worked brilliantly with our other vendors as well. I can't recommend them highly enough.
---
Highly recommended!
Reviewed on

9/28/2011
Amy M
Walter and the people at Cuisine Chez Vous were wonderful to work with! The staff was well organized, had a lot of great ideas, and communicated so well! When the water pipes burst on the day of my tasting, they called, re-called, and sent emails to let me know and re-schedule!... Read More The food was SO incredible, all of our guests raved about it and some said it was the best food they've ever had at a wedding! My MOH who is vegetarian said she was so pleased with the delicious vegetarian options, which never happens to her at parties. The staff really helped us to plan the day-of schedule and plan where everything would be during the wedding. The were so professional during the wedding, and when we had some timing setbacks, they were on top of everything. Very efficient and a joy to work with! I would use them again for an event in a heartbeat!
---
best caterer
Reviewed on

7/28/2011
Ashley L
This caterer was amazing! The food was delicious and looked wonderful. They take care of every little detail the day of the wedding so you don't have to worry about anything.
---
Excellent caterer
Reviewed on

1/01/2011
Ann B
Perfect wedding caterer. Was great to work with and kept us calm and focused. The food and service the day of the wedding was even better than we could have ever hoped! Walter and Nora are the best!
---