Home

Diane's Formal Affair
Details
Bridesmaid Dresses, Flower Girl Dresses, Mother of the Bride Dresses, Wedding Dresses, Dresses, Alterations, Fashion
Contact Info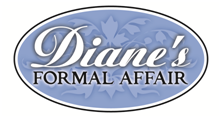 Reviewed on

9/24/2017
Kati M
I had a wonderful experience at Diane's. I made an appointment for a week day, so the salon was not too busy. The woman that helped me was amazing and never pressured me to go outside of the budget I had set. I also had my alterations done there as well and everything was... Read More perfect! I would recommend Diane's to all of my friends.
---
Reviewed on

7/25/2017
Traci R
I loved my dress from Diane's. My consultant Jane made wedding shopping easy and fun.
---
Reviewed on

7/20/2017
Kelsie P
I've been getting my dresses for special occasions from here since I was a 9th grader, and my wedding day was no different! Could not ask for better ladies or better prices!! Love dianes! And so glad I'm a dianes bride!!
---
Reviewed on

5/21/2017
Shannon W
I had the BEST time at this store. I had already gone to five or six other stores with no luck so I was beginning to worry. They spent more than my alloted appointment time with me and let me try on every style until I narrowed it down. My dress was everything I ever dreamed of... Read More and I wish I could wear it every day.
---
Reviewed on

5/19/2017
Hali B
Angela is the best consultant EVER! She takes her time, and is very patient with indecisive/picky brides like myself. She gives you 110% of her attention at all times. She listens and really takes into consideration what you like and what you are looking for in a dress. She... Read More went above and beyond to ensure I looked exactly like I wanted to look on my wedding day. The owner, Mrs. Diane, goes above and beyond as well to ensure every bride is happy in her shop. She really cares about others , and is extremely kind to all. Diane's also carries a variety sizes. It was nice to go somewhere and actually try on dresses in my size instead of just having to hold them up to my body and visualize what I would look like. I had a wonderful experience at Diane's!!!
---
Reviewed on

6/18/2016
Samantha P
Everyone was very helpful! I came in the first time with my mind set on a Stella York dress. Terrah helped me try on several other options but I loved the dress. I decided to think about it a little more and never once was I made to feel pressured or guilty about leaving empty... Read More handed. Terrah called me a week or so later to let me know that they were having a Stella York trunk show and offer me an appointment if I was interested. I made a second appointment and she was so patient and great about showing me different options and she really learned my style and knew what dresses would look good on my body. She helped pick out my dream dress and everyone was so helpful and helped me celebrate finding my dress! Such a great atmosphere and wonderful people! Thank you guys!!
---
Reviewed on

6/17/2016
Latoya D
I had an amazing experience with Susan and Molly in my quest for an untraditional wedding gown. They were professional and helpful. Highly recommended.
---
Reviewed on

6/01/2016
Parrish A
I cannot stress enough, you NEED to go shop for your wedding dress at Diane's! I first shopped at two other bridal boutiques in Birmingham, and never quite found anything that I could see myself getting married in. One store didn't even attempt to clip too-small dresses onto me... Read More so that I could envision myself in the dress. Diane's was a different story! The Bridal Store Manager, Susan made me feel comfortable from the first moment I met her, and then did her best to make every dress fit me - no matter if it was too big or too small. She was warm, attentive, and listened to what I was looking for - and picked dresses I loved. Diane herself also made sure to check in with every customer in the store and seemed to genuinely care that we all found something we loved. The selection at Diane's is better than any other store I saw, in both the amount of styles and the range of sizes. I bought the fourth dress I tried on and couldn't be happier! It was somehow what I wanted, but also completely unlike anything else I had looked at. It was a great experience, and now I can't wait to wear my dream dress on my wedding day!
---
Reviewed on

2/17/2016
Kristina R
Diane's Formal Affair is THE PLACE to go if you're looking to buy a wedding dress. Shannon was just great and was very responsive to me through phone calls and texts! There is a huge variety of dresses at the store, and everyone is super nice and goes over and above the call... Read More of duty. The dressing rooms were plenty big enough, and they give you as much or as little privacy as you need. The shop is very cute, glamorous, and has an old-fashioned feel to it! I wanted to add straps to my dress, and instead of just holding the straps up to me, they pinned them onto the dress so I could actually see what the overall effect would be. Overall, this was a very positive experience, and I left with my dream dress! Make an appointment, come to Diane's, and you won't be disappointed.
---
Reviewed on

7/01/2015
Kaitlin P
I would recommend Diane's to anyone looking for a wedding dress with a reasonable price tag! Diane's was the first place I went shopping for my dress. Appointments are typically only scheduled for 60-90 minutes, but I went on a week day morning and unknowingly spent nearly 3... Read More hours in there! I'm very indecisive and I never felt pushed or rushed during my appointment. They let you start out with 6 to 8 dresses to try on, and you can always pick more out if you want. My consultant, Janice (who is absolutely fantastic), offered to pick a couple out that she thought I would like based on my style. I can't say enough good things about the staff at Diane's, especially the help they provided getting me in and out of all of the dresses and the patience they had while I tried on over a dozen dresses.
---
Wonderful experience
Reviewed on

7/29/2014
Laura G
I purchased my dress and did alterations at Dianes. The ladies are fabulous to deal with, and so helpful. They stayed within my budget and helped me find the perfect dress.
---
Loved my dress... did not like the salespeople.
Reviewed on

7/21/2014
Karly P
First off I need to say that I LOVED my dress and was very happy that I chose it. BUT the day I went for my very first dress shopping experience was a disappointment. I had my mom and brother there for the special occasion and we were on time for the appointment. We chose 6... Read More dresses for me to try and it took a little while to weed through the inventory because all of the dresses are smashed together in a tiny room. When I started trying on dresses I didn't waste time in the ones I knew I didn't like. By the time I got into the third dress, the saleslady who was helping me said, "We need to speed this up honey... you're running out of time before my next appointment." Although I had maybe been there about 45 minutes and was never told that there was a time limit. I found THE DRESS and I bought it that day with the veil, but I spent the following months feeling like my special moment was ruined because I felt rushed to make a choice. When my dress came in I had to call the store to see if it was there... I never heard from them. I thought scheduling with the seamstress would be a nightmare because of her extremely limited hours of availability, but she was the most pleasant part of my wedding dress buying experience. If the other salesperson had the positive and sweet attitude of the seamstress, this review would have been 5 stars. Something to think about if you envision your wedding dress shopping to be a big and meaningful part of the wedding planning experience. I would suggest to go somewhere else.
---
Unique Bridal Selections and Helpful Staff
Reviewed on

5/23/2014
Sara Beth T
I was drawn to Diane's Formal Affair when shopping for my wedding dress because of the unique selection of beautiful gowns. Every dress I tried on was amazing on detail and quality, and it was a tough choice deciding on "the one." But the staff gave lots of helpful feedback... Read More and sizing options. I especially loved the in-shop seamstress!
---
Great Selection
Reviewed on

5/03/2014
Tiffany B
Diane's has a great selection of dresses for all body types. I was specifically looking for Watters dresses, and the consultants were great in assisting me. I had picked my gown in less than 30 minutes, and they helped in making it a relatively pain free process. It is a bit of... Read More a drive from Birmingham, and I felt like the customer service gradually wasn't as great as the day I purchased the dress when I went back for later fittings and to purchase accessories.
---
My Dress & Bridesmaids Dresses
Reviewed on

7/30/2013
Stephanie A
The staff at Diane's was very nice and really helpful. I never once felt rushed or just another customer. They really took the time to figure out what I was looking for.
---
Wonderful experience and service!
Reviewed on

7/01/2013
Candace H
I had a wonderful experience at Diane's. I drove with my mother on the 4 hour trip to Jasper, Alabama and it was well worth it. I already been to two other places much closer to home, but the selection and service me and my mother received at Diane's was just wonderful. My... Read More consultant Many was so helpful and sweet. I was not rushed to make a decision and I was able to retry dresses on. My mother loved the fact she could just sit back, relax, and watch me try on dresses unlike the previous bridal shops we had been to. I also felt the prices were very reasonable. I was able to get a gorgeous Justin Alexander right at the top of my budget. I am also getting my bridesmaid dresses from here!
---
Excellent service
Reviewed on

6/24/2013
Nadia P
The ladies here are very helpful and helped me find my perfect dress. they made it fun and relaxed without being pushy at all or like they were trying to upsell me. They shipped me my dress to California no problem and it arrived in great condition
---
Great selection
Reviewed on

6/05/2013
Morgan B
I had great service, and was able to find my dream dress here. There are so, so many dresses to choose from!
---
LOVED Dianes!
Reviewed on

4/06/2013
Laura P
I drove from Tuscaloosa to Jasper 3 times for my wedding dress and would recommend anyone to go there! They were beyond friendly and helpful! The first dress I tried on ended up being THE dress and if it wasn't for them I wouldn't have even tried it on. They went and pulled it... Read More from the back and said It was a mixture of the other dresses I liked but I didn't think I would like it and ended up loving it. They make my dress shopping EASY!
---
DRESS
Reviewed on

3/26/2013
Jessica P
I absolutely loved my dress! Everyone at the shop was very nice and helpful. I have recommended Diane's to everyone who I know is getting married. Prices are excellent compared to other dress shops!
---
Hidden Gem
Reviewed on

3/24/2013
Maria D
I read reviews on Diane's before visiting the shop, and they were very mixed. I had nothing but the best service! I live in Birmingham so it took me about 45 minutes to get there and it was well worth the drive. The staff was really friendly and they were able to work within my... Read More budget. Their seamstress was also wonderful. She was able to add straps to my dress which gave it an elegant look. I would recommend Diane's to any of my friends and family.
---
Amazing Experience
Reviewed on

3/16/2013
Brie F
I recently purchased my wedding dress from Diane's Formal Affair and I had a great experience. My consultant Susan was very honest and reassured me on my choice when my mom had a different idea of what I should wear. She made sure that I remembered that it was my day. They were... Read More also wonderful when it came to my one year old niece, they let her run and play and never once acted inconvenienced by her presence. Overall this shopping trip was much better than a previous visit to Davids Bridal.
---
Great service, beautiful dress!
Reviewed on

12/01/2012
Kim S
The sales associates at Diane's were helpful and friendly! They helped me find the perfect dress within my budget. I was able to buy my dress off the rack without need for any alterations!
---
Bride0915
Reviewed on

9/25/2012
Lauren M
I absolutely loved my dress experience at Diane's formal affair in Jasper. I got a beautfiul designer gown for a great price and Susan, my consultant, was wonderful!
---
Don't waste your time
Reviewed on

9/22/2012
Allison T
I was horrified by the awful service I received here. Sure, you can get your dress at a cheaper cost here, but you certainly sacrifice customer service. I had issues with the receptionist lying, the bridal assistant lying, and the incompetence of the seamstress. I would never... Read More recommend anyone go here. I was treated horribly.
---