Home

Echelon Florist
About this Vendor
When only the unique will do!
Echelon Florist has the experience and supplies to make your wedding flower experience complete. Being a full service florist, we have access to all the items needed for your special event, and at a cost that you can afford.
Details
Aisle Decorations, Centerpieces, Flower Girl Baskets, Pedestals, Plants, Vases, Chuppah, Wedding Arch, Wedding Decoration Delivery, Wedding Decoration Setup, Decorations + Accents, Flower Crowns, Hair Accessories, Bouquet Wraps, Bouquets, Boutonnieres, Corsages, Flower Alternatives, Flower Delivery + Setup, Flower Arrangements
Contact Info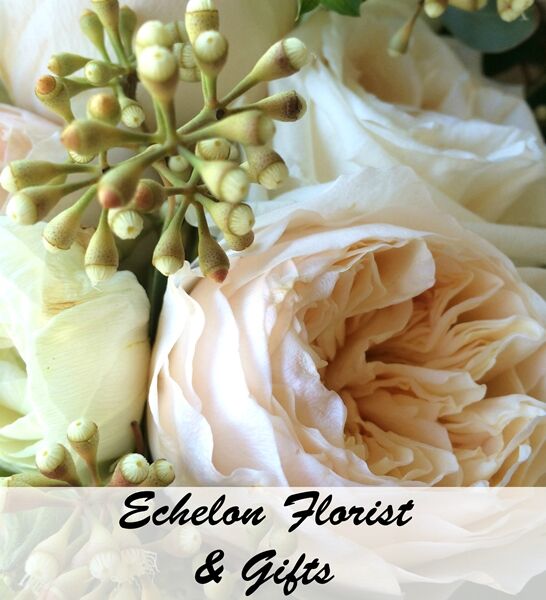 Stunning
Reviewed on

6/27/2013
Roxanne L
I have had a picture of the flowers I wanted for my wedding for the last 10 years...when you see what you want, you hold on to it. When I met with Matt and the staff at Echelon, they were able to see my vision and make it a reality. The flowers held, even out in the heat, and... Read More they were stunning next to the gowns. Everyone commented about the boutonnieres and how great they looked. I went with a "field flower" look for the reception to go with the more casual feeling outdoor reception. The flowers looked great in the pavilion and held up even two weeks later. Seeing my bouquet and finally realizing the dream of my special flowers helped bring the entire day together. I would highly recommend Echelon Florist to anyone wanting to ensure their vision for their special day is met and exceeded.
---
Echelon is awesome!
Reviewed on

6/05/2012
Bonnie C
I met with Echelon multiple times in preparation for my wedding and, each time, they were extremely courteous and accomadating. I met with about 6 florists before making a choice and Echelon was the only place they had real flowers to look at and they even put together a bouquet... Read More for me to see what it would look like! On the day of the wedding, my flowers were even better than I had imagined. It was a great experience and they did an awesome job, I would highly recommend them!
---
flowers
Reviewed on

1/26/2012
Alexa W
they were BEAUTIFL and just what i wanted!! great staff!
---
Reviewed on

10/25/2017
Megan B
Matt from Echelon Florist was an absolute dream to work with. We started looking at flowers extremely late in the game, and for the busiest wedding day of the year at that (UT bye week). We sat down and told Matt what we were looking for, and provided about a million different... Read More Pinterest pictures and he was able to create exactly what we were looking for. He knew the flowers, the different colors available, when they would be available, what they would cost, how long they would last (so we could use them for RD and wedding), what other flowers would complement them, and literally anything else we would ever want to know. We gave him our budget and he respected both our wishes and our limitations and everything was absolutely stunning. I cannot put into words how easy it was to work with him, and just how great everything looked!! My bouquet was picture perfect, and he included a toss bouquet for free- I am so glad he did that because my bouquet was huge... and heavy. We had quite the order with sprays for signs, centerpieces, ties for drapery, petals on the aisle, boutonnieres, corsages, backdrops, buffet decor, etc. and he put together and set everything up... I did not even see him on the big day! We even rented a couple of vases for smaller centerpieces for the cocktail hour, and at the end of the day they we loaded up and sent home with my family rather than the wedding planner to return a few days later. I called him after the honeymoon (12 days later) to let him know I had them, and that I would return them next time I was in town (a couple of months later), and he told me to take my time, he wasn't even worried about them. How refreshing!! Before we decided to go with Echelon we shopped around at at least 3 other florists in Knoxville. All three were dramatically higher in price, it took a lot longer to actually get the quote, and they just didn't seem as invested in our wedding as we were. They were an absolute pleasure to work with!
---
Reviewed on

7/16/2017
Chaylin D
Matt is AMAZING! I took in pictures off Pinterest and mixed and matched all kinds of flowers and pictures and told Matt I was a little confused! My bouquet was exactly what Visioned. I explained my overall idea to him and showed him center pieces and bouquets that I wanted to... Read More use and he came in with buckets of flowers played in by ear and literally created my vision. Matt also did my ceremony flowers. We had a bit of a delay with decor and readjustments do to weather, he stuck it out and still made it PERFECT! I highly recommend Echelon Florist!
---
Reviewed on

6/24/2017
Saraya S
Matt at Echelon did a great job in figuring out exactly what I wanted for my flowers. He broke it down very easily and we picked out each individual flower, and he even delivered them himself that morning. Highly recommend!
---
Reviewed on

10/20/2016
Rachel H
Matt with Echelon Florist is just wonderful! He met with me several times in the months before our wedding, as we were slow to figure out what we wanted. I asked for his expertise and gave him a general idea of our vision and limited budget. He was thoughtful and patient, and... Read More very clear what options were available to us. He delivered PERFECTION. My bouquet was breathtaking, and our decor was exactly what we wanted but were never able to put into words - thanks for understanding us, Matt!! I can't recommend them highly enough. Everything was delivered as promised, at a great value, and Matt was always very responsive to questions and requests. Any time we need flowers in the future, we will return to them.
---
Very personal and fun!
Reviewed on

11/04/2014
Ashton R
Our florist, Gary, was very detailed and took the time to get to know us as a couple, as well as exactly what we wanted for our wedding. He even took the time to bring us to a separate floral warehouse so that I could pick out, SPECIFICALLY, which individual flowers I wanted... Read More included in my bouquet. He was an all around fun guy to work with. Definitely would recommend his services!
---
Wonderful experience
Reviewed on

8/20/2014
Maggie D
There's not enough space or time to write a review worthy of how wonderful Echelon florists was! From the 1st meeting with them to my wedding day they were nothing but professional, fair and courteous! They gave me tips for meeting with other florists, such as breakdown of... Read More prices and what to ask for, how big a bouquet I would get,ect. They went above and beyond to drive to my venue and measure how much tulle I would need for the aisles, and on my wedding day drove all the way back to the store to supply me with last minute unexpected items. Everyone was polite and professional, but it was Gary who really impressed me with his knowledge, patience, and willingness to go above and beyond for me. My flowers were HANDS DOWN my favorite part of my wedding, and I am so grateful I chose them to help me with my wedding needs!
---
Beautiful flowers, Great experience
Reviewed on

6/19/2014
Madelyn C
We chose to work with Echelon Florist because our church recommended them (they do the altar flowers each week), and we couldn't have been happier with our choice. Matt did our altar flower arrangement, all of our bouquets, corsages, and boutonnieres, and got us bulk flowers so... Read More we could arrange our own reception centerpieces. The arrangements were truly spectacular. Everyone said they were the most beautiful wedding flowers they'd ever seen. Everything was delivered on time, in pristine condition, and Echelon even provided vases for transporting the bouquets. On top of all that, Echelon was the most affordable option we found for flower arrangements. This is a local, family-owned business that delivers the highest quality service for a very reasonable price. I highly, highly recommend them.
---
Laura is a jewel!
Reviewed on

8/20/2011
Ashley P
Laura at Echelon Florist did our flowers for my husband's and my recent wedding, and they were absolutely beautiful! Laura was so easy to work with, and she took my (very vague!) descriptions and produced bouquets and arrangements that were exactly what I wanted. We were able to... Read More get a lovely altar arrangement, 5 exquisite bouquets, and 4 boutonnieres for less than our $500 budget. The flowers were so fresh that they lasted for a week after the wedding, and everything perfectly coordinated with the bridesmaids' dresses and other details. I highly recommend Laura at Echelon Florist!
---
Echelon
Reviewed on

6/28/2011
Kristen V
My flowers turned out beautiful, I could not have been happier with the way they looked.
---
Echelon Florist
Reviewed on

11/21/2010
Mary J
Ask for Laura Smith. She is the owner and an award winning designer. She listened to all our ideas about the mood, color and flowers that we wanted. When our "ideal" was over our budget, she worked with us to select the perfect flowers that still met our expectations but were... Read More well within budget. It was a great experience.
---