Home

Eldivaz Bridal Fashions
Details
Bridesmaid Dresses, Flower Girl Dresses, Mother of the Bride Dresses, Wedding Dresses, Dresses, Custom Designs, Fashion
Contact Info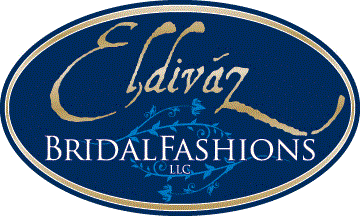 Reviewed on

11/07/2017
Lindsey S
I got my wedding dress at Eldivaz recently and had the most wonderful experience. The dresses are gorgeous and very reasonably priced. The owner, Ellie, was very knowledgable and had great suggestions! I got my veil and jewelry here as well and love it all! I also got my... Read More bridesmaid dresses here and it was so easy and the dresses were beautiful! I walked away with everything I could have wanted and more. I highly recommend for any bride and her bridesmaids!!!
---
Reviewed on

5/04/2016
Julie A
I'm not buying my dress from this salon because it's a little too expensive for my budget but I had an amazing experience with the owner of the shop. She made me feel so beautiful while trying on dresses and was very accommodating even though I set up an appointment the same day... Read More and very last minute. I literally called during my lunch break and asked if I could come and she said yes as well as giving me her undivided attention. There was also an amazing selection for such a small place. She has some really gorgeous dresses! Definitely worth setting up an appointment.
---
Mixed Feelings
Reviewed on

11/25/2014
SIMONA B
I purchased my dress, my veil, 5 bridesmaids dresses, 2 flower girls dresses, a mother of the bride dress and numerous undergarments for all of the money she made (over $4500) off of me and my entire bridal party, we weren't even offered any kind of a discount towards my dress,... Read More flower girl dresses (@$190 each dress, plus MOB dress @ over $500 or undergarments which she ordered the WRONG ones and had to fix her mistake). I was also supposed to receive complimentary piece of jewelry from a bridal show incentive, which she never bothered to offer me. After all the business I gave I left disappointed. Initially I was pleased with the owner's customer service, she was friendly and considerate and carries Maggie Sottero and Kenneth Winston--she claims she sells for less, but we ended up spending more money in the long run. As time went by, I grew less pleased with this salon, she is not organized at all, and doesn't communicate the way she should. I felt like I was the one having to remind her of what needed to be done, and as the wedding came closer, things got more stressful and unorganized. Another downfall of this salon is that the bridal accessories (veils, shoes, and better quality jewelry) are very limited (not much quality selection on hand) and if you wanted something you had to likely order from a picture in a catalog rather than seeing it in person. This is EXTREMELY inconvenient--we are not talking about just a night out, this is my WEDDING DAY and things should not have to be ordered from a magazine (NO REFUNDS if you don't like it when it arrives). On a positive note: Her seamstress Maria is excellent--her alterations fee is VERY REASONABLE compared to other salons, but if you choose to do business ELDIVAZ, please take the seamstress Mara's advice rather than any suggestions from the salon owner as she is only interested in adding money to her pockets rather than what is ultimately best for the customer. Eldivaz Bridal really needs to improve their business practices and become more familiar with how to run a BRIDAL SALON rather than just "winging it"....
---
Eldivaz Bridal Fashions
Reviewed on

2/17/2014
Meagan G
I got my dress last week from Eldivaz Bridal Fashions in Hartford. I had a great experience there. It was my first time trying on dresses so I was nervous and the owner was very friendly and helpful. I ended up getting a dress that she had suggested that I try on. It is a small... Read More shop and when I went I was the only bride there which is what I was hoping for. They had a good selection and I got a great deal on a great dress.
---
Eldivaz
Reviewed on

7/12/2013
Deena M
Elidvaz was such a cute family owned boutique and the staff makes you feel like your at home. You don't the get the feeling that you are just another number, and the owner is just too sweet. My dress was everything I dreamed of and they even custom made a veil for my special... Read More day. The only small complaint I would have is they can sometimes be a little hard to get a hold of by phone, and I think its becuase it is such a small shop and seems to be growing super fast! Other than that I would recommed checking it out!
---
I loved my dress!
Reviewed on

6/11/2013
Kristin M
I found a dress online and Eldivas was the only store in the state that had the dress available for me to try on! They offered the best price on the dress and were definitely on top of their game! The shop is very small but you get amazing customer service! The only complaint I... Read More had is that they contract with a seamstress from out of state who is great, but almost all of my fittings ran about an hour behind since they have to squeeze everyone in on selected days.
---
Exceptional Service
Reviewed on

12/26/2012
Amanda R
I bought my Maggie Sottero gown from here and I must say, for the the price and dedication it was amazing! I got a great deal and Ellie worked so well to make sure everything was done on time and ready to go. I had to transport my dress from CT to NY and she steamed it and... Read More packed it up for me so it was all ready to go!
---
Quality Service
Reviewed on

10/04/2010
Jenna D
Prior to purchasing my wedding dress I did a lot of research online. I found a Maggie Sottero dress that I fell in love with and Eldivaz was one of the dress shops in the area that had it. I went to a few places prior to visiting Eldivas (Mariella Creations, Marie... Read More Antoinette's, etc.) and while they had beautiful shops, Eldivas had the largest selection of ball gowns (what I was looking for) that I had seen to date! I tried on a TON of dresses while I was at my first appointment. Ellie (the owner) is the sweetest lady and really knows her stuff! Eldivaz has not been around as long as some of the other bridal shops in CT and the actual shop isn't as nice as the others, but the dress stock and service that I received were just as good, if not better than the others. I highly recommend this shop and don't regret my choosing them for one second!! :) My dress alterations were fabulous and my dress fit me like a glove on the day of my wedding. I had ZERO problems with this place and received so many compliments on my dress, veil, etc. at my wedding!
---