Home

Freedom Bakery & Confections
About this Vendor
Quality Design, Taste & Service !
Founded in 1975, Freedom Bakery & Confections is a 2nd generation owned and operated cake specialty shop. From the classic to the modern, we're here to help you create the cake of your dreams. Cupcakes and dessert bars also available. Tastings available in Monterey & Watsonville.
Details
Cake Accessories, Cake Delivery + Setup, Cake Tastings, Cakes + Desserts
Contact Info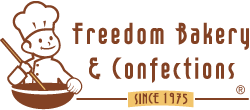 309 Webster, MONTEREY, CA
Delicious and Beautiful
Reviewed on

11/21/2014
Michelle H
Our wedding cake was absolutely delicious. It was moist, flavorful, just dense enough and we received so many compliments from our guests. We also loved working with Paul - he was super professional and overall a really nice person. We would highly recommend Freedom Bakery to anyone looking for a cake for their wedding or any other special occasion.
---
Cake of My Dreams
Reviewed on

12/05/2014
Melissa R
I originally choose Freedom Bakery because it was a preferred vendor from our hotel. I am so glad we did. When it came to the wedding we knew almost exactly how we wanted everything too look.. except for the cake. Paul was patient and able to weed through our vague ideas and wedding theme to create our perfect wedding cake. He worked out fall theme and personalized cake topper in seamlessly. It was colorful, elegant and tasted amazing! I may be biased 'cause it was my cake... but it was the best tasting wedding cake I have ever eaten or had shoved in my face. I would definitely recommend Freedom Bakery. Between the amazing customer service and the ending product. You can't go wrong.
---
Fantastic Monterey Bakery!
Reviewed on

11/22/2014
Jenifer J
We can't say thank you enough! Paul Liu and his staff at Freedom Bakery & Confections were amazing! They designed a King Cake for our rehearsal dinner, a wonderful Groom's Cake, and of course our wedding cake. The weekend was perfect and the cakes were fantastic! Our guests are still talking about how not only did they look good but they also tasted amazing! It was awesome that Paul had never made a king cake before but was able/willing to try something he had never done! With my husband and his family being from New Orleans, it was a great addition to our rehearsal dinner. The King Cake was great, and enjoyed by all. We received so many compliments on all of the cakes! Freedom bakery was a great company to work with and Paul is awesome! I work as a medical resident and my hours are somewhat difficult to work around. Between that and the time difference where we live, Paul was very flexible as far as finding a time to talk outside the normal work hours for planning calls and what not. We would highly recommend them as a vendor for anyone looking for an amazing bakery in the area. Thanks again for helping to make our big day so special! Jenifer & Beau
---
Wedding cake
Reviewed on

7/25/2015
Liza
Freedom was a pleasure to work with. They were very responsive and were willing to work with us to incorporate our unique cake toppers and create the cake that we wanted. The cake looked beautiful, and our guests devoured it! We wish we had ordered more of it!
---
Beautiful and Delicious Wedding Cake from Freedom Bakery
Reviewed on

7/21/2015
Alyssa B
Our cake from Freedom Bakery was amazing! We wanted something simple but classy and of course delicious. We got all of the above. Our cake tasting was very easy to schedule and fun to do. We got a three layer cake, no decorations or topper - we decorated with fresh flowers at the venue. We had alternating layers of chocolate and white cake with amaretto and raspberry preserve filling. It was absolutely delicious - moist, soft, great buttercream frosting, simple design with small frosting bulbs around the base of each layer. Freedom delivered the cake to our venue, we didn't have to worry about it at all. Thank you Freedom Bakery for making our day very special!
---
Finally, the wedding cake I wanted!
Reviewed on

7/20/2015
Katie G
After checking out multiple bakeries in the Monterey Bay area that I felt were disappointing, I had resigned myself to the fact that I just wouldn't get the wedding cake I really wanted. Then, almost as an afterthought, my wedding planner sent me to Freedom Bakery, since she had started to see a lot of brides getting their cakes from there. I met with Paul soon after, and had an absolutely phenomenal cake tasting. After trying a lot of boring and not very tasty cakes at other bakeries, I was astounded that every cake flavor I tried was better than the next at Freedom Bakery. In the end I went with a combination of mango white cake and boston cream cake, which was delicious on the day of the wedding. All my wedding guests gave great feedback about it. The way the cake was decorated was less important to me, but Paul did a wonderful job with the simple buttercream three tier-cake adorned with flowers that I requested. Paul was so professional and really knew exactly what I was looking for. He was easy to work with and delivered a fantastic product. Book your wedding cake with Paul at Freedom Bakery with confidence!!
---
Wedding Cake (Boston Cream)
Reviewed on

7/07/2015
The cake was fantastic. I was 100% satisfied with everything. I am a huge chocolate fan and never imagined having anything but chocolate cake for my wedding. But when I tried the boston cream cake I couldn't believe how good it was and had to go with it. I had a 3 layer cake so one layer was chocolate but the boston cream was the main part. Both were delicious and the design was amazing. Paul, the cake designer was very nice and made picking out the cake an easy decision. I highly recommend Freedom Bakery for anyone looking for a great cake and great service.
---
May 30, 2015
Reviewed on

6/30/2015
Sheri T
We chose FBC to prepare our wedding cake. The staff was excellent! They answered all of our questions and worked with us to select a design for our cake that we loved and that fit our budget as well. We completely changed our flavor selection after our cake tasting. They have some great flavors! We received many compliments at our wedding. Our guests especially liked the chocolate cake with raspberry and amaretto filing. Very unique and so delicious. They did a great job. Our cake was beautiful and yummy.
---
Perfect Wedding Cake
Reviewed on

6/23/2015
Freedom Bakery & Confections made us the most beautiful wedding cake. It was exactly what was asked for: elegant, simple, and gorgeous. And the real kicker? It tasted fantastic! We received so many compliments on it, it was such a success. Paul was helpful and pragmatic, and I couldn't have been happier. Would absolutely recommend!
---
Best wedding cake
Reviewed on

6/23/2015
Kim B
We used Freedom Bakery for our wedding cake in June and it was unbelievable. Not only was the cake moist and flavorful, but it was beautiful. Our guests raved about it and not 1 piece was left at the end of the night. We had to have our coordinator save us a piece ahead of time to ensure my husband and I got some. We ate it the next morning and couldn't believe just how amazing it was. I highly recommend Freedom Bakery not only for their superior quality, but also for their great customer service and ease to work with. You won't be disappointed.
---
The Best of the Best!
Reviewed on

6/20/2015
Austin C
Paul and his team at Freedom Bakery were amazing throughout our entire wedding process and took special care when making our custom dessert bar. With the desserts we wanted, Paul made sure to make exactly what we had envisioned. They were not only beautiful but the taste was phenomenal! Thank you Freedom Bakery for everything you did to make our dream dessert bar and wedding cake!
---
Amazing all around
Reviewed on

6/10/2015
Bonnie S
We tasted at many places, even after trying Freedom, and we went back to them because their cakes were so good and the folks there were super friendly. I printed a picture of a cake design that I loved and it turned out even better than the picture. We got many comments from our wedding guests that the cake was really good!
---
Reviewed on

5/07/2015
Meaghan K
We got our wedding cake from Freedom Bakery and it was absolutely perfect! Our wedding cake was beautiful! We were married at The Perry House and Freedom Bakery came highly recommended. Our tasting was done within 2 days of contacting them. Everything was so easy and the cakes were delicious! Our guests loved our cake. We had the pistachio filling on one tier and the mango on another tier and I couldn't decide which one was better because they were both so good. I would highly recommend Freedom Bakery & Confections for any wedding cake or for any other occasion!
---
Best Cake!
Reviewed on

4/06/2015
My husband and I ordered a 3 tier Red Velvet cake from here. This cake was AMAZING!!! Not only were the people so easy to work with, but I also got to choose exactly how I wanted it. I initially wanted miniature personalized cakes, but Paul had suggested otherwise and I resepcted his honest opinion. I would definitely recommend them for not just a wedding cake, but a cake for any occasion! Let's just say that my husband and parents often bring up about how delicious the cake was. We'll have to order another one for the next occasion!
---
Great cakes!
Reviewed on

3/24/2015
Kylie R
I really liked the quality of our wedding cake. It tasted delicious and they have a variety of flavors. Paul was very friendly and accommodating, and the service was perfect! I totally reccomend them.
---
August Wedding 2014
Reviewed on

1/16/2015
elizabeth m
Loved the cake, the flavors were amazing.
---
Amazing Cakes!
Reviewed on

12/05/2014
Rachel T
This cake was amazing! We went to a few different places in Monterey to do our tastings and we were trying to decide between the two. Freedom just opened another location in Monterey that was our second place to taste. Although the look of their office there isn't the best, don't let that make your decision. I loved that they had different kinds rather than your regular chocolate, vanilla, red velvet etc. We ended up getting lemon raspberry for 3 tiers and mango for the 3rd. Mango sounds different, and it was.. but it was SO GOOD. My fiance was the one who insisted we get it. Paul was great too. He knew a lot about all the cakes and didn't push you on anything. He also had a great display book with past cakes that they had done which helped a lot. Although i already knew the look i wanted, it helped seeing that they had done one just like i had in mind. All around, they are great and not too expensive. Their prices were very reasonable! Loved them and would recommend them for sure!
---
Delicious cupcakes & knowledgeable staff
Reviewed on

11/18/2014
Freedom Bakery & Confections made beautiful, delicious cupcakes for our wedding ceremony. Working with them was a delight! All the staff was knowledgeable, helpful and responsive through out the entire planning process. Best cupcakes in the Monterey Bay area!
---
Fantastic cake & experience
Reviewed on

11/18/2014
Victoria T
Freedom Bakery was one of the suggested vendors from our venue, the Holman Ranch. Paul was fantastic from the get go - he's super responsive, all of the information you need is right online on their website, and he actually helped me solve a major design dilemma! My parents in law brought a traditional fruit cake over from Australia, so we ended up with 2 cakes. Paul came up with the idea to have bunting between and behind the cakes and arranged both of them for us when he delivered the cake we ordered from him - it looked great and I couldn't have been happier! Paul not only came up with the idea, but helped me by following up along the way to make sure that all of the pieces he needed to make the design work would be in place. Also, the cake he made for us was SO GOOD. I can't wait for our anniversary to eat the top layer!
---
BEST Cake I've Had
Reviewed on

11/01/2014
Teresa D
I loved working with Freedom Bakery. When we were shopping around for wedding cake, there was absolutely no question that Freedom was the best choice. When going through the planning process, correspondence and payment was so easy. They were also very flexible in downsizing my cake when we found out our guest estimate was initially too high. Now about the cake - all the flavors were perfectly balanced, the cake was so moist, and the style and decorations matched our style perfectly. Our guests raved about our cake, and I can't wait to dive into our anniversary tier. Thanks, Paul for your excellent service and quality cake! I highly recommend your bakery to all.
---
Great Cake & Easy to work with!
Reviewed on

10/15/2014
Paige E
After trying several bakeries in the Santa Cruz area, my husband and I landed on Freedom Bakery & Confections. They were a bit off the beaten path out in Watsonville but I'm glad we made the trip. Other well known bakeries in the area just didn't seem to care about us as customers. Paul and his team are very knowledgeable and certainly know what they're doing. His shop is cute and the portfolio of options available is endless! I was most impressed with the various designs available. And when we got down to the actual cake and tasting, his cakes were a stand out. We went with a non-traditional red velvet. It was so good that during our cake cutting and feeding at the wedding we had to have a second bite before sitting down to enjoy a full slice, each! Paul is professional, prompt, and attentive to your needs. They'll even let you rent the cake stand/base if you don't want to purchase one. I can't wait to go back to Paul to have him make our anniversary cake for our one year!
---
Loved them!!! Highly recommend!
Reviewed on

10/02/2014
Katrina L
Freedom Bakery did such an amazing job on our wedding cake. Growing up in Watsonville, everyone always got their cakes from Freedom bakery but I never knew the extent of their fine work. My sister used them for her wedding cake and highly recommended them so we set up our cake tasting appointment. First of all, the flavors were out of this world, they were all delicious but my husband and I fell in love with the Boston Cream, Classic White Cake filled with Bavarian Cream and Chocolate Ganache.... AMAZING! I had picked a cake style that looked Vintage chic and not only did they match the buttercream cake color to the blush color that matched the wedding colors, but I sent them a picture of my wedding dress and Paul incorporated the detail of the lace on my dress to match on the cake, with rhinestones and all! It was gorgeous! I can't help smile every time I look at pictures of our cake, it was simply beautiful. I received sooo many compliments on the cake that evening and many after on how beautiful it was but ESPECIALLY on how tasty and delicious it was. Everyone kept asking who made the cake! I am beyond happy that Paul and Freedom Bakery were able to create my dream wedding cake, it was perfect and everything I had imagined! HIGHLY RECOMMEND!! You will not be disappointed! Thanks again Freedom Bakery and Paul!!!
---
YUM - it was worth it!
Reviewed on

9/05/2014
elizabeth j
Our cake was SOOO tasty! We were on a budget and Freedom was priced right in the middle of all the cake places , but they treated us like we were paying top dollar! We didn't have to sit down and do that whole cake tasting thing. We picked up samples and got to taste them o our own time which works REALLY well for us as we are from out of town. (They DO do those fancy sit down tastings also!) I had a problem with my cake topper and Paul really helped me decide not to use mine (it was huge and I had a tiny 60 person cake). He helped me with a solution at the last minute! The lemon raspberry cake we had was so good my husband still talks about it. They are fantastic.
---
Fabulous Bakery!
Reviewed on

9/04/2014
Jennifer R
Freedom Confections and Bakery made my wedding cake this summer. We met with Paul for a tasting and he was very friendly and accommodating. It was very clear that he was a professional and had been in the business for many years! All of the cake we tasted was delicious. We went with a red velvet cake. I chose a custom design and Freedom Confections and Bakery replicated the design perfectly and made a stunning cake. The price was very reasonable. I highly recommend their company!
---
Our Delicious Wedding Cake
Reviewed on

8/31/2014
Natalie V
From the sample bite we took at the Monterey Bridal showcase, we were hooked! The cake was Delicious! Paul was wonderful to work with and the entire process was stress less. I was very excited about the cake topper that I was getting custom made and Freedom Bakery was able to compliment it and make the cake look magical. It looked Great, It tasted Delicious! I could not ask for me. I would recommend and use Freedom Bakery again in a heart beat. Delicious & Beautiful! Thank you!!!
---
Meet The Owner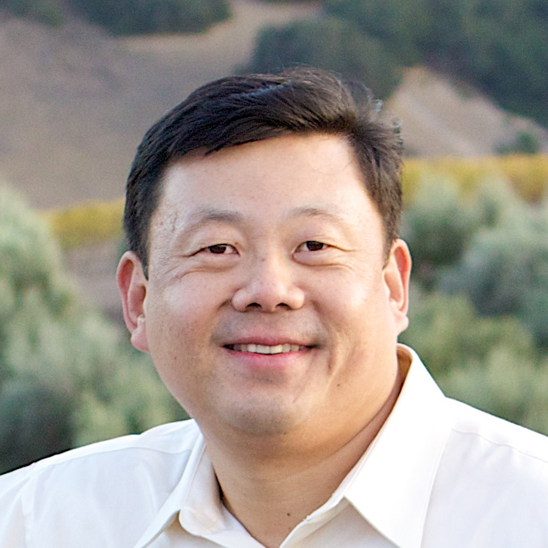 Paul Liu
My family has owned Freedom Bakery & Confections since 1975, and I'm proud to be the only person who has held every job in our shop...dish washing duties included :-) I worked as a CPA for a few years after college, but I continued to help often on weekends because it was enjoyable. I returned full time in 2003. I've been decorating cakes since the early '80s and have worked and decorated through the wedding cake evolution, so I'm able to help you sort through the myriad of options available today. Congratulations on your engagement! My team and I look forward to working with you!
Send Message