Home

Garden of Eden Florist Inc.
Details
Centerpieces, Bouquets, Flower Arrangements
Contact Info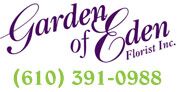 2047 PA Rt. 309, Allentown, PA
Just so-so
Reviewed on

11/17/2010
Megan T
Went here because they were going to give me the best price for my flowers. We had an extensive consultation with Kandace relaying EXACTLY what I wanted along with photos. My flowers were NOTHING like they were supposed to be and when I called the following day to express my... Read More disappointment they were not very helpful or apologetic. I guess it was partially my fault for not having her write down every single detail in the contract but when she said that they ALWAYS add rhinestones etc to the bridal bouquet I didn't think it would be an issue. Flowers did not play a very big part in my wedding at all so it wasn't that big of a deal. But when your paying hundreds of dollars for one bouquet ya kinda hope your money is worth it. Definately not worth it in this case.
---
Beautiful flowers.
Reviewed on

10/04/2010
Katie D
Our wedding flowers were beautiful. They did a fabulous job with our flowers and enhanced the ceremony and reception beautifully. They handled every deatil. Highly recommended!!
---
Beautiful Flowers!
Reviewed on

9/12/2010
Jana S
We used Garden of Eden to do our wedding flowers in May 2010. Everything came out even better then expected. The staff is super friendly as well!
---
Garden of Eden
Reviewed on

9/08/2010
Katrina M
My bouquet was pretty, but some of the smaller flowers were falling off the bouquet and weren't in the the best shape nor were the boys corsages. I also felt like paying $15 for one simple white orchid for each of the groomsman was a bit much. Overall though, the bouquet... Read More was nice enough, just not quite up to par or what I had envisioned.
---
Beautiful Flowers
Reviewed on

8/09/2010
Michelle s
The staff at Garden of Eden were very impressive at the time of ordering the flowers. I felt very confident in having them as my vendor. However, on the wedding day I was disappointed. They flowers were nice, but not what I had asked for. My arrangement fell apart during the... Read More ceremony. When I informed them on my concerns I did not get anything in return from them. Not even an apology.
---
Excellent work!
Reviewed on

8/09/2010
Katherine M
Kandice and the rest of the staff at Garden of Eden did an excellent job of working around any constraints I needed--we changed the time of delivery twice, and they were still early dropping all our bouquets and boutonnieres off! There were some areas where I didn't ask for... Read More very specific things--parent and grandparent boutonnieres and corsages, for one--and the results were still perfect. One of the major benefits for us was that Garden of Eden gives a military discount, and they were the only florist I spoke with that did. The ONLY reason this review isn't five stars is because my bouquet was somewhat smaller than I expected; however, that may be partially my own fault, as I might not have communicated the sort of size I was going for. Other than that, Garden of Eden was great to work with, and I would highly recommend them to anyone!
---
Review for Garden of Eden Flowers
Reviewed on

5/10/2010
Elicia B
For a bride who knows very little about flowers she was easy to work with and made decision making easier. Walked through the process step by step providing ample suggestions and samples to help make choosing flowers easier. Very knowledgeable and honest about which... Read More flowers were going to stand up better or which options were more cost efficient. Truly listened to what the bride wanted rather than trying to tell her what she wanted.
---