Home

Giorgenti Custom Men's Wedding Clothing
About this Vendor
25+ Years of Dressing Long Island's Grooms
Let Giorgenti Weddings' talented in-house design team help you create a custom wedding suit or tuxedo that is uniquely yours. Modern Custom Suits and Tuxedos for your Wedding Theme At Giorgenti Weddings, we believe that your special day deserves a truly unique look. We offer the unique ability to custom create any desired design or look, using any color variation and drawing from our deep array of custom suit and tuxedo style and fabrics. Have a wedding theme, destination wedding, or cultural-themed wedding? We can custom design your ensemble to match the occasion. We offer the same for wedding parties (best man, groomsmen, Father of the bride/groom, ring bearers, etc). Get the "Cool" Vibe from our Fashion-Forward Design Team.
Details
Custom Designs, Fashion Services, Bow Ties, Cummerbunds, Shoes, Ties, Tuxedos + Suits, Vests, Menswear, Fashion
Reviewed on

2/12/2018
Jennifer R
Working with Janine was an absolute blast! Everything fit perfect! Thank you Janine for helping make my husband look like a true prince charming!
---
Reviewed on

2/03/2018
Basma K
If you want clothing that's going to blow you away, Giorgenti is where you need to go. After looking around for a ready made tuxedo for months and not finding anything I liked, I decided to go the bespoke route. Giorgenti custom clothing is the only business in the area that... Read More looks like it takes bespoke clothing seriously. My consultation was thorough, but quick, and also fun. I chose every aspect of my tuxedo and Alejandro and Janine gave me great advice for everything. What's more, both Alejandro and Janine never pushed for "traditional" designs. I got to design my dream tuxedo without any features that were outdated and deemed necessary but most manufacturers. A month later I went in for my fitting and I tried on the best looking clothing I've ever worn in my life. I've never worn anything that fit me so well. The suit was matriculatly made, and the material was beautiful. I'm extremely satisfied with my tuxedo and I will definitely be coming back, as well as recommend Giorgenti to everyone I know.
---
Reviewed on

1/25/2018
Jaci C
A man in a Giorgenti suit is exactly what a woman wants.
---
Reviewed on

1/25/2018
Jordan K
Janine Giorgenti custom designed a beautiful 3 piece tuxedo, shirt & pocket square with matching tie for my wedding last month. She is the consummate professional in every sense of the word. Her attention to every detail sets her apart from any other suit maker with whom I have... Read More done business. If success is your game, Giorgenti is the name!
---
Reviewed on

1/25/2018
Chuck R
Janine has a magical touch. She understands what I like and applies her fashion sense to merge my preferences and her impeccable taste. Janine is a lovely lady who is a pleasure to work with. If you are like me and insist on top of the line quality and caring personal... Read More service.you will have a positive experience with Janine.
---
Reviewed on

1/25/2018
Usama S
Janine has custom clothing down to an art. A friend recommended her to me and I am glad I made the trip. More orders are coming your way. Keep up the good work!
---
Reviewed on

1/25/2018
Nick S
My experience working with Janine has been nothing short of professional, collaborative and fun. I have referred to many of my friends and will continue to do so. Janine is wonderful!
---
Reviewed on

1/18/2018
Jeanette D
If you are looking for a beautiful custom suit of your dreams…look no further and RUN to Giorgenti! Janine and Alejandro are incredibly knowledgeable, fashion forward, and friendly. I brought in a photo of a white linen suit as inspiration and we had so much fun going through... Read More all of the samples of fabrics, buttons and stitching. A few weeks later we came back to try on the final product and WOW. The quality was impeccable and Janine is an expert measurer! I was more excited about my husbands suit than my own wedding dress! There is no surprise Janine Giorgenti gets all 5 Star reviews…she truly is the BEST!
---
Reviewed on

1/11/2018
Michael S
Amazing experience!!!! Janine Giorgenti is an expert in her craft! My wife and I had so much fun designing and creating my tuxedo for our wedding. Janine and Alejandro are the perfect team, they make you feel like family from the second you walk into their office. People are... Read More still asking me where I got my tuxedo from, it fit me perfectly, every detail was amazing. We loved my tuxedo so much, my wife decided to suprise me for Christmas and created a beautiful custom Giorgenti sports coat. The coat is perfect, from the fit, to once again every single detail. Thank you Giorgenti for the amazing experience and cannot wait to work with you both again!!!
---
Reviewed on

1/10/2018
Carlos F
BEST EXPERIENCE EVER!!! Like most typical males I despise anything that has to do with shopping or looking for clothes but Janine Giorgenti made my custom clothing experience fun and exciting! She has an endless assortment of fabrics to choose from. I would highly recommend... Read More Janine Giorgenti to anyone wanting to look their best on their wedding day!
---
Reviewed on

1/06/2018
Cynthia M
Not just an amazing experience but fun too!! Janine Giorgenti and her design team were extremely helpful, knowledgeable and friendly. My husbands wedding suit was exactly what we wanted. It fits perfectly and is wonderful quality. It was a true pleasure doing business with... Read More Giorgenti!
---
Reviewed on

1/06/2018
Elmo A
Giorgenti's is highly recommended. I googled custom suits and their company came up with over 160 reviews with all five starts. That itself made me contact them. I wanted a custom suit for my wedding. so I scheduled an appointment and went in for my measurements almost 2... Read More months ago. Came in today to try on my suit and I was amazed on how perfect the suit was. It fit perfectly. All my groomsmen will be getting their suits from here. Thank you Giorgenti's.
---
Reviewed on

1/02/2018
Giorgenti made me look sharp. This was my first custom tuxedo and I am so pleased with the fit and the fabric. The detail that was put into my fitting was amazing and I will continue to use Giorgenti for future custom clothes.
---
Reviewed on

12/30/2017
Robert R
wonderful service and couldn't have been happier with the fit and design for my wedding suit. Professional from start to finish and everything was perfect the 1st time, no alterations needed.
---
Reviewed on

12/30/2017
Thomas A
I am a very specific body type that always has trouble finding a suit that fits me exactly how I want. For my wedding I decided I am not settling with "close enough". I found Janine Giorgenti online and decided to give my first custom suit experience a try. She was professional,... Read More responsive, and very personable which made it easy to choose them. It also helped that they were able to give me the exact look I wanted. The best part was the look on my wife's face when she saw the suit for the first time. I would highly recommend Janine and her team to anyone looking for custom suits for your special day.
---
Reviewed on

12/28/2017
Lawrence I
Giorgenti provided an amazing service for us and style at an amazing value! Their team has the highest quality clothing I've ever had.
---
Reviewed on

12/28/2017
Josh S
Amazing experience! Loved the custom clothes, best I ever had!
---
Reviewed on

12/03/2017
Ariana C
My fiancé just picked up his tuxedo for our Wedding in December, and we are in LOVE with Janine's craftsmanship. Janine and Alejandro were amazingly patient and fun to work with. They helped us custom design exactly what he we envisioned. Every detail is perfect. If your... Read More husband to be is looking for something unique and distinct for his Wedding, Giorgenti is your best option!
---
Meet The Owner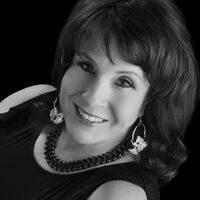 Janine Giorgenti
Janine is a world renowned stylist and has been the choice of Long Island's most demanding grooms for over a quarter of a century. Janine's expertise in dressing men for big occasions, backed by her expertise in working with a client's unique physical characteristics, makes her the choice for your big day. Having been one of 7th Avenues greatest designers, Janine and her team of young and talented designers are now bringing that expertise to grooms and groomsmen, with style that no other can match! We are trained to cut slim, skinny, and classic to fit any body type!