Home

Gold Label Cleaners & Restoration Labs
About this Vendor
Wedding Gown Specialist (Cleaning,Alter,Preserve)
Gold Label Cleaners & Restoration Labs is Colorado's only Certified Wedding Gown Specialist and Certified Garment Care Professional. As an organic and fine garment care expert for over 27 years, we provide long-term and lasting gown protection. If you are looking to Press, Clean, Alter, Repair, Re-Design, Restore, or Preserve your gown - we would love to take care of you. Call for a consultation appointment. Located in the Denver Tech Center
Details
Alterations, Dry Cleaning + Preservation, Fashion Services, Fashion



Contact Info

Reviewed on

5/23/2016
Chelsea N
My experience with Sunny was fantastic. I decided that for my reception I wanted to wear my mom's wedding dress. The only problem with that was my mom was 2 sizes smaller than me when she got married! Sunny worked what I thought was the impossible with such ease and confidence I... Read More knew that my precious heirloom was in good hands. She worked with me in a timely fashion which I appreciated due to my own hectic schedule. My wedding is in July and I cannot wait to wear the beautiful creation that Sunny has made. I highly recommend her for the quality service and professionalism that she provides.
---
Made Sample Sale Dress Look New
Reviewed on

3/11/2015
Liz G
I bought my dress as a sample, so it was pretty dingy, dirty, and torn. Sunny (owner) said it was some of the most delicate lace she had ever seen. Although it took several weeks (lots of work to do!) my dress looks STUNNING now! It looks new again. Not only did she do a... Read More fantastic job cleaning such a delicate dress, she also fixed all the torn lace for me, which was never part of the deal! It was such a nice added bonus for her repair the ripped areas. A huge thank-you to Gold Label and to Sunny! They went above and beyond.
---
1940's dress reastoration
Reviewed on

1/27/2014
Sara V
SO my grandmothers dress is embroidered satin with a high see through lace neck and 3/4 length sleeves and actually coming back into style. I've always admired it. A few years ago my mother called to tell me that my grandmothers basement had flooded and she found the dress in... Read More the flood in a black trash bag. I was told it had holes, red marks, black marks and mold. I was so upset that I couldn't talk to my mother for 3 months. Eventually I still asked for the dress. I didn't have the heart to even look at it. I ended up buying a new dress for my wedding. A year after my wedding I finally had the courage to take here to see if it could even be saved. She not only saw my vision but saw how well the original quality was. The dress had a paneled train. So she had me sign a contract stating that she would use the last panel to patch up all of the holes. She told me it would take around a year to complete and would cost as much as it would be to buy a brand new dress. I asked if I could break up the payments in half and she said that would be fine. After a year we met and she showed me the dress. She told me how she had to redo it because she wanted the embroidery to match perfectly (and there was lots of embroidery) She showed me the train, which was now a little shorter due to using one of the panels, but I couldn't even tell it was shorter! She was able to get out ALL of the red and black stains. It was amazing. My grandmothers dress can now be worn! She did ask to keep it because she wanted to clean it again to try and get out some of the yellow spots from the dress being old. The work was so intricate on this dress, it was great not to have a time limit on the project. Now we will have this beautiful dress back in the family and maybe someone will wear it again. Thanks for seeing my vision and for knowing that this 1940's dress was worth saving. I'll be taking my own wedding dress here to be cleaned and preserved.
---
Reviewed on

4/10/2018
Cassandra C
Sunny is amazing! She has such attention to detail and her work is immaculate. When I first bought my dress I wasn't in love with it, but after Sunny finished with it I am actually excited to wear it! I would highly recommend any bride having their dress altered by her!
---
Reviewed on

4/07/2018
Lindsey C
Sunny is AMAZING!!! I am so so so very pleased with the work she (and her team) have done with my wedding dress. I went in today for a second fitting and she had cleaned the dress and the alterations were perfect! For the first time I got teary eyed standing in the mirror. My... Read More dress was a bit too long in the shoes I had originally picked and instead of hemming the dress which would have been a money maker for Sunny she recommended I get a slightly higher heeled shoe to save me some money! I really appreciated her professionalism when it came to hemming the dress, she could have just insisted on the hem work but instead saved me lots of money! I would recommend everyone to use Sunny for your wedding dress alterations - she knows what she's doing and she is lovely to work with! Yay Gold Label Cleaners, you guys rock!!!
---
Reviewed on

2/21/2018
Jade E
After looking around, Gold Label Cleaners looked like the best option for what I wanted: dependable, cleaning and preservation. I am so glad I went to Sunny! It was pricey, but so worth it! I'm pretty sure my dress is cleaner and brighter AFTER the wedding than it was before.... Read More So, that's saying something. Keep in mind, it took about 4 months for the whole cleaning and preservation to happen. If you're on a time crunch, just let Sunny know. I'm sure she'll be able to work with you! She's so kind and honest with their process.
---
Reviewed on

12/28/2017
Sunny did a wonderful job on my dress.. I originally bought it as a sample off the floor and it was a few sizes too big, but she worked miracles and it fits just perfect!! I can't wait to wear it!!!
---
Reviewed on

9/20/2017
Victoria C
I bought my dress off the floor of a bridal shop. The style had been discontinued and it was the last one they had. The seams were torn, there were stains in the dress along the train and there were some details I wish could be changed. Sunny at Gold Label Cleaners turned a... Read More mess of a dress into a gorgeous gown. The dress was handwashed silk and needed extra love. The dress turned out absolutely beautiful and I am so thankful that Sunny made it possible!
---
Reviewed on

9/07/2017
Sarah P
Sunny made me feel so at ease about the whole process of having my wedding dress altered. She asked me what I wanted changed, but then she also made suggestions I hadn't thought about. Plus, everything came out costing lower than what I had originally estimated! I would... Read More highly recommend Gold Label Cleaners!
---
Reviewed on

8/26/2017
Alexis B
Gold Label Cleaners is great! Sunny altered my wedding dress & it was quick as well as affordable! It came out fitting me perfect! I am so excited to wear it next Saturday for my wedding day :) If you are looking for someone to do a good job, Sunny is it! Highly recommend.
---
Reviewed on

8/22/2017
Taylor H
I picked up my dress today after having it cleaned and pressed before alterations after purchasing it at a sample sale. I was pretty nervous leaving my dress in someone else's hands but I completely trusted the owner, Sunny, and I know they took great care of my gown. They even... Read More fixed some loose heading for me. I investigated cleaners all over Denver pretty thoroughly and I'm very happy with the end results.
---
Reviewed on

8/04/2017
Alisa W
They did a great job!! Highly recommend 👍
---
Reviewed on

7/30/2017
Ali M
I cannot say enough good things about Sonny and Gold Label Cleaners! I bought my dream wedding dress on a preowned wedding dress website. It came not as advertised by the seller with no return policy. It was filthy and not in very good condition, to say the least. It was also... Read More way too small, as it had been altered down from its original size. I found Sonny and took my dress to her. Right away she reassured me that she would be able to fix it and make it beautiful. She worked diligently on my dress for 5 months to restore it and make it my size. She made my dress look brand while keeping the beautiful lace details and satin buttons on the back. I'm an incredibly thankful I found her, she literally saved my dress and my wedding day. She is the most talented seamstress out there, not to mention how sweet and caring she is. If you need anything done at all you can guarantee Sonny can do it because she truly worked a miracle on my dress! I cannot recommend GOLD LABEL CLEANERS enough!!! Thank you Sonny!
---
Reviewed on

7/28/2017
Megan G
I went onto the knot to find someone I could trust to alter my dress to make it exactly what I want. I brought a photo and discussed ideas and now I have the PERFECT dress exactly how I want it. The service is excellent and professional and they are truly able to help you make... Read More the dress of your dreams. I would refer anyone I could to come here! I am so happy!
---
Reviewed on

7/04/2017
Emma S
Sunny was very helpful and insightful. I had my dress shipped out from Boston and it got very wrinkled in the process. They did a great job cleaning and de-wrinkling my dress before my wedding - it looked beautiful!
---
Reviewed on

6/10/2017
Breanna C
I bought my dress off the rack and 2 sizes too small. I took it to Sunny and left feeling 100% confident that my dress was in good hands. At every fitting the dress got better and better. I'm picking it up today and must say, I couldn't be happier! my dress fits perfectly and... Read More looks AMAZING! Sunny really took the time to learn what I wanted. Thank you Sunny, I am so glad I took my dress to you!
---
Reviewed on

5/23/2017
Christina C
I went to Gold Label to preserve my wedding dress upon recommendation from the bridal shop where I purchased my dress. First off, I had to pay for the entire service ($520) up front without knowing how terrible the service would be. Next, Gold Label told me it would take around... Read More 3 months to preserve my wedding dress. It was 8 months and counting, and I had to keep calling to ask about the status of my dress. I honestly thought they lost my dress or completely ruined it and didn't want to tell me the truth! After much anticipation, I picked-up my wedding dress thinking that it was complete (silly me...). After I got home, I opened the box to check on the embroidery on the bag wrapped around the dress that I had paid for prior to the service. Not surprising, they didn't embroider the bag like I had asked them to and paid for up front! I called Gold Label to let them know that I would be going back to the shop to receive my money back for the embroidery (at this point, I just wanted my dress safe and sound in my house...I couldn't care less about the embroidery). The owner called me back and left a message saying that she actually forgot to finish stitching the back of the dress prior to preserving it! So, I have to take the dress BACK so she can finish stitching the dress! After all this time and aggravation, she didn't even finish the dress! And, if I had not called about the embroidery, she probably wouldn't have even called to tell me she forgot to finish the stitching! Gold Label is completely unprofessional and a huge joke! Stay far far away unless you don't care to see your dress ever again without having to sell your first born child.
---
Reviewed on

4/02/2017
Zeynep S
Great service and flexible! They made my mothers veil look brand new again and added a comb too. They're preserving the dress and veil for me as well, I definitely recommend!
---
Reviewed on

3/04/2017
Erin B
Sunny is the best!! She was helpful, professional, and cleaned and pressed my expensive silk dress beautifully. I highly recommend Gold Label Cleaners to all brides in the Denver area.
---
Reviewed on

3/03/2017
Jenn S
They were awesome!!! Sunny really took care of me. Go here !!!!!!!
---
Reviewed on

9/30/2016
Suzanna M
I brought my Grandmother wedding dress from 1940. Gold Label cleaned it perfectly and alter it prefect for. I was nervous and they did a fablous job! I highly recommend them!
---
Reviewed on

9/23/2016
Christine M
Gold label cleaners has been super flexible and were able to fix my gown in a pinch! I bought the gown online unfortunately and it has had problems. But they were able to fix it and make it look beautiful for a great price. Also thank you Sunny for making sure I got my dress... Read Moreauyfcbefvrafaxtfuutwwtrufxwrzdburayxxw before you closed! Would definitely recommend!
---
Reviewed on

9/21/2016
Carly B
I knew long before I was engaged that I wanted to wear my grandmother's 1950's tea length wedding dress. I also knew that the dress would need to be altered, cleaned, and have my own personal touch added to it. After doing some research I found Gold Label Cleaners. I found that... Read More working with Sunny was so easy. She understood my wants, needs, and made the old dress new again! I would highly recommend seeing Sunny , and all the pleasant Gold Label Cleaners staff!
---
Reviewed on

9/20/2016
Elisabeth N
Sunny was so accommodating and wonderful to work with. She made my dress even more comfortable and I could not be happier with it! I would highly recommend Sunny to anyone that needs alterations for their wedding gown.
---
Reviewed on

9/18/2016
Krystal V
Sunny was so sweet she was able to get alterations done for my sisters bridesmaid dress a week before the wedding. And it fit perfectly thr day of the wedding.
---
Meet The Owner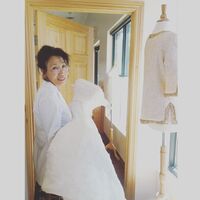 Sunny
Sunny is the heart of Gold Label Cleaners & Restoration Labs. She dedicated her life into establishing the boutique and fine organic dry cleaners located in the Denver Tech Center. Her favorite moments are with excited brides and unique gowns. Sunny's the only Wedding Gown Specialist in Colorado with over 30 years of expertise and currently is a board member for the National Association of Wedding Gown Specialists. Furthermore, Gold Label is the only Certified Garment Care Professional in Colorado specializing in high-end garment care, preservation, restorations, alterations and tailoring.