Home

Goodman's Jewelers
About this Vendor
Goodman's Jewelers, the diamond store of Madison
Located in the heart of downtown Madison since 1933, Goodman's is a full-service jeweler featuring the most diverse selection of bridal jewelry in the area. If you do not find the ring of your dreams in our extensive inventory, we offer custom jewelry as well.
Details
Wedding Jewelry, Fashion, Engagement Rings, Wedding Rings, Rings
Contact Info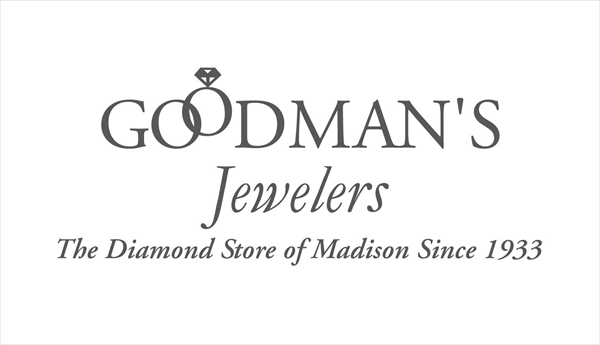 Great service and beautiful result
Reviewed on

11/07/2012
Kristine P
My husband bought my engagement ring from Goodman's. when we went ot buy the band, the vendor didn't sell a band that went nicely with the ring. Goodman's created a custom wedding band that looks identical to the engagement ring. it fits perfectly together and I love it. The... Read More turn around time was 2 weeks for each stage of the custom process and they were great and easy to work with. We also got my husband's wedding band from Goodman's. The correct band came in and it was th correct size!
---
Great place - Great people - Great quality.
Reviewed on

8/21/2012
Laura S
We got my engagement ring and wedding band from Goodman's. My husband really wanted to buy from them b/c his dad bought his mom's wedding ring there 30 years ago. They were great to work with and it's all very high quality.
---
Local Favorite!
Reviewed on

2/07/2012
Stephanie A
Goodman's was great from the beginning! My husband went in found the ring, picked it up the next day, and proposed two days later. He wanted to stay local and their service has been outstanding. We also purchased his wedding band and my wedding band. They were timely and... Read More efficient. I would recommend them to anyone in the area!
---
Great
Reviewed on

11/12/2015
Katie H
They were great to work with
---
Helpful Staff
Reviewed on

8/29/2015
Nate R
Bought my wife's engagement and wedding ring here. I didn't know much about jewelry and was nervous going in, but they were extremely helpful and made me feel comfortable. I didn't feel pushed about anything and they really just wanted to find the perfect ring that I... Read More described to them. They can be a little pricey since it's an independent shop. My wife ended up getting my ring on Etsy because of this.
---
a local shop with some unique rings
Reviewed on

10/08/2011
Amy M
My husband and I both got our rings here. I had been looking all over town for months and finally found a unique diamond ring & band that I paired with a stunning blue diamond they found for me in the vault. My husband's ring is also unlike anything we had found at the big... Read More box diamond stores. it is a smaller shop so they don't have a huge selection but they do have a lot of really cool and unique pieces.
---
Something I will wear forever
Reviewed on

9/27/2011
Megan W
I love my wedding set. I get compliments almost daily. Everyone says its a very romatic looking ring and resembles the Eifle Tower.
---
such great service
Reviewed on

9/17/2011
Stephanie M
My husband bought my engagement ring here and it was a little large. We got engaged on Sunday and I went in on Tuesday to have it re-sized. When I called on the phone they said it would take 2 - 3 days. When I came to the store I was told it would take 2 - 3 weeks because the... Read More goldsmith would be on vacation. The salesgirl must have seen the disappointment on my face, because she asked how long ago I got engaged. When I told her it was just a few days ago, she asked me for my ring and to let her check on something. After a few minute she came back and whispered that it would be done by 5. She was so sweet. She took the extra time and went the extra mile to get a ring that fit on my finger. My husband and I also bought our wedding bands here. We worked with a different sales woman, but she went above and beyond and was willing to fly a ring in from new york for me to look at. Every time I have gone back to get my ring cleaned or to pick up our rings I have experienced great customer service.
---
Love it!!
Reviewed on

8/02/2011
Ashley K
My husband got my ring from Goodman's and then I got his from here as well!! The staff there is always pleasant, willing to help and answer any questions.
---
Great Customer Service, and Quality Products
Reviewed on

6/21/2011
Katie S
I commissioned Goodman's to make my wedding band. When I explained what I wanted, they quoted me half the price of the other jewelers in town. When they cast the band the first time, it wasn't exactly what I pictured, so they RE-Did it completely for free and with a quick turn... Read More around time so it was ready for the wedding! I would definitely recommend.
---
Quality Products and Service
Reviewed on

5/26/2011
Jordan J
Goodman's staff was nothing but helpful throughout our whole engagement and wedding process. Not only are the staff great, but their merchandise is beautiful and is top quality. All diamonds are violence free, which I was looking for. Plus supporting local business is always... Read More a good thing.
---