Home

Greate Bay Country Club
About this Vendor
A picturesque setting, an event to remember!
An attentive and smartly-dressed waitstaff, sumptuous food and dramatic views of the manicured golf course combine to make Greate Bay Country Club an exquisite setting for a memorable wedding celebration. For more information, fill out the convenient catering information request form or call.
Amenities + Details
Amenities
Handicap Accessible

Indoor

Reception Area
For more details about amenities, please message the Venue.
Ballroom, Country Club, Tented
Bar + Drinks, Cakes + Desserts, Food + Catering, Planning, Rentals + Equipment, Service Staff
Contact Info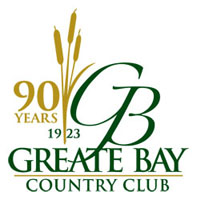 901 Mays Landing Rd., Somers Point, NJ
An amazing day at Greate Bay!!
Reviewed on

10/16/2014
Connie L
I was searching for the perfect venue and had it narrowed down to three. Greate Bay was my first choice I took my future husband to go look at the venue and he confirmed this was our place!! Kelsey and Tammy were both incredibly helpful, professional, and accommodating! It was such a relief to be able to know they both were there to help make our wedding day amazing. We had our ceremony outside and the landscaping was beautiful the sun was setting as we said our Vows, it was picture perfect! So many of our guests asked "how did you find this place, it's gorgeous!" One of the best compliments we received was "the food was so good we felt like we were dining at a nice restaurant". We are very appreciative to the service staff as well. Service was excellent we were well taken care of! They were on top of everything no dirty dishes on the table and no one was ever waiting for a drink! Truly an amazing evening and the best wedding we could of dreamed of!! Thank you! Connie and Brian Gillespie
---
a great day at Great Bay!
Reviewed on

6/04/2015
Barb P
We had the most wonderful wedding at Greate Bay! We got married and sight and had our reception in the Bay room which has a great deck off the room overlooking the gold course. Tammy and Sharon had everything run smoothly, Scotty and Mann were the best servers ever, Maria decorated our room beautifully and Will the manager fulfilled my every request, including a sunshine filled day! There is no better place to have your weeding!
---
Reviewed on

5/25/2015
Enza R
I cannot say enough great things about Greate Bay Country Club. We got married on April 25th 2015. From day number 1 Tammy was by our side and assisted us with anything we needed. We had booked the venue about a year in advanced. During that time they had made a couple changes in wedding planners/coordinators, but Tammy was always the rock that kept everything together. She was so easy to talk to and made the whole process so much easier and stress free. She was always available for any questions or concerns we had. The venue itself is amazing. Everything was beautiful and I couldn't have asked for things to have gone any better. I had general ideas of how I wanted the venue set up with my decorations but basically told them that I trusted what they would believe would be best. And they definitely did not disappoint. We got numerous compliments from our guests about how great the food was and how amazing the services were from all the staff. I could go on and on about this place and everyone involved. I recommend this place to anyone and everyone I talk to. You will not be disappointed if you book with Greate Bay. Thank you again to Tammy and the rest of the Greate Bay staff!!!
---
Wonderful Wedding
Reviewed on

10/23/2014
Sara K
Greate Bay provided me with the wedding of my dreams. We held our ceremony in the garden; our guests all commented on how beautiful the location was. The golf course and gazebo provided the perfect backdrop for family and bridal party photos. There was also a park nearby where we took sunset photos on the water. Tammy and Kelsey helped to make sure things ran smoothly throughout the entire night. They were very accommodating, and helped to make all of our visions into reality. My husband and I would highly recommend the venue. We could not have asked for a more perfect wedding night. Thank you Greate Bay!
---
august 30 2014
Reviewed on

10/20/2014
Kimberly M
We had our Wedding Ceremony and Reception at Greate Bay Country Club. It was absolutely perfect! Everything came together without a single problem. The whole staff, especially Tammy, did a wonderful job! She took care of every detail and could not do enough to make my day special!! I highly recommend this venue for a wedding!
---
Greate Bay Country Club is truly GREAT!
Reviewed on

10/20/2014
My husband and I hosted our daughter's wedding at Greate Bay Country Club in June 2014 - we had about 145 guests - the ceremony was outside followed by cocktail hour and sitdown dinner.My 5 star rating doesn't tell the whole story - from my first visit to the day after the reception Greate Bay staff had a wonderful mix of professionalism and friendliness. In particular Nicole and Tammy make you feel confident that your preferences are heard and they deliver.Our guests raved about the quality of the food - majority of our guest chose Filet Mignon as theri entree and they were not disappointed with their delicious meal. I actually enjoyed the entire wedding day beecause I knew that Nicole and Tammy had everything under control. Thanks to them we all had a wonderful time.
---
Choose Greate Bay Country Club!
Reviewed on

10/15/2014
I am so glad we chose Greate Bay Country Club for our wedding reception. The setting was lovely! Not only did our guests enjoy a beautiful sunset over the golf course, but also were able to overlook the wetlands and back bays of Ocean City. The food was exceptional- weeks later and we are still getting compliments from our guests on the seafood bar, hors d' oeuvres, and dinners. All of the servers and bartenders were excellent, attending to all of our and our guests needs throughout the evening. They truly made us feel special! We would especially like to thank Will, the general manager, for making sure our wedding went perfectly. We would highly recommend Greate Bay to anyone looking to have their wedding in the South New Jersey area.
---
BEST BEACH WEDDING!
Reviewed on

10/02/2014
Fawn S
We got married on September 27, 2014 and had our cocktail hour and reception at Greate Bay. The staff was very friendly, professional and super accommodating to our every need. The venue was beautiful, and in the perfect location for our "beach themed" wedding. Our guests were blown away by the elegance of Greate Bay along with the superb service. Everyone had a blast and we are still getting comments that it was the BEST WEDDING EVER! Thanks to Greate Bay for making our special day one that we will NEVER forget!
---
AMAZING!!!!!
Reviewed on

9/26/2014
Dayna D
Greate Bay was fabulous!!!!! I would recommend anyone to have to their wedding there. I am super picky and I usually rate most places an 8/10….. this place is an 12/10!!!!!!! The food was fabulous, the staff was great, the wedding planners ( Tammy and Kelsey) were a delight to work with, and the atmosphere was elegant. I had a beach wedding and they set everything up so perfectly. Everything was so organized and on time. I can honestly say, I had the perfect wedding, all thanks to Greate Bay!!!!!
---
Have a Greate Wedding
Reviewed on

7/26/2014
Greate Bay was wonderful during the entire wedding process from the first day that we booked the wedding until the day of the wedding. They were very accessible and easy to get in touch with any time I had a question or concern. Their staff was very accommodating and helped to ensure that every detail was included in our special day. The "Greate Room" was recently redone and very upscale and elegant. After a year and a half of planning, they truly helped me to have my perfect day. They were handicapped accessible and the bridal suite provided a very comfortable place and atmosphere for us to relax and get ready before the actual wedding. We had an outside ceremony and the grounds are nicely landscaped and provide for a beautiful setting to have an outdoor ceremony.
---
Great team!
Reviewed on

7/13/2014
Weiling L
We felt that everyone was professional, cheerful, and more than willing to help with every aspect of the wedding. We recommend this venue very highly!
---
Wedding on the Beach
Reviewed on

5/31/2014
We used Greate Bay Country Club for our wedding on May 17. They set up the ceremony on the beach and we had the reception back at the country club. Everything went like clockwork. Nicole was very helpful and took care of everything for us. The wedding site was beautiful and the food at reception was awesome! We would definitely recommend Greate Bay to anyone looking to get married in the Ocean City area!
---
Can't beat the food.
Reviewed on

10/21/2013
Jodi D
They have such a huge room to use for a rehearsal dinner. Very friendly staff. The food is amazing. Need a 30 person minimum (or a fee applied) but if you have the numbers it's a great price.
---
Absolutely Amazing
Reviewed on

10/15/2013
Karen D
Best quality for best price. The most helpful wedding coordinator and staff you will ever find.
---
All you need to "No"
Reviewed on

10/04/2013
Bryan S
During the process of vetting an array of different venues for our wedding reception, there was almost one constant- the word "yes". We quickly learned that the word "yes" would soon be followed by a "but" or a ridiculous pricing up-charge....no matter what the request. It wasn't until we toured Greate Bay that we first started hearing the word "no", and we heard it more times than I can count. What made Greate Bay unique and the word "no" oddly comforting was the follow-up, "problem". I am not even exaggerating when I say that there was not a single thing that we requested, floated, proposed, needed, etc that wasn't met with an immediate and sincere response of "no problem"; from the top of the house, down and no "buts" about it. The team at Greate Bay know their business; truly understand the stress that is inherent with a wedding, and make it their job to own a first class experience for you and your guests!
---
Ragan Wedding
Reviewed on

9/30/2013
Kim T
We had an awesome wedding! Beautiful venue, excellent service..We couldn't have asked for a better planner than Nicole! She took care of everything and we really didn't have to worry about anything! Everyone had a great time! We would definitely recommend Greate Bay. Kim and Pat Ragan 9/6/13
---
AMAZING VENUE!
Reviewed on

9/18/2013
Claire K
My Husband and I just got married at The Greate Bay Country Club on August 3, 2013. We could not have asked for a better venue and staff. Nicole and Tammy were amazing from day one. They were completely accommodating and made themselves available all through out the planning and during our celebration. The grounds were beautiful, the food was outstanding, the decorations were exactly how we dreamed, and the wait staff was very friendly. My Husband and myself felt like King and Queen. Our guests are still raving about the venue we chose and we will absolutely NEVER forget it. I would refer this venue to anyone over and over again. If you want your day to go off with out a hitch, have it at Greate Bay!!
---
Wedding we envisioned!!
Reviewed on

9/16/2013
My husband and I were married on Aug 31, 2013 at Greate Bay Country Club and let me just say what a wonderful experience we had! Everything from the weather to the set up to the reception turned out exactly how we had pictured it would and we didnt even have to lift a finger thanks to Greate Bay's staff. Everyone was extremely welcoming and catered to our and our guests needs, the food was delicious, and the atmosphere was all around wonderful! I would absolutely tell anyone and everyone to check this place out! The Greate Bay staff helped make our day absolutely amazing!!
---
Vintage Wedding
Reviewed on

9/14/2013
Jacqueline K
My daughter's wedding was 8/3/13 at Greate Bay Country Club in Somers Point, NJ. The outside grounds were stunning. The ceremony was outside at the gazebo, which is next to a small lake with a fountain. With the added touch of our florist, it was the most beautiful setting you could hope for. Inside the beautiful country club, we had a cocktail hour with appetizers and open bar. This led up to the reception, which literally took my breath away and brought tears to my eyes. Entering the facility after the valets whisked away your vehicle, brought you into the glass vestibule leading to the grand foyer. Left or right up the stairs takes you to the festivities - the entire second floor. The bride and her entourage felt like princesses in the bridal suite where they all dressed, drank, and noshed on appetizers. They had an amazing time. The reception was unique in that we had no seating chart, the meal was various food stations, and the bar was overflowing with drinks. The main reception hall was 50% French door style windows from floor to ceiling. Our request was to have all curtains pulled aside and it was just beautiful. The food was delicious, the service outstanding. None of this would have been possible without Nicole and Tammy, who very capably and inconspicuously ran the show and gave us the event of a lifetime. Two lovable women who will stop at nothing to give you the wedding of your dreams. I wish I could share the photographer's album with all of you. That would sell you on Greate Bay in a heartbeat! The two families filled up the Residence Inn across the street for the entire weekend, which was hopping from room to room for various parties. Beautiful accommodations that were recommended by GBCC. The day following the wedding, we held a brunch back at GBCC for the bridal party and all guests who spent the night. It was beautifully decorated, the food amazing, and the service was stellar again. Guests and family are still talking about this three day extravaganza! We were crushed when it all ended. Please trust me when I tell you what a perfectionist I am. This was the wedding of my only daughter, so it had to be a literal fairytale for her. This was so much better than Cindarella's story. Five stars just isn't enough. Thank you for the most wonderful memories of our lives!
---
A Perfect Day!
Reviewed on

8/13/2013
Christina G
My husband and I were married at the Greate Bay Country Club on July 19, 2013. Nicole and the rest of the staff at Greate Bay went out of their way to make our wedding day perfect. From our initial tour of the venue to the day after our wedding, we were treated professionally and kindly. Nicole responded to all of my (many) emails promptly and answered every question I could think of. Our parents were able to attend the menu tasting, which made it much easier for my fiancee and I to be sure that we had made the right menu choices. On the day of our wedding Nicole made sure that everything was set up perfectly and on time. We had our ceremony inside the Greate Bay and the setup could not have been better. There were decorations in the cocktail room that we did not bring but fit right into our theme. Every table was beautifully set and the cake table looked fantastic. Our other vendors were able to coordinate with Greate Bay very easily and were very happy to work there. The waitstaff and bartenders served our guests all night and everyone complimented both the food and the drinks provided. The grounds of Greate Bay were perfect for taking pictures outdoors and came out beautifully. The few issues that did come up throughout the day were solved promptly and without fuss. We could not have asked for a better wedding day, or a better venue!
---
Awesome experience, highly recommend!
Reviewed on

8/08/2013
John K
My Wife and I had our reception at Greate Bay on September 21, 2012 and we couldn't have asked for a better experience. We decided to have our ceremony on the beach in Ocean City and Greate Bay and their staff handled everything. To this day our guests keep telling us how beautiful the ceremony was on the beach. Their staff did a remarkable job to make sure our special day was everything we dreamed of. The food was delicious and our guests made sure to let us know. We would highly recommend Greate Bay to couples out there looking for a wedding venue!
---
Wedding of the Year
Reviewed on

8/07/2013
Chelsea C
My husband and I were married on May 17, 2013 at Saint Joseph's Church, only to be followed by an incredible reception at Greate Bay Country Club. Nicole was extremely helpful from the moment that we booked until the very end of our reception. I had been working a ton and did not have a chance to get to the venue the week of the wedding in order to explain how I wanted my entry table. My mom went and dropped it off for me and gave Nicole an idea of what I wanted. When we arrived at the reception, the entry table was set up as if I had done it myself. After viewing the entry table, we went up to the bridal suite to relax and take more pictures. The waitstaff was extremely attentive and made sure that my husband and I were happy the entire time. The food was fantastic. Everything about the day/night was incredible. I would recommend all brides to check out Greate Bay Country Club if they want to have a flawless wedding day. Thanks again to everyone at Greate Bay!
---
Elegant and Excellent
Reviewed on

8/06/2013
Allison D
We had such a great experience with Greate Bay Country Club. The customer service was excellent. Nicole and Tammy made our exeperience planning the event so enjoyable. Anything we asked for, they were there to help. The day of the event was even better. The staff was excellent. The food was excellent (you could cut the NY Strip with a butter knife). We had so much positive feedback from all of our guests on how nice the Country Club is, how excellent the food was, and how great the service was. Thank you so much to the Greate Bay Country Club.
---
Great Service, Food and overall Venue
Reviewed on

8/01/2013
At first I liked the idea of getting married at the shore and on a golf course. But after touring Greate Bay the first time my wife and I both knew it was the perfect place for us. The staff was extremely helpful and available throughout the whole planning process. Our wedding was perfect, a big thank you to all the staff at Greate Bay, including Bob and Nicole for making our wedding day a perfect one!
---
Great Day!
Reviewed on

8/01/2013
Jeremy M
When my (now) wife and I were looking for a reception hall we checked out Greate Bay based on a friend's recommendation. We loved the woman who initially set us up. Unfortunately she was no longer at GB (as of a few months from the wedding), which really bothered us. However, when we met Nicole we knew we were in great hands! She's friendly, professional, and efficient. We never had to wait long to get responses to questions or concerns. Our wedding was amazing. Everything was set up exactly the way we envisioned it. The staff, from the valets to the wait staff, were phenomenal. The food was out of this world. To this day I still have people rave about how great our venue was. Thank you GB for making our day one we will never forget!
---
Send Message