Home

Green Mountain Sound and Entertainment and Photo Booths
About this Vendor
Experienced & Affordable DJ Lighting Photo Booth
We offer a variety of music choices, custom event lighting, trivia games, two brand new photo booths (a standard booth and the magic mirror booth; both include props, unlimited photos and a scrapbook) and even fireworks! Green Mountain Sound and Entertainment is an affordable, full service and experienced DJ company who will work with you to make your event unforgettable!
Details
Country, Dance, Disco, Hip-Hop, Pop, R&B, Rock, World Music
After Party, Rehearsals + Parties, Ceremony, Reception, Wedding
MC Services, Recorded Music, Sound Equipment, Music
Contact Info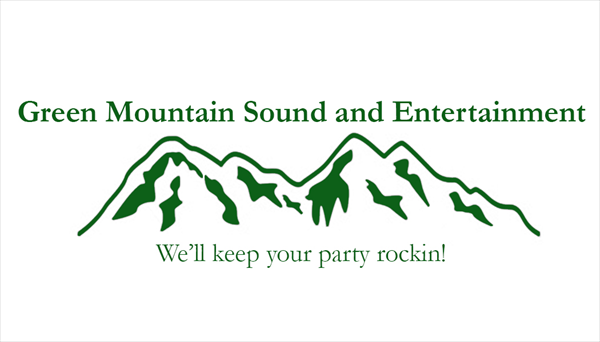 Reviewed on

9/20/2016
Meghan L
Robert and Laura were great and I highly recommend them as your DJ service! They really take the time in getting to know you and making the night very personable :) They were able to mic the ceremony, control music for two floors, and I also received photo they had taken... Read More throughout the day/night! They had people on the dance floor all night, I didn't want it to end! Highly recommend them!! Thank you for everything Robert and Laura, and thank you for spending your anniversary celebrating us!
---
So Much Fun!
Reviewed on

1/16/2014
Aili M
Robert and Laura were an amazing couple to work with. They have been doing this for a long time, and really know what they are talking about. They provide an amazing service without ripping off the bride and groom as so many DJ services do. My only criticism is that they had... Read More asked for a list of songs I wanted to play at the wedding, and they did not play every song on the list (there were only a few). Each of those songs has a meaning behind it for my husband and I, so I would have liked them all to be played. That being said, Robert kept the evening going smoothly. Everyone had a great time, and the dance floor was occupied until the end of the night!!
---
kr
Reviewed on

3/02/2011
Kristi H
great music, everyone danced all night. even had light show to go with the music. Very quiet during the meal and the DJs are very personable
---
Excellent Job!
Reviewed on

9/28/2015
Michelle D
I can't say enough good things about this company. They are priced extremely well, they continue to communicate with you all the way up to your day and they keep the party going the whole time. Toby met with us before the day to work out all the details and our requests. He... Read More followed our schedule and kept it going- which is super helpful because as the bride you are pulled in many directions and you have no idea what time it is or what you are forgetting. I have recommended them to everyone!
---
great dj
Reviewed on

7/20/2015
Worth every penny. He and his wife were professional and easy going. They really paid attention to what we wanted. They kept they party going at a nice flow.
---
Our Son's Wedding
Reviewed on

10/17/2014
Our son got married June 1, 2013, we hired Green Mountain Sound and Entertainment, Rob & Laura were exceptional, they made our night special, and one none of us will forget, family and friends alike. The up lighting was simply beautiful, and the music was everything we could ask... Read More for! I would highly recommend them. They made this very special day even more special than we could of known!!
---
Great Job!
Reviewed on

10/17/2014
Erin B
Robert and Laura did a wonderful job at our recent wedding. We didn't have any specific song requests in advance, just a general idea of the kind of music we liked, and Robert had our guests dancing ALL night. He even downloaded and played a few requests on the spot for some of... Read More my younger guests, which meant a lot to them and to me! They were able to accommodate our request for music for a special dance performance, which everyone really enjoyed. I also had several guests comment to me that they loved the choice in music for cocktail hour and dinner. Laura did photos at the photo booth, which was also a lot of fun for our guests. All in all, they did a great job for a very affordable price.
---
ABSOLUTELY PERFECT :)
Reviewed on

9/23/2014
Being the most important day in our lives, both my husband and I, of course, wanted things to be as perfect as we could have possibly thought they it would ever be. Green Mtn Sound and Entertainment (Robert and Laura) made our day, and Im sure, our guests day one of the most... Read More memorable occasions that a family and friends could share. From the very first conversation (by phone) we felt comfortable and assured of their capabilities in making the day a big success. They made inquiries about our taste in music, our choices of what music we wished to be played at specific points during the ceremony, dinner and dancing, etc. and followed through with exactly what our wishes were without hesitation or confusion. Rob was thoughtful in making sure that all age groups were included in the selection of music genres so everyone got to hear a few of their favorite tunes. I can honestly say the dance floor got a real work-out as people crowded around and joined each other for a night of awesome dance moves. Not a moment of empty dance floor!!!!!!! It was amazing. I also want to thank Rob and Laura for the most beautiful lighting/room enhancements I have ever seen. Gorgeous colors and placing of lights-GREAT JOB. Their definitely at the top of my list of recommendations to any bride and groom looking for an all around pleasing experience. No worries - leave the entertaining to them. Thanks again to Green Mtn Sound and Entertainment for all of your knowledge and willingness in making our special day 'WORRY FREE'. Who could ask for more????
---
Dance all night
Reviewed on

9/22/2014
Caitlin B
I had Rob as my DJ for our reception. Planning and coordinating went very smoothly; I communicated mostly with his wife, Laura. Email responses were prompt. Rob met with me at Sugarbush to go over lay-out and was pleased with the meeting. Strongly recommend on-site meeting.... Read More Rob has strong opinions about music selections and his ability to read the crowd. We were not picky with music requests and Rob had our crowd dancing the entire night. He was very clear about what he likes and doesn't like to play. We gave him a list of 5 artists we each enjoy; mine consisted of all country musicians and I don't remember much country if any; but like I said, everyone was dancing the entire night. Rob did not conduct the cake cutting well; he blocked the view for everyone watching; one of our guests had to physically move him out of the way to see. Other than that, the night was lots of fun.
---
GREAT WEDDING
Reviewed on

4/25/2014
Kristen S
Green mountain sound and entertainment was amazing. They truly made my day special. Rob was so easy to work with and played all my requests. I couldn't have had a better experience. I highly recommend them. I also used their up-lighting system and it made the room transform into... Read More the winter wonderland I wanted. We had the dance floor full until the night was over.
---
DJ and Photography
Reviewed on

7/05/2013
Alex C
I got Green Mountain Sounds and Entertainment as a package deal. Laura and Mike were my photographers (yes, you get two!) I met Laura a few times before since she's the wife of the dj, and Mike I met the day of. I told Laura which shots were most important to me, and she made... Read More sure to get them. When we got back from the honeymoon I emailed her to ask when I might be able to get the pictures, and she made arrangements to meet me the next day with the cd. I received almost 1300 shots, all completely raw. Some are great, some will be great with editing, and others are ok. If you are ok with editing your own pictures, and value quantity over quality, this is definitely a good deal, and Laura will do her best to be sure you get the shots you want. Mike and Laura were both unobtrusive and professional. As for the DJ side of things, I was incredibly dissapointed. Multiple emails, phone calls, and an in-person two hour meeting to discuss the style of wedding we were having, what songs we wanted and what songs we didnt to no avail. In writing and verbally my husband and I both expressed things that were acknowledged then completely ignored. Do not play Queen, I wrote that in emails, told them over the phone, told them in our meeting. Everytime it was ok, no queen. Within 10 minutes of me being at the reception Bohemian Rhapsody was playing. Laura, the wife, noticed and spoke to Robert (the husband/dj) and he still didn't change the song. Do not play Hallelujah. Hallelujah was played. Do not play any songs about sex, with curse words, or anything hip hop. I had to walk over myself and ask him to turn off jason Derulo, Moves Like Jagger, Party Rock Anthem etc. My husband composed a list of about 30 songs that we did want to hear and dance to, songs like At Last, The Best is Yet to Come, etc. I didn't hear a single one. Apparently about 3 of that list played before I even got there, and the rest went MIA. He played Funky town for nearly 10 minutes. He played Get down tonight. We specifically said no disco. He played I will Survive. Really? A song about getting left and being heartbroken on our wedding day? It was the WORST part of our wedding, we absolutely hated it. Even at the end, when we finally said hey we're leaving, he goes "oh ok, I usually play 'last dance' as the last dance, is that ok?" and my husband says "oh no, we hate that song, don't play that." 30 seconds later what plays? Last Dance. It was like he didn't care at all about what we were looking for, he was going to play his list of songs no matter what. We were embarrased and had to keep explaining to people that although we had selected music, he had completely disregarded it and these weren't our choices. Lady in Red was played for the generations dance. Not only is that song not on our play list, it also happened to be the song my parents danced to on thier first date. Not awkward at all considering they're divorced. Ceremony music was ok, though he had the wrong song for me to walk down the aisle to (again after many emails and even playing the song for him) thankfully we fixed it. The lighting was neat. The photobooth area was ok, except again I had asked for simple. Maybe a few pictures frames. There were 3 entire tables of giant sunglasses and blow up props.Not the elegant classy look we were going for. Guests kept asking if we knew about it since it didn't fit at all. DON'T HIRE THEM FOR YOUR DJ. The photos and lighting were fine but the DJ I regret completely.
---
Meet The Owner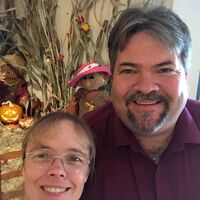 Robert and Laura Clayton
We pride ourselves in providing quality, personalized service to our clients. Robert has been DJ'ing for many years and loves what he does. We believe if you love what you do it makes a huge difference in the quality of service you provide.