Home

Greg Cradick Photography
Details
Day After Session, Engagement
Contact Info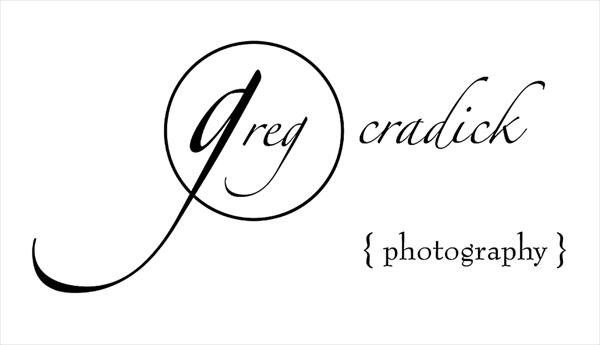 Good Photos, Bad Communication
Reviewed on

9/20/2013
Sophie D
Greg is an incredible photographer! His work speaks for itself and you can tell that he is truly passionate about getting that perfect photo. I received many compliments on how active him and Shawn were at our reception (ie taking dance floor photos, photo booth shoots, ect).... Read More However, if you are a Type A bride who likes timely communication and responses to emails/phone calls/ect, you will go a little crazy working with Greg. He is not great at timely responses and almost never responded to any phone calls/emails of mine within the week that I sent them. Overall, I am glad I choose him as our photographer, though he could stand to up the communication skills a bit.
---
no preview pictures yet...
Reviewed on

8/27/2013
Maddie S
I havent seen any pictures yet. He was wonderful to work with. (minus being late to the first meeting) But very easy going and I really liked the studio he set up at the reception. However, he told me there would be a few preview pictures a week after the wedding even though... Read More most of the photos would take a while to finish. 3 weeks... I havent seen a singel picture yet. If I had to go back I would still chose him!
---
Great photos, beautiful candid shots
Reviewed on

8/01/2013
Jo B
Every picture I went through I kept thinking, I would have never thought of that. Greg captured everything beautifully, we have almost 800 photos and almost every one was perfect, how does that even happen. He captured the emotion during every part of the ceremony and reception.... Read More At times I know it was frustrating for him - we aren't the easiest people, but he took it all with a smile. I believe Greg is on the cheaper side of Wedding Photographers, I can't believe the deal we've gotten. Thanks so much Greg, best of luck!
---
Amazing Photographer
Reviewed on

7/09/2013
Allison T
Greg exceeded my husband's and my expectations in every way! He met with us several months before the big day to discuss what we wanted for our pictures. When we mentioned that we had a tight budget he cut us an amazing discount. He did arrive late to our engagement photo... Read More session, however that was because of something out of his control. We also had wait longer than expected for our engagement photos to get back to us - again, this was because of extraneous circumstances. On the big day we had a wedding coordinator who did not do her job and a very tight time schedule. Greg handled it like a pro! He was respectful of the church guidelines, got through posed photos quicker than expected, and all while keeping a calm and laid back demeanor. Greg brought an assistant with him to help shoot both the ceremony and the reception. She was also fantastic, able to duck in and out of dancers with grace and a sense of humor. We are still waiting for our wedding photo disc, but it's only been two weeks since the big day and it's peak wedding season so we will be patient. I would recommend Greg for any big event needing photography! He will handle your requests with charm, a cool, casual (yet professional) demeanor, and will take far more pictures than you would ever imagine. This guy is a camera boss! Don't choose anyone else.
---
Unprofessional and flaky
Reviewed on

3/15/2013
Annie B
Greg Cradick's work is excellent, but I would caution brides about the bizarre and unprofessional experience I had with him. Note that he is not who I ultimately chose as my wedding photographer. However, a few months ago I met with Greg in person, at which time we cheerfully... Read More connected, established a price, and agreed to move forward. I anticipated paperwork, but never heard from him following our meeting. Three emails, two phone calls and three months later I was unsuccessful in reaching Greg. Meanwhile, up-to-date activity took place on his Facebook page. I finally gave up and found a different photographer last minute. Frankly, it was just disappointing, as I am fond of his work and really hoped for him to come through. If you have the chance to meet with Greg about photography, don't get too excited to early...
---
Awesome!
Reviewed on

1/24/2013
Jenny S
Greg is such an artist! He and Valerie did an amazing job. Many photographers give you only a couple of hours of shooting time and then charge a ton for extra time. They were there at the church at 2pm and stayed at the reception until it started winding down at 11pm and it... Read More was all included in the package. Greg is great to work with and will do anything from lay on the ground to climb on chairs to get the right shot. The pictures are Awesome!
---
Absolutely Amazing
Reviewed on

8/05/2012
Beth T
Greg and Valerie were so amazing, they were everywhere! We selected the Gold package, and really feel we got a good bang for our buck. We can't wait to see the amazing images from our special day! Thank you Greg and Valerie!
---
Fabulous!
Reviewed on

6/27/2012
Kerrie J
We loved working with Greg. He was so easy to work with and made us all feel comfortable when he was taking pictures. His services are a great value and we were very impressed with our pictures. I would definitely recommend Greg Cradick.
---
couldn't be more pleased
Reviewed on

4/24/2012
A H
Greg did a wonderful job at our wedding! We asked for a few specific shots and otherwise gave him creative control. He managed to get shots of all the details, moments and guests while never getting in the way. His prices were low and his work amazing. We were so impressed with... Read More his work!
---
A Day to Remember
Reviewed on

3/14/2012
Janice L
Greg did an excellent job with our wedding photos. He was very willing to do what we wanted, but we gave him creative license to capture photos that he thought would be nice. We were very pleased with his service, our photos, and the overall experience. I would recommend him... Read More to anyone needing a wedding photographer.
---
Capture the Day!
Reviewed on

1/14/2012
Rory R
Greg was wonderful. He came to our site for a full event / overnight stay and captured the whole wedding beautifully. We also opted for the second photographer which is quite a bargain. That really helped get so many great shots. Additionally, Greg brought a mini-studio on-site... Read More and so many of our guests and families took the opportunity to have nice, quick formals while they were all dressed up. Greg is so easy to work with. He is down to earth, flexible, happy, funny and high energy. He really loves his work and you can tell. We talked about what we wanted, the style of our wedding and the results were fantastic. He also easily worked with our family "dynamics" (divorced and remarried parents on both sides) and we had no issues at all. Greg's print pictures are very high quality. We had only one print with a very slight scratch and it was reprinted with no-cost, no return and no questions asked. If you want a great results, an easy to work with artist and professional, call Greg and stop shopping around!
---
book him now!
Reviewed on

3/15/2011
Laura W
He was professional, did great work and was super fun to work with. You will not find another photographer for under 5K with his level of artistry. He was just a super nice guy too.
---