Home

He said...She said
About this Vendor
He said...She said
If you want someone trustworthy, articulate, professional and passionate about weddings please contact me! I serve all of Southern California. My job is to share your love story with the individuals you love most. I look forward to meeting you and helping to create your perfect wedding ceremony!
Details
Civil Union, Commitment Ceremony
Buddhist, Catholic, Christian, Hindu, Interfaith, Jewish, Muslim
Contact Info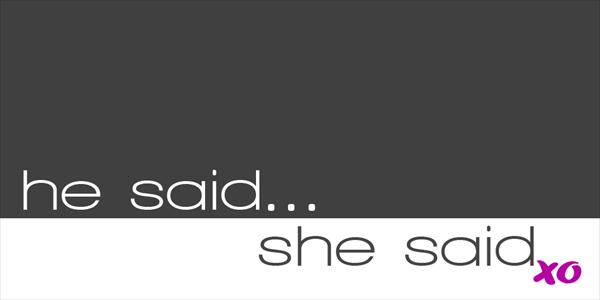 Newport Beach, CA
Orange County
Our Preferred Officiant!
Reviewed on

8/19/2014
carrie b
First and foremost, Pure Lavish Events loves "He Said, She Said!" Stephanie has quickly become our preferred officiant, she immediately connects with our couples and listens to their story whole heartedly to ensure that their ceremony has meaning and depth. She truly has a gift and a heart made for this career. She comes early to every rehearsal and ceremony and has even lent us a helping hand when setting up. Stephanie is so genuine and cares deeply about her couples. She truly wants their day to be perfect and goes beyond to ensure that happens. Not to mention her smile lights up the room and her professionalism goes unmatched. We will continue to refer Stephanie and are excited for many more weddings together!
---
THE ULTIMATE BEST OFFICIANT EVER!
Reviewed on

10/12/2014
Cheryl T
I had the most magical, fairy tale wedding three weeks ago on September 20th, 2014 at a barn! The most perfect setting, perfect husband and beyond perfect ordain! Stephanie Ford blew me away with how she delivered the message to our guest and us! Her enthusiasm when reading the stories was more than I could ask for! Not only did she keep my attention the entire time but she kept the guests attention as well! It was the most unique ceremony anyone has ever experienced! Not only did she deliver well, she also was extremely easy and very professional to work with! If ever I needed to ask her a question or needed help she was there in an instance to guide me in the right direction. You can tell she LOVES what she does simply because she is so passionate about making it personal and unique for your wedding! I know it was my wedding but I do believe that was the BEST ceremony anyone has ever heard before! Multiple guests approached me to compliment her as well. My caterer had received her number too because he wants to have Stephanie marry his son. We are extremely fortunate and happy with Stephanie and could not imagine having anyone else officiating our wedding!
---
Professionalism at it's best!
Reviewed on

9/08/2014
Trista H
When I set out to find someone to marry us, I knew I wanted a female. I wanted someone strong,fun and very easy going, Stephanie fit all of that and more! When we first met Stephanie, she made us feel so comfortable. She was very down to earth and just a joy to talk to. She made us feel at ease and she was very professional. During our first meeting with her, we felt like she understand not only how we felt about one another but also what we wanted our wedding to be like. Since it was not the first marriage for either one of us, we appreciated that she was non- judgmental. Stephanie provided us with examples of other ceremonies and helped us decide what was best off us. She was never pushy and always accommodating. We kept in contact with her up until the wedding, going over minor details, she was always on top of her game! Our rehearsal with her was simple and easy. After the rehearsal was over, we left knowing that she was going to make your day perfect. The day of our wedding was perfect! Again she made us feel so comfortable and we had so many compliments about her and our beautiful ceremony. We would definitely recommend Stephanie to anyone. Stephanie is very eloquent and we were truly blessed to have chosen someone who made us feel so comfortable.
---
Getting Married, Look No Further
Reviewed on

7/18/2015
Helayne G
Stephanie is phenomenal! She's organized, efficient, and accessible to her clients. As a bride planning her wedding from over 1,000 miles away, these qualities were invaluable. We loved that she helped us create a ceremony that reflected who we are as a couple. Stephanie even made a point to socialize with our family and friends during rehearsal. She's very personable and I would recommend her to anyone looking for an officiate in the Orange County area.
---
Reviewed on

7/14/2015
I honestly don't know where to start. I don't think I've ever met someone who loves what they do more than Stephanie. She is such an amazing person and is willing to work hard to make your wedding perfect. She made our wedding ceremony exactly how my husband and I wanted. She was there for us if we had any questions or needed to change something. She really worked with us! I honestly could not have ask for a better officiant. She's the best! I would recommend her to everyone!!!
---
Our wedding ceremony was perfect!
Reviewed on

12/13/2014
Jeni Z
Stephanie officiated our wedding this past October, and she was so fantastic! She helped us draft the most personal, unique, and perfectly 'us' wedding ceremony. We aren't a very sappy couple, and when we started planning our wedding I was adamant that I didn't want our ceremony to be too cheesy. Stephanie helped us fashion a ceremony that was sweet and funny, involved readings from court opinions instead of poems as a nod to my lawyer-nerd-ness, and that included a beer ceremony! And somehow there still wasn't a dry eye! I would recommend Stephanie in a heartbeat if you are looking for an officiant that is professional, polished, and organized, but who also encourages you to be you! Thank you so much Stephanie!
---
Beautiful ceremony.
Reviewed on

10/13/2014
I attended the wedding of a friend's daughter, and have to say it was a dream wedding. In addition to the beautiful outdoor setting, the wedding ceremony was perfect. The officiant, Stephanie, clearly did her homework. She made everyone in attendance feel like an important part of the special day, and we felt very connected to the bride and groom's love story.
---
guest
Reviewed on

10/12/2014
We recently attended a beautiful wedding in September which Stephanie officiated. She brought love, wisdom and a bit of humor into the ceremony. She is an elequent speaker (clear and concise!) and took the time to make the vows very personable for the bride and groom. I'm certain she helped create a very memorable day for the happy couple!
---
The Most Beautiful Wedding
Reviewed on

10/11/2014
I had the privilege of being the Matron of Honor, at my sister's wedding on September 20, 2014. Her rustic barn wedding was a beautiful vision, containing the most perfect ceremony. As I stood by my sister's side, gazing at our loved ones seated in front of us, I couldn't help but be mesmerized by the words that so effortlessly flowed from the officiant, Stephanie Ford. It was obvious that she had spent quality time getting to know my sister and my new brother-in-law,as she was able to capture their stories without missing a beat! The way she described love and life was captivating. I couldn't help but listen with intent ( and, yes, tears in my eyes), as I soaked in her words in hopes to use them in my married life. I especially loved the explanation of "wow days" and "vow days"! Overall, I truly believe in my heart that this ceremony was the best one I have ever attended. I know that Stephanie only officiated my sister's wedding, but she was able to define a marriage. Thank you, Stephanie for making my sister's wedding day more than we could have dreamed. You were outstanding!
---
Wow! So Impressed with Stephanie Ford!
Reviewed on

10/11/2014
I recently attended an outdoor wedding and had the absolute pleasure of seeing two people we care deeply for be married by one of the best officiants I've ever witnessed. Instead of a traditional, boring, monotone ceremony traditionally found in weddings we were greeted with a vibrant, professional, contemporary ceremony that embodied what a true celebration of love should be. Stephanie had clearly developed a connection with the couple during pre-marriage counseling and was able to communicate their love story in a way that captured the spirit of their journey and deep love they shared. I overheard several people throughout the evening commenting on who the officiant was and what a great job she did. It was a real pleasure to witness such a beautiful ceremony. The bride and groom were picture perfect, but having Stephanie Ford as the officiant clearly added an extra bonus to their day! Great Job, Stephanie! Keep up the great work.
---
FairyTale Wedding
Reviewed on

10/11/2014
Stephanie Ford officiated my daughters wedding on September 20, 2014. She did an absolutely amazing job. Cheryl & John's wedding was an outside venue, and the grounds were beautiful. That would make for an amazing wedding alone, but the ceremony that Stephanie did put the wedding on a whole new level. It was beautiful and well spoken. She took the time to get to know the bride & groom early on by communicating with them, and during rehearsal, Stephanie took the time to help guide us through the ceremony. Afterwards, my family and friends kept complimenting us on what a beautiful service Stephanie did. We heard all night that this was a fairy tale wedding and having Stephanie as the officiate made all dreams come true! Thank you Stephanie Ford! Sent from my iPad
---
The Best Wedding Ceremony
Reviewed on

10/11/2014
Michele T
Stephanie was the officiant for my sister's dream wedding. I have never witnessed a wedding ceremony that was as personal as Stephanie made my sisters. She had my sister and her now husband write their love stories of how they met and shared them that day. It was amazing! Everyone that attended couldn't say enough about the ceremony! I will remember this ceremony more than my own because of how beautiful it was. Thank you Stephanie for helping make my sisters wedding even more magical than I imagined! You are the BEST officiant I have ever seen and I would HIGHLY recommend you to anyone!!!!
---
Great officiant!
Reviewed on

6/24/2014
kim h
Stephanie is awesome!! I knew it the moment I met her. We wanted a non-denominational officiant for our wedding and she gave us exactly the ceremony we envisioned. She's super organized, which really put us at ease. We knew she would show up, be prepared, and help keep US calm :) She's incredibly warm and funny--just a really good presence. I did a lot of the writing for our ceremony, but she had some great suggestions for making it better and did such a wonderful job with leading the ceremony. I got tons of compliments from guests on how nice it was. I'd highly, highly recommend her!
---
Stephanie was the perfect addition to our dream wedding!
Reviewed on

6/20/2014
Kelly
My now-husband and I had our first meeting with Stephanie at Starbucks and weren't sure what to expect. She was so sweet and really seemed interested to hear about our courtship and upcoming wedding. She had a questionnaire she completed about our hopes & goals as a couple. Our meeting seemed to go by in a flash but in reality was a few hours long. Stephanie is based in Orange County and was willing to make the drive to our rehearsal AND wedding deep in the Inland Empire with a minimal mileage fee. She was insistent on attending the rehearsal and we found that some potential officiants were not interested and that was a deal-breaker for us. The rehearsal was important to us and it was nice knowing Stephanie understood that and was on the same page. We kept in touch periodically to work on the ceremony and she provided several examples to give us a place to start. At the rehearsal she was fun and made the experience really exciting. We shared a few jokes and she put us as ease going into the biggest day of our lives. On the wedding day she arrived early and spent some time with the ladies in the bridal suite. She joked with us, took pictures and shared stories and even rapped the vows just minutes before we walked down the aisle! I was cracking up the whole time and knew we chose the right person to marry us. Stephanie is open-minded, easy going and charismatic. We discussed her outfit options (never crossed my mind!) and she ended up looking like the perfect addition to the wedding and fit in well with a gray shift dress and yellow jewelry to coordinate with our wedding colors. She is beautiful inside & out and we heard so many great compliments from our family and friends about the ceremony and Stephanie's personality. I highly recommend her if you're looking for an officiant!
---
AMAZING!! AMAZING!!!
Reviewed on

5/28/2013
Ashley S
I really searched high and low to find someone that was not to stuffy, and that could bring something new and fresh to my wedding. I wanted something that was non-denominational and someone that would really set the tone for my outdoor vineyard wedding. Stephanie was better then I could have ever thought! She helped my husband and I really mold our vows to what we were looking for. She also was so kind to give my husband a pep talk right before the wedding to calm his nerves. I would 100% refer Stephanie to anyone looking for a friendly,organized, and personal officiant. I will never forget you Stephanie xoxo!!
---
The Absolute Best!!!! Awesome Awesome Awesome!!!!
Reviewed on

11/07/2012
Laura S
Of all the people that helped to make our wedding day special, Stephanie made it the best!!! We started working with Stephanie about a year before our wedding for pre-marital coaching. We found this to be so much fun and really beneficial for both of us. We developed a friendship with Stephanie as we worked together and it was obvious that she truly cared about us both as individuals and as a couple! As our Wedding Officiant, she more than delivered! Our ceremony was beyond amazing: personalized, upbeat and inspirational. It was everything we had hoped for and more. I had numerous guests comment to me on how wonderful the ceremony was and what a great job she had done. I honestly can't say enough about Stephanie. She is such a genuine person and a perfect fit for this world of work. We feel very fortunate to have found Stephanie and plan to maintain a lifelong friendship with her.
---
Couldn't have asked for anything better
Reviewed on

10/22/2012
Kristin P
Stephanie was not only professional in all aspects of her role as our officiant, she was warm, friendly, and made us feel so comfortable before and on the wedding day. Stephanie was always available to answer any questions we had and helped us create a ceremony all our own. We received so many compliments after the wedding. Thank you Stephanie, for helping to make our day even better than we could have imagined!
---
Best Part of Our Wedding
Reviewed on

10/10/2012
Katie V
I have to say that there were many parts of our wedding that were fantastic, but Stephanie was a part of the most important and she made it the best. Stephanie is, not only, extraordinarily professional and well spoken, but she is also very warm and genuine. She was pleasant and easy to work with throughout the process of writing the ceremony. I found her very helpful and detail oriented when editing our final draft, which was the most stressful part. In addition, Stephanie received many compliments from both sides of the family. I truly enjoyed her presence on the best day of our lives and will never forget how much she cared and what a great job she did. Thanks so much Stephanie! ps we will email you our picture soon ;) Love Adam and Katie
---
Thank you Stephanie!! You Rock!
Reviewed on

8/29/2012
Jessica D
We met Stephanie about 3 weeks prior to our wedding during our first pre-marital couseling session. Right off, we appreciated her being so relatable and engaging. She is very professional and uses her knowledge to with us in a way that makes us open up and gain an impactful experience from each session. We owe our preparation for marriage and willingness to continuously to work on our relationship to Stephanie. Stephanie married us on 8/3/12. Her orgnaization and guidance throughout the process of creating such a memorable day was very efficient, accurate and thorough. As she was with us when we first met, she was very engaging with our family and they all loved her. She created a very intimate feeling during our ceremony. Honestly, we would not have had it any other way. We are so happy we selected Stephanie to direct us through our pre-marital counseling and to perform our wedding ceremony!!! Eric and Jessica Lampkin:)
---
Stephanie was amazing!!
Reviewed on

7/15/2012
Chelsea G
Stephanie was nothing but professional! She was poised and sweet and extremely easy to work with! I would recommend her to anyone. Our vows were perfect, they were romantic without dragging on and being repetitive. She allowed us to customize our vows and they never once felt as though they were "cookie cutter vows". She showed up early being fully prepared and I never once had to worry "is Stephanie going to make it on time?!". She was one of my favorite vendors.
---
Is Sooooo Much More than just a Wedding Officiant!
Reviewed on

10/14/2011
Lauren H
Very helpful, organized, and poised. When my photographer was 2 hours late and my nerves were running haywire she did everything she could to help me. She even took pictures of me and my bridesmaids with her own camera just to help calm me down. Also my veil was coming out and she took her own bobby pin out just to help me. Her little gestures and her understanding was so much and more. She is what an officiant should be. She is more than just an officiant! ! ! You cant go wrong with her ! ! ! I would recommend her 1000000000xs over!
---
Send Message