Home

Holly's Wedding Flowers
Details
Aisle Decorations, Centerpieces, Flower Girl Baskets, Pedestals, Flower Crowns, Bouquets, Boutonnieres, Corsages, Flower Alternatives
Contact Info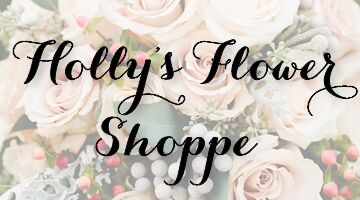 Reviewed on

10/18/2017
Kerry S
Found her shop on etsy. I was wanting fake flowers that looked real because I want to keep them forever but don't want them looking cheap. Her photos looked so real so I ordered. When they came, they were so beautiful and look just as real as real flowers. They're so gorgeous!!... Read More I ordered my bouquet, 2 corsages, and 3 boutonnières and they're all great!
---
Reviewed on

7/27/2017
Aisha B
I found Holly's Flower shop on Etsy. She made all the bouquets, boutonnieres, corsages, and even pompadour kissing flower balls for our flower girls for our wedding. After telling her what I was looking for and the colors, she made a custom designs for our wedding. She is an... Read More awesome communicator, answers all email and questions promptly. The flowers were beautiful, you couldn't even tell they were artificial. She does beautiful professional work. I would recommend her to anyone!! Thank you Holly for making our day special and beautiful!!!
---
Reviewed on

4/07/2017
Holly was amazing to work with. We emailed back and forth and were able to decide on the right flowers for my daughter's upcoming wedding. Holly did a fantastic job putting the flowers we picked into stunningly beautiful bouquets. They exceeded our expectations. I'm so... Read More thrilled! I would recommend Holly without hesitation. She responded quickly, provided input, and was extremely easy to work with. The quality of her work is outstanding!
---
Reviewed on

3/15/2017
The beautiful silk flowers Holly created were perfect for our sunrise wedding. She made the ordering process easy and delivery time was so quick! I am happy to have forever flowers that make me smile and re-live our happy day every time I look at them!
---
Reviewed on

1/20/2017
elizabeth s
Holly was amazing to work with. The flowers turned out amazing and we could not be happier. She always responded to quickly to my questions and always had so many options to choose from. Thank you, Holly!
---
Reviewed on

12/22/2016
Pamela S
Holly is an absolute saint; her patience and flexibility during the design process was unparalleled, and I cannot possibly imagine having risen to it, were our positions reversed. Great communication, friendly and approachable. I feel like Holly takes a genuine, personal... Read More interest in her brides, and it's lovely to have such an invested vendor. My bouquet was more beautiful than I could ever have dreamed, and I am completely obsessed with it. I have no idea how I am going to wait until my wedding to use it! *lol* A flawless transaction, and a seller I would recommend to anyone. Emphatically. A note; I was simply amazed by how much lighter than living flowers my immortal blooms were, and so they're an especially handy option for brides with chronic illness/injury/weakness/pain issues. What with all that chlorophyll and such, it's astonishing how much fresh flowers weigh! And you do carry your bouquet around for a long time... Holly's art-quality synthetic florals are as light as dried, and will be perfect for this disabled bride to carry around all day.
---
Reviewed on

10/18/2016
Alexandra M
Holly made a custom bouquet and boutonnière for my wedding (March 2017!) and it was honestly the most wonderful experience. She was responsive, had amazing communication and so helpful and willing to put my vision to life! There was a slight delay due to back ordering products... Read More but she kept me in the loop and was so lovely the whole time, it didn't matter a bit. The final bouquet is stunning and exactly what I had in mind. International shipping (to Australia) was also ridiculously quick, only 5 buisiness days. I could not recommend Holly highly enough. An absolute pleasure to work with. Thank you!
---
Reviewed on

10/18/2016
Sierra F
Words really can't explain how wonderful it has been to work with Holly. She payed such close attention to detail and constantly checked in to make sure I was okay with the entire process. She is really such a beautiful person for all of the effort she puts forth in her craft.... Read More These flowers came out beyond beautiful !! Photos look amazing and they dont begin to do the bouquets justice as to how gorgeous they are in real life! I am so happy with the turn out and such close communication. I recommend that EVERYONE get their flowers with Holly, and the best part is they look completely real and you can then keep em forever! :) I am so thankful!!!
---
Reviewed on

8/22/2016
Amanda P
Holly what a dream to work with! She was so fast with responding and mailing out my bouquet! I got them in less than a week! I had an unconventional wedding and got married in a rain forest and I was just planning on using them in the forest but ended up including them in all my... Read More wedding photos! They stayed perfect in place after being stuffed into a hiking pack and and looked great even after getting rained on for two hours! They looked real and photographed beautifully and I did not have to worry about working with an out of town vendor or having them wilt in the hot climate of a destination wedding! HIGHLY recommend!!
---
Reviewed on

4/13/2016
Melinda K
Hollys Flower Shop made my fairy tale bouquet for my September wedding! She was so patient with me, even when I changed my mind several times! the silk flowers look real, and I can not wait to see my bouquet in my wedding photos forever!!
---
Reviewed on

4/07/2016
Ashley A
Holly is absolutely amazing! She was very easy to communicate with and very knowledgeable. Her flowers are of an amazing quality and they look even more beautiful in person! She was very dedicated to making the bouquets to my specifications for my wedding day! I am completely... Read More impressed and in love with my flowers and I can't wait to use them on my special day!
---
Reviewed on

3/14/2016
Kate I
We ordered my bridal bouquet, MOH bouquet, groom's and best man's boutonniere from Holly. The flowers were gorgeous, and Holly was fantastic to work with! The silk flowers were high quality and looked incredible in our pictures. The bouquets were so well wrapped, not only did... Read More they look amazing but they were super secure, so I didn't have to worry at all about damaging it or shifting the flowers. And now we have them as a beautiful keepsake for our home!
---
Reviewed on

2/19/2016
Sarah R
Holly was an absolute dream to work with! She was very responsive and communicated with me every step of the way. We custom designed my bouquet based off of an inspiration picture, and Holly would email me with the smallest of details such as if I liked certain flowers, how big... Read More I wanted the cascade, etc. My bouquet arrived incredibly quickly and I am absolutely in love with it! It looks 100% real, especially in pictures! I highly, highly recommend Holly for all of your silk flower needs, and will definitely use her if I ever need silk floral arrangements in the future!
---
Reviewed on

2/01/2016
Holly is AMAZING!!! Our flowers are absolutely perfect! They arrived crazy fast and packaged so carefully. Her customer service is off the charts INCREDIBLE; I got to be involved every step of the way!!! Our flowers feel so personal <3 Thank you again, Miss Holly!!!
---
Reviewed on

1/29/2016
Rachel R
It was a pleasure working with Holly. She is very passionate about her work & it shows in the details! I got married on a cruise ship & coming home the customs guy stopped me for having fresh flowers, they were the gorgeous silk flowers by Holly. He touched them, he was sure... Read More they were real! Holly was so great about responding to me quickly & taking time to listen to me & answer any question I had, I never felt like I was just another order! I would recommend her to any bride!!
---
Reviewed on

1/28/2016
Jessie O
I absolutely LOVED working with Holly. She answered all of my questions and sent me pictures of different flowers so I could pick exactly what I wanted. My arrangements were absolutely beautiful!! I can not say enough good things!
---
Holly's Wedding Flowers delivered the most amazing wedding flowers!!!
Reviewed on

2/15/2015
I worked with Holly's Wedding Flower online via Etsy, and her shop there is Holly's Flower Shoppe. She made the most amazing silk wedding flowers for my destination wedding in Mexico, it was exactly what I had envisioned! She was fun and personable, reasonably priced, but best... Read More of all I have these silk flowers to keep for the rest of my life, and that came out exactly the way I dreamed they would!!
---
fantastic
Reviewed on

10/23/2013
Lauren L
Holly made silk flower bouquets, corsages, and boutonnieres for me, everyone in the wedding party, and my grandparents. Not only were they absolutely lovely, they arrived less than 2 weeks after I ordered them - fantastic since I was ordering late. On the wedding day they were... Read More as lovely as real flowers, now they will serve as keepsakes. I can not recommend Holly highly enough. Working with her was fantastic and her work is gorgeous.
---
Loved my flowers!
Reviewed on

8/18/2013
Kathryn H
I decided about two weeks before my destination wedding that I wanted to do silk flowers. Holly made me two beautiful bouquets and a boutonniere on very short notice. They were perfect and it was great to arrive in the Dominican Republic and not have to worry about finding a... Read More good local florist. Plus, my sister and I get to keep our beautiful bouquets for the rest of our lives!
---
Very Happy with my Custom
Reviewed on

5/11/2013
Andrea N
I found Holly on Etsy and liked several of the bouquets she has created. She offers silk flowers and real, but one I like the most was listed as "silk" but looked so real that I had to message her for verification. Holly was very quick and easy to communicate with and very... Read More helpful in customizing the bouquet to my needs. I received my custom order quickly and was so impressed by how real the flowers appeared.
---