Home

House of White
About this Vendor
Say Yes. House of White.
House of White provides unparalleled fashion and wedding expertise for the style-savvy bride. Join us in our luxurious, yet relaxing boutique nestled on the riverfront in Historic Newburgh. At House of White, we want the day you choose your gown to be as memorable as the day you wear it.
Details
Bridesmaid Dresses, Wedding Dresses, Dresses, Bridal Stylists, Plus Size Available, Private Appointments Available, Fashion
Contact Info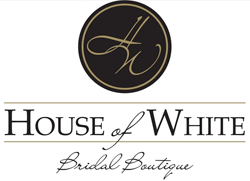 Reviewed on

2/26/2017
Emily
I had such a great experience at House of White Bridal. It was a very laid back and stress free environment for me to choose my perfect dress. The stylist was there only to make sure I got exactly what I wanted in a dress. I never felt pressured in any way to try on a certain... Read More style or go out of my budget. Would highly recommend to any bride!
---
Reviewed on

5/15/2017
Erika M
From the second I walked into House of White, Leslie made my entire experience amazing. She greeted me with open arms and treated me like one of her best friends. I appreciated her commitment and understanding to the overall vision of my wedding. I will most definitely recommend... Read More House of White to future brides. It's an absolute must! The atmosphere and selection of bridal gowns is superior. I would most defiantly give House of White a 5 star rating.
---
Don't underestimate Evansville for bridal gowns!
Reviewed on

9/03/2014
Monica K
Originally, I had told myself I would never be able to find a dress I would like in Evansville. I wanted something fashionable, classy, and unique. On a whim, I decided to check out a few places in Evansville (why not?) to try on dresses. I never imagined this beautiful boutique... Read More being in Newburgh. From the minute I walked in, everyone was so friendly. Andrea (the owner) picked out dresses for me and was spot on! I ended up coming back the next day to try the dress on again and she was so accommodating. She is so accessible and will work to make you happy. Dress shopping was a WONDERFUL experience! Thank you for all of your help!
---
Reviewed on

11/18/2017
Jill B
I had such a fun experience at House of White! I wasn't quite sure what to expect, but once I started trying on dresses I fell in love with the place. I am so grateful that one of my friends referred me here because if not, I'm not sure I would have had the fun-loving, friendly... Read More atmosphere that I encountered. My assistant was on it and very helpful. Thanks again House of White for a once in a lifetime experience and helping me in saying YES TO THE DRESS!!
---
Reviewed on

11/13/2017
Megan E
House of White was my first stop to browse wedding dresses. I was having a hard time figuring out which style I wanted, so I showed them two pictures of dresses I loved. Two totally opposite dresses. In less than 10 minutes, she had picked a few dresses for me to try and guess... Read More what... I said YES to the very first one!! They made everything so special. They fixed my hair the way I envisioned for my wedding day, put a veil on me, & gave me some earrings so I could get the full "feel" of the dress. It was perfect. & everyone was SO sweet. I was the last appointment of the day, but no one made me feel rushed at all. I highly recommend House of White!
---
Reviewed on

11/07/2017
Bri B
My experience at House of White was the most magical and incredible day. I have recommended them and bragged about them to every single one of my friends. As soon as I walked in, I got goosebumps. It is every girl/woman's dream, the soft beautiful lighting, the rows and rows... Read More of the most gorgeous gowns, and being treated literally like a princess. Lesley was the one helping me that day, and I felt like we had been friends forever. I immediately cancelled all of my other appointments after my appointment with House of White. The staff is so wonderful and knowledgeable. They are incredible stylists and know how to put the perfect pieces together and to find what you are looking for. Absolutely obsessed. I cannot wait to go back when my dress arrives!
---
Reviewed on

11/06/2017
Elspeth U
The House of White was wonderful! The appearance of the shop and decor was bright and welcoming. Andrea did a fantastic job of making me feel confident and comfortable. The staff was very knowledgable and helpful in making this a fun experience with lasting memories for me!
---
Reviewed on

10/25/2017
Chelsea F
Can't compliment House of White enough! Kellen and Leslie were so knowledgable and kind, they truly made the dress shopping experience for me and my mom one of a kind. I highly recommend this shop for all of you brides out there!
---
Reviewed on

10/15/2017
Alexa L
I had such an amazing and personalized experience at House of White! I went on a Saturday with no appointment and the consultants were willing to change their own schedules in order to accommodate my guests and I. My consultant was highly knowledgeable and helpful in the process... Read More of finding my gown. She listened to my ideas and overall vision while providing positive feedback and suggestions. I ended up finding the gown of my dreams and I know I wouldn't have been able to do so without the help of the House of White consultants and their amazing variety of gowns.
---
Reviewed on

10/10/2017
Brooke K
I found my dream dress at House of White. The staff made my experience so fun and I truly felt like a princess while I was there. Each dress I tried on was so special and unique in their own way. I love this boutique!!
---
Reviewed on

10/03/2017
Stephanie E
Phenomenal experience! Between the personal and highly experienced staff as well as the stunning dress selection, I could not have asked for anything better.
---
Reviewed on

9/30/2017
Andrea D
I would love to say I found the perfect dress at House of White but instead I found TWO!! I have drove past H.O.W. a million times and I dreamed of stepping inside and the outside is beautiful but stepping inside is stunning and doesn't feel like we are in the same town. Leslie... Read More was my consultant and she couldn't have been more perfect. There was no pressure from anyone during my time there. It felt like Leslie was there for me and my wants and felt like one of my best friends in our time in the shop. I would recommend House of White to any bride to be!
---
Reviewed on

9/15/2017
Kasee B
Simply fabulous! The staff at House of White went above and beyond to help me find the perfect dress for my special day. Being limited for time they had a plan to help me make my wedding a reality. This is the perfect place for a personal bridal experience. My highest... Read More recommendations.
---
Reviewed on

9/13/2017
Madalyn E
House of White did an AMAZING job helping me find my wedding dress! I LOVE my dress and can't wait to wear it on my wedding day! Thank you so much House of White!
---
Reviewed on

8/27/2017
Sara M
Andrea was awesome!
---
Reviewed on

8/26/2017
Elizabeth B
My experience at House of White was like no other. I wanted a really unique dress, and I wasn't sure it was fully possible to find. My consultant worked diligently to give me the best experience, and it paid off! I ended up getting 2 dresses that will get combined into one... Read More piece. I was so nervous about the necessary alterations to construct this dress when Andrea called a local seamstress who came over immediately and put my mind at ease. I can't wait to wear my one-of-a-kind dress, make my fiance's jaw drop, and be the show stopper when it comes to the reception! Thank you House of White for make my dream dress come to life!
---
Reviewed on

8/22/2017
Natalie E
I had a great experience finding my perfect dress at House of White!
---
Reviewed on

8/21/2017
Ashleigh C
I absolutely loved the staff and my experience at HOW. The atmosphere is perfect & the store is adorable!
---
Reviewed on

8/19/2017
Brooke S
House of White made finding my dream dress so easy and fun!
---
Reviewed on

8/05/2017
Tara P
I couldn't have asked for a better place to buy my dress! I went in two weeks before My wedding date desperate for a dress and these wonder ladies helped me Leave with my dream dress. I would recommend House of white to everyone! Leslie and Andrea are amazing!!
---
Reviewed on

7/24/2017
Ashlee N
I had such a great experience at House of White. Everyone was extremely helpful & kept in mind my budget to find the perfect dress. After trying on several options, Andrea picked a dress out that I didn't think was my style. It ended up being perfect & will be the dress I wear... Read More on my wedding day. I cannot thank the House of White enough for all their help.
---
Reviewed on

7/22/2017
Lizzie L
As soon as I walked through the doors I felt welcome. I was able to get in last minute for a Hayley Paige trunk show for her Blush collection. My consultant was very upbeat and wanted to put me in as many dresses as she could... till we finally found THE ONE. I can't wait to go... Read More back for my bridesmaids dresses as well as my MOH dress for the wedding I am in! Definitely a must!
---
Reviewed on

7/16/2017
Ryan M
Loved my experience here!
---
Reviewed on

7/15/2017
Jessica S
My wedding dress shopping experience at House of White was beyond amazing!! As soon as you walk in you are greeted with a smile! The staff were experienced and extremely friendly! They took away the intimidation of wedding dress shopping and made it such a fun experience! I... Read More would recommend them to anyone!
---
Reviewed on

7/15/2017
Sara E
House of White was the first place I went to try dresses on and it did not disappoint! Andrea is such a joy to work with! They were all so friendly and welcoming! I couldn't have asked for a better experience to find the wedding dress of my dreams!
---
Meet The Owner
Chris and Andrea
Husband and wife team Chris and Andrea opened House of White in 2012. Together with their fabulous team, they've created a haven for brides and their families to have an unforgettable bridal experience. By combining a curated selection of designer gowns with the picturesque setting of the boutique and superior service, brides are treated to comfort and care when they say 'yes' to perfect their dress.