Home

House of White
About this Vendor
Say Yes. House of White.
House of White provides unparalleled fashion and wedding expertise for the style-savvy bride. Join us in our luxurious, yet relaxing boutique nestled on the riverfront in Historic Newburgh. At House of White, we want the day you choose your gown to be as memorable as the day you wear it.
Details
Bridesmaid Dresses, Wedding Dresses, Dresses, Bridal Stylists, Plus Size Available, Private Appointments Available, Fashion
Contact Info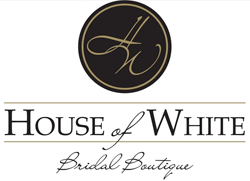 Great Experience! Highly recommend
Reviewed on

3/26/2014
Anna-Lisa Z
I recently found my wedding dress at House of White. I hadn't shopped around anywhere else so this was the first place I had tried on dresses. I wouldn't change a thing! Andrea was so great. She helped me find the perfect dress and she was so patient throughout the entire... Read More experience. Not once did I ever feel rushed or like I needed to make a decision. She let me try on multiple dresses more than once and was very supportive of my final pick. She is very good at what she does and she has a great eye for the type of wedding dress that is perfect for you. Not to mention this place is gorgeous! Every girl dreams of saying yes to her dress at a place like House of White. Would definitely recommend!
---
Don't underestimate Evansville for bridal gowns!
Reviewed on

9/03/2014
Monica K
Originally, I had told myself I would never be able to find a dress I would like in Evansville. I wanted something fashionable, classy, and unique. On a whim, I decided to check out a few places in Evansville (why not?) to try on dresses. I never imagined this beautiful boutique... Read More being in Newburgh. From the minute I walked in, everyone was so friendly. Andrea (the owner) picked out dresses for me and was spot on! I ended up coming back the next day to try the dress on again and she was so accommodating. She is so accessible and will work to make you happy. Dress shopping was a WONDERFUL experience! Thank you for all of your help!
---
A Wonderful Bridal Experience
Reviewed on

4/13/2014
Stephanie W
The people and service at House of White cannot be topped. During the entirety of my bridal appointment, I felt as if the staff had both me and my vision at the forefront of their minds. The dresses that they pulled for me to try on were stunning! I felt like they truly... Read More understood what I was looking for in a wedding dress. My mother and other guests were also able to sit in a charming and comfortable room with fresh ice water while I tried on my dresses. Everyone enjoyed themselves! For the ultimate bridal experience, I truly recommend House of White. Andrea and her staff will certainly take care of you!
---
Reviewed on

6/13/2017
Emily G
The excellent staff at House of White helped me sort through my vision and find the perfect dress - classic, timeless and elegant! They listened, helped me picture the complete look and understood what I wanted for my wedding day. House of White has the perfect environment for... Read More family and friends to come and share the experience with you. It was the first place I went to try on dresses, and I said yes to my dress that day!
---
Reviewed on

6/11/2017
Deanna W
Had an absolutely amazing experience here and finding my dress might have a little something to do with that. This boutique is super cute and everyone that works there is super friendly. Andrea was great to work with and was pulling dresses that totally met my criteria. The... Read More selection of dresses they have are great, not too much to be overwhelming but enough to get the job done and fabulous designers to choose from. Never felt rushed or pressured to buy anything and was encouraged to point out things I did and didn't like. Would definitely recommend this place to friends and family if and when they are looking for their dress for their big day!
---
Reviewed on

6/08/2017
K K
Great!!
---
Reviewed on

6/08/2017
Megan R
I can't even begin to explain how at home I felt here. The House of White team was beyond anything I had anticipated and I am so happy we chose them. Andrea absolutely amazed me with her knowledge of bridal wear and we are so blessed to have this amazing boutique in our... Read More hometown.
---
Reviewed on

5/27/2017
Carri V
Absolutely loved my experience at House of White. Leslie and Andrea were so helpful and knew exactly what my vision was for my dress on my wedding day! Will recommend them to all of my friends and family!
---
Reviewed on

5/20/2017
Tori L
More than I could've ever asked for. Everyone was so sweet and helpful and extremely knowledgeable!
---
Reviewed on

5/15/2017
Erika M
From the second I walked into House of White, Leslie made my entire experience amazing. She greeted me with open arms and treated me like one of her best friends. I appreciated her commitment and understanding to the overall vision of my wedding. I will most definitely recommend... Read More House of White to future brides. It's an absolute must! The atmosphere and selection of bridal gowns is superior. I would most defiantly give House of White a 5 star rating.
---
Reviewed on

4/27/2017
Jessica F
House of White is the best of the best! Their selection is unique, glamorous, and their customer service is even BETTER! HOW is a one stop shop to fulfill all of your wedding dreams (and beyond)!
---
Reviewed on

4/22/2017
Claire E
House of White is an excellent bridal salon. It was only the second place I'd been to, but I could tell the difference. The staff is very helpful and patient. The environment is very relaxing, well maintained, and is decorated nicely. The people who came with me were offered... Read More water and were seated comfortably in a nice lounge area as I tried on dresses. What is more, the range of prices is pretty good. If you are on more of a budget (less than about $1 thousand in this case), ask whether there are any sample dresses (final sale, as-is dresses) for sale in styles that you're interested in. My dress was a sample and I love it. It's an older dress from a couple of years ago, which I don't mind, but I also know nobody else getting married soon will have my dress! Just keep in mind samples may need to be altered, as they may be a bigger size than you need and they cannot be ordered in other sizes since they are as-is, but you can take them home the same day. If you're not having very good luck finding your dress or are simply looking for a place with nice dresses, I highly recommend House of White.
---
Reviewed on

4/11/2017
Kendra D
Great experience and found my perfect dress here!
---
Reviewed on

3/30/2017
JoBeth B
Absolutely love this place! The staff was amazing, and helped me fine the perfect dress. I can't wait to wear it on my big day.
---
Reviewed on

3/18/2017
Shannon M
Andrea from House of White made my bridal experience so much more than I thought it would be! When I was becoming discouraged when nothing was quite giving me that feeling, she hung in there and I said, "Yes to the dress!" Highly recommend them. Plan to get my bridesmaids... Read More dresses from here too!
---
Reviewed on

3/14/2017
I cannot say enough great things about House of White! Leslie helped me find the perfect dress and made my wedding dress shopping experience incomparable to another bridal store I went to. House of white was so accommodating to the party of 6 that was with me, as well. Leslie... Read More knew the perfect accessories to go along with my dress and exactly what I would like! She really took each one of our opinions into consideration and was open to me trying on every dress they had in store if that's what I wanted. Such a great experience!
---
Reviewed on

3/07/2017
Nicole S
Andrea and the Staff at House of White made my appointment very special. they were so helpful, and truly listened to me and helped me achieve the look I want for my Wedding Day! I highly recommend House Of White and their staff, they pay attention to all the little details and... Read More make you feel truly special!
---
Reviewed on

3/06/2017
Alexis G
From the moment I entered it was honestly the full bridal experience I had wanted! The experience and service you get is like no where else, it truly made me feel like a bride! I would recommend this place to anyone I know!
---
Reviewed on

3/06/2017
Amy D
At first, I was a bit hesitant as my appointment didn't start until 20 minutes after my appointment time. However, into the appointment, the experience was amazing. I explained what I was looking for and they were willing to get the designer of the dress on the phone to talk... Read More about the modifications I wanted. I was very impressed at the lengths they were willing to go through to help me out. This was the 6th store I had went to looking for dresses with no success before. I would highly recommend House of White, for not only the amazing custom experience I received, but also the quality of stock that they have in dresses! Thank you all again for helping me find my dream dress that I had envisioned!!!
---
Reviewed on

2/26/2017
Emily
I had such a great experience at House of White Bridal. It was a very laid back and stress free environment for me to choose my perfect dress. The stylist was there only to make sure I got exactly what I wanted in a dress. I never felt pressured in any way to try on a certain... Read More style or go out of my budget. Would highly recommend to any bride!
---
Reviewed on

2/25/2017
Nichole D
Leslie was absolutely wonderful! Very very professional and lovely! The only suggestion I have for house of white is more plus size dresses for brides to try on to get the "true" envision on the "dress." Other than that, keep on keeping in House of White!! Loved my experience!
---
Reviewed on

2/25/2017
Katherine T
Beautiful space, excellent service! Found my dress so quickly thanks to the staff! (And I am so picky!!) Highly recommend House Of White!
---
Reviewed on

2/11/2017
Samantha G
A bride's dream come true! Staff was beyond helpful and so very patient with this bride's indecisiveness. They never once made me feel pressured to make a quick decision and even helped me see the vision of my dress on my wedding day. Before I knew it my hair was pinned back, my... Read More veil was in place and jewelry to match was on.. that's when I said YES to the dress! Plus! The gowns were beautiful and so unique compared to other bridal shops I had visited. I would recommend House of White to anyone!!
---
Reviewed on

2/03/2017
Ashley K
Personalized Boutique style experience. I left feeling so confident that they had helped me find the perfect dress. Would recommend to anyone!
---
Reviewed on

2/03/2017
Tricia E
I had a great experience at House of White! Andrea did an excellent job of listening to what I wanted for my wedding day and helped me find a dress to go with it. Would highly recommend her to everyone!
---