Home

Hudson's Restaurant and Catering
About this Vendor
"Our Only Limitation...Is your Imagination"
with detailed planning and chef inspired food, we will assist you in creating a delectable menu. Our catering team will make sure that every detail you request will be met with precision which will facilitate the celebration of your dreams.
Details
American, French, Greek, Italian, Mexican, BBQ, Fusion, Seafood, Specialty
Dairy Free, Gluten Free, Nut Free, Organic, Sugar Free, Vegan, Vegetarian
Buffet, Catering Clean Up, Catering Delivery + Setup, Chef Stations, Family Style, Food Trucks, Menu Tastings, Passed Appetizers, Seated Meal, Servers, Food + Catering, Service Staff
Contact Info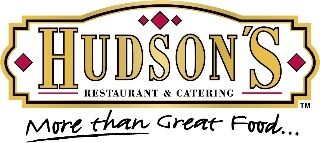 Best of The Best!
Reviewed on

12/28/2015
Kati J
My husband & I had the pleasure of working with Hudson's for our October 2015 Halloween wedding - they were the absolute best! From day one, I was at ease with our menu planning & rentals. Paula was truly amazing to work with! Planning a party for 200 people was so overwhelming,... Read More but she helped me thru every step! She was honest about the quantities I needed & saved me money wherever she could! We ended up with a beautiful array of fall colors & tastes for our guests! The food was amazing on top of it! Months after our wedding, I STILL have people mentioning how delicious the food was! People went back for seconds & thirds! When was the last time you went to a wedding where the food was so memorable?!? And their prices? I couldn't believe it! When choosing a caterer & comparing prices, I thought the estimate was wrong because there was such a huge difference! I am telling you, as an OCD bride who planned her wedding, stressing about every last detail...choose Hudson's! It was incredibly refreshing knowing they were there. Paula was my calm in the storm...I'd hire them a million times over!
---
Reviewed on

6/01/2016
WOW-factor!!! First and foremost-Paula is the best!! From the minute you meet her, you are in exceptional hands! She exceeds the expectations of any catering coordinator out there! Not only did she coordinate everything from the food, tables, chairs and linens; she became part... Read More of our event. When you hire a company/someone to be part of your important day you foresee the best, well right here, you will find beyond the best! (For real, read the other reviews-Paula is by far the best!!). She went far beyond our expectations of what a catering company would do to accommodate our day! Communication is definitely the key, she went above and beyond. ALWAYS, available to talk or email about any questions or concerns. Our menu was very personalized by us. We went with an all Italian theme. Every single item we wanted was perfected! We had Pinterest inspired items that were beyond amazing and made by exclusively by Hudson's!! When they say they will accommodate you, they do beyond words. Seriously, they are awesome! People are still raving about the food that was served! If you want a catering coordinator/company that is professional, classy and easy to work with-go no further then Hudon's! You will not be disappointed in any way!! Book with them and have no worries connected with your special event!!
---
Reviewed on

11/01/2017
Erica W
Ok, so 5 stars is just not enough! Words cannot express how amazing Hudson's Catering was to us and our guests. FOOD was out of this world. Guests still raving about it. They most certainly exceeded our expectations. Paula is without a doubt, the most amazing catering... Read More coordinator to work with. She was there for any question you needed answered, from food, décor, to just lending a listening ear , for venting and so much more. She creates a personal bond with you and your family , it is not just business to her, you become like family and your wedding and all weddings are her top priority, ensuring nothing but the best for the biggest and the most special day of your life. Hudson's catered to any wants and needs to any one person's food preferences, vegan for two guests… she is on it, no bagged lettuce for one person… okay, fresh from the farmers market for all! They can alter anything on their catering menu that they offer OR can create a whole new one based on your taste! My husband, family and friends LOVED her and her team. I will be recommending anyone looking for a catering service to Paula and her Hudson team for ANY event. She is already doing my cousins wedding and I cannot wait for it.
---
Reviewed on

10/26/2017
Mallory F
The best decision we made in planning my daughter's wedding was to hire Hudson's Catering! I cannot express how truly grateful we are for everything Paula did to help make Mallory's and Tommy's rehearsal dinner and wedding day so incredibly special! From the day we met Paula we... Read More knew we were in great hands but she far surpassed our expectations! Throughout the entire planning and preparation process Paula was there. Any time we had a question, Paula was there and responded right away. She remained professional and cooperative. She organized the food, the linens, the table settings, and made sure everything was set up the way we had planned. Paula and her entire staff were very helpful and courteous to all of our guests during our event and helped everything run seamlessly. Several people commented to me about how delicious the food was and even stated that it was the hands down the best food they've ever had at a wedding! We knew it would be wonderful but the food and service was truly outstanding! I was really nervous about wedding planning and did not feel experienced enough to put everything together on my own but knowing Paula was there, offering all of her experience and professionalism every time I had a question or wasn't sure what to do, helped me to feel more confident and allowed me to really relax and enjoy every moment of this special day! I highly recommend hiring Paula and Hudson's Catering for your wedding or any other event! You will be so happy that you did!
---
Reviewed on

10/16/2017
Kelly S
Hudson's food is amazing! From the first time we ate at the restaurant we were sold on the food for our wedding; then after meeting Paula I was instantly at ease and trusted her with all the details for our big day! The planning process was very easy and Paula helped with... Read More details I would not have thought of. She was great with providing quotes for all of the rentals we would need and was able to estimate numbers of plates, glasses, etc that we would need. We had a buffet and the food was just as great as it was in the restaurant. All the guests that I talked to loved the food. Lisa and Neil actually ran the show the day of and I could not have asked for a better team! All of their staff were professional and helped with so much. I could not have imagined my wedding without Paula, her team, or Hudson's food!
---
Reviewed on

7/02/2017
Rebecca S
Hudson's catering was absolutely wonderful! All weddings should be catered by them! Not only was their food delicious, but the service was incredible. Paula couldn't have been sweeter or more patient thoughout the planning process. I felt like she had my best interests at heart... Read More from the start. I only wish I could give Hudson's more stars!
---
Reviewed on

1/22/2017
Susanne
Our wedding was perfect because of Paula at Hudsons! Our venue was at Thorn Creek Winery & it did end up raining after the ceremony but everything went off perfectly. Paula & her staff were amazing and we received numerous compliments on the food. I would recommend Hudsons to... Read More anyone. Paula made the entire process so much easier & she is wonderful!
---
Reviewed on

1/06/2017
Becca B
Just started working with Paula. She has been tremendously accommodating, has come up with wonderfully creative ideas and is always quick to respond. We are feeling very at ease about our big day knowing that our catering needs are in very capable hands.
---
Reviewed on

10/30/2016
Megan S
I could not have asked for a better caterer. And it was not just about the food, service and presentation. Those were all amazing but truly it was Paula. She is so kind and understanding and will do whatever it takes to make your day special and stress free. She is full of... Read More suggestions and will investigate any and all of your crazy requests. And yes the food was unbelievable...especially the butternut squash shells.
---
Reviewed on

1/26/2016
Kim H
Hudson's is a fantastic choice for your wedding! My husband and I used Hudson's for our wedding this past summer. We loved it so much, we started working for them on the weekends! And now my sister is using Hudson's for her wedding this coming summer! Inexpensive, delicious,... Read More customizable, many options, flexible, friendly. I've worked for several catering companies before and none of them compare to how great Hudson's is! Great for all-in-one: food, linens, table settings, etc. all available through their recommended rental companies and they do it all for you. Wouldn't recommend anyone else!
---
Reviewed on

1/12/2016
Christine B
My husband and I had our wedding catered by Hudson's Catering in June 2015, and we couldn't have been happier with their work! Paula in particular was a rockstar; she met with my family and I several times before the event, followed up with me regularly throughout the planning... Read More process, managed our ever-changing rentals list, and helped orchestrate our outdoor wedding despite torrential rains the morning of! And of course the food and the level of service by the wait staff was spot-on. It was evident to us throughout the planning process that Paula really cared about us and making our day special, and we were so glad we chose to work with them for our wedding!
---
Reviewed on

1/11/2016
JoEllen G
My husband and I could not have been happier with Paula and the Hudson's Catering team for our June 2015 wedding. The food was exceptional, from the appetizers to the main courses, there were no flaws. Our guests are still talking about the food to this day! Not only was the... Read More food great, but Paula was wonderful to work with. She answered all emails and phone calls promptly, and also made the tastings and choosing which items would fit what we wanted very easy. She even made picking out linens easy! We can't recommend them enough!
---
Reviewed on

12/28/2015
K M
We had our wedding catered by Hudson's in the summer of 2015. We were very happy with the food/service and coordination between Paula and the venue. Paula is the wedding planner that we never paid for! She is very friendly and accommodating and always returned our calls/emails... Read More quickly. We had never been to Hudson's before, so we tried it out prior to our official tasting. We now go there once or twice a month because the food is so good. If you are looking for a caterer with great food, service and goes above and beyond what is expected...you can't go wrong if you select Hudson's! Highly recommend!
---
Reviewed on

12/28/2015
Stephanie N
We used Paula and her team for our wedding September 19, 2015 and they were wonderful!! I am super picky and a little OCD, and Paula was absolutely wonderful and so flexible! We choose a venue that did not provide any of the rentals we needed and I was a little concerned as to... Read More how I was going to be able to coordinate everyone but Paula worked with the linen company (L'nique) and she provided all the flatwear we needed as well! Amazing! Our tasting before the wedding was just perfect. There was one thing that really sold us... We arrived at her restaurant in Hudson and enjoyed every bit they served us! then, at the end, the chef came out and told us that everything we ate had been sitting in a hot box for an hour before we arrived! Wow! They knew that our guests would not be receiving food right off the stove (as our venue only had a kitchenette), so they didn't want to serve it to us like that either. We got to taste and experience the food exactly the way our guests would. I have never heard of a company doing that and i loved it! So honest! My husband and I are both in the service industry and we both felt the service was flawless. We had a 4 course, plated dinner (with a family style pasta course) and service ran so smoothly! Paula was so easy to get ahold of and if she wasn't available then she responded to my email/phone call very promptly! I really cannot say enough good things about her service and the service of the staff. Very professional! And very affordable! My family owns some commercial real estate and when we chose Hudsons, my dad brought the quote to a caterer in one of our buildings and he looked at my dad and said "wow, that's a great price! You will never find someone who can do all of that for that price". After that, we knew for sure we had to go with Hudsons. Their food tasted great too! Everyone at our reception raved about it! Especially the pasta course! Only "bad" thing I have to say is that I wish they would have taken initiative to box up the leftover food for us (we had almost 10 people not show up so there should have been 10 dinners extra) However we did not ask about this beforehand so I have to take some responsibility for that. Would have been blown away if they would have done so without prompting though! All in all, great experience! We could not have been happier! Would definitely recommend them to anyone who asked!!
---