Home

Inn on Crescent Lake
About this Vendor
The Most Romantic Getaway in Kansas City
If your vision of the perfect wedding includes an incredible setting, a beautifully restored mansion, and privacy, then you have found the ideal place. The property is like none other -- our beautiful historic Georgian colonial mansion and grounds have made each wedding we have hosted a dream come true for our enchanted couples! Love is always in the air at the Inn! Thank you for expressing interest in holding your wedding at the Inn on Crescent Lake! We have been honored to host many couples for their special day. The Inn's setting creates a magical atmosphere that will make your day even more memorable than it already will be. If you find that our venue would not be able to host your wedding, we hope you will keep us in mind for your honeymoon!
Amenities + Details
Amenities
Bridal Suite

Handicap Accessible

Liability Insurance

On-Site Accommodations

Indoor

Outdoor - Covered

Outdoor - Not Covered

Reception Area

Wireless Internet
For more details about amenities, please message the Venue.
Historic Venue, Mansion + Estate

Romantic Ambiance
Reviewed on

9/22/2012
Cara B
The Inn on Crescent Lake is beautiful! Our wedding took place outdoors and due to the rain we had the ceremony in the tent rather than on the terrace in front of the mansion. It was beautiful! In the evening the lights shine in the distance on the Inn and set the mood for a... Read More romantic classical fairytale! Beverly and her staff are fabulous, they ensured my wedding was exactly how I imagined.
---
Reviewed on

11/02/2015
Melissa S
WOW! Loved every single memory from having my wedding and reception here. The Inn provides the most stunning backdrop all on its own. Loved that all our wedding party were able to stay the weekend with us and their loved ones as well since there were enough rooms for all. The... Read More owners are the most pleasurable people you could ever imagine. Their passion and genuine interest in your personal needs are beyond exceptional. I couldn't imagine a better experience.
---
AWESOME!!
Reviewed on

11/01/2015
I would highly recommend an all weekend venue like this. As a bed and breakfast, it was wonderful for our family and friends to spend Friday night, the wedding on Saturday and leave Sunday after breakfast. The Wedding was AMAZING!! From the landscaping, bed and breakfast,... Read More wedding cake, and the Indian wedding ceremony, the whole weekend was AWESOME!! A BIG THANK YOU TO CRAIG & BEVERLY and their staff for all their hard work in making it a great weekend for all our friends and family members. They are still talking about it! We have beautiful pictures and memories. Vinny and Shelly Singhal
---
Reviewed on

10/31/2015
Leah M
The first time I visited the Inn, I knew I wanted to get married there someday. Although I was unmarried at the time, I could envision my wedding day with my then-boyfriend in this most beautiful setting. Once I was engaged, I immediately contacted Beverly. She was extremely... Read More helpful with suggesting vendors and answering any questions that I came up with. Our wedding day ended up being exactly what I had dreamt of, and I can't thank the staff at the Inn on Crescent Lake enough! Our friends and family all complimented us on our beautiful wedding, and we loved being able to spend so much time with them all during our wedding weekend. We plan to visit this little slice of paradise every year on our anniversary!
---
Reviewed on

10/31/2015
Keira H
Our wedding was everything we'd dreamed it would be at the Inn. Great accommodations and food and so professional. Anything we wanted, they knew how to make happen! The scenery is beautiful and varied and made for priceless photos. I never plan to get married again ;) but if I... Read More were to do it over I'd choose the Inn at Crescent Lake again and definitely recommend it to anyone looking for a beautiful, unique but classic venue.
---
Beautiful Venue
Reviewed on

10/31/2015
Jessica F
I have the privilege to work at this beautiful venue. The property has many advantages to holding a wedding there with the options of having indoor or outdoor ceremony's/receptions. I love that families get to spend the night or weekend there celebrating coming together. Getting... Read More to witness it first hand really makes me wish I could have my wedding here. Unfortunately, my fiance and I have very large families and many close friends that we want to celebrate our love with, so we are not able to have our wedding at Inn. If our wedding could be smaller we would have considered the Inn. It is such a great place with great owners. Beverly is amazing. She will do whatever she can to take the stress away from the couples getting married and their families. She is very prompt and will help you to follow a schedule you want to make sure your day goes smoothly.
---
AWESOME!
Reviewed on

10/31/2015
My experience with the Inn on crescent Lake was awesome! Beverly and Craig were incredible and showed such hospitality! The Inn was a perfect place for a wedding, so warm and inviting! If any bride/groom is looking for a location for an upcoming wedding/reception I totally... Read More recommend the Inn on Crescent Lake! You will be well taken care of and your wedding photos will be amazing!
---
The perfect wedding experience!!
Reviewed on

10/31/2015
We were having hard time finding an elegant and intimate wedding venue. We had looked around at several venues and Bed and Breakfasts in the the Kansas City area, but the Inn on Crescent Lake won our hearts the moment we drove up. The southern colonial style house surrounded... Read More by water is breathtaking. Beverley and Greg, the Inn Owners, were more than willing to make our day absolutely perfect. Their organization and attention to details did not go unnoticed. Our photos turned out great with the classy decor. We stayed our honeymoon night at the inn. Now we can go back each year for our anniversary and remember our wedding day again and again. Highly recommend!
---
Reviewed on

10/31/2015
Jeff H
The Inn on Crescent Lake was amazing. My wife and I are both Active Duty Navy. I was having to spend a lot of time out to sea. The communication with Beverly was always easy and responses were always prompt. My first impression when I walked into the Inn the week of the... Read More wedding. Well I was blown away!! The Inn sits on a breathtaking plot of land. My wife I had to select the rooms our family members would be staying in. It was a tough decision as we wanted to stay in each of them. The staff was AMAZING! Very attentive to our needs and handled everything seamlessly. Beverly accommodated every request and went above and beyond, not only for my wife and I, but for our families. It was special enough marrying my Best Friend. I got to do it in a magical place, The Inn on Crescent Lake! Thank you Beverly and Staff for your wonderful hospitality! See you on our next stay! Jeff Hammond
---
Reviewed on

10/31/2015
Carrie K
The Inn On Crescent Lake was fantastic!! Being active duty in the Navy, my groom and I were coming from far away and Beverly helped my family plan every detail without me being there. That took loads of stress off of my husband and I. Beverly had every detail down and we were... Read More able to have almost all of our out of town guests stay at the Inn which made it fantastic for the families! Thanks to the Inn, my groom and I had the most unforgettable weekend! I could not have asked for a more beautiful location or a better staff. Thank you to Beverly and the entire Inn staff! They remained flexible and kept everything on schedule in order to help our evening go smoothly. I would highly recommend the Inn on Crescent Lake. My husband and I will stay here again! Sincerely, Carrie Hammond
---
My daughter's dream wedding
Reviewed on

10/31/2015
We did the full wedding package, renting all 10 beautiful rooms. While the cost shown here is ONLY the Inn charges, remember there are catering, officiant, photographer etc charges as well. The whole experience here was phenomenal. They catered to my daughter to ensure she was... Read More happy & the day turned out the way SHE wanted it. They kept everything running smoothly & on time. The cake was superb! Breakfasts were DELICIOUS! The rooms are amazing and super clean. The grounds are stunning. They were always in contact with us to ensure things were running as we intended. All of our guests were SO impressed with the accommodations and how amazing the entire weekend was. Since we had a lot of out of town guests this venue was perfect so that we were able to spend time together... to truly meld the two families. If you sent guests here and there to hotels you would never get this feeling! And the pictures... OOH MY! This venue is so beautiful, inside and out, and let our photographer get the most amazing pictures!! We can't say enough good things about how perfect this venue suited us.
---
Reviewed on

10/30/2015
Shay H
I was searching for a location for our wedding and my fiancé's mom, who lives in Ohio, came upon the Inns website. I decided to schedule an appointment to see the Inn. As I entered the property it felt like I was visiting a country side chateau. We were greeted by the Owner... Read More Beverly, she was so delightful, kind and her enthusiasm was genuine. Beverly was able to answer any questions I had; as well as, provide books with of previous weddings for me to look at. After touring the grounds I knew that this was it, my fairytale wedding destination. I knew everything would be in great hands with Beverly. Her experience with details on past weddings showed and I felt my stress as a bride melted away. As my big day came everything was perfect, Beverly did an excellent job with providing the proper support and professionalism needed for my big day. All of my guest had a wonderful time and stayed to the wee hours of the morning even my Dj wanted to stay to continue the fun. My guest still rave about how much fun they had at my wedding and reception. I wouldn't change anything about my day, to me it was perfect. The amount of love, / caring that the staff and Beverly put into my day was fabulous. I'm very thankful for one of the best days of my life. The next morning was just as magical the breakfast and the view was priceless. I still remember the amazing smell of the food and how delicious it tasted. If I could rate the Inn over 5 stars I would give it 10. It's an experience I can't wait to have again. My mother in law also enjoyed her experience at the Inn. Here's what she had to say "From the moment I arrived at Inn on Crescent Lake I was made to feel welcome and special. The intimate wedding setting was beautiful in the gazebo and the reception area around the pool was magically lit with candles that reflected off the water. I felt like I was on a movie set! Everything was so lovely! Breakfast the next morning was delicious and each guest was served and attended to like we were royalty. I cannot say enough about how great Beverly and her staff were and how they insured that everything ran smoothly and each guest was made to feel special." Carolyn Huffman
---
Reviewed on

10/30/2015
John W
I cannot say enough good things about our wedding day and our several stays at the Inn on Crescent Lake. It's one of the most romantic places you can stay at in either Missouri or Kansas. Beverly and her wonderful staff are the epitome of professionalism and kindness and allow... Read More their guests to relax, unwind and recharge their batteries, so to speak. For our wedding, we rented the entire Inn for the weekend and all of our guests loved every facet of their stay. From the sumptuous, cozy rooms to the lovely grounds and swimming pool. At no point during anyone's stay was Beverly or her staff intrusive or overbearing. Quite the opposite, in fact. Our friends and family members still continue to rave about how much they enjoyed their stay at the Inn and how they have never attended a more beautiful wedding than ours or stayed at a more warm and inviting place as the Inn on Crescent Lake. We'll definitely be back ourselves for our next wedding anniversary! -John & Danna
---
Fantastic but...
Reviewed on

9/21/2015
Ruby D
Beverly takes great care of the Inn and is attentive to all details. She makes sure that everything runs smoothly and your guest are cared for. I knew I didn't need to worry about anything the weekend of the wedding because she had it taken care of. Unfortunately it seems she... Read More crossed the line with too many of our guests and became to overbearing. I noticed many of our guests tried to leave right after dinner was served. We hadn't even done our first dance or the bouquet or garter toss yet. I have been to a lot of weddings and I have never seen that many people disappear that quickly. It was certainly noticeable and concerning but I had no clue why people were leaving. I later found out it was because Beverly was hounding all the guest and making them feel uncomfortable. Family and friends have been telling me stories of her accusing them of sneaking in alcohol and making it impossible to have a good time. If you chose to book here, pay close attention to her rules and know that they must be strictly followed. My cousin is in the coast guard and was staying at the inn on Saturday and my Nana who hasn't seen him in years wanted to visit with him so she went to the Inn but was not allowed inside because only guests can go in the mansion. So even though it was pouring down rain, my Nana and cousin had to stand outside under the porch and visit. That was just one incident. She insisted she knew exactly how many people would be at breakfast and everyone had to be there at 9am sharp. She would call roll at breakfast to make sure everyone was there and if they weren't she would go wake them up. Be prepared to follow her schedule. Also, you can not have any glass at the venue what so ever. Finding all plastic decor is much more difficult than you would think. Most of the rules she follows I believe stem from the guidelines from her insurance. But I have never been to an Inn, Hotel, or Bed and Breakfast where you couldn't bring people besides guests inside. Either she needs to get new insurance with less strict rules or she is following them too closely because it certainly hindered the weekend. I had no idea she made so many of our guests feel uncomfortable until after the fact. All I knew was people were leaving quickly. I don't know if that is normal for her or if she was having a bad day. But I have heard stories from a few friends, cousins, and even my parents. However, The wedding and the weekend were absolutely gorgeous. The only complaint I or my husband heard at all had to do with Beverly. She certainly isn't a horrible person. She means well but it did make it hard for guests to have fun. Regardless,it was a gorgeous day and a fantastic venue. It was like our own little getaway and everything was beautiful. Complaints aside, I am so glad I decided to have my wedding weekend there.
---
Meet The Owner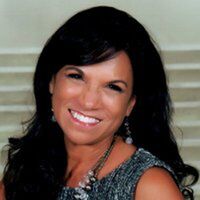 Beverly Bohnert
Since becoming the owner of the Inn on Crescent Lake in 2009, Beverly Bohnert has helped plan and execute more than 300 weddings, from two-person elopements to 150-person events. Regardless of size, each wedding receives her personal touch and attention to detail to ensure a day that will be fondly remembered by everyone present.