Home

Kamaal Kadri Bespoke
About this Vendor
Excellence Crafted with Passion
Complimentary Shirt with Purchase of Suit or Tuxedo-Just mention TheKnot! Located in the historical fashion district of New York City, Bespoke clothier Kamaal Kadri recreates the time honored English tradition of bespoke craftsmanship along with the Italian silhouette. Our tradition in fine tailoring ensures that the experience is pleasurable: from the moment measurements are taken, it becomes apparent "dressing will no longer be an exercise in compromise." We strive to create a bespoke suit that is perfectly fitted and in accordance to your taste, to befit the occasion and in keeping with the seasons and fashion trends. Our signature lies in the finesse and subtlety in which we craft each piece of garment for a sophisticated and luxurious look! Pick, fit, wear: a simple process...
Details
Alterations, Custom Designs, Group Discounts, Fashion Services, Bow Ties, Shoes, Ties, Tuxedos + Suits, Vests, Menswear, Fashion

Contact Info

Reviewed on

6/06/2017
Tony H
Kamaal did a ton of work for our wedding. For me he made a beautiful casual linen blazer and linen shirt for a family cookout; a gorgeous 2-piece dark green suit for my rehearsal dinner; and a stunning 3-piece blue suit for the wedding, with a dress shirt. He also made 7 gray... Read More suits for my groomsmen (the same gray suit that he had made for me several months before), along with 8 matching linen/silk blend ties for us. Everything came out beautifully. My wife, who is very picky, loved all the pieces, and how we all looked in them. I still wear the pieces all the time, as do my groomsmen. Kamaal has a tremendous attention to detail (color, cut, details, etc). Furthermore, coordinating all of this for a single weekend was no easy task, especially with some of my groomsmen in other countries! But Kamaal pulled it all together seamlessly. Every time we look back at our wedding photos, I'm reminded of what a good decision it was to work with Kamaal.
---
Reviewed on

7/04/2017
Corey E
I have worked with Kamaal for years now, so when it came time to have a tuxedo made for my wedding, there was never any doubt in my mind who I would go to. His attention to detail far surpasses any other clothier that I have ever worked with, and the quality of the garments he... Read More produces is truly top notch - regardless of fabric choice, hand detail, etc. Kamaal has made numerous other suits, shirts, and trousers for me in the past, and his work is always timely and consistent. I have never found a reason to go to anyone else. I take great pride in the way that I dress, and Kamaal's product never ceases to exceed my expectations.
---
Reviewed on

5/30/2017
Sarah Z
I was in search of a Bespoke clothier for Men's Tuxedo for my to-be brother-in-law and researched a few bespoke clothiers in NYC. After speaking to Kadri Bespoke NY, I knew I was about to get the service I was looking for! I introduced Kamaal Kadri to my to be Brother in law.... Read More After seeing some of his work, we knew we could trust him with a wedding suit! We also ordered three groomsmen suits for which they worked with us on our budget request. What impressed me is the facility that has in-house tailors who altered my sister's wedding dress too. All our tailoring needs were taken care of under one roof. It saved us so much time, especially when we have other wedding arrangements to look at.   Most admirable was the passion and attention to detail that reflects in their suits and craftsmanship!
---
Reviewed on

12/13/2017
Kim F
Kamaal made an amazing suit for my husband 3 months ago for our wedding. My cousin has been getting suit from Kamaal for the past 5 years. His work is really amazing, money well spent!
---
Reviewed on

11/08/2017
Steven F
I am very particular about my clothes (bordering on OCD), and as my tailor Kamaal was extremely detail oriented and catered well to all my eccentricities. He and I created a beautiful bespoke tuxedo for my wedding and every step of the way, Kamaal made sure I was getting... Read More exactly what I wanted - from the fabric choices, to every possible measurement a tailor could make, to assure that I was getting the ideal fit that I had in mind. I would give him an A-plus; he is top notch in quality and in the care he puts into his work, and also with making the process as easy as possible for me as the customer. Kamaal is currently making me some custom dress shirts - and I'm so looking forward to seeing how they turn out. He's hands-on, thorough, and takes great pride in his work. The value is in his craftsmanship; I would highly recommend Kamaal Kadri.
---
Reviewed on

11/05/2017
Carol C
Kamaal Kadri was recommended to me by a friend to have a custom suit for my fiancee (now husband) for our wedding. We were under the gun with our schedule and Kamaal immediately put us at ease over the phone and said that he could help us. Within our first meeting we had 100%... Read More confidence that Kamaal and his team would do amazing work. He helped with color coordination and got to know Joe well enough to make recommendations based on his style. He made the process easy, warm and fun. We felt immediately at ease during a tense time and that we had made a life long friend! We ordered a beautiful blue 3 piece suit and custom white shirt. Kamaal was meticulous about fitting the suit and made sure Joe was comfortable and feeling good about himself every step of the way. Kamaal does not just make bespoke clothing, he helps bring out the best in your style so you feel fantastic about yourself. Carol & Joe
---
Reviewed on

10/11/2017
Rachel R
Writing this from my wife's account. Kamaal crafted not only a perfect waistcoat, but also a wonderful formal shirt. He was able to source the perfect matching fabric for the waistcoat (not an easy find for the designer Tuxedo I already had). He was very professional and very... Read More knowledgeable about the current trends. Though the black-tie formal wear is timeless, there are definitely right and wrong ways of pulling it off. Kamaal is the guy to go to if you are interested in a perfect look.
---
Reviewed on

10/01/2017
Joseph A
Ladies/Brides: Send the groom with your swatch and Kamaal will give you his expert opinion on what color matches with the colors of your wedding. Ofcourse, if you already have the colors picked out, then he will offer you a deluge of options for the fabric. Both you and the... Read More groom can make the decision together as he makes it a team effort. He also offers tailoring for wedding gowns. Gentlemen: True bespoke experience, in my humble opinion. You will be able to pick every aspect of your suit. He will guide you through the process and advise on where to spend money (like: choice of fabric). I did some proper comparison shopping and finally decided to work with Kamaal Kadri. He will go above and beyond to meet your needs. Suit fit and quality was excellent. He will keep altering until both you and him feel that it is perfect. Endless color options and ways to make the suit your own. Best shirt I own was custom tailored by him. Also, check out the shoes (pictures attached). He made the favorite shoes I own, at the moment. Everything from the size, width, heel height, color and amount of burnish at the toes was customizable. Thoroughly enjoyed the bespoke shoe experience as well. Budget: $800-1200 (for entry to mid level fabric; higher side of range for 3 piece), $350 (Shoes), $100 (shirt). Higher grade fabric is going to cost more than the aforementioned range. ____________ I thought it was going to be impossible. I contacted Kamaal two months prior to the wedding but was only going to be available for a fitting 4 weeks before the wedding. Now, creating a bespoke suit in 4 weeks is challenging as it is but creating that suit with a customer who has limited availability for fittings seemed impossible. Not only did Kamaal meet the timeline, work with my crazy schedule, and surpass my expectation but he was also a great listener whether it was about style, fashion, or just life. Very happy with the bespoke experience and will be a returning customer. ______ Yelp Review Has Pictures https://www.yelp.com/biz/kamaal-kadri-bespoke-new-york?hrid=GTvETg5YZ0YsdE1k7yV_QQ&utm_campaign=www_review_share_popup&utm_medium=copy_link&utm_source=(direct)
---
Reviewed on

9/21/2017
Mark C
Kamaal is phenomenal and really defines what bespoke clothing means. I needed a new suit for my rehearsal lunch for my wedding, and we were 3 weeks away from the event. Kamaal moved heaven and earth to get it done, even doing some of the alterations himself. The suit and... Read More shirt turned out perfect and I received 10+ compliments on the fit, material, and color. I know its a big decision to get a custom-made suit, but nothing compares to his work, even designer off the rack suits would never fit or look as good as his work. He also made my tux for the wedding, and nonetheless, it was even better than the suit :) If you're looking for a fashion coordinator and true genius, please go with Kamaal. The amount of customization, details, and advice he can provide - only enhances his offering and service. He is honestly one of the best.
---
Reviewed on

7/26/2017
TJ K
I've just picked up my Third bespoke suit from Kamaal, and I could not be happier. Not only do my suits fit like a glove, but the craftsmanship is impeccable. Not only did Kamaal spend hours with me making sure that I was comfortable and properly fitted, but it is clear that he... Read More and his team spent countless hours on the details of crafting it. I've worn the first two suits to multiple weddings this year, and will be wearing the third one to my sisters wedding in September. I will never shop elsewhere for suits or shirts again.
---
Reviewed on

7/15/2017
Alexa G
Kamaal is an amazing tailor! He made my husband's tux for our wedding, and he looked so amazing and felt so good in it. Kamaal is wonderful to work with. He's patient, extremely knowledgeable about fit and styling and accommodated all my husband's requests. Working with... Read More Kamaal truly added to our wedding experience. We definitely recommend working with him. You won't be disappointed.
---
Reviewed on

7/05/2017
A C
Kamaal represents the best value in bespoke formal and casual wear. I love his professionalism and ability to deliver. His willingness to go above and beyond to customize provides great comfort in knowing his keen eye will make sure I look the best I need to. All in all, I send... Read More everyone I know to him!
---
Reviewed on

7/03/2017
Michael F
A very special bespoke tailor who has a great sense of style and attention to detail. He helped me create a custom tailcoat for my white-tie wedding on super short notice, cut the pattern perfectly and had the order fabricated in under three weeks. Something of a miracle in... Read More how it all came together. It was a fun process to work with him, and I had many wonderful complements on my wedding day, most importantly from my wife! I highly recommend him without reservation.
---
Reviewed on

6/05/2017
J. F
After doing a great deal of research about bespoke suiting in New York, visiting tailors in person, and comparing prices and quality, I chose Kamaal to make the suit I would wear for my wedding. Honestly, I couldn't be happier. After wearing the suit, I understood why the... Read More customer before me during my first meeting with Kamaal told me this: "I've been getting bespoke suits made for years, but when I started going to him [Kamaal], I literally cleared out my closet. I don't really wear anything else anymore" Kamaal is a talented and knowledgeable tailor. He also offers a range of fine materials at (very) reasonable prices. But these aren't actually what sets him apart (though, of course they could). What makes Kamaal different is that he takes the time to listen, and to really understand how you want to look and feel in a suit. And if you're anything like me, (and you probably are if you're thinking about getting a custom suit), you are highly particular about fit, comfort and silhouette. Having a tailor who not only makes sure that they really understand what you want, but who is also willing to get a sense of your personal style, is really essential. Its also a pleasure to work with Kamaal. I live in BK, so its a trip to get into the city (and of course there is the mental block of getting from BK to Manhattan). Honestly, if the experience wasn't kinda fun, it would have been a huge drag--especially with all the other wedding planning stuff we had to do. But each time I went in, I left feeling more and more confident that I was just going to look great. If you want, Kamaal can weigh in with advice about style and look; but if your sense of style is a bit different than his, he won't be pushy. He can accommodate a range of styles, and does not fall back on a "house style" against which your suit will be made. The guy just knows his craft. If you need something custom, Kamaal's your man.
---
Reviewed on

5/31/2017
David T
Kadri Bespoke was where I purchased my custom made tuxedo for my wedding; it was a great experience working with Kamaal the owner to design my tux. I can't say enough about how Kamaal took his time to educate me on various details of my tux to ensure it enhanced the special day... Read More and complimented my beautiful bride. Kamaal is a professional that goes above and beyond what is asked and truly made me look the part on this milestone in my life. I got rave reviews on the tux and was very happy and proud to say, "I got my suit from Kamaal". I would highly recommend his services to anyone looking to enhance their special day, but also any occcassion. I am a proud customer of Kadri Bespoke.
---
Reviewed on

5/31/2017
Kadri Bespoke was an integral part in the overall success of my wedding! I knew my wife would look beautiful and I wanted to make sure I could keep up! Kamaal helped me design and created a custom bespoke suit, tailored exactly to my needs and specifications. Not only was the... Read More design process enjoyable, Kamaal is extremely intelligent and has great taste. Kamaal presented so many options, the suit was truly designed for me. My dinner jacket and tux pants were perfect! I will continue to work with Kamaal and highly recommend to family, friends and colleagues.
---
Meet The Owner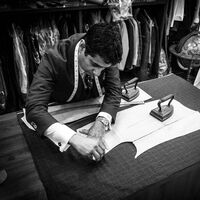 Kamaal Kadri
Kamaal Kadri began his career at an early age apprenticing with his father at his tailor shop in Bombay, India. Later he worked at Kilgour, Stanbury and French, the most well-known and respected tailor on Savile Row in London. In 2000 he moved to New York to study at the Fashion Institute of Technology (FIT) in the Menswear Design Program. After graduation he worked at the contemporary design houses of Kenneth Cole and Michael Kors. Kamaal Kadri established his own label in 2008 offering traditional clothing and expertise in the finest Bespoke craftsmanship for custom suits and shirts.