Home

Kelly Chase Couture Bridal Salon Naples
About this Vendor
Paper Dolls ~ Your Dress Your Way
Kelly Chase Couture Bridal Boutique ~ Florida based / Internationally Acclaimed / Designer Owned / Full Service Bridal and Social Occasion Boutique. Servicing Brides of Orlando, Tampa, Naples, Bonita Springs and Miami ~ just a short drive away. See you soon ;-)
Details
Bridesmaid Dresses, Flower Girl Dresses, Mother of the Bride Dresses, Wedding Dresses, Dresses, Alterations, Bridal Stylists, Custom Designs, Dry Cleaning + Preservation, Plus Size Available, Private Appointments Available, Fashion Services, Fashion

Contact Info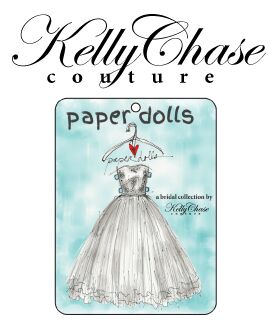 Reviewed on

11/21/2016
Cynthia C
I don't have enough space to write all that is truly wonderful and amazing about Kelly Chase Couture. To any future brides, no other place will hold a candle to them. They are above and beyond everything you would ever need or want from your bridal gown store. Kelly, owner and... Read More designer was born to create bridal gowns that are so unbelievably gorgeous they are pieces of art that should be on display in a museum. She is incredibly humble, kind, passionate about doing the best she can for all her customers. She spent so much time at the fittings and on the phone going over all my questions and was so patient. She is so truly vested in you as a bride and wants everything to be perfect down to the last final details. Chase, her husband and business side of the operation is a true gentleman, supportive, patient and truly vested in you as a customer too. Maria, who helps brides chose and does the sales aspect could not be better for this role. She is upbeat, genuinely happy for you and to be with you, high energy, enthusiastic and is honest! I felt like I had grabbed one of my best friends to help me go through gowns working with Maria. Kelly Chase Couture is truly a gem, the best of the best. I haven't even mentioned the actual gown yet, which was the most gorgeous piece of clothing I have ever worn or seen. I looked and felt like a true princess the day of our wedding. Kelly made the gown custom to fit my body perfectly. She made the bust custom and a few days before the wedding avoided a crisis when the bra didn't fit anymore once it was sewn in. She works endlessly and happily until everything is perfect. I am so grateful and honored to have been able to share this experience with Kelly Chase, they made me feel so special and important from day one. I can't recommend them or thank them enough for how truly amazing the experience of getting my gown from them was and what it meant to me.
---
Reviewed on

8/29/2017
Alicia C
Look no further!!! I can't say enough amazing things about Kelly Chase Couture! From the moment my mom and I walked in, we fell in love with this store. The selection is unmatched. The Paper Dolls collection is beautiful and unique, with so much variety that I knew no other... Read More bride would have the same look! We ended up buying one of the first dresses I tried on! The customer service is top notch. Maria, Kelly and Chase are the nicest and the most professional. They put me and and my mother at ease and made us feel like family. I highly recommend Kelly Chase Couture to other brides. I received so many compliments on my wedding day and felt like a princess!
---
Reviewed on

8/15/2017
Jaimie B
I have so many great things to say about kelly chase couture!! They were so kind when I first called to make my appointment, they came in for a late appointment not once but twice for me because I have a very difficult work schedule! Kelly has such unique beautiful gowns, a true... Read More artist!! Maria is a ball of energy every time I see her! And chase well he's a trooper through all of the frills and lace! I can not wait to go back and try on my gown again!!!
---
Reviewed on

8/14/2017
Christine H
I can not say enough about the wonderful experience my daughter, my mother and I had at Kelly Chase Couture. We went in with the idea of only getting my daughters wedding gown and my mom and I ended up finding ours as well! The service and selection was exceptional. Kelly... Read More spent so much time making my daughters gown exactly what she wanted. Chase and Maria did wonders to make sure our fittings worked around our schedules and the dresses arrived in plenty of time since we are from out of state. I have two other daughters and we will definitely be back for wedding gowns, mother-of-the-bride and grandmothers dresses as well. THANK YOU Kelly, Chase and Maria!!
---
Reviewed on

8/13/2017
Frances S
My experience with Kelly and Maria was most enjoyable..they both helped me find my dress. they encouraged me with praise and excellence ....I would tell brides to be to go and get the "one- on -one " friendly, encouraging and gifted expertise in guiding them to the dress of... Read More their dreams...I was an older bride, 66, but they both made me feel as though I was a young woman getting married for the first time....My first husband passed away and I was devasted, but God gave me another chance at Love in my senior yrs and if not for these two ladies, I wouldn't know how to begin and been lost in my search... Thank you Kelly and Maria.... I will be returning to get a dress as my son is getting married soon and now I need a mother of the groom dress and can't wait to see them both and once again guide me to my perfect dress....
---
Reviewed on

8/11/2017
Susan B
kelly Chase Couture Bridal Salon was exceptional. They accommodated me with fittings, as I was from out of town. My dress was fitted perfectly, and Kelly made me a beautiful matching shawl. They were amazing to work with, and as the mother of the bride, I would recommend them... Read More highly.
---
Reviewed on

8/04/2017
Janet G
Maria made this special moment even more special with her warm and welcoming attitude. I knew immediately that this dress shop was the right decision. Thank you Maria!
---
Reviewed on

8/04/2017
Signe L
Kelly chase courtier bridal salon is amazing! Maria was so helpful in helping me find the perfect wedding dress and Kelly is so talented!! They have a great selection and it's all customizable! Great quality dresses! The store is absolutely beautiful as well. You will want to... Read More bring your whole bridal party here! I couldn't be happier thank you so much!
---
Reviewed on

8/03/2017
Lauren W
My experience at Kelly Chase was hands down amazing. Kelly was there her self and helped make the experience delightful. Her dresses are top of the line and met my "high-end" dress expectations. I loved that you are able to take any of her dresses and are able to customize them.... Read More The staff is very helpful and makes your private session unforgettable. You get the whole bridal salon to your self and they make sure that it's an unforgettable experience
---
Reviewed on

8/01/2017
MarLen S
We had such a wonderful experience with Kelly Chase Couture! After trying on a stunning dress in the store, I got back home to Indiana and decided it was the one I wanted for my daughter's wedding. The staff was magnificent in assisting me with the entire process - everything... Read More from ordering, fitting, shipping and "confirming my pleasure" when I opened the beautifully wrapped gown upon its delivery to my door in Indiana. The compliments that I received on the dress were numerous, even from those that weren't wedding guests! Additionally, my daughter fell in love with a gorgeous hair comb and bracelet that matched her bridal gown while at the store. Kelly Chase again came through, helping us identify, purchase, wrap and exquisitely package both as surprise Christmas gifts from her grandmother and fiance', respectively. It was such a pleasure dealing with the kind and helpful people from Kelly Chase Couture, I highly recommend them for "all things wedding!!"
---
Reviewed on

1/17/2017
Marian S
I had a wonderful experience with this Bridal Salon. Maria was helpful, fun and terrific to work with in addition to Kelly and Chase. I had visited a few other shops but none of them could compare with the professional appearance of this salon and the quality of the dresses. My... Read More dress was a big hit at my son's Boston wedding.......I have received an overwhelming number of compliments on my dress. The selections they offer are just amazing...... I could not have been happier !
---
Reviewed on

12/29/2016
Meaghan N
AMAZING
---
Reviewed on

12/08/2016
Darci S
If I could give Kelly chase 1 million stars, I would. They are an Amazing team and my dress was incredible. I am forever grateful for everything they did for me and my mother. My mom found her MOB dress their too! This is the best wedding dress shop, ever!
---
Reviewed on

12/02/2016
Megan P
There aren't enough words to describe how incredible the team at Kelly Chase are. From the moment I walked into the salon I knew that this is where I would be getting my wedding gown from. Kelly, Maria and Chase made the entire process so easy. I live out of state but... Read More communicating with them was never an issue. I had every email and call answered, and scheduling all of my fittings was a breeze. After my last fitting, Kelly and Chase worked to have my dress completed, steamed and packed, ready for its journey to New York for my wedding in just a few hours. My dress was everything I could have ever imagined and more. I still receive compliments on how exquisite the dress was. Every dress is so unique, and made special for each bride. I would recommend Kelly Chase to every bride all over but especially in SW Florida!
---
Reviewed on

12/02/2016
Laura D
Kelly Chase did such a great job with my wedding dress! They were so nice and easy to work with as well. I would definitely recommend them.
---
Reviewed on

5/20/2016
Amelia B
I am so Thankful I chose Kelly Chase Couture. Kelly was amazing to work with. Just Brilliant! The dress selection was huge, and her creativity was endless. I left without a question, or Worry. The entire elegance of the store was perfect, everyone's attitude was fantastic, and... Read More positive. Thank you Kelly, and Chase and Maria, for making my Appointment so WONDERFUL!!!!
---