Home

KLK PHOTOGRAPHY
About this Vendor
KLK PHOTOGRAPHY | Weddings Lifestyle & Commercial
"I strive to capture your love for one another along with your inner light. I want to tell your story, and with all of this, I hope to create a unique piece of art within each image." This husband and wife team comes with two unique styles including timeless romance and fashion editorial!
Details
Artistic, Classic, Documentary, Dramatic, Lifestyle, Modern, Vintage
Bridal Portraits, Day After Session, Engagement, Trash The Dress
Getting Engaged, After Party, Rehearsals + Parties, Wedding
Destination Wedding Packages, Destination Weddings, Online Proofing, Digital Files, Film Photography, Printed Enlargements, Wedding Albums, Photo, Same-Day Edits, Second Shooter Available, Social Media Sharing
Contact Info

Reviewed on

5/07/2017
Blake O
Hiring KLK Photography was one of the best decisions we made for our wedding! Kristi and Paul are so genuine and professional. They make the experience comfortable, fun, and easy! KLK shot our engagement photos, my boudoir session, and our wedding. They will be the first I call... Read More when it comes time for maternity photos! Our photos are unbelievable and they captured so many priceless moments of our special day. Through this experience, Kristi and Paul have become friends for life. Look no further for your photography needs. THEY ARE INCREDIBLE!!!
---
Reviewed on

4/27/2017
Nadia Y
Kristi is not only an amazing photographer but also an all around wonderful person to have by your side on your wedding day. Her and her team worked so hard to capture the best moments of our entire day while also making sure my husband and I were comfortable, happy, and well... Read More fed (literally fed us snacks while transitioning throughout our day). We interviewed at least 5 other photographers but we knew after leaving our initial consultation with KLK that they were the perfect fit to add to our top of line team of vendors. Kristi has an excellent eye for lighting and the picture perfect shots are so unique while capturing genuine feelings in every photo. I highly recommend KLK Photography to anyone wanting great quality pictures that you can look back at years from now and still be in complete awe.
---
Reviewed on

11/11/2016
Albert R
My wife and I absolutely LOVE pictures! We are, for a better term, "picture people" and we are the type to put in the time and effort to take multiple shots until we find that one angle and image that is truly "picture perfect!" We simply relish these "picture perfect" shots.... Read More We are by no means professional photographers (although I may qualify as a professional Instagram photographer/editer hehe!) but we have a genuine appreciation for the art of photography. The camera is an amazing tool for a photographer to input their own perspective and artistry. I believe the ultimate objective for a photographer is to create images that can evoke a wide array of emotions. To truly capture a moment in time and tell a story. To create images that are beautiful and timelessly memorable! I have no reservation in recommending Kristi and Paul as photographers who possess the mastery, experience, and most importantly, artistry of the camera to capture and create "picture perfect" photos that you will cherish for a lifetime! They will guide you through the many different poses and stances needed to find that timeless shot. They have so much experience with so many different locations that it seems effortless for them to find the perfect angle or lighting for a shot. Their website has plenty of examples of their incredible photography and skill, so please check for yourselves! Their website, however, does not do justice in showing just how beautiful and sincere these two are as human beings. The talent and artistry is unquestionable - there's visual evidence you can see for yourself - but I want to share with you on what a joy it was to work with this amazing couple. Kristi and Paul are just genuinely kind and good people! During our pre-wedding shoot, there was some unfortunate construction going on for one of our planned locations and they offered to bring their cameras another day when the construction is complete to finish the shots! There is a very natural charm and easiness about them and this value is even more highlighted when you are dealing with all of the frenzy and stresses of your wedding day! As I mentioned at the start of this review, photography is a passion that my wife and I both share. Another shared passion of ours that complements this passion is travel. One of the "picture perfect" shots that my wife and I always try to capture when we travel to a new location is to capture a beautiful image of the sun setting. There's something about that moment of transition from day to night that we are just in awe of. Capturing that moment has always been our way of documenting our new discoveries and adventures in life. My wife and I will go on to take countless more sunset shots in our lives, but I doubt any of them will be more beautiful and memorable as the sunset shot you took of our marriage ceremony. The perfect weather and beautiful skyline... Hundreds of our closest family and friends together to share the moment... And of course, capturing the very moment that I married the love of my life! Thank you Kristi and Paul for capturing THE "picture perfect" sunset shot of our lives! We are forever grateful to the both of you!
---
Reviewed on

10/29/2015
Carmel C
When my husband and I saw our wedding photos we literally were speechless! I mean jaw on the floor kind of speechless. Kristi and Paul Klemens are the sweetest people to work with and their talent and experience is off the charts. They took so many pictures and captured every... Read More single moment and detail of our special day. The crazy thing is we had no idea they were even there on our wedding day. But boy when our pictures arrived we realized they definitely were there. They were EVERYWHERE. They don't just take the standard straight forward family pics you see from every wedding. They capture people's facial expressions, the emotion, the reactions. Kristi didn't skip a beat when it came to our picture requests and we had a laundry list and a very large wedding party/wedding. There is nothing she can't handle. A picture is worth a thousand words and we can't say enough about both our wedding and engagement pictures. We have watched them on our tv as a slideshow more times than we can count... while we drink champagne and relive our wedding. Please take our word for it when we say that you do not need to shop around for a photographer. You can stop now! For any occasion KLK Photography is your one stop shop. But hurry and book fast because they are in super HOT demand! YOU WILL NOT BE DISAPPOINTED!!! TRUST US!! Forever Fans, Carmel and Brian Hess
---
Easiest Choice Ever!
Reviewed on

12/11/2014
Danielle K
I cannot say enough amazing things about Kristi, Paul & the team at KLK. I have known Kristi for a few years now and have worked with her on a couple of photo shoots. Every time that I saw the photos I was absolutely amazed. Once we started to think about vendors for our... Read More wedding, Kristi was actually the first person I knew that I wanted to book for our wedding. The KLK team has such an amazing way of making you feel completely comfortable from the first moment they meet you. On the day of the wedding, all of our wedding party absolutely loved working with them as well. I will refer everyone I know to them or to whoever happens to ask about a good photographer.
---
Loved them!
Reviewed on

6/27/2014
Patricia M
Kristi and her husband Paul stepped in to photograph our wedding when our original photographer became ill and was unable to work. They even did the wedding pro bono and allowed him to keep the money we had paid him for his medical bills! So right away, they already earned 5... Read More stars from us. But my adoration for them only grew on the day of the wedding. They were perfect. They were incredibly professional and yet also so friendly. It was joy to have them around all day and so much fun to work with. They happily set up and photographed the long list of requests from my family as well as came up with some great original ideas for shots that I loved. The pictures have turned out beautiful and I am so happy with everything. I can't say enough good things about these two!
---
Photography at it's Best for that special day!
Reviewed on

4/20/2014
Chris L
As my wife and I were looking for a photographer for our wedding the process became quite tedious and challenging. However, we did love the pictures which came out from my good friend's wedding and decided to reach out to her. This was Kristi! What caught our eye was her... Read More style and artistry. After our first meeting we hit it off and we felt really comfortable with her. Her husband Paul is great too and they make an awesome combo! The results of both our engagement and wedding photos speak for themselves! A must recommend, please reach out to her!
---
If you want the BEST Wedding Photos - hire KLK Photography!!
Reviewed on

12/30/2013
Christina E
Kristi & Paul are the BEST!!! Our wedding and engagement photos are Insane!! Best photos EVER! We were nervous going into our engagement photo shoot since we never had professional photos taken before but Kristi & Paul are so nice and fun and happy they make you feel super... Read More comfortable and excited right away! It was great getting to do engagement photos first as a fun run through so we were ready to go at the wedding! We are so lucky and thankful we had KLK Photography at our wedding! Kristi & Paul captured the greatest moments throughout the day with our family and friends that we will be able to enjoy forever! They are crazy talented and super great people and we loved working with them! Thank you for everything Kristi & Paul!
---
The Best Decision I Made For My Wedding!!
Reviewed on

11/20/2013
Jennifer J
Hiring KLK Photography was the #1 best decision I made for my wedding. One look at their website and you will see the quality of their work. Kristi and Paul added so much more than beautiful photography to our wedding day… 1. They are absolutely fun, kind, patient and happy.... Read More You will love being around them on your special day. We cannot wait to hang out with them again! 2. They know how to coach so the photos turn out amazing, even those people who have never been in front of a camera look like models. 3. Kristi acts as a stylist and a photographer! She went shopping with me to buy clothes for my engagement/boudoir. She makes the most beautiful accessories, thesoilandsea.com, which I wore for all of my photo shoots, including the wedding! 4. They provide a timeline for wedding day photography and they manage everything. All people have to do is show up! 5. They love to travel for destination weddings! 6. Their work is creative and they make a great team. It is absolutely necessary to have two shooters on your wedding day and nice to have a team that works together all the time. 7. Other vendors, wedding planners and the wedding party all love working with them.
---
The BEST Photographer
Reviewed on

10/25/2013
Diane B
Kristi and Paul are incredibly gifted photographers and great people to work with. They both have an amazing eye that captures photos in a unique, special and beautiful way. We hired them for our wedding and over and over again they showed us that they were a great choice. Our... Read More engagement pictures were beautiful and our wedding pictures are over the top. They are extremely hard working but yet, always have a smile on their face and love to laugh and put you at ease. I will never hire another photographer but the two of them. We love this couple and highly recommend them for all of your photography needs. Truly one of kind!!
---
Perfection!
Reviewed on

6/19/2013
Erin M
Where do I even start when it comes to writing a review for KLK Photography? My wedding planner introduced me to Kristi and I knew she was the one the minute I met her. The quality of her work, her professionalism, amazing eye and fabulous personality made it very easy to pick... Read More her for our engagement shoot as well as our wedding (and will be planning a trash the dress session soon as well). My fiancée isn't the biggest fan of doing photos, and working with Kristi and her husband Paul made it so comfortable for us. Within minutes we were both relaxed and had the time of our lives at our engagement shoot. The photos turned out amazing, and we were excited to have them do our wedding as well. During the time in between the shoot and my wedding, Kristi and Paul did the photography for the annual gala the non-profit I work for puts on. This was the first time we had professional photography done and it made all the difference in the world for publication afterwards. Then came the big wedding day…they were amazing. Their visions and their eyes saw shots that none of us could have imagined. We got shots in locations at Pelican Hill that no one else has been able to get, and it was amazing. They made all of the staged photos feel comfortable and unstaged. Our wedding party is a funny group and none of them are used to photos, but Kristi and Paul made it feel so natural for everyone, and it worked out perfectly. I haven't seen ALL the photos yet, but even just with the 50 or so we have seen I couldn't be more impressed. I can't wait to keep working with KLK in the future!
---
Boudoir
Reviewed on

1/11/2013
Maygan O
I just met Kristi last weekend when I did a boudoir photoshoot for my husband. I was really nervous about doing it and had been researching photographers and Kristi was the first one to to actually make me feel comfortable enough to sign up to do it! She let me ask as many... Read More questions as I needed to in order to feel comfortable! When I arrived on Sunday for the photo shoot, she took time to ask me the style of photography that I prefer and let me show her the type of photos that I like. She also helped me pick what outfits would work best! She was SO great at directing me and was incredibly detail oriented when it came to my hair and posing! She took way more time with me than I am sure she intended just to make sure we got the right shot. She also has an AWESOME studio with so many different options. It was so much easier than trying to find my own location! I wish I had met Kristi before my wedding! She is such a sweet person, easy to work with, and amazingly talented as well! Could not be happier with my choice to go with her!
---
I Love KLK Photography!
Reviewed on

3/21/2011
Felicia F
I don't even know where to begin. We were so blessed to be referred to KLK Photography and to be able to work with Kristi and her husband Paul. They encouraged all the unique ideas we had for our day and Kristi even created specific details that made the photography come out... Read More better than I could have ever imagined. Her boutique, The Soil and Sea, is beautiful and inspiring. I am so lucky to own three of her creations! She brought so much energy and excitement to the day. I never felt the need to give her a list of preferred shots because her previous work spoke for itself and made me eager to find out what her eye would see for our day. She knows how to balance professionalism with friendliness and all our family members agreed that they felt at ease with her and the quality of her work by just her persona. She is truly a gift to be around! Thanks again for the wonderful memories!
---
Review for KLK Photography
Reviewed on

5/10/2010
Amanda G
Kristi was fantastic! We loved her pictures, the price was affordable, and she could not have been nicer. We were very impressed with both her and her second photographer Juan.;I didn't give her a list of 'must shoots' but my parents did wish after the fact that they'd asked her... Read More to take a formal picture of just the two of them and my mom and I wish we had a formal pic of the two of us. This isn't really Kristi's fault but I would definitly tell other brides, no matter who their photographer is, to have an informal list of pictures so you don't forget any.
---
Meet The Owner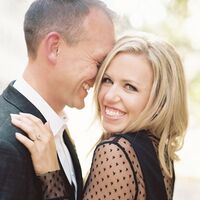 Kristi Klemens
Kristi Klemens of KLK Photography is an award winning, internationally known photographer with a studio in Southern California. She has been photographing weddings since 2005, and her passion shows through her work. Her husband, Paul, works beside her on weddings, portraits, corporate and editorial work. Together, they offer two different styles of photography, including fashion-forward editorial as well as elegant romance. They use their passion for love, life and beauty to capture creative, natural and timeless images.